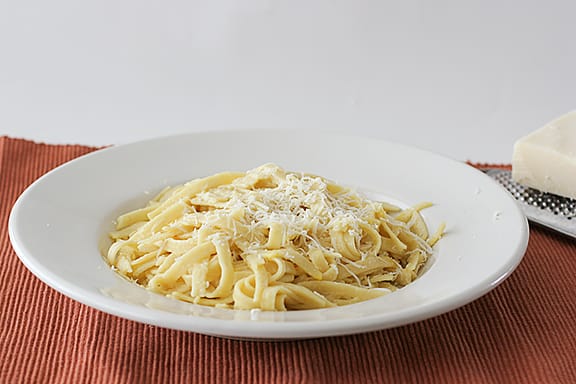 My mind is at a complete blank right now.  I'm not quite sure why.  Maybe it's sugar overload – there have been a ton of cookies coming out of my kitchen!  (Which means stay tuned for lots of cookie posts!)  But regardless, I'm making this short and sweet today.  This has got to be one of the easiest RR recipes I've made, and that says a lot since most of her recipes are pretty darn easy.  If you are a fan of pasta with butter and cheese, this one will be a favorite for you.  20 minutes and dinner is done!!
Recipe Notes:
I used some Asiago instead of Parmigiano Reggiano, because it's what I had!
I didn't get very much coloring from the saffron threads – maybe I didn't use enough?
When I read the reviews of this dish online, the biggest complaint was that the sauce wasn't creamy.  The secret here is to toss, toss, toss.  Use some tongs, and keep the pasta and everything working together – you will probably need to toss it together longer than the instructions even say.  At first, I had a ton of liquid, but eventually, it all forms a beautiful sauce.
Don't have saffron?  Some suggested to steep the chicken stock with garlic, then remove the garlic before adding the broth.  I think this sounds equally delicious!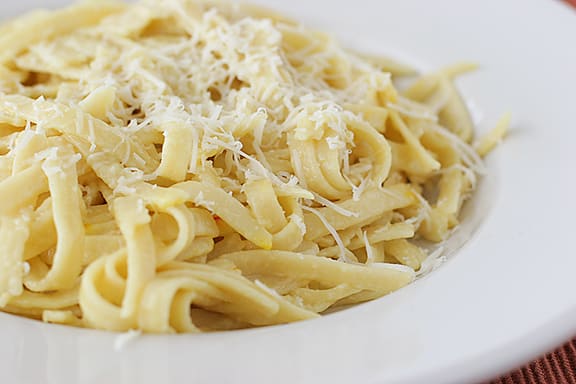 Milanese Fettuccini Alfredo
from 30 Minute Meals
serves 6
1/2 teaspoon saffron threads
1 to 1 1/2 cups chicken stock
salt
1 pound fettuccini
6 tablespoons butter, cut into pats
8 ounces grated Parmgiano Reggiano
Bring a large pot of water to boil over medium heat.
Preheat the oven to warm, about 200 degrees F. Put a large serving bowl or a platter, for the pasta, into the oven to warm.
In a small pot over low heat, add the saffron threads and the stock. Let steep until ready to use.
When the water boils, season with salt, add the pasta and cook to al dente.  Just before draining, add a ladle of the starchy pasta water to the pot with the saffron stock. Drain the pasta.
Remove the bowl or platter from the oven and scatter with the butter pats. Add the pasta and pour in the saffron liquid. Sprinkle with half of the cheese and toss for 1 minute. Add more cheese and continue to toss for another 1 to 2 minutes. Keep tossing until the pasta is evenly coated and cheese has melted into the saffron broth forming a creamy, lightly golden sauce. Serve immediately.
———————————-
Saturdays with Rachael Ray rules:
* You can link any blog post, present or past, as long as it is a Rachael Ray recipe.
* Your blog post must link back to this post, mentioning Saturdays with Rachael Ray.
That's it!! Simple, simple. Just make sure the recipe is a Rachael Ray recipe – it doesn't matter if it comes from her talk show, 30-Minute Meals, her magazine, or one of her cookbooks. But it must be from Rachael Ray. Any posts that don't follow these two rules will be deleted from the Mr. Linky.
I can't wait to see what you've made!
&nbsp