Green Chile Sauce – a sweet and spicy sauce made from green chiles, onions and honey.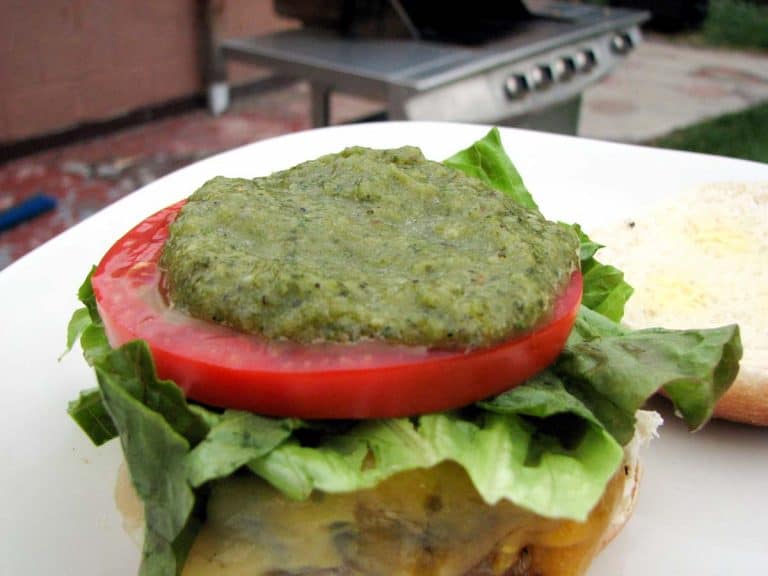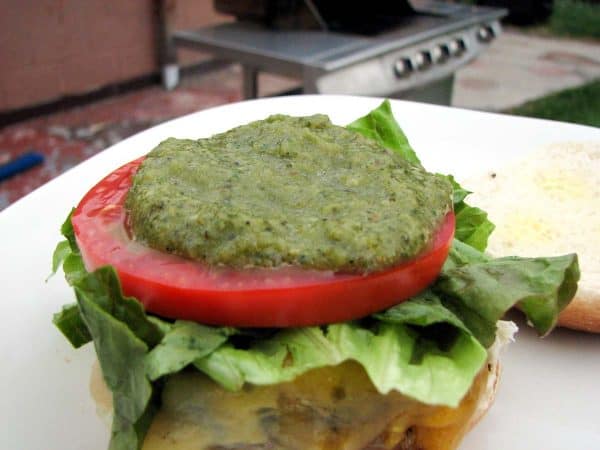 I hope that I get this in on time, but I just had to do an entry for Waiter, There's Something in My…Sauce hosted by Andrew at Spittoonextra.
I had originally wanted to do this cilantro sauce that I love to serve with salmon, but I kept putting it off. Then, my husband was in a grilling mood this past weekend (he grilled 3 days in a row) so I was able to make a sauce that I have had saved and have been wanting to try. This recipe comes from Bobby Flay, and I don't even remember how I heard about it. I had the recipe saved, but I don't remember seeing this on tv. But I sure am glad I saved this recipe!! Bobby served it as part of a Green Chile Cheeseburger, and since my husband was making hamburgers, I decided to give it a go.
But first, we were able to use the first harvest from our garden, a big tomato, and boy, it was good!!! A perfect addition for hamburgers!
The recipe called for 2 poblano peppers, but when I stopped at the store, they did not have any. I decided to go with one large Anaheim pepper – as I figured the heat level would be about the same. The pepper gets grilled on the grill along with some onions. Let me tell you – I love grilled onions anyway. They become so sweet that I can eat them plain, straight off the grill. My husband cooked the pepper to perfection – the skin slid right off when I went to prepare the sauce. I really felt like Bobby Flay while making this recipe, too, putting everything in the blender to see a wonderful, spicy sauce being created before my eyes.
I wasn't sure my husband was going to like this, as he is usually not a fan of anything spicy. But he did not stop talking about it for 2 days. In fact, it still comes up in conversation. He claims this is an "award winning" sauce. The little bit of heat is cut by the sweetness of the onions and a bit of added honey. We ate it on our burgers, but I can imagine that this sauce would be wonderful on many other things as well. It didn't last long at our house, and I'm sure that I will be making this one often!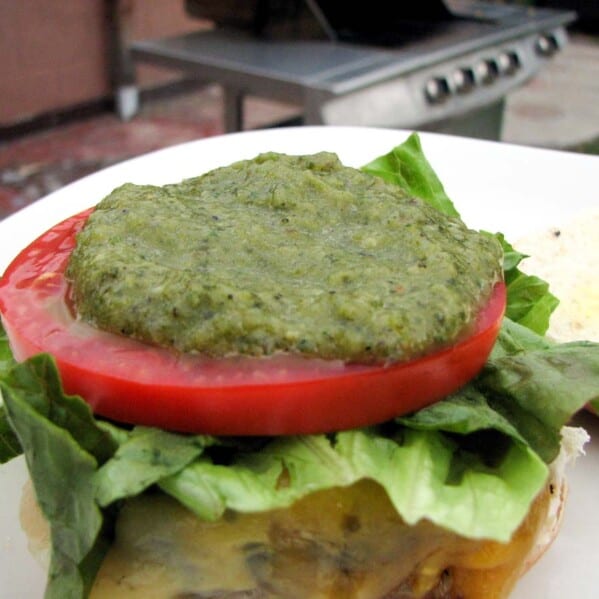 Green Chile Sauce
---
Author:
Prep Time: 5 mins
Cook Time: 20 mins
Total Time: 25 minutes
Yield: 4 servings 1x
Category: Sauce
Method: Grill
Cuisine: Mexican
Description
Green Chile Sauce – a sweet and spicy sauce made from green chiles, onions and honey.
---
Scale
Ingredients
1–2 poblano chiles or one large Anaheim chile, grilled, peeled, seeded and chopped
1 medium white onion, grilled and chopped
2 cloves garlic, chopped
2 tablespoons fresh oregano, chopped
1/4 cup cold water
1 tablespoon honey
1/4 teaspoon kosher salt
1/4 teaspoon freshly ground pepper
---
Instructions
Place all ingredients in a blender and blend until smooth. Season to taste with additional salt and pepper, if needed.