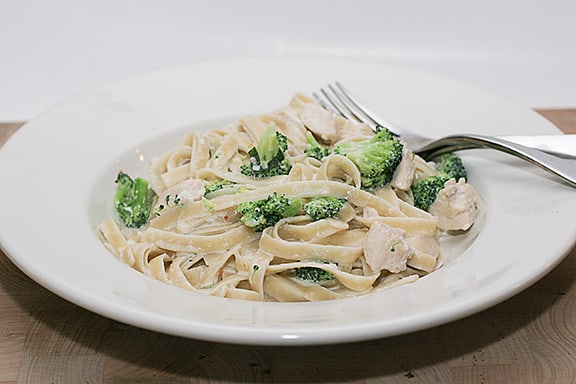 Sometimes, you happen onto some of the better recipes by accident…
I have a spiral notebook where I write down the titles of any recipe that I see on tv that I want to make.  They are divided by show so that it's easy for me to look up the recipes when I decide to go ahead and make the dish.  Well, last weekend as I was preparing my meal plan for this week, I was looking through my Rachael Ray recipes to decide on a recipe to make for today.  I had a few that sounded promising from the titles, so I was looking them up online.  One of them I read as "Chicken and Broccoli".  Well, I couldn't find a recipe online from the Rachael Ray show called Chicken and Broccoli.  But I did find this pasta dish that I'm grateful I came across, because it was absolutely delicious!!  (And just FYI – after looking at my notebook again later, I realized that it said "Chicken and Broccolini", not broccoli!)
I've made pasta sauces with cream cheese before.  Several times, actually.  I think it makes for a great fake-out alfredo sauce.  And if you are looking to cut a few calories, I'm sure low fat cream cheese would work just as well!  But I figured that since I'm eating all the broccoli, the cream cheese wouldn't hurt, right? 🙂  But this one was enjoyed by the whole family!
Easy Chicken & Broccoli Alfredo
from Every Day with Rachael Ray
serves 4
total time:  25 minutes
8 oz. fettuccine or spaghetti
2 cups fresh broccoli florets
1/4 cup Italian salad dressing
1 pound boneless, skinless chicken breasts, cut into bite-sized pieces
1 2/3 cup milk
4 oz. cream cheese, cubed
1/4 cup grated Parmesan cheese
1/2 teaspoon dried basil
Cook pasta as directed on the package.  Add the broccoli to the boiling water for the last 2 minutes of the pasta cooking time.  Drain.
Meanwhile, heat the dressing in a large skillet on medium-high heat.  Add the chicken and cook for 5 minutes, or until the chicken is cooked through, stirring occasionally.  Stir in milk, cream cheese, Parmesan cheese and basil.  Bring to a boil, stirring constantly.  Cook 1 to 2 minutes or until sauce is well blended and heated through.
Add the chicken mixture to the drained pasta and mix until the pasta is coated.