Dinner is served! These Stuffed Pasta Shells with Easy Bolognese Sauce look like they take a lot of time and effort, but the recipe comes together quickly enough for a weeknight dinner!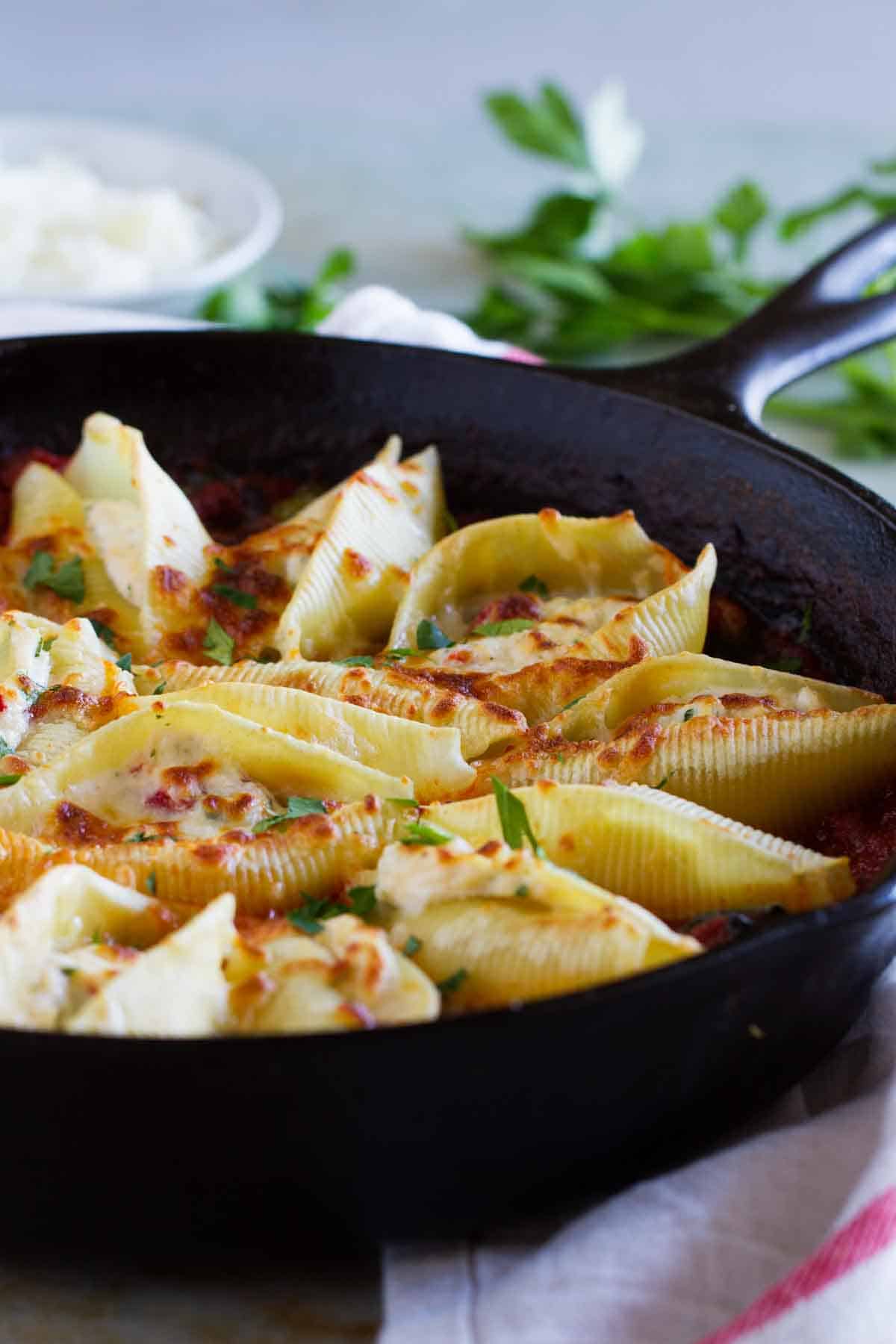 Many times, I get to do the whole "I told you so" with my kids at dinnertime. Especially my daughter and my younger son. So many times, before dinner, they will come into the kitchen and ask what we are having. No matter what it is, they start complaining about how they don't like it and how they want something different for dinner. Even if it's something that they have never had before.
They are always required to at least try what we are having. And 9 times out of 10, they will take a bite, and end up really liking that dinner that they complained so much about. That is my "I told you so" moment.
But sometimes, it's even more fun when it's my husband. There are a few things on his list of things that he supposedly doesn't like. But 9 times out of 10, if I make one of those things, he'll end up actually liking what I made.
For instance – stuffed shells. He is a pasta lover, but he is quite picky about the shape of pasta. Spaghetti, linguine, fettuccine – his favorite. He tolerates penne, but claims to hate bowties. Which is so funny to me, because really, don't they taste the same??? Well, shells fall into the category of pasta that he doesn't like. But I love them. So every once in awhile, I get selfish and make them. (I'm the one making dinner, so I should get to be selfish every now and again, right??)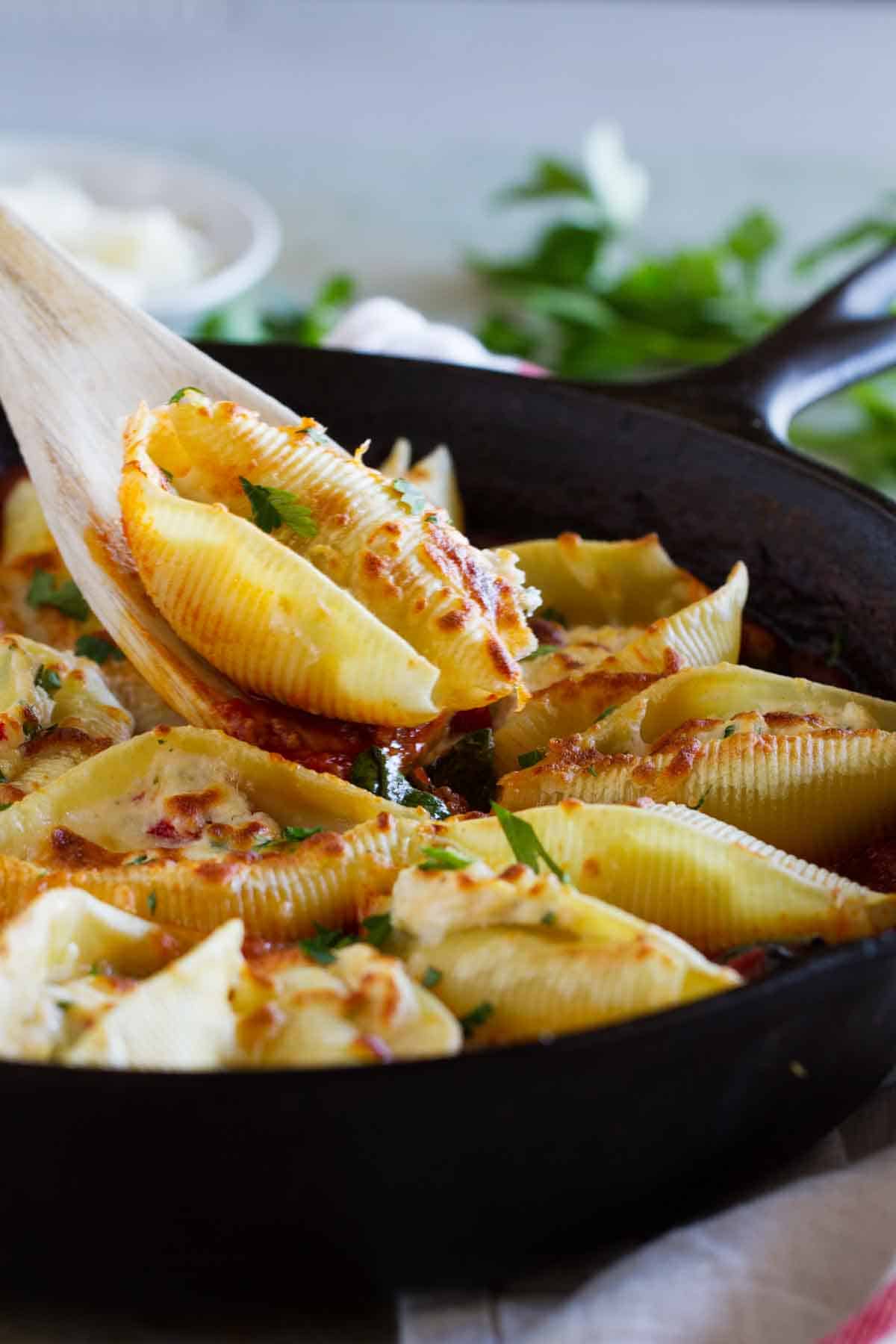 Well, not only did he eat these Stuffed Pasta Shells with Easy Bolognese Sauce, but he devoured them. And went back for seconds. He even commented that he doesn't normally like stuffed pasta shells but that he loved these. I think that's saying something, right?
But really, what's not to love? This is one of those meals that looks and tastes like it took hours to make, but it's really easy and fast enough for a weeknight meal. You start by making an easy bolognese sauce, then stuffing some large shells with a cheesy filling. A quick bake under the broiler, and dinner is served! Super easy, super delicious, and super family friendly!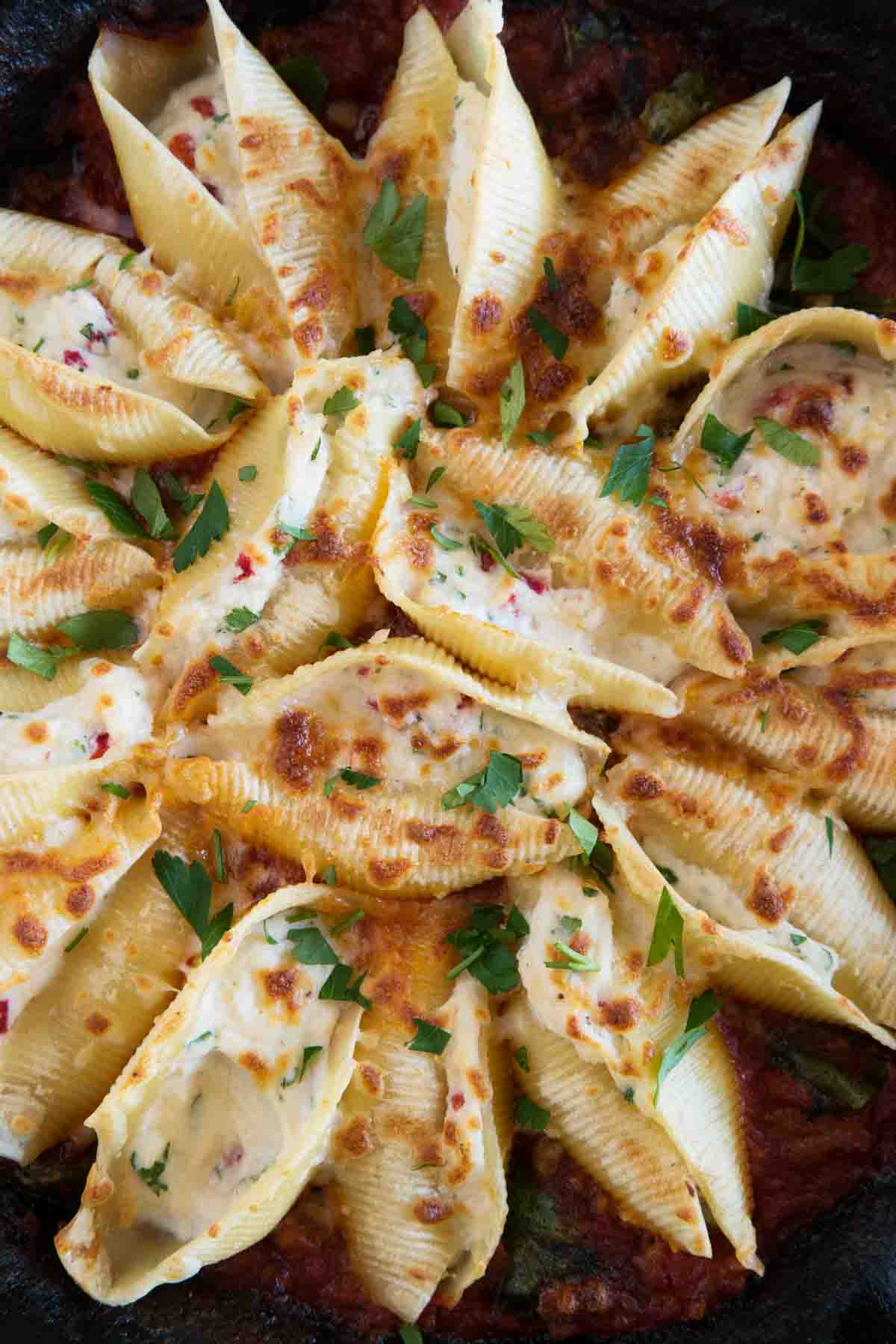 More Pasta Shell Recipes:
Chicken Alfredo Stuffed Shells
Creamy Shells and Ham Casserole
Chicken Stuffed Shells
Sun Dried Tomato Pesto Pasta Salad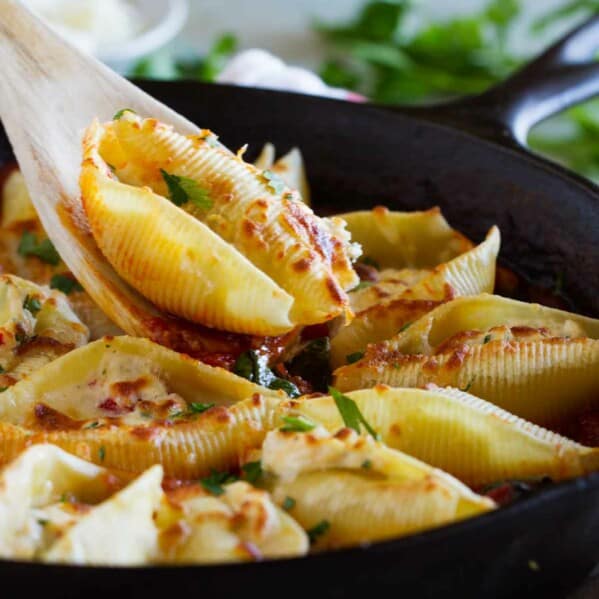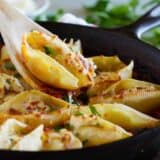 Stuffed Pasta Shells with Easy Bolognese Sauce
---
Author:
Prep Time: 15 minutes
Cook Time: 25 minutes
Total Time: 40 minutes
Yield: 4-6 servings 1x
Category: Main Dish
Method: Stove Top, Baked
Cuisine: Italian
Description
Dinner is served! These Stuffed Pasta Shells with Easy Bolognese Sauce look like they take a lot of time and effort, but the recipe comes together quickly enough for a weeknight dinner!
---
Scale
Ingredients
16 jumbo pasta shells (about 6 oz)
1 tablespoon extra virgin olive oil*
8 ounces lean ground beef
3 cloves garlic, minced
1 (14.5 oz) can crushed tomatoes
3 tablespoons tomato paste
1 cup fresh baby spinach
1 1/3 cups ricotta cheese
1/2 cup chopped jarred roasted red peppers
1 egg white
3 tablespoons chopped fresh parsley, divided
5 tablespoons shredded mozzarella cheese, divided
---
Instructions
Bring a large pot of water to a boil. Salt generously, then add the pasta and cook according to the package directions. Before draining the pasta, reserve 1 1/2 cups of the starchy pasta water. Drain.
Meanwhile, heat the olive oil in a large oven-proof skillet over medium-high heat. Add the ground beef and cook, breaking it up as it browns, about 5 minutes. Add the garlic and cook until fragrant, about 30 seconds. Reduce the heat to medium and add the crushed tomatoes and tomato paste, as well as 1 cup of the reserved pasta water. Season with salt and pepper, and allow the sauce to simmer for 5 minutes. If the sauce thickens up too much, add more of the cooking water. Stir in the spinach and cook just until wilted.
While the sauce is simmering, combine the ricotta, roasted red peppers, egg white, 2 tablespoons of the parsley and 3 tablespoons of the mozzarella in a bowl. Scoop about 1 tablespoon of the filling into each of the cooked shells.** Arrange the shells in the skillet with the sauce, open side up. Sprinkle the remaining 2 tablespoons of mozzarella over the top.
Turn the oven on to broil, and place the skillet in the oven under the broiler until the cheese is browned and bubbly, 5-10 minutes***. (Watch this carefully, as each oven is very different.) Top with the remaining 1 tablespoon of parsley and serve.
Recipe Notes:
*If you are using a nonstick skillet, you can probably skip the olive oil.
**I thought it was easiest to use a 1 tablespoon sized scoop to fill the shells.
***I kept my oven rack right in the middle of the oven and broiled for about 10 minutes to give some extra time to heat the filling through and cook the eggs. If your rack is near the top of your oven, it will brown faster on the top. Either way, keep an eye on it, as the broiler does its work quickly and you don't want to burn your dinner!
Adapted from Food Network Magazine January/February 2016
Keywords: stuffed pasta shells