Chicken, broccoli and lots of cheese are stuffed in large pasta shells, then baked with a cheesy Alfredo on top in these Chicken Alfredo Stuffed Shells that are creamy and cheesy and definitely delicious.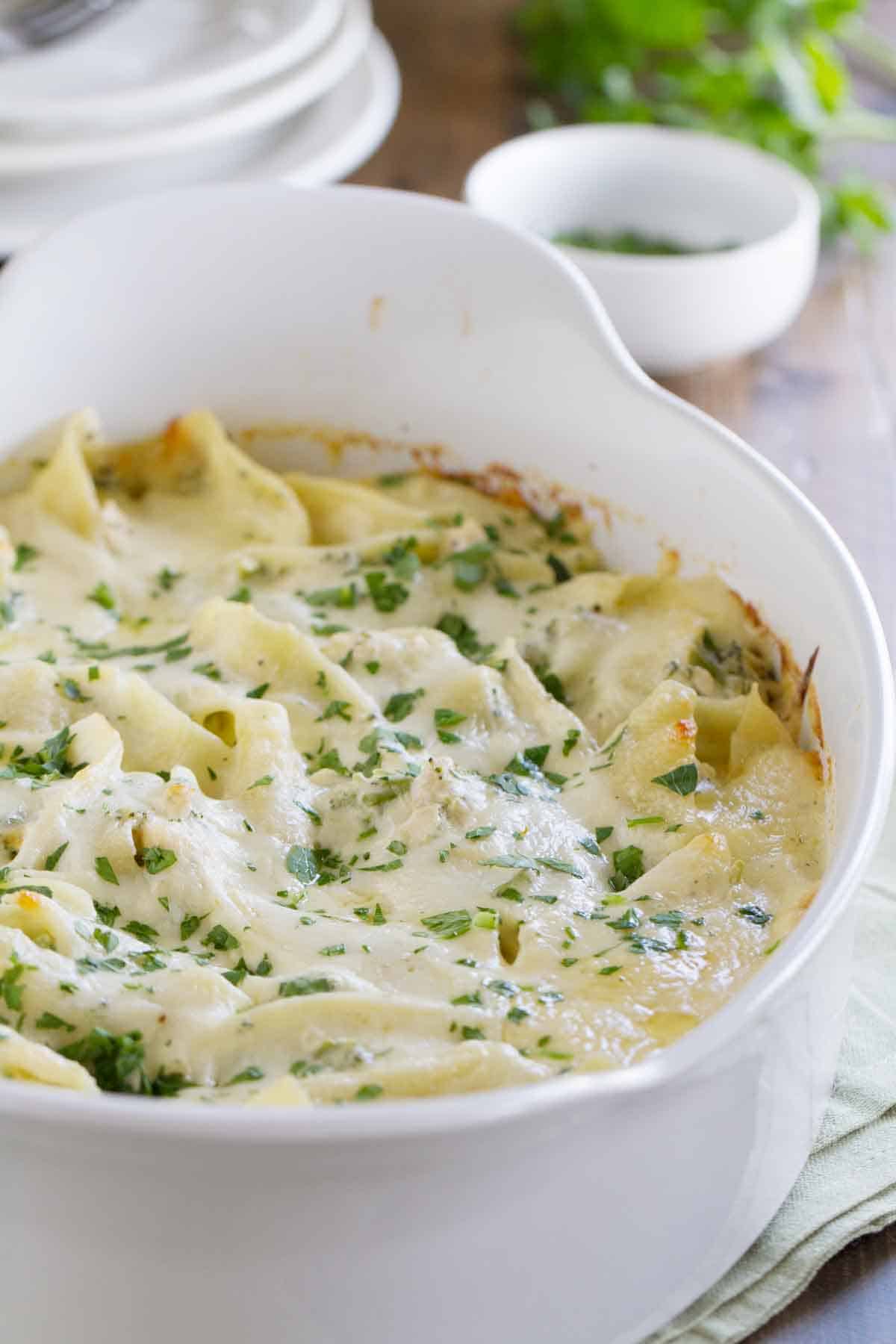 I like to think I'm a pretty unselfish person for the most part. Especially when it comes to meal planning. If it were completely up to me, you would see some recipes on my table more often – things like curries or Thai food or super spicy food. Or even meatloaf.
But because I know if I made those often, I would be the only one eating, I tend to shy away from them. I enjoy feeding my family, so I try to choose recipes that I know they will enjoy as well.

But sometimes, I get a little selfish, and I make something even though I know there will be a chance that no one else will eat it. These Chicken Alfredo Stuffed Shells are an example of that.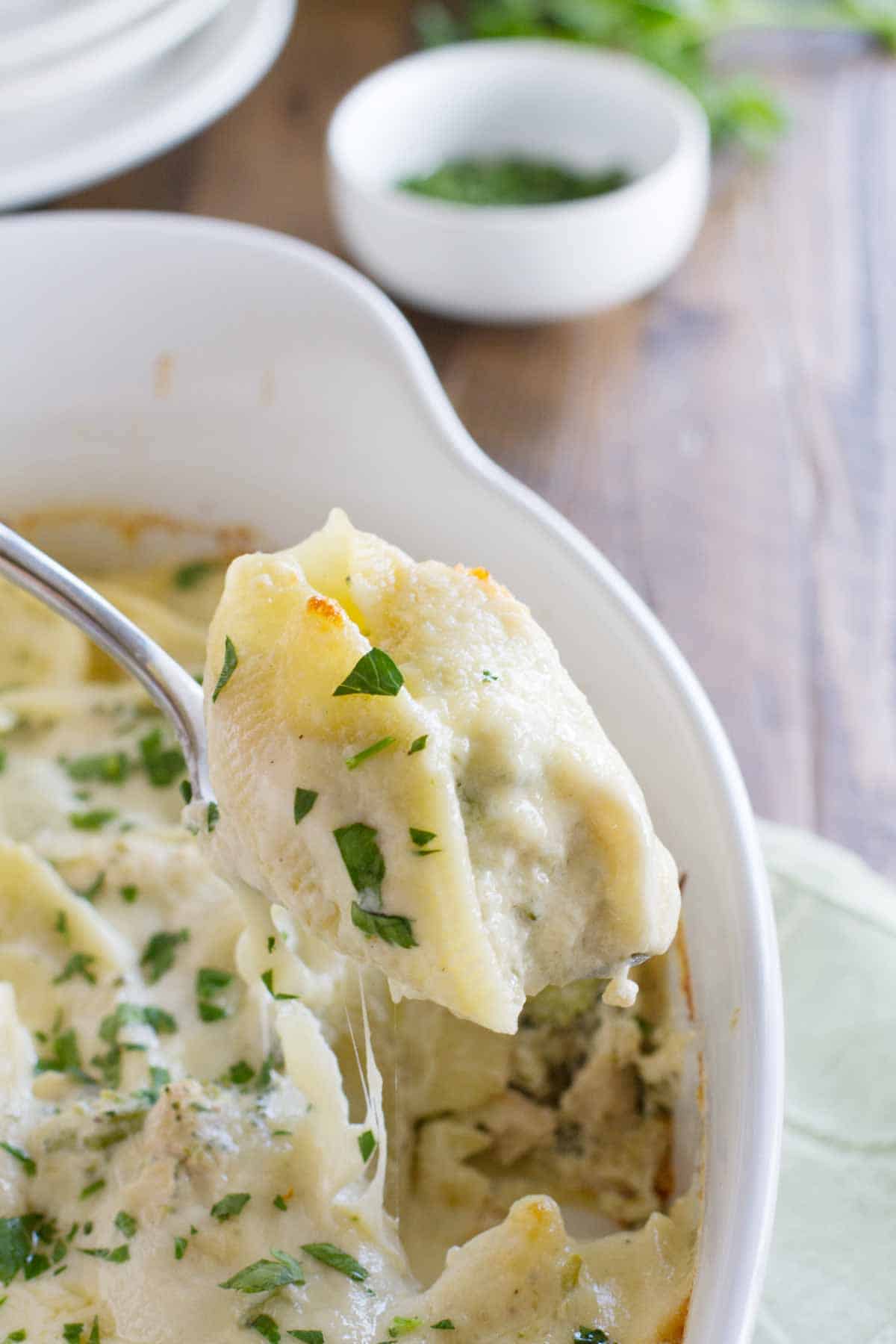 Let me start off by saying that my kids are not the best eaters when it comes to dinner. Especially my boys. So while I try to make things that they will eat, I know that sometimes, (ok, most of the time), the kids will just take a bite or two and be done.
There are very few things that I don't really like. And while my husband says he isn't picky, there is definitely a list of foods that he doesn't care for and will not eat. Thai food. Curries. Super spicy foods. Meatloaf. Pasta shells.
Yeah, I know I threw you off with that last one, right? Of all the things to not like, pasta shells?? I don't know what it is about them, but he has not really cared for them since before we met. He loves pasta, but there is just something about the shells that turns him off.
But I have had the idea of these shells in my head for weeks now, and I decided it was time to be selfish and make something that he may not eat.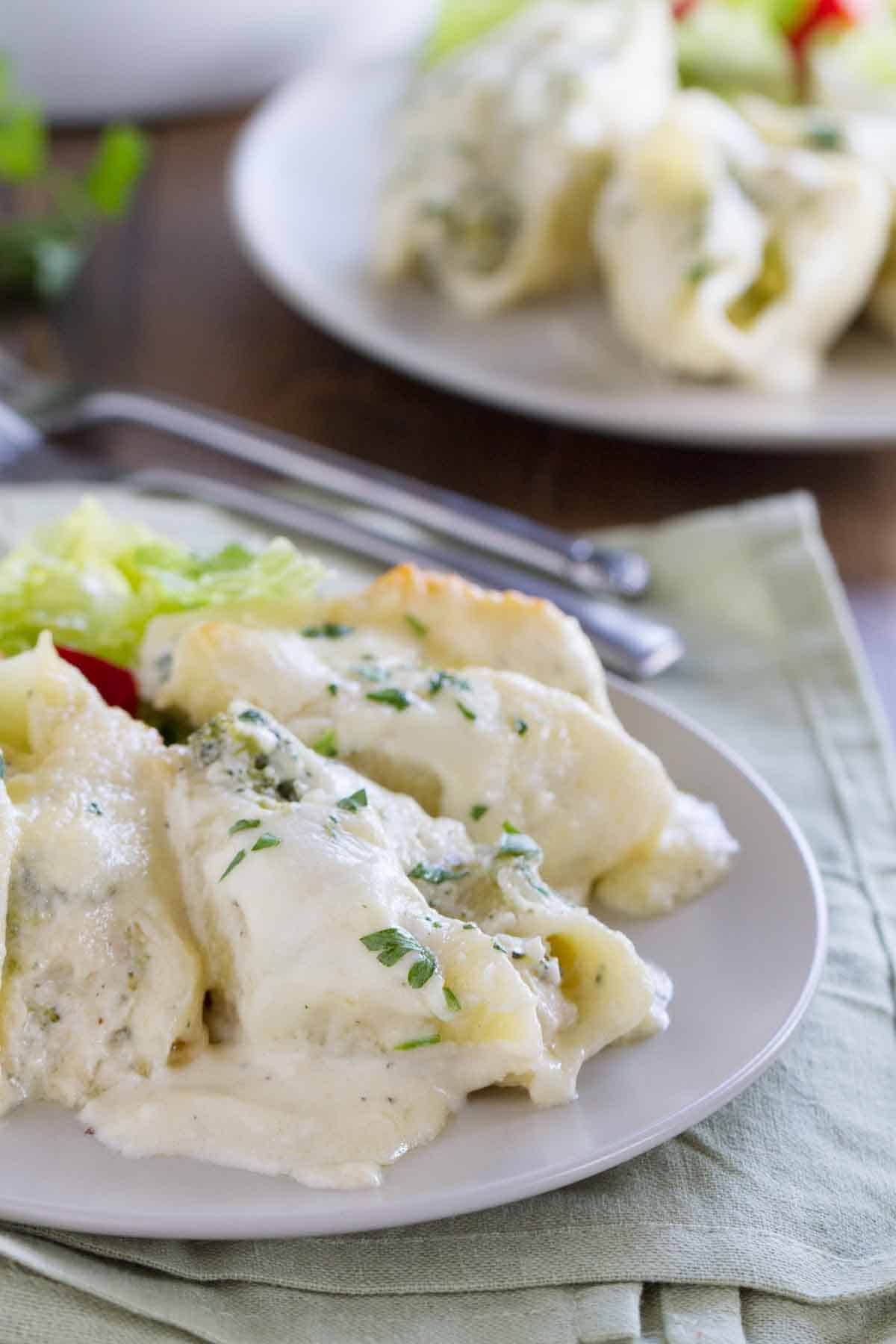 I started off with an idea which led to a Taste of Home recipe. Which led to completely changing that recipe into something that not only works for me, but worked with what I had on hand.
The filling for the shells is pretty simple, cooked and chopped chicken and broccoli, cream cheese, mozzarella, and an egg to hold everything together. And then you make a cheesy alfredo sauce that gets poured over the top. I didn't say this would be low-cal – you'll definitely need your fat pants for this recipe!
I think the only thing left to say about these Chicken Alfredo Stuffed Shells is that my husband devoured them. He kept saying that he doesn't normally like the large shell pasta, but that he could not get enough of those. And then he went and polished off all the leftovers the next day.
I'm hoping this means he won't turn his nose up at stuffed shells in the future now! And now maybe I'll try for a curry next time! 😉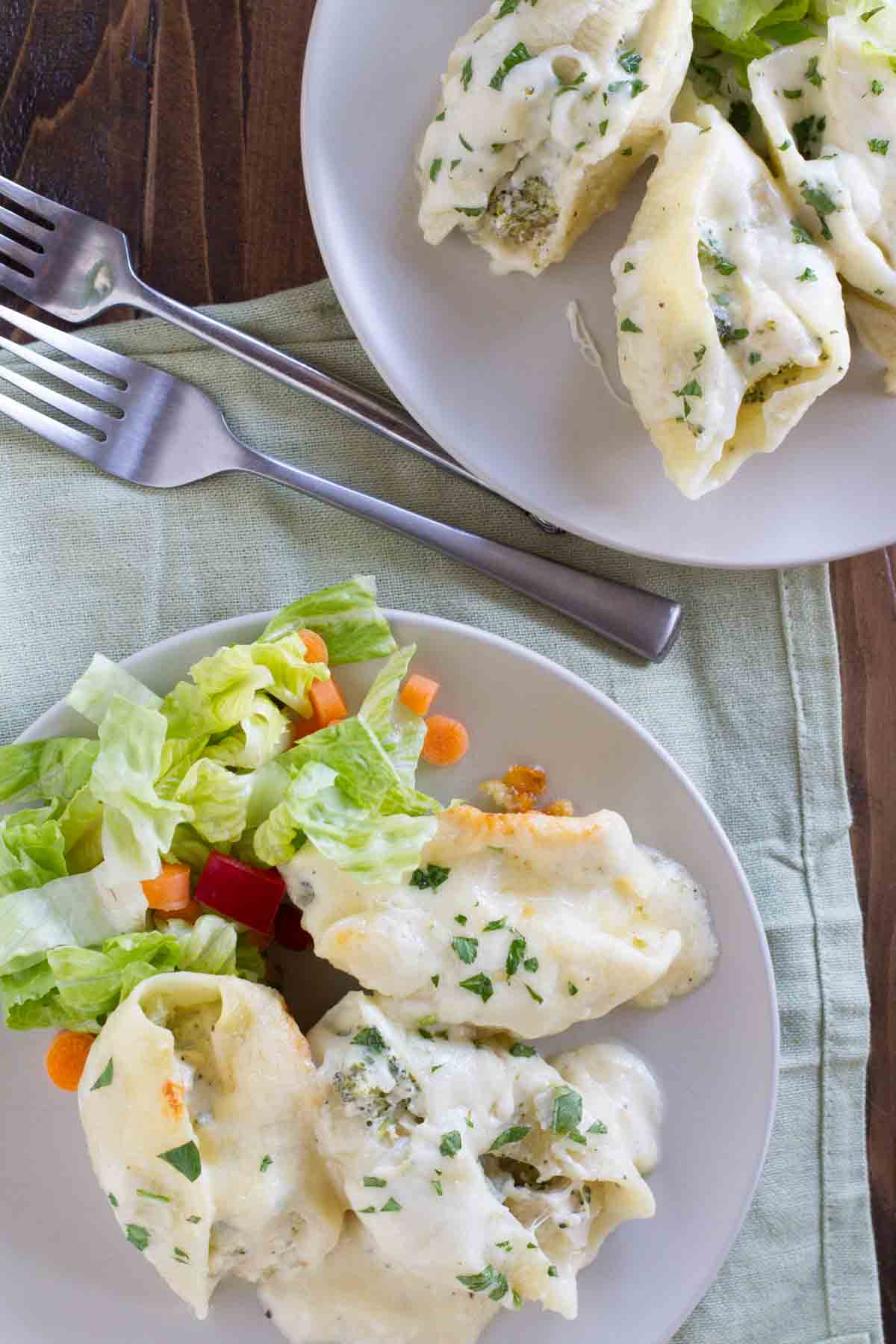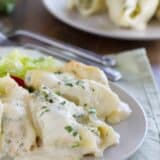 Chicken Alfredo Stuffed Shells
---
Author:
Prep Time: 20 minutes
Cook Time: 1 hour
Total Time: 1 hour 20 minutes
Yield: 6 servings 1x
Category: Main Dish
Method: Baked
Cuisine: Italian
Description
Chicken, broccoli and lots of cheese are stuffed in large pasta shells, then baked with a cheesy Alfredo on top in these Chicken Alfredo Stuffed Shells that are creamy and cheesy and definitely delicious.
---
Scale
Ingredients
Pasta
8 oz large pasta shells
1 tablespoon olive oil
1 lb boneless, skinless chicken breasts, cut into small pieces
1 lb steamed broccoli, chopped
8 oz cream cheese, softened
1 egg
4 oz shredded Mozzarella cheese
1/2 cup grated Parmesan
1 tablespoon fresh parsley, minced
Sauce
1/2 cup butter
1 clove garlic, minced or grated
2 cups whipping cream
4 oz shredded Mozzarella cheese
3/4 cup grated Parmesan
---
Instructions
Preheat the oven to 350ºF. Spray a large baking dish with nonstick cooking spray.
Bring a large pot of salted water to a boil. Add the pasta and cook until al dente. Drain and set aside.
Meanwhile, heat the olive oil in a sauté pan over medium-high heat. Season the chicken with salt and pepper, and add it to the pan. Cook until browned and cooked through.
In a large bowl, beat together the cream cheese and egg. Stir in the 4 oz Mozzarella, 1/2 cup Parmesan and parsley. Add the chicken and the broccoli and stir until combined.
Fill each of the shells with a large spoonful of the filling. Place in the prepared baking dish. Set aside.
In a large sauté pan, melt the butter. Add the garlic and cook for 30-60 seconds, until fragrant. Whisk in the cream. Bring the mixture to a simmer, then add the half of the Mozzarella and the Parmesan. Simmer for 5-10 minutes, whisking occasionally, until slightly thickened. Season to taste with salt and pepper.
Pour the sauce over the top of the prepared shells. Top with the remaining Mozzarella cheese. Cover the baking dish with foil and bake for 30 minutes, then uncover and cook an additional 10-15 minutes, until the sauce is bubbling.
Remove from the oven and let sit for 10 minutes before serving.
Keywords: chicken alfredo stuffed shells