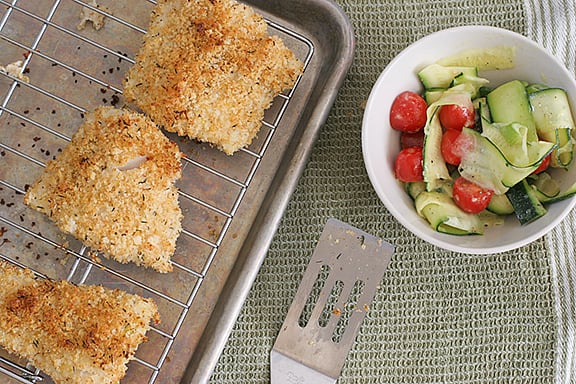 I have to admit – I wasn't feeling very inspired when I chose this week's RR recipe. I was at the point where I needed to figure out what I was making so that I could get to the grocery store, but it was one of those days where nothing really sounded good. I'm sure we've all had those days!! So I flipped open my newest Every Day with Rachael Ray magazine and pretty much chose the first recipe I saw. I figured that it's been quite awhile since I made fish, so this would work.
And it was good. Not spectacular, but good. I think there is a reason that most of the fish recipes I have here are salmon recipes. Salmon has a lot of flavor. Cod on the other hand – pretty much tastes like nothing to me. Maybe if I was able to get it freshly caught, straight from the water I'd feel differently about it. But the previously frozen kind I can get here? Not much flavor. But the crispy outside was good, and I was really needing some vegetables in my life, so the salad was good, too. But I think I'll stick to salmon…
Crispy Fish with Shaved Zucchini Salad
adapted from Every Day with Rachael Ray August 2010
serves 4
total time: 30 minutes
2 egg whites, beaten
4 tablespoons butter, melted
1 1/2 cups panko
1 tablespoon dried thyme
1 tablespoon Old Bay Seasoning
1 tablespoon onion powder
1 tablespoon garlic powder
2 lemons
Four 6-ounce cod fillets
salt and pepper
1/2 a small onion
1 tablespoon Dijon mustard
3 to 4 tablespoons extra-virgin olive oil
2 zucchini, shaved with a vegetable peeler into ribbons
1/2 pint grape tomatoes, halved
1 small bunch scallions, thinly sliced on a long angle
Preheat the oven to 425F. Place a cooling rack on top of a baking sheet and set aside.
Put the egg whites in a shallow bowl. In another bowl, mix the melted butter with the panko until thoroughly combined. Add in the thyme, Old Bay, onion powder, garlic powder, and the zest of one lemon. Season the fish with salt and pepper. Dip the fish in the egg whites, then into the panko mixture, then put on the prepared cooling rack.
Bake the fish until golden brown and crisp – about 15 minutes.
Meanwhile, grate the onion into a bowl. Add the juice of the lemon you zested and stir in the mustard. Whisk in the olive oil and season to taste with salt and pepper. Add in the shaved zucchini, tomatoes, and green onions. Stir to coat.
Cut the second lemon into wedges to serve along side the fish. Serve the zucchini salad on the side.