Salmon is topped with an almond and breadcrumb topping in this easy and quick Almond Crusted Salmon.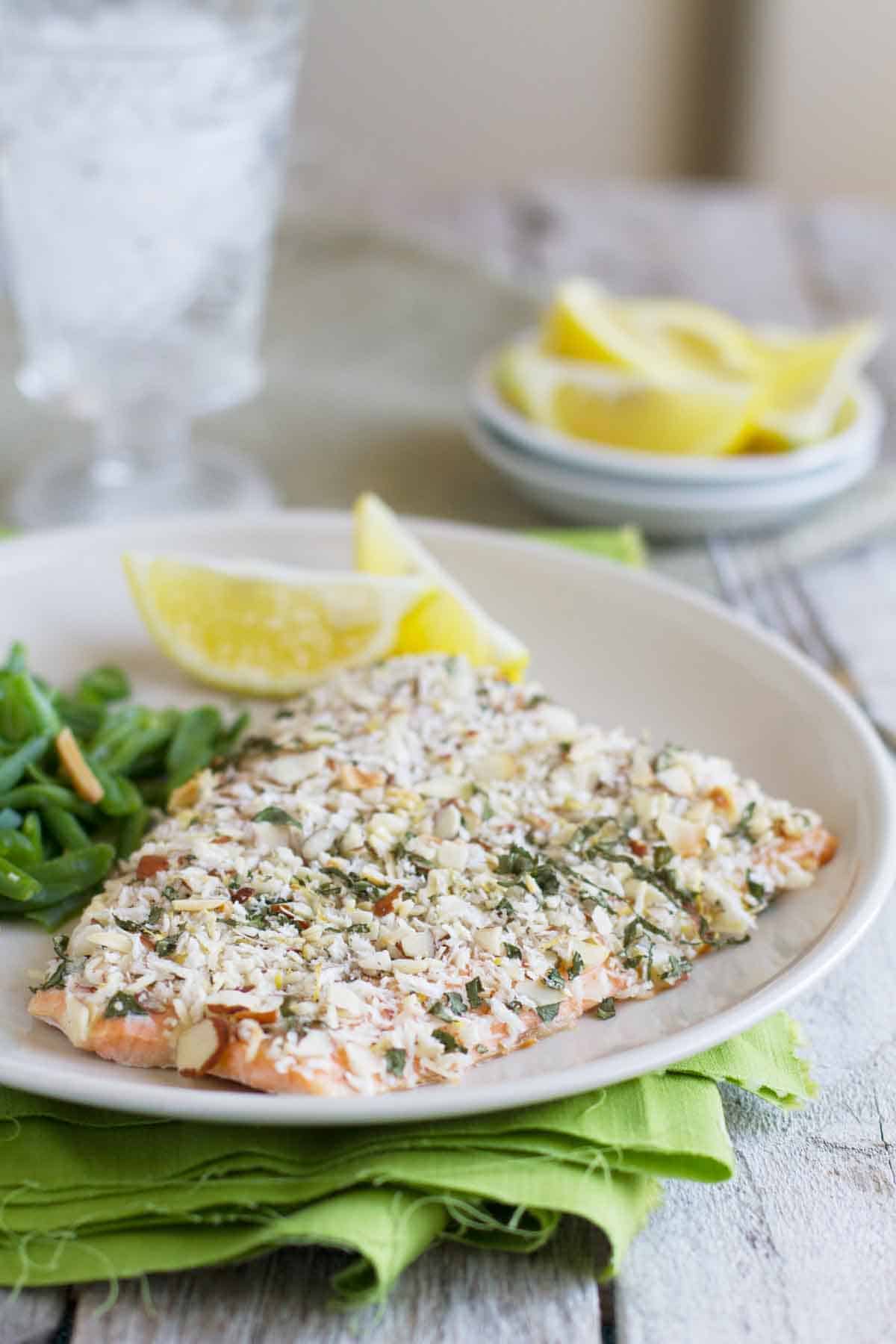 This post has been sponsored by Diamond Nuts.
I am not a dieter. Crash diets, fad diets, any kind of diet – they just don't work for me. I get cranky, I get tired, and all I can think about is what I can't have.
But I am a believer in moderation and making smart food choices. (I won't go as far as to say I always make those smart food choices, but I know that I need to make them!!) Eat a balanced diet and get in some physical activity. That is what I try to live by.
I'm pretty good about making a balance dinner for the family. We make it a goal to sit down together and eat dinner each night, and we are successful with that 95% of the time. But lunchtime is another story for me. I'll get the kids lunch and then I'm running around the house, doing laundry, picking up messes, finishing a recipe to photograph – it's always a crazy time of day for me. But that is when I notice that I start making unhealthy choices. Grabbing a handful of crackers, eating the leftovers off of my kids' plates, grabbing a cookie… I'm bad about actually getting myself something to eat and then sitting down and taking a moment to pay attention to what I'm eating.

I realized that this needed to change. But in order for this change to happen, lunch has to be fairly easy and fast. This year, I am trying to incorporate more fish into my diet, and fish is so easy and fast that it makes the perfect, healthy lunch option. (As a side note – can you believe that not including the fish recipe I had earlier this month, the last fish recipe I posted (not including shrimp) was in September of 2012? I will be posting more fish dishes from here on out!!)
This salmon dish was so easy to throw together for an easy and fast lunch. By the time the oven had preheated, I already had the fish ready to go in. I know a lot of people are intimidated when it comes to cooking fish at home, but it is seriously so easy. It's much easier to cook fish than a chicken breast, in my opinion. And way faster, too!!
I chose salmon because I had a lone salmon fillet in the freezer, but I'm guessing any fish would work reasonably well with this recipe. A simple crust of healthy Diamond Sliced Almonds are combined with Panko breadcrumbs, a little bit of basil and lemon to give the fish just enough flavor and crunch. As with a lot of fish dishes, squeeze a bit of lemon over the fish just prior to eating it to give it that extra flavor.
I proved to myself that lunch can be easy, fast, healthy and full of flavor!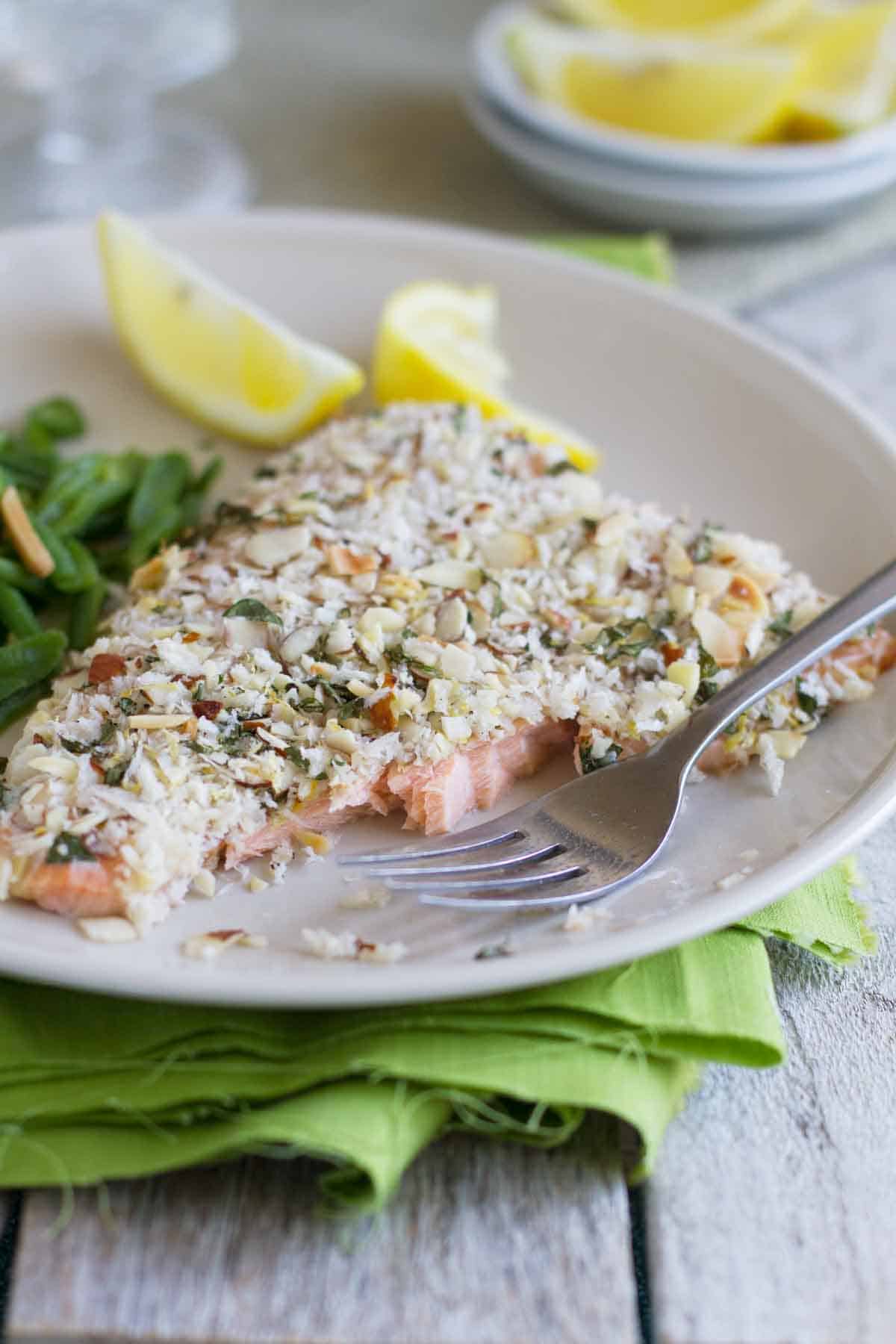 More Salmon Favorites:
Soy Ginger Salmon
Amazingly Moist Salmon
Crispy Baked Salmon with Homemade Tartar Sauce
Pan Fried Salmon with Remoulade
Salmon with Mango and Roasted Red Pepper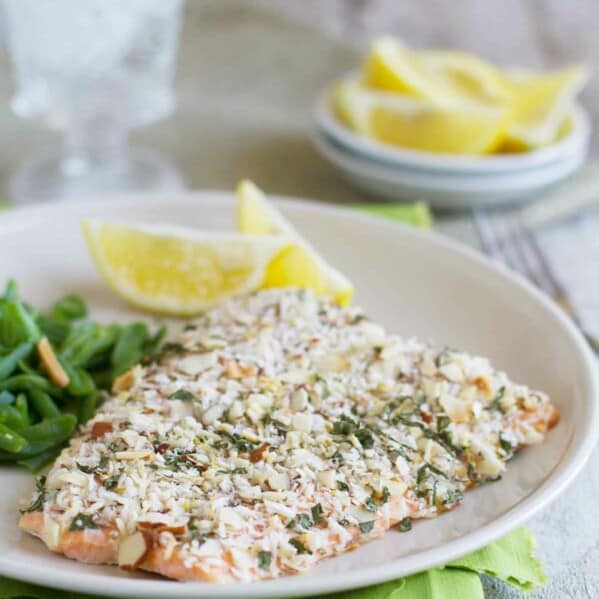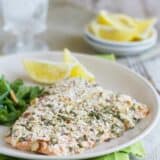 Almond Crusted Salmon
---
Author:
Prep Time: 10 minutes
Cook Time: 10 minutes
Total Time: 20 minutes
Yield: 4 servings 1x
Category: Main Dish
Method: Baked
Cuisine: American
Description
Salmon is topped with an almond and breadcrumb topping in this easy and quick Almond Crusted Salmon.
---
Scale
Ingredients
1/4 cup sliced Diamond Almonds, roughly chopped
1/4 cup panko breadcrumbs
2 tablespoons chopped basil
zest of 1/2 lemon
1/4 teaspoon salt
1/8 teaspoon pepper
4 salmon fillets (6–8 oz each)
sliced lemons, for serving
---
Instructions
Preheat the oven to 400F. Line a baking pan with foil and spray lightly with nonstick cooking spray.
In a small bowl, combine the almonds, panko, basil, lemon zest, salt and pepper.
Place the salmon fillets on the prepared baking sheet. Divide the almond mixture between the 4 fillets and sprinkle over the tops. Lightly press the breading into the fish.
Bake until desired doneness, 8-10 minutes. Serve with additional lemon slices for squeezing.
I am in a working relationship with Diamond Nuts, and this post has been sponsored. I'm so glad to be able to work with companies and organizations that I truly believe in. Thank you for supporting them, too.