A salad of romaine, ham and tomatoes is combined with walnut pesto covered pasta.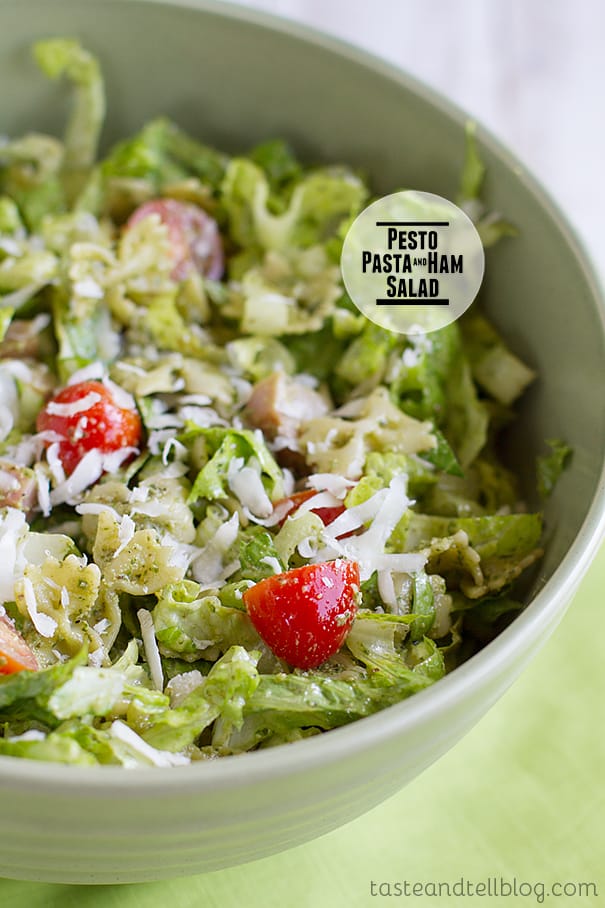 This post has been sponsored by Diamond Nuts.
I'm not going to lie – I look forward to Easter dinner almost as much as I look forward to Thanksgiving dinner or Christmas dinner. There is something about the ham and the potatoes and the rolls and the salad that gets me every time.
And if your family is anything like my family, you keep sneaking back into the kitchen to grab little bites of food before dinner is even on the table. I sometimes think that I'm so full before the meal even starts that I won't be able to eat anything, but of course, I always manage to fill my plate and eat every. single. bite.

And of course, there are always the leftovers. I actually enjoy ham year round, but especially at Christmas and Easter. And I love when there are lots of leftovers so I can have a ham sandwich the next day. But you can only eat so many ham sandwiches before you are looking for something different to use up that ham in.
Usually when I want to write a new recipe, I'll sit down and write out the whole thing beforehand. When I'm making it, I keep a pen on hand to make notes and change measurements, but I always have a game plan. With this salad, it was a different story. I had bought a huge thing of basil for super cheap, so I knew I wanted to do a pesto, but besides that, I wasn't sure what I wanted to do.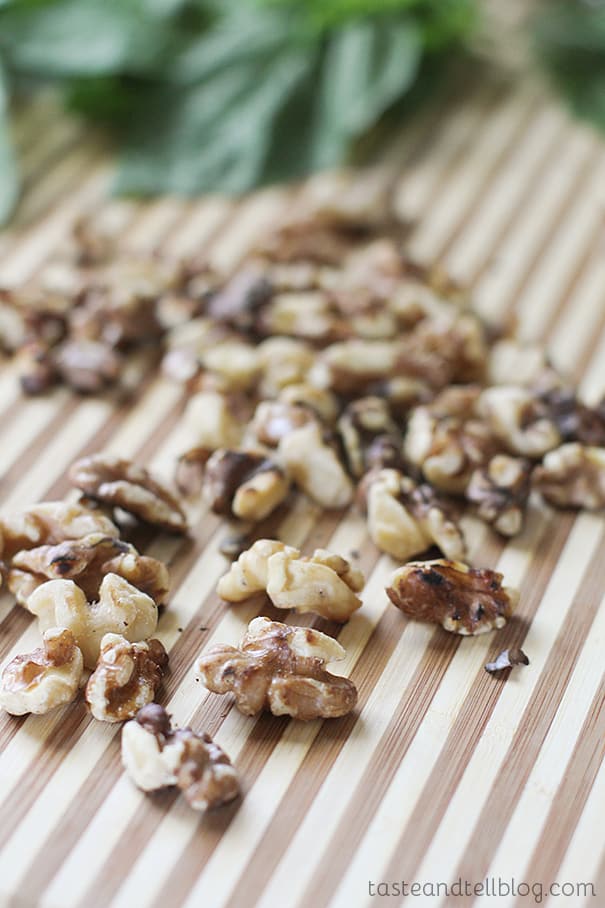 So I went into this with a blank piece of paper and a very vague idea. What I came out with was so delicious that I wanted to eat the whole bowl. It wasn't what I was envisioning to begin with, but it was so much fun to just create, and when the end result tastes like this, I have to tell myself that I should head into the kitchen with just a blank piece of paper more often!!
For this pesto, I chose to take a more unconventional route. Instead of the usual pine nuts that go in a pesto, I decided to use Diamond walnuts. I wanted this to be a little more hearty – something I could eat for dinner, and the walnuts seemed like the perfect idea. I love the flavor they brought to the dish, but if you are more of a traditionalist, feel free to stick with pine nuts.
And if you don't have any ham leftovers, feel free to leave the ham out and make this a vegetarian option. It's delicious either way!!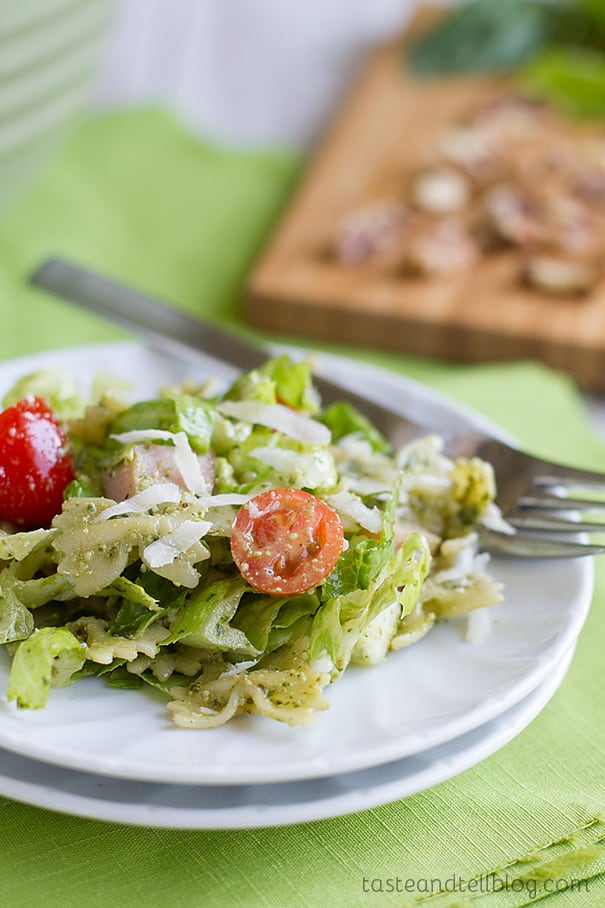 Like what you see here? Make sure you are following Taste and Tell for more great recipes and ideas!!

Facebook ** Pinterest ** Twitter ** Instagram ** Google+
or you can subscribe to my newsletter or Feedly or Bloglovin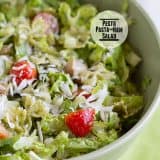 Pesto Pasta and Ham Salad
---
Author:
Yield: 6-8 servings 1x
Description
A salad of romaine, ham and tomatoes is combined with walnut pesto covered pasta.
---
Scale
Ingredients
Walnut Pesto
1/2 cup Diamond walnuts
2 cups lightly packed basil leaves
2 cloves garlic, grated
1/2 cup shredded parmesan cheese
1/3 cup extra virgin olive oil
Dressing
2 tablespoons white wine vinegar
2 tablespoons extra virgin olive oil
salt and pepper
Salad
8 oz mini farfalle pasta
3 romaine hearts, shredded
1 1/2 cups cubed ham
2 pints cherry or grape tomatoes, halved
shaved parmesan
---
Instructions
Make the Pesto:
Place the walnuts in a small skillet and cook over medium heat, stirring frequently, until toasted and fragrant. Place the walnuts in a food processor. Add the basil, garlic and parmesan to the food processor. Pulse a few times to chop and combine. With the food processor on, stream in the olive oil until all of the ingredients come together. Season to taste with salt.
Make the dressing:
Place the white wine vinegar and olive oil in a jar with a tight fitting lid. Add in half of the pesto and season with salt and pepper. Screw on the lid and shake vigorously to combine.
Make the salad:
Bring a large pot of salted water to a boil. Add the pasta and cook until al dente. Drain.
Place the pasta in a large bowl and add half of the pesto. (The other half goes into the dressing.) Stir to coat the pasta with the pesto.
In a large bowl, combine the romaine, ham and tomatoes. Stir in the pasta. Add the dressing and toss to coat. Serve topped with shaved parmesan.
More Uses for those Ham Leftovers: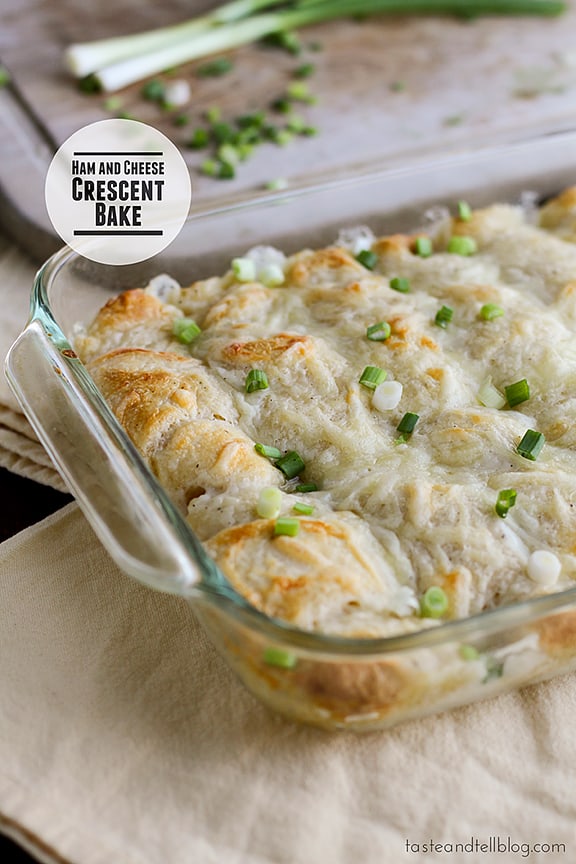 Ham and Cheese Crescent Bake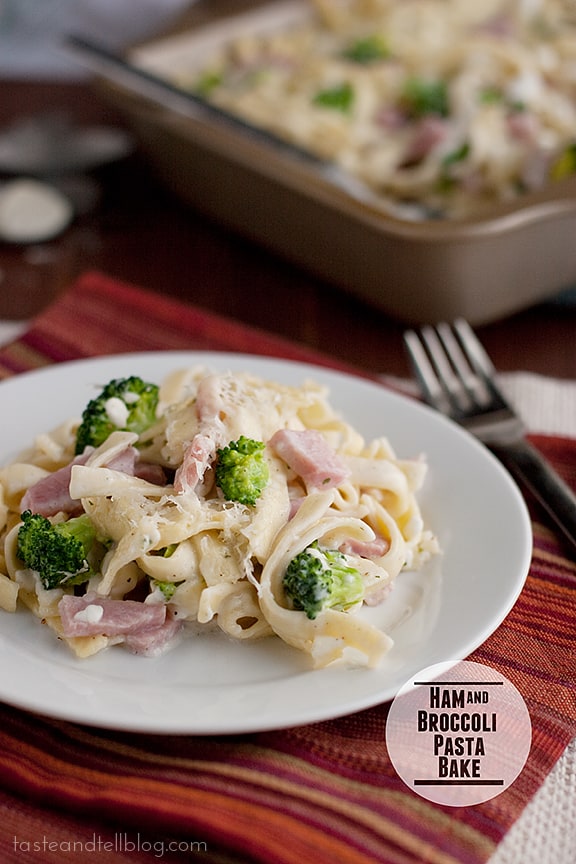 Ham and Broccoli Pasta Bake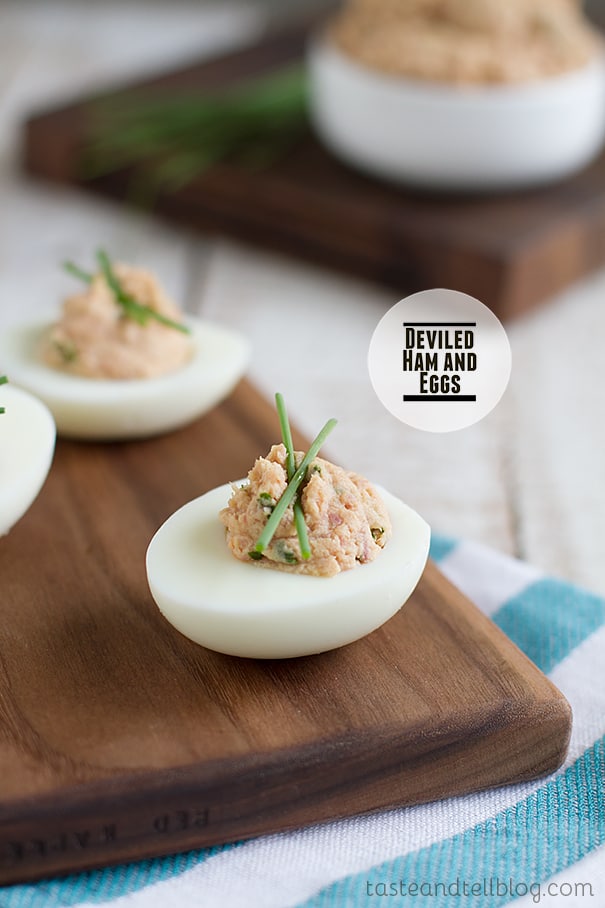 Deviled Ham and Eggs
Around the Web:
Springtime Asparagus Tart with Ham and Mushrooms
from Five Heart Home
Easy Ham and Cheese Breakfast Pie
from Bless this Mess
Ham Hock Soup
from Sweet Basil
I am in a working relationship with Diamond Nuts, and this post has been sponsored. I'm so glad to be able to work with companies and organizations that I truly believe in. Thank you for supporting them, too.