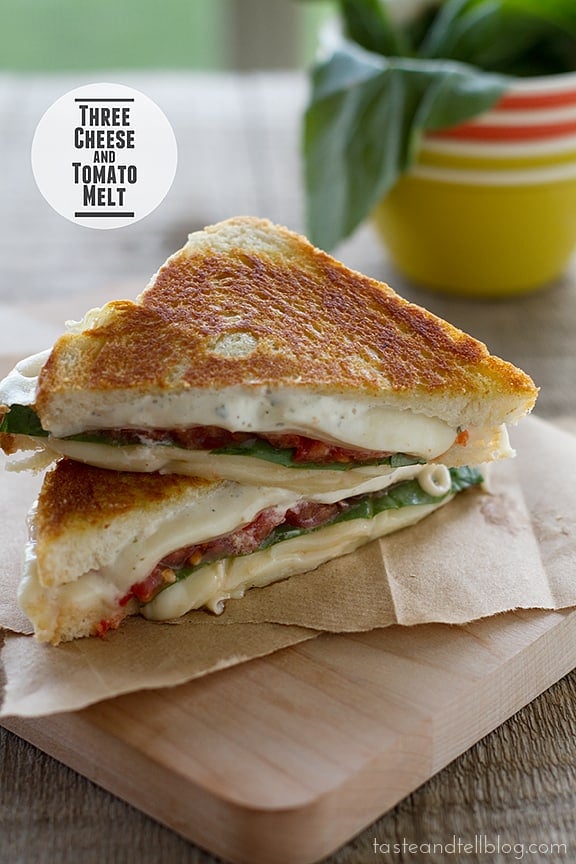 Photo Updated April 2013
I told you I've been eating a lot of sandwiches lately. And I would stop sharing them, but this one was just so good. (In fact, I ate this sandwich 2 more times after this first one!) And who doesn't need more sandwich recipes?? I do have more to share besides just sandwiches, but I've been trying to get through all the recipes I've had lately with the produce that is in season. Because really, it would make no sense to show this sandwich in November. Not only are tomatoes good right now, but I have a bazillion of them in my back yard right now. Yes – I just picked 24 pounds of them earlier this week. And the basil, too. I make sure and make everything I can with lots of basil in the summer since I have a plant in the garden. The rest of the year, it is just too expensive. And cheese is good any time of year, but you can't really have a panini without it!!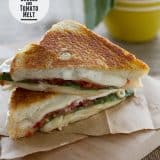 Three-Cheese and Tomato Melt
---
Prep Time: 7 minutes
Cook Time: 5 minutes
Total Time: 12 minutes
Yield: 2 servings 1x
Description
Liven up your grilled cheese with 3 cheeses, tomatoes and basil.
---
Scale
Ingredients
4 slices of Crusty country-style bread
1 tablespoon extra virgin olive oil
3 tablespoons garlic-and-herb cheese spread, such as Boursin
2 ounces thinly sliced mozzarella
2 ounces thinly sliced provolone
4 thin slices of ripe tomato
6 large fresh basil leaves
---
Instructions
Preheat the sandwich grill or skillet. Place the bread slices on a work surface and brush 1 side of each with the olive oil. Turn and spread the un-oiled sides with the herbed cheese, dividing it evenly. On each of 2 of the slices, layer one-fourth of the mozzarella, then one-fourth of the provolone, 2 tomato slices, and 3 basil leaves. Divide the remaining mozzarella and provolone on top. Place the remaining 2 bread slices on top, herbed-cheese sides down, and press to pack gently.
Place the panini on the grill, close the top plate, and cook until the bread is golden and toasted and the cheese is melted, 3-5 minutes. If cooking in a skillet, turn halfway through. Cut each sandwich in half on the diagonal and serve right away.
——————-
Source: Panini