This Root Beer Glazed Ham has a sweet brown sugar and root beer glaze that is baked over a boneless ham for an easy main dish.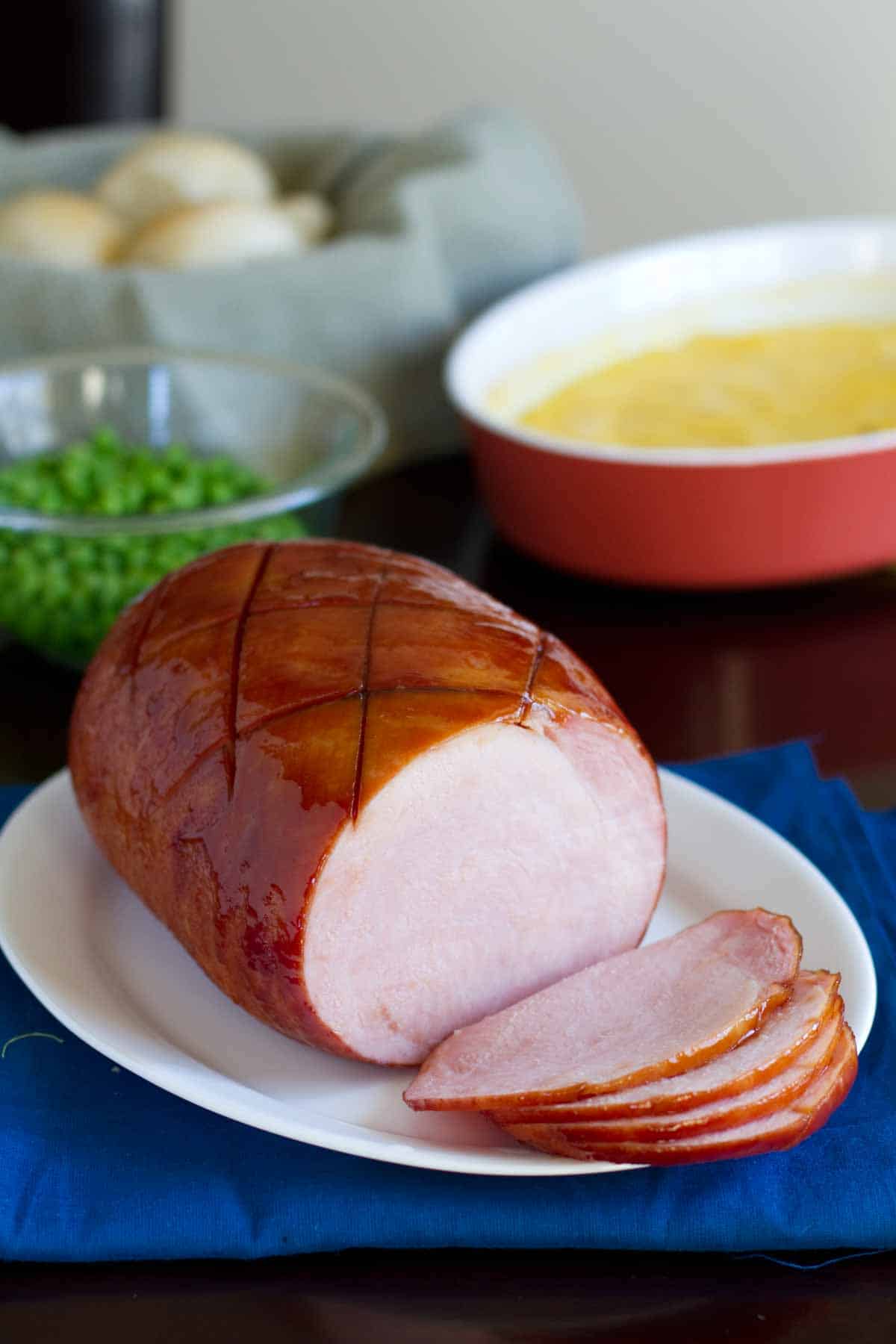 This post has been created in partnership with Jones Dairy Farm
We are on day 6 of 24 Days of Christmas, and while it has been all sweets going on so far, there is something else that we have to get to before Christmas arrives.
Christmas dinner.
We tend to stick to tradition when it comes to the holidays. It's always turkey on Thanksgiving and ham on Christmas. And I like that tradition. And while I do like turkey, I definitely look forward to the ham at Christmas more than I look forward to the turkey at Thanksgiving. I'm a pork-loving girl – that's for sure!!
But just like Thanksgiving, I'm not usually the one to make the centerpiece of the holiday meal. We are usually with family, and I have one sister who is usually in charge of the turkey, and another sister who is usually in charge of the ham.
A few years back, my sister made a ham with a root beer glaze, and I've been dying to try something similar ever since. This is so insanely easy and delicious – you are going to be cooking up a ham a lot more often than just for Christmas or Easter!! A simple glaze is made and reduced, and then all you have to do is baste the ham with the sticky, sweet mixture. If you think the thought of root beer and ham don't go together, let me prove you wrong!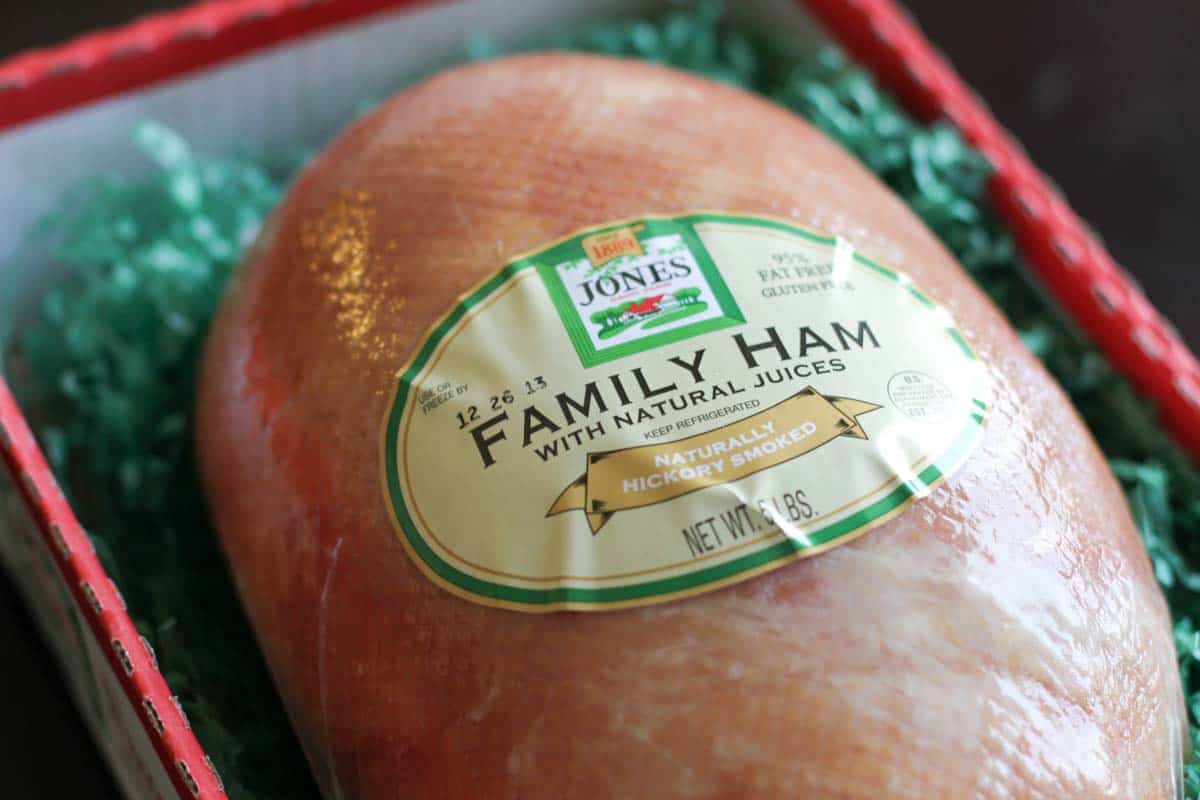 I chose to use a boneless family ham from Jones Dairy Farm. If you are intimidated by a big ham, you should definitely check out the boneless family ham. But if you want to go the more traditional route, Jones Dairy Farm has you covered as well.
To find somewhere near you that sells ham from Jones Dairy Farm, check out the Jones website. You can't go wrong with Jones Dairy Farm!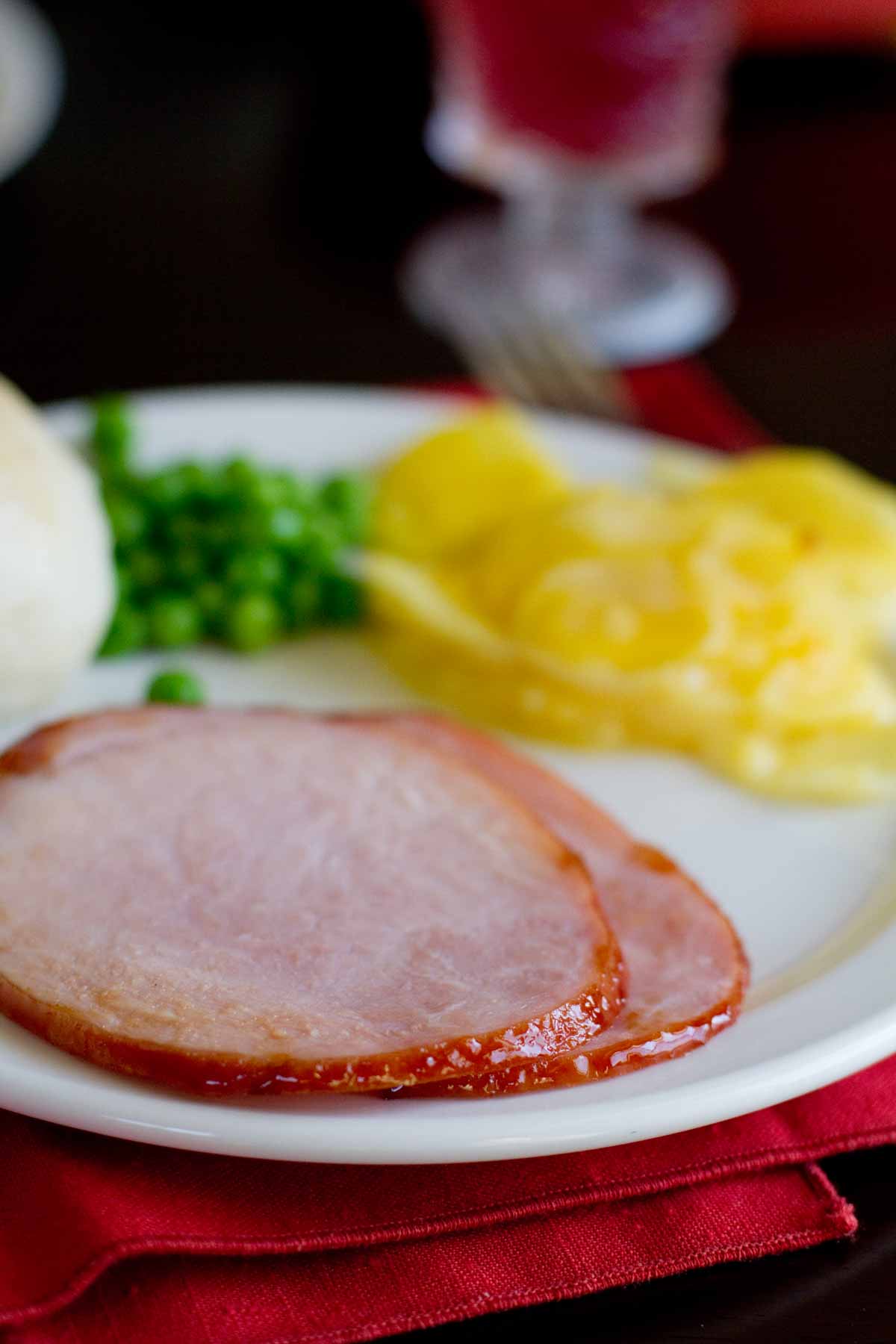 Ways to Use Ham Leftovers:
Ham and Cheese Pasta with Ranch
Ham and Noodle Casserole
Ham and Bean Soup
Ham and Cheese Crescent Bake
Breakfast Casserole with Ham and Cheese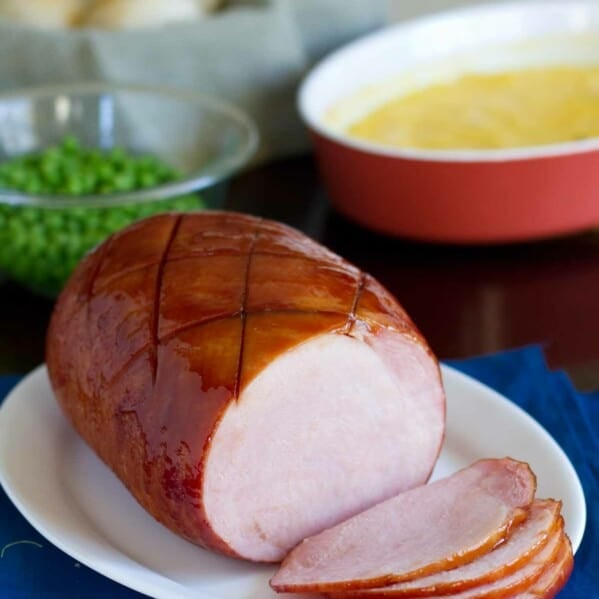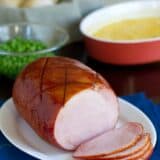 Root Beer Glazed Ham
---
Author:
Prep Time: 15 minutes
Cook Time: 1 hour 45 minutes
Total Time: 2 hours
Yield: about 20 servings 1x
Category: Main Dish
Method: Baked
Cuisine: American
Description
A sweet brown sugar and root beer glaze is baked over a boneless ham for an easy main dish.
---
Scale
Ingredients
1 (5 lb) Jones Dairy Farm Whole Family Smoked Ham
2 cups root beer
1 cup brown sugar
1/2 cup ketchup
2 tablespoons Dijon mustard
---
Instructions
Combine the root beer, brown sugar, ketchup and mustard in a pan and cook over medium heat until reduced to half.
Preheat the oven to 325°F. If desired, score the fat layer on the ham. Place the ham in a baking dish and baste with one-fourth of the reduced root beer mixture. Cover with foil and place in the oven. Bake for 15 minutes, then baste with another fourth of the root beer mixture. Repeat two more times. Remove the foil, baste the ham with the pan juices and cook for an additional 20-30 minutes, or until the internal temperature reaches 145°F.
Keywords: root beer glazed ham
**Thank you to Jones Dairy Farm for sponsoring this post. Because of sponsors like Jones Dairy Farm, I am able to bring you all of the recipes I feature here.**