This Brown Sugar Glazed Ham is a simple yet delicious addition to any holiday table. Sweet, savory, and a little bit tangy, you won't believe how easy this ham glaze is!
A ham dinner is a holiday classic! Serve this Brown Sugar Glazed Ham up with as side of sweet potato casserole or funeral potatoes, dinner rolls, Snickers salad, and scalloped corn and broccoli for a full feast.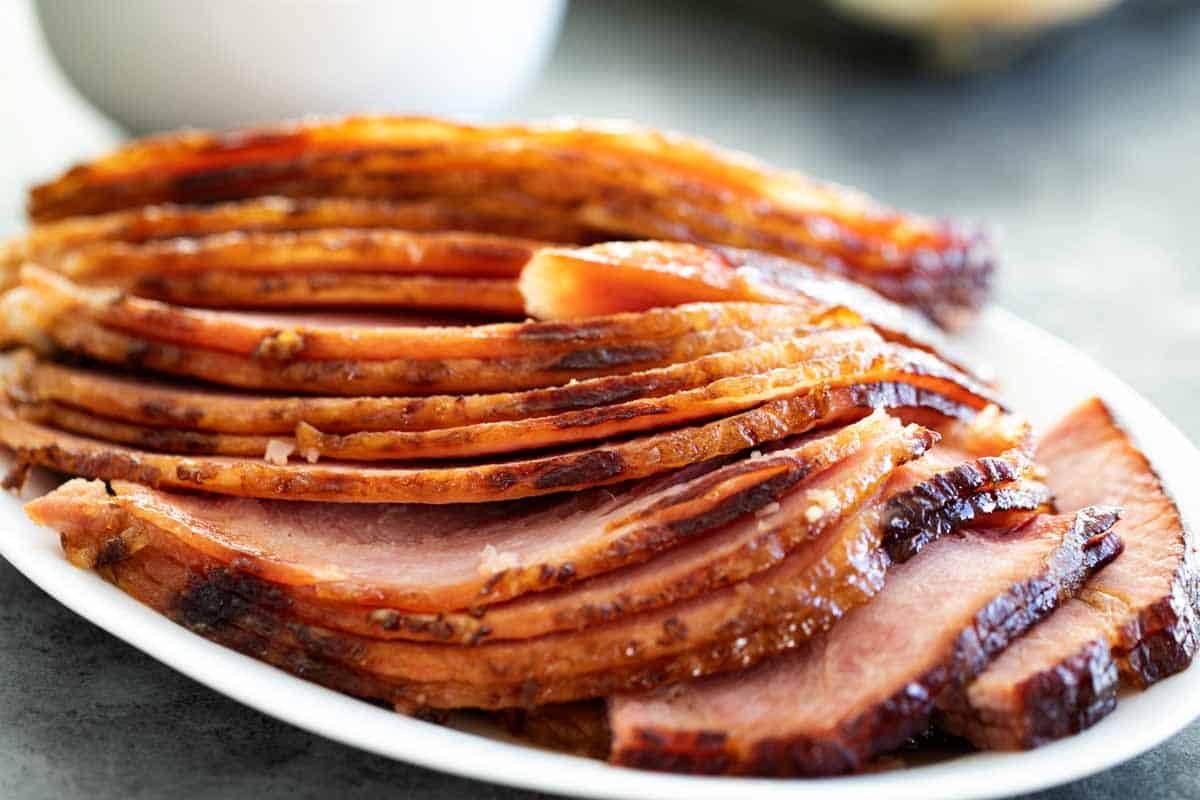 Are you team turkey or team ham?
Ok – I won't make you choose a favorite, but I really love a good holiday dinner with a ham at the center of the table.
I think a lot of times, people are intimidated when it comes to making a ham, but it really is one of the easiest things ever.
With this Brown Sugar Glazed Ham, we are ditching the glaze packet that comes with the ham (that is usually filled with all sorts of things we can't pronounce) and going easy. The ham glaze is made from 4 ingredients that you most likely already have on hand.

How to Prep the Ham
When you are making a ham with a glaze, one of the biggest ways to get the most flavor is to score your ham. This ham was spiral cut (more on that below), but the top of the ham still needed to be scored so that the flavor can seep in.
Start by placing you ham flat side down in a roasting pan. If you don't have a roasting pan, you can use 9×13-inch baking dish as long as your ham fits. If it is too big, you may be able to use a baking sheet, but you'll want to make sure the lip around the edge is tall enough to catch all of the juices.
To score the ham, take a sharp knife and make a few diagonal cuts in the ham, each going about 1/4-inch deep. Then go back the other direction to make diamond shapes.
Cover the ham with foil and place it in a preheated oven.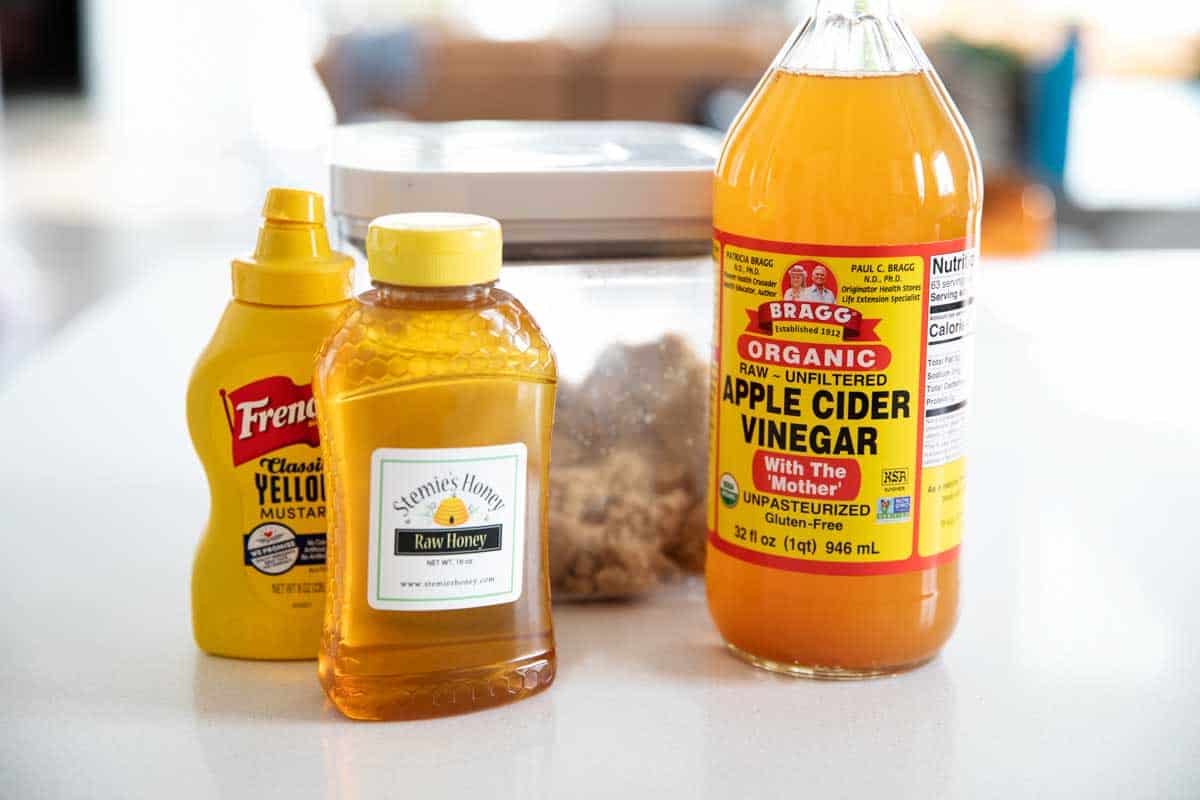 How to Make the Brown Sugar Ham Glaze
All you need for the ham glaze is brown sugar, honey, apple cider vinegar and prepared mustard.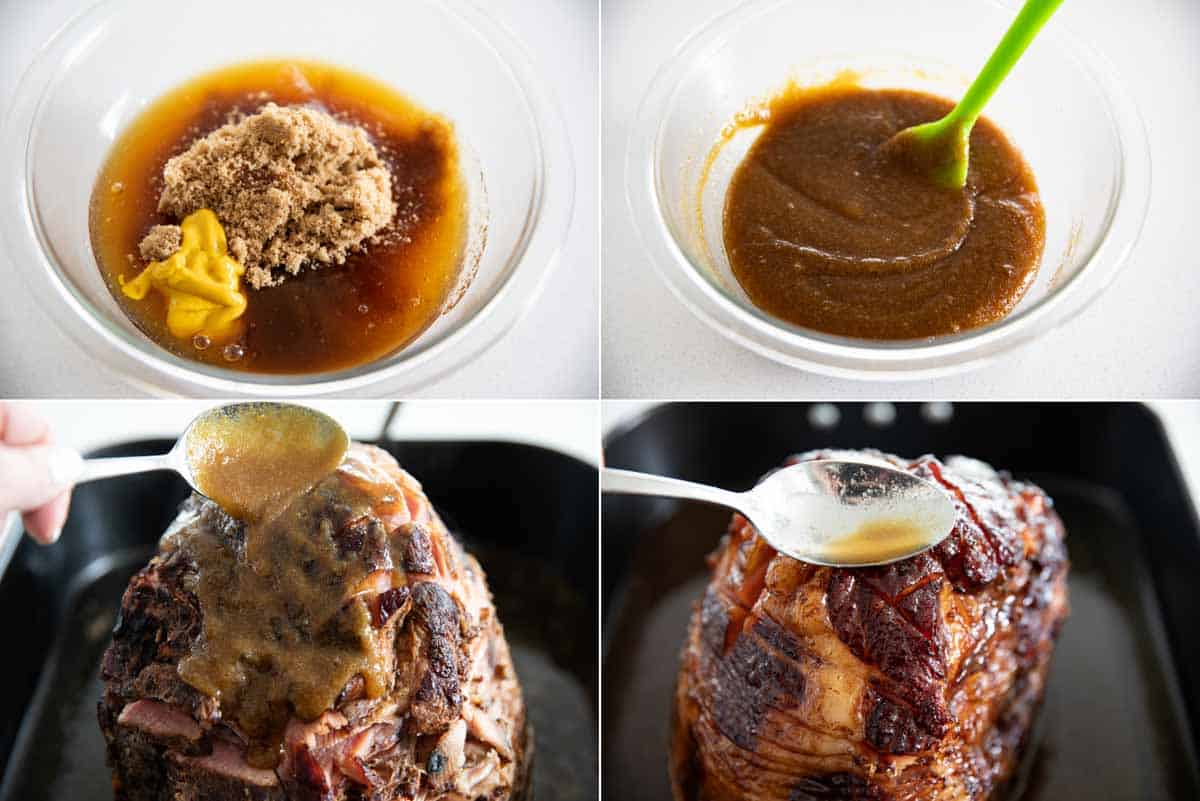 Once the ham has baked for half the time, you'll make the glaze by simply mixing all of the ingredients together.
Remove the ham from the oven and baste with 1/3 of the glaze. Recover the ham and return it to the oven.
After another 15 minutes, baste again with half of the remaining glaze.
Another 15 minutes later, baste with the remaining glaze. You can also baste the ham with any accumulated juices in the pan, as well.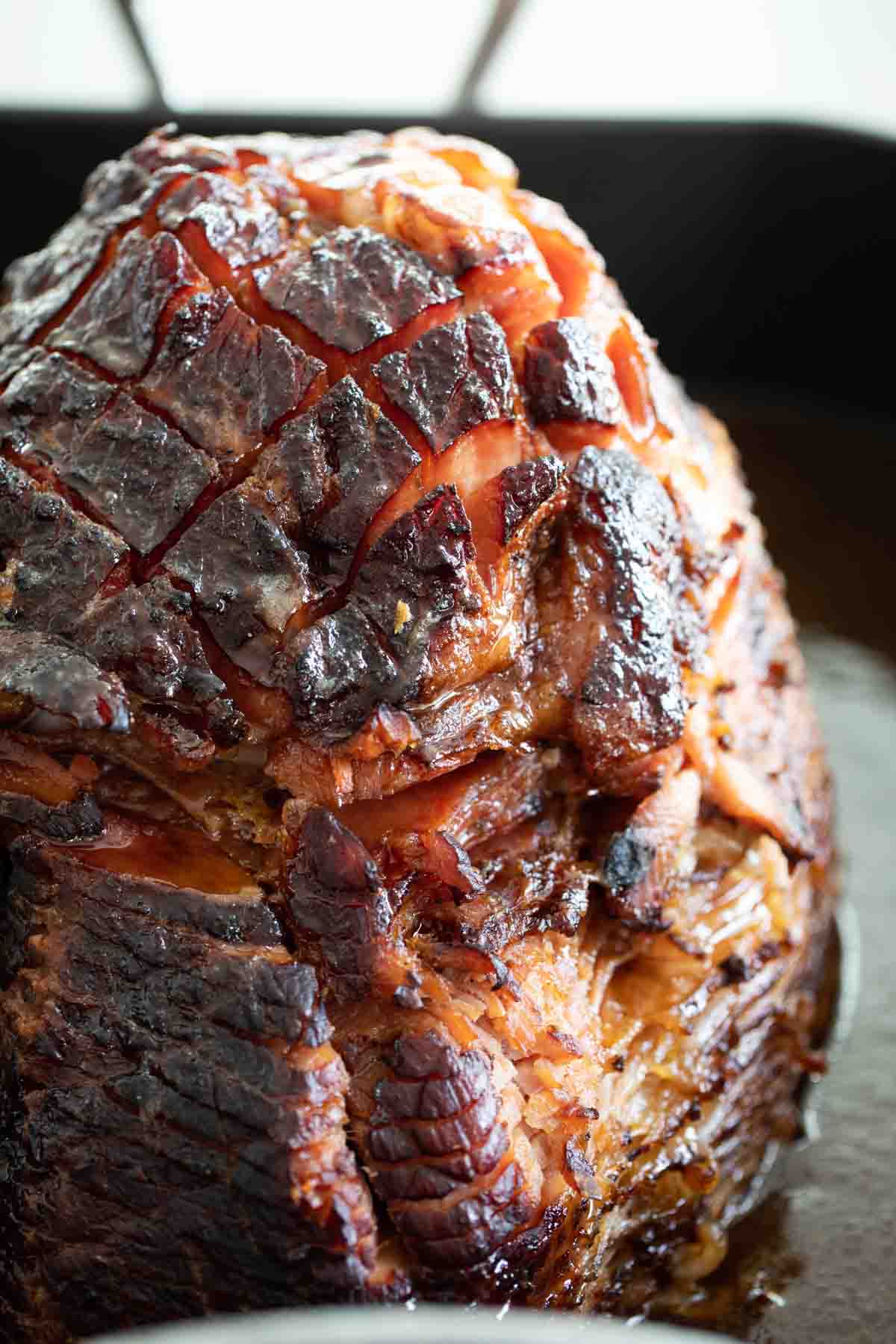 How Long to Bake a Ham
The ham that you'll use for this recipe is actually already cooked – you are basically just warming it through. But because it is a big piece of meat, it will take some time.
As a general rule, I like to cook mine at 325ºF for 12 minutes per pound. So for a 10 pound ham, you'll bake it for approximately 2 hours.
If you are baking a boneless ham, you'll need anywhere from 10-15 minutes per pound. But these usually heat faster because they weigh less.
Tips and Tricks
These days, spiral cut hams are the easiest hams to come across. That will totally work in this recipe, but you have to be careful because they tend to dry out faster because they are precut. That is why you need to keep the ham covered with foil. If you can find a bone in ham that is not already spiral cut, that will have the best flavor. (Although then you'll have to cut it all yourself!)
You do want to make sure you are using a pre-cooked (or smoked) ham. If you by chance can find and uncooked ham, it will take longer to bake.
I love using a bone in ham not only because the flavor is so good, but you can also save the ham bone for soup the next day or to make stock.
Ham can be served warm or at room temperature. This works well if you need your oven to bake something that needs to be warm after the ham. I would suggest keeping it covered with foil, though, as it can start to dry out if just left out.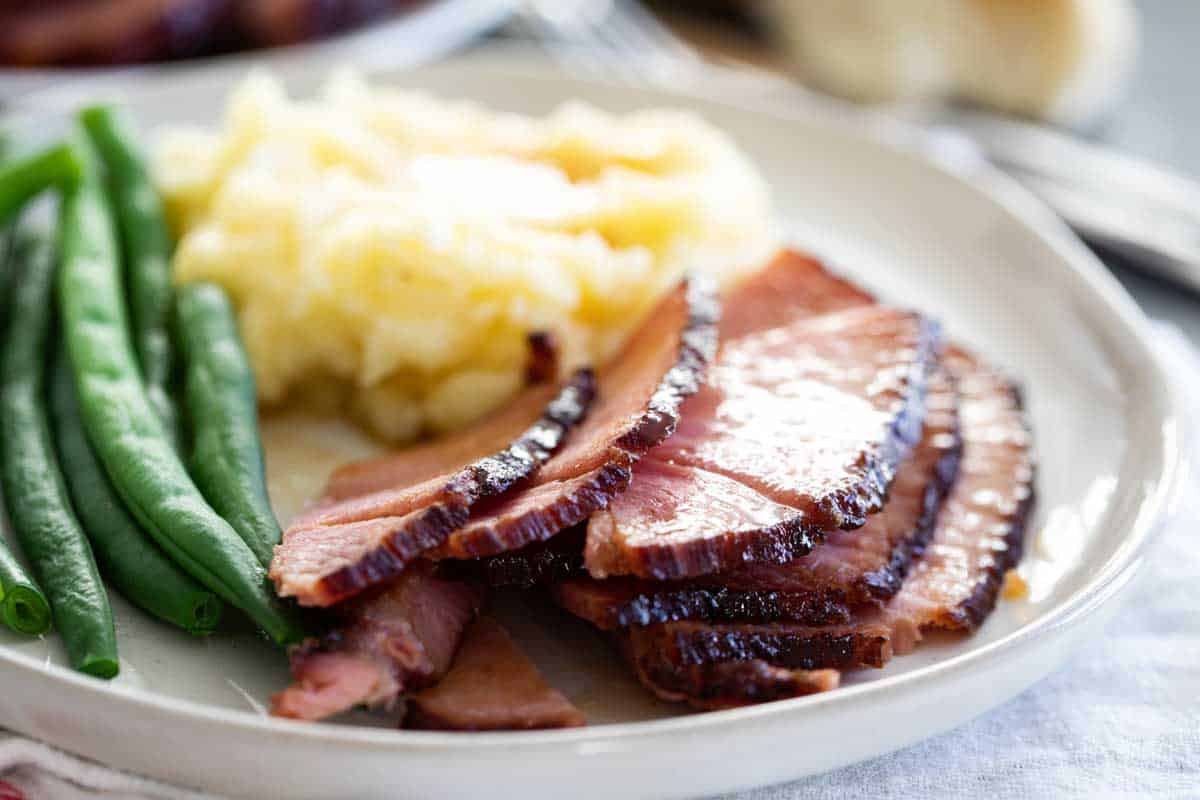 More Ham Recipes
Sweet and Spicy Ham Glaze Recipe
Cherry and Brown Sugar Glazed Ham
Root Beer Glazed Ham
Honey Glazed Ham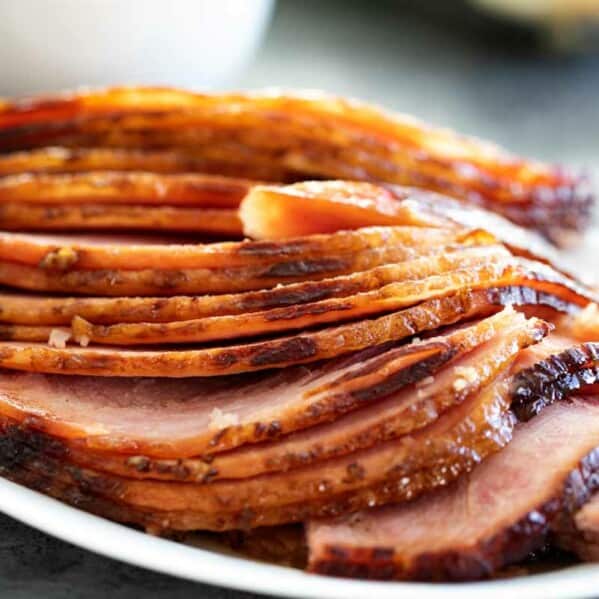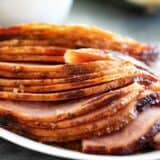 Brown Sugar Glazed Ham
---
Author:
Prep Time: 10 minutes
Cook Time: 2 hours
Total Time: 2 hours 10 minutes
Yield: 20 servings 1x
Category: Main Dish
Method: Baked
Cuisine: American
Description
This Brown Sugar Glazed Ham is a simple yet delicious addition to any holiday table. Sweet, savory, and a little bit tangy, you won't believe how easy this ham glaze is!
---
Scale
Ingredients
1 fully cooked bone-in ham (around 10 lbs)*
1 1/2 cups packed brown sugar
1/2 cup honey
2 tablespoons cider vinegar
1 tablespoon prepared mustard
---
Instructions
Preheat the oven to 325ºF.
Place the ham in a roasting pan, flat side down.
Using a sharp knife, score the surface of the ham in a diamond pattern, making the cuts about 1/4-inch deep.
Cover the pan with foil and set a time for about 12 minutes per pound of ham. (So for a 10 pound ham, it would be 2 hours).
About halfway through the cook time, prepare the glaze by combining the brown sugar, honey, vinegar and mustard in a bowl. Remove the ham from the oven and spread about 1/3 of the glaze over the top of the ham. Recover and return to the oven for 10-15 minutes.
After 10-15 minutes, use another 1/3 of the glaze to baste the ham.
Another 10-15 minutes later, spread the remaining glaze over the ham. At this point, I like to baste the ham with any juices that have accumulated in the pan.
Cook until the ham reaches 140ºF. If desired, when the ham is done, remove the foil and broil for a minute or two to crisp up the glaze.
Recipe Notes:
*I prefer a ham that has not been spiral cut, but they are a lot harder to find. A spiral cut ham will work just fine, they just tend to dry out easier. Make sure to keep the ham covered with foil while baking to ensure a moist ham.
Nutrition information provided as an estimate only. Various brands and products can change the counts. Any nutritional information should be used as a general guide.
Nutrition
Serving Size: about 1/3 pound
Calories: 429
Sugar: 27 g
Sodium: 1913 mg
Fat: 26 g
Saturated Fat: 8 g
Unsaturated Fat: 0 g
Trans Fat: 0 g
Carbohydrates: 27 g
Fiber: 0 g
Protein: 22 g
Cholesterol: 70 mg
Keywords: Brown sugar glaze, brown sugar glaze for ham, brown sugar ham, ham glaze