This Cannoli Cheeseball has the flavors of cannoli filling turned into a cheeseball. It is a super easy recipe for entertaining!
When I sat down and decided that I wanted to do a month full of sweets for December, I made a plan. I knew all of the recipes that I wanted to make, and I had a schedule. I try to keep organized, and I was pretty excited about my plan and all of the recipes that I had chosen.
And then I saw an episode of The Rachael Ray Show. And my plans came to a stop and had to be refigured.
Because of this Cannoli Cheeseball.

I saw it, and I knew I needed it. And I couldn't wait. I actually had all of the ingredients on hand, and it took all of my willpower not to run straight to the kitchen to try it out. I did wait a few days, and rearraged my posting schedule so that I could share this with you. One of those recipes is just going to have to wait until January now. 🙂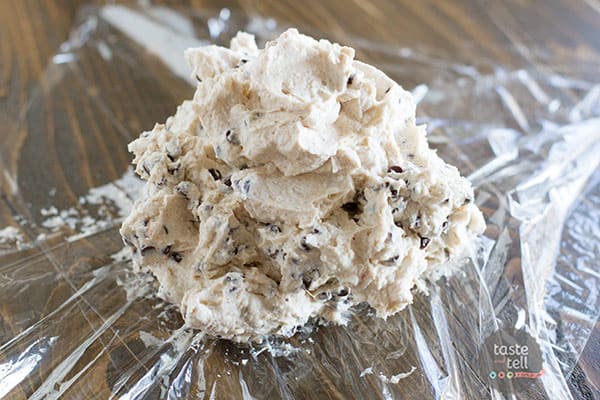 If you've never made a cheeseball before, it is seriously the easiest recipe. It might get a little bit messy, but it's totally worth it. The filling will be a bit soft when you first mix it all together. Do not attempt to roll it in chocolate chips at this point or you will have a huge mess on your hands. If you are too impatient and don't want to wait for it to set up, you can just throw it into a bowl at this point and eat it as a dip.
But it's pretty easy to make it into a ball. Because people go crazy for cheeseballs at parties. Just lay out a piece of plastic wrap, and dump the filling right on top.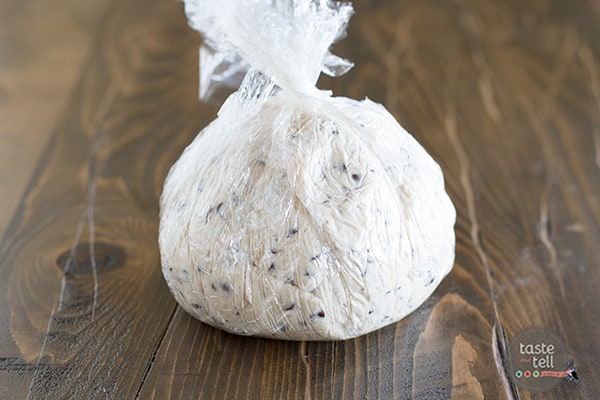 Gather up the sides of the plastic wrap and pull them together in the middle, forming the mixture into a ball. I just twist the top of the plastic wrap and call it good. Into the fridge the ball goes for at least an hour. You can leave it longer, but it does need some time to set up.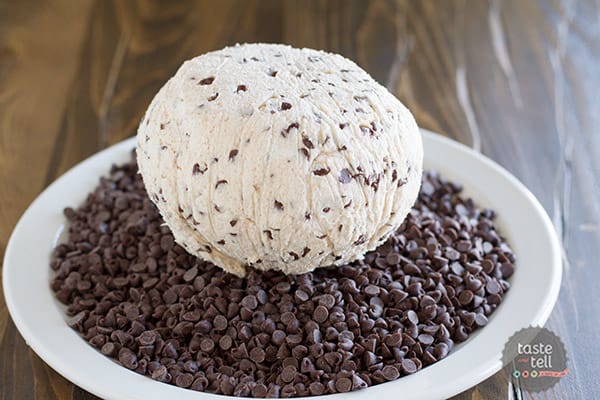 Once it has spent some time in the fridge, put the chocolate chips on a plate, and dump the cheeseball on top. Use your hands to roll the ball in the chips, coating the outside. It may be a little sticky, but the ball should be fairly firm. Place the ball on a serving plate, and surround it with vanilla wafers and graham crackers, and that's it!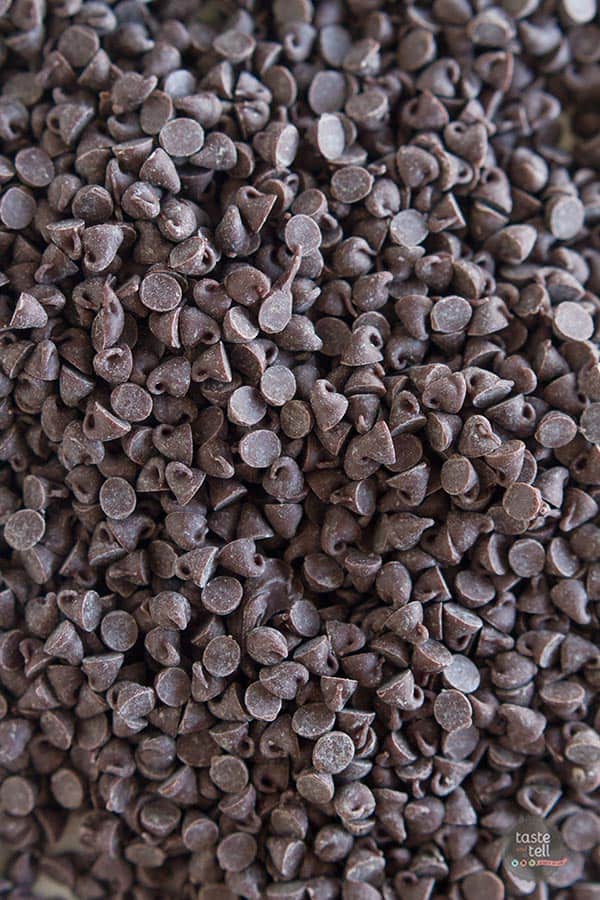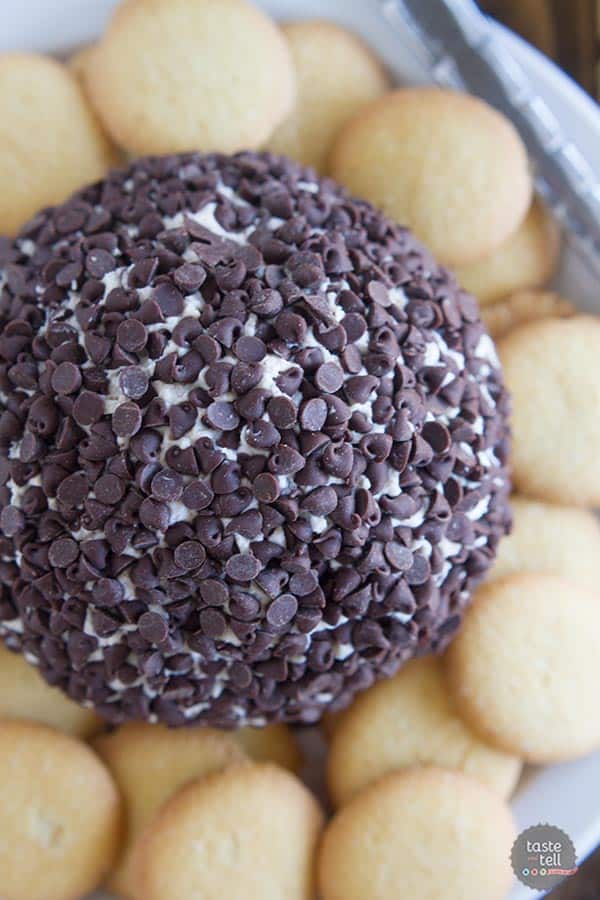 I loved this cannoli cheeseball, and definitely thought it had the flavors of cannoli filling. I loved the cinnamon – it was subtle, yet it added a lot. On the show, Rachael Ray suggested serving it with broken cannoli shell pieces, which, if you can find cannoli shells easily, I think that would be a great idea. I do know that I kept going back for bites of this, and I couldn't stay away. I think it is the perfect dessert for a holiday party or a pot luck. It's a crowd pleaser!!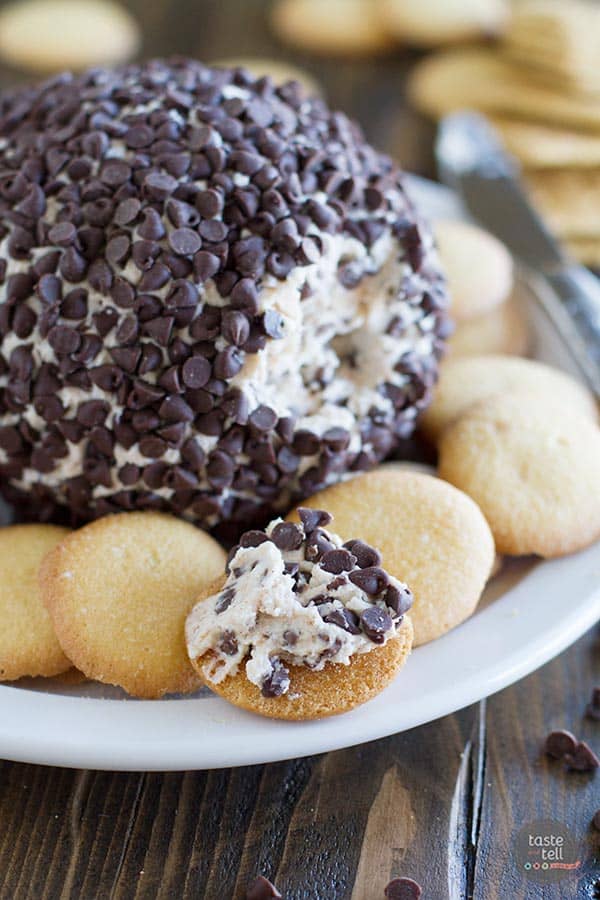 Like what you see here? Make sure you are following Taste and Tell for more great recipes and ideas!!

Facebook ** Pinterest ** Twitter ** Instagram ** Google+
or you can subscribe to my newsletter or Feedly or Bloglovin


Cannoli Cheeseball
This Cannoli Cheeseball has the flavors of cannoli filling turned into a cheeseball. It is a super easy recipe for entertaining!
Ingredients
8 oz brick cream cheese, at room temperature
½ cup ricotta cheese
½ cup powdered sugar
1 teaspoon cinnamon
1¾ cups mini chocolate chips, divided
Vanilla Wafers or graham crackers, for serving
Instructions
In a medium bowl, beat the cream cheese until smooth. Add the ricotta, powdered sugar and cinnamon and beat until combined. Stir in 1 cup of the chocolate chips.
Dump the mixture out onto a piece of plastic wrap. Gather the plastic wrap around the top, squishing the mixture into a ball shape. Refrigerate for at least 1 hour.
Place the remaining ¾ cup of chocolate chips on a plate or in a shallow dish. Open the plastic wrap and turn the cheeseball filling onto the chocolate chips. Use your hands to roll the ball to coat in the chocolate chips.
Serve with vanilla wafers and graham crackers.
**Make sure you are using full fat ingredients, not skim or low-fat. Low-fat ingredients will alter the final product.**
More Dessert Cheeseballs: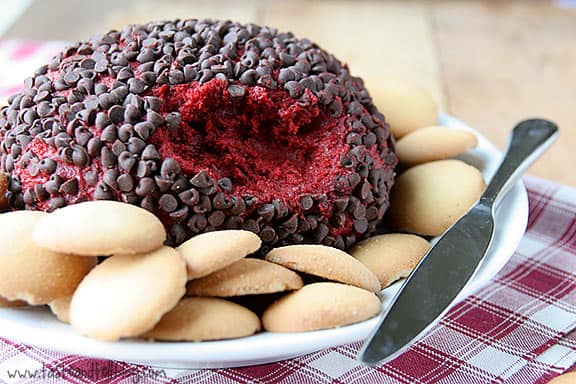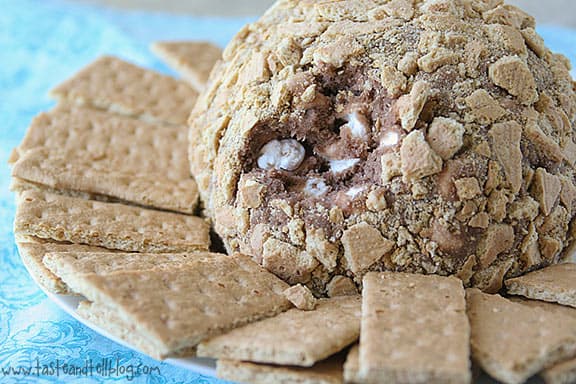 Around the Web:
Peanut Butter Cheese Ball from The Girl Who Ate Everything
Nutella Cheeseball from Gimme Some Oven
Pistachio Cheeseball from Shugary Sweets