Summer never looked so good! Leave that oven off and make this Peanut Butter Banana Icebox Cake that everyone will go crazy for. Plus a review of No-Bake Treats by Julianne Bayer.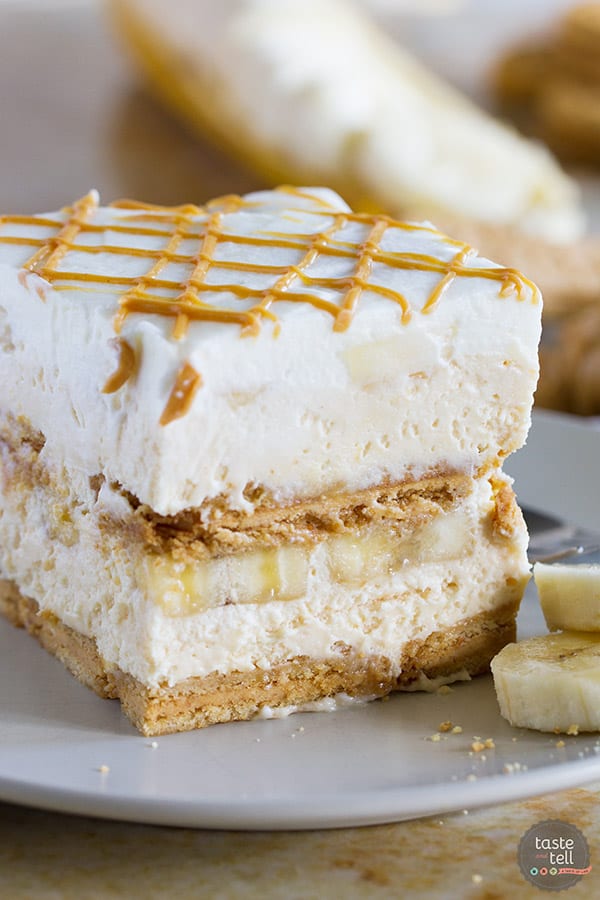 If I had to choose between winter and summer, I'd choose summer every time. It's no secret that I'm not the biggest fan of the cold and snow. But there is one thing about summertime that I struggle with.
Something about the summer – or maybe the heat – makes it pretty much impossible to cook.
I've been so bad lately, too. Worse than I've been in years past, I think. I have had no motivation to cook. Dinner, dessert, even breakfast and snacks – all structure has gone out the window this year in our house.
But I've recommitted myself. No more peanut butter sandwiches for dinner or packages of store-bought cookies for dessert.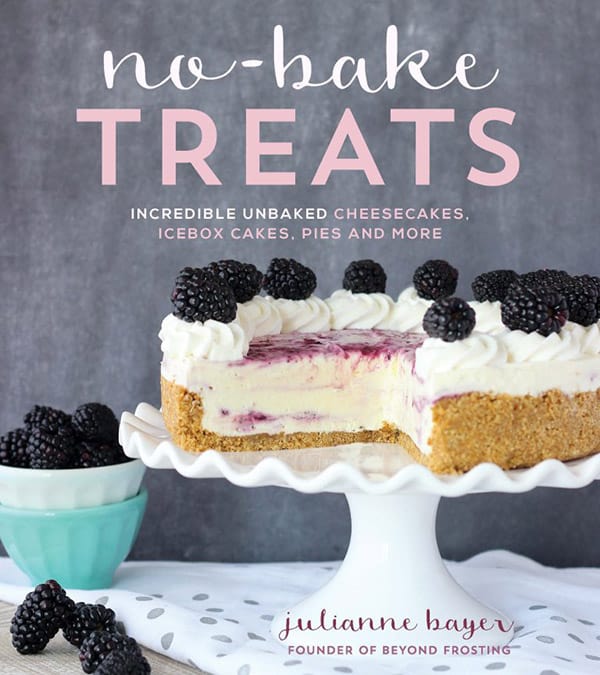 Because now I have 80 reasons to not turn the oven on. Today is the release date for the cookbook everyone needs this summer – No-Bake Treats: Incredible Unbaked Cheesecakes, Icebox Cakes, Pies and More by Julianne Bayer from Beyond Frosting. Dessert without turning on the oven? Count me in!
This book is packed full of so many amazing looking desserts. And I love that all of the recipes are super easy as well. The photography is beautiful and the recipes are creative. I seriously am going to be "baking" from this cookbook all summer long!
Here are the details:
Number of Photos: Lots! There is a full-page photo of each recipe, and like I mentioned above, the photography is beautiful.
Difficulty Level of Recipes: Easy. If you are looking for an impressive looking dessert that is easy to prepare, this is the book for you!
Availability of Ingredients: Easy. Most of the ingredients are basic baking ingredients. In fact, you probably already have a lot on hand. Any of the others should be easy to find.
Other recipes I want to try:
Blackberry White Chocolate Truffle Cheesecake
Dulce de Leche Pie
Apple Pie Lasagna
Samoa Icebox Cake
Easy Chocolate Mascarpone Mousse Tart
Mint Chocolate Ice Cream Bites
Coconut Lime Cookie Truffles
Coconut Cream Pie Parfaits
Buy No-Bake Treats: Incredible Unbaked Cheesecakes, Icebox Cakes, Pies and More on Amazon.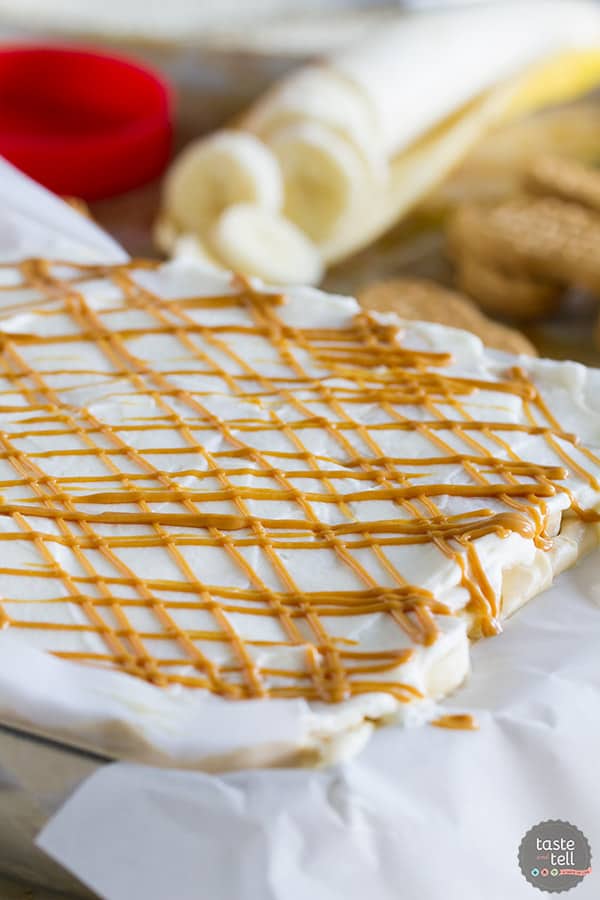 And now this Peanut Butter Banana Icebox Cake. Oh, this cake. This was one of those desserts that I had my portion, then immediately gave the rest away because I knew that I would eat the entire cake. I'm not even kidding.
Imagine – peanut butter cookies that have been softened, forming the "cake" portion. Top that with peanut butter mousse. While I was making the mousse, I tried it, and almost immediately sat at the table with just that bowl of mousse and spoon. I was able to resist, but I can't promise that all of the mousse actually made it onto the cake. 🙂 And you can't forget the bananas! My dad used to always make peanut butter and banana sandwiches when I was growing up (one of the only things that he made back then) so this combo reminded me of him. The peanut butter and banana combo is definitely one that I can stand behind.
The only peanut butter cookies that my store had were Nutter Butters, but they worked fabulously. I used a 16 oz family sized bag and it was almost perfect. (I even had a couple left over for the kids to snack on!)
The recipe calls for a 9-inch baking dish, and I can't even believe it, but I don't even own a 9-inch baking dish. All of mine are 8-inch. The smaller dish totally worked – the slices are just taller. I almost thought that it wouldn't fit. And it barely did. But I made it work, and the final product was amazing. This is a cake I would happily make over and over again!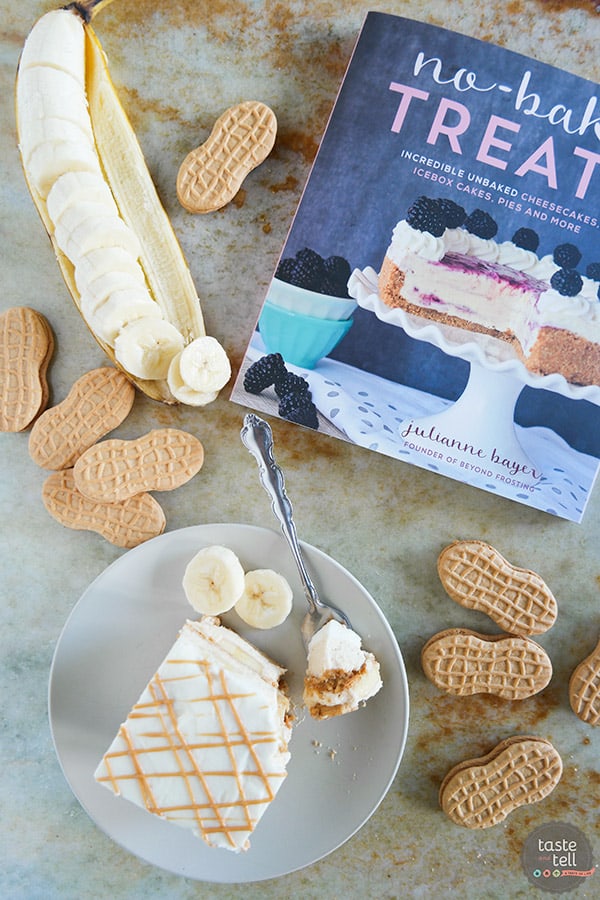 Like what you see here? Make sure you are following Taste and Tell for more recipes and ideas!
Facebook | Pinterest | Instagram | Twitter | Google+ | Weekly Newsletter | Feedly | Bloglovin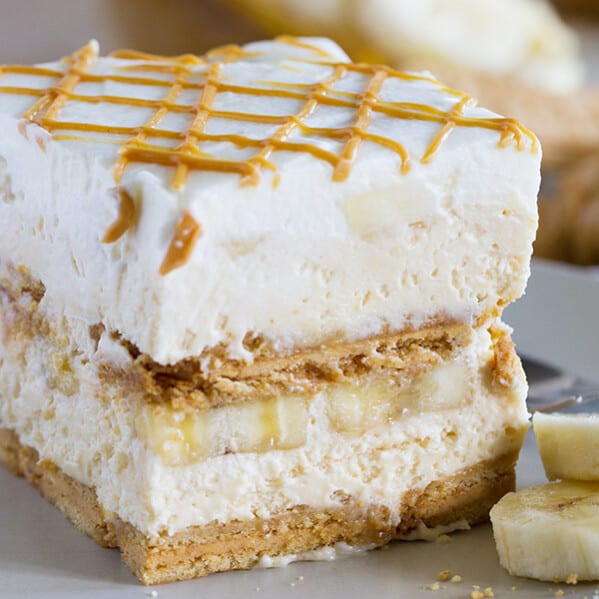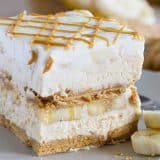 Peanut Butter Banana Icebox Cake
---
Author:
Prep Time: 20 mins
Total Time: 20 mins
Yield: 9 servings 1x
Description
Summer never looked so good! Leave that oven off and make this Peanut Butter Banana Icebox Cake that everyone will go crazy for.
---
Scale
Ingredients
For the Mousse:
1 3/4 cups plus 2 tablespoons (444 ml) heavy whipping cream, divided
2 cups (260 g) powdered sugar, divided
8 oz (227 g) cream cheese, softened
1/2 cup (90 g) creamy peanut butter
20 oz (567 g) peanut butter cookies
1/2 cup (118 ml) milk in a small bowl
5 medium bananas
For the Topping:
2/3 cup (158 ml) heavy whipping cream
1/2 cup (65 g) powdered sugar
1 tablespoon (11 g) creamy peanut butter
---
Instructions
Place a mixing bowl and the whisk attachment in the freezer for 5-10 minutes to chill. Pour 1 3/4 cup of the whipping cream into the bowl and beat until the mixture becomes bubbly. Slowly add 1 cup of the powdered sugar as you continue to beat. Beat on high speed until stiff peaks form. Set aside.
In another bowl, beat the cream cheese on medium-high speed until light and fluffy, 2-3 minutes. Scrape down the sides of the bowl, then add the peanut butter and the remaining 2 tablespoons of cream. Continue to beat until the mixture is smooth, scraping down the sides as needed. Slowly add the remaining 1 cup of powdered sugar and beat until well combined.
Gently fold the whipped cream into the peanut butter mixture. Divide the mixture in half.
Line a 9-inch baking dish with parchment paper. (You will want to make sure the side of your dish are at least 2 1/2 inches tall.) Dip both sides of a peanut butter cookie into the milk, then place in the bottom of the dish. Repeat until you have one layer of cookies on the bottom of the dish. You may need to break a cookie or two to make them fit the best. Spread half of the peanut butter mousse over the top of the cookies.
Peel and thinly slice the bananas. Place a single layer of bananas over the top of the mousse. Repeat the cookie layer, dipping the cookies in the milk first. Spread the remaining peanut butter mousse over the tops of the cookies, then add another layer of bananas.
In a mixing bowl, beat the remaining 2/3 cup cream until bubbles form, then slowly add the 1/2 cup powdered sugar. Continue to beat until you have stiff peaks. Spread the whipped cream over the top of the bananas in the dish.
Microwave the 1 tablespoon of peanut butter (I think this is easiest in a piping bag of ziplock bag). Drizzle the peanut butter over the top of the whipped cream.
Cover the dessert and refrigerate for 4 to 6 hours.
Don't miss a thing! Follow me on Pinterest to see what I'm pinning!
Visit Taste and Tell's profile on Pinterest.



**A copy of this book was sent to me for review purposes, but all opinions are my own. This post contains affiliate links. If you purchase an item from Amazon from the link Taste and Tell receives a small commission. Thank you for supporting Taste and Tell through your purchases!**