Change up your holiday pie with this non-traditional pumpkin pie recipe. This Pumpkin and Butter Pecan Ice Cream Pie Recipe is fun and easy!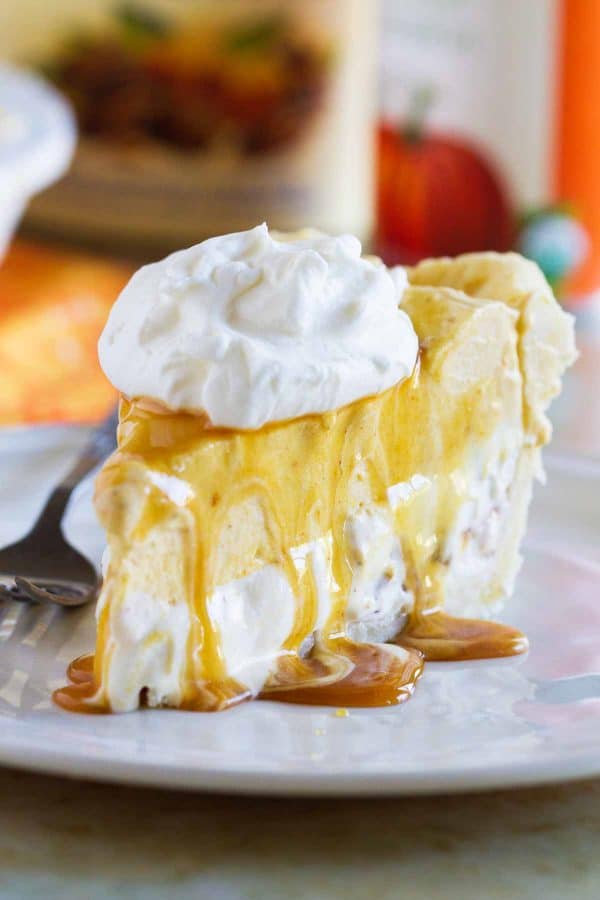 It's October 17th. October. Over halfway through the month. And it's a tragedy. Because I have not posted a single pumpkin recipe yet.
I know, I know. In the blog world, this is practically equivalent to posting fresh corn recipes in the middle of the winter. Because let's face it, people have been posting about pumpkin since, well, probably about August. So yes – I'm late to the game.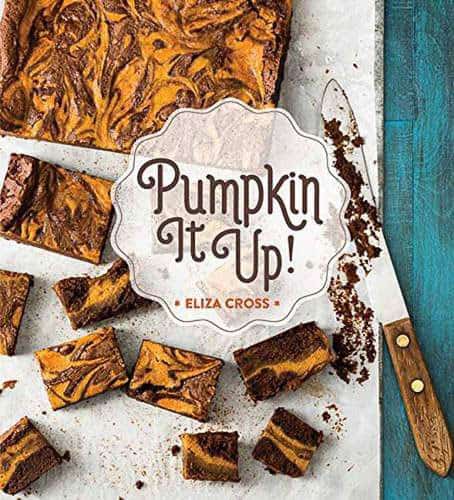 But that doesn't change the fact that I still love pumpkin. And that really – pumpkin is "in" through at least Thanksgiving. Which is why I think it's the perfect time to share another cookbook review with all of you. Pumpkin It Up! by Eliza Cross is filled with 75 recipes where pumpkin is the star. And it's not all about dessert, either. The book has a great number of savory pumpkin recipes – making this a great book to turn to for all of your fall recipe needs.
Here are the details:
Number of Photos: some. So I actually went through and counted the pages with photos, and there are 34 recipes with photos out of 75 recipes. So you don't get a photo of every recipe, but you still get a decent amount.
Difficulty Level of Recipes: easy to medium. Most of the recipes are easy, but there are a good amount of baking recipes that might take a little bit more precision.
Availability of Ingredients: easy. As long as you can find canned pumpkin or fresh pie pumpkins, you should be able to find all of the other ingredients!
Other recipes I want to make:
Pumpkin Cream Chocolate Cups
Pumpkin-Caramel Cinnamon Rolls
Pumpkin Dutch Baby
Pumpkin, Potato, and Bacon Hash
Comforting Pumpkin Chicken Soup
Maple-Roasted Pumpkin and Brussels Sprouts
Autumn Lasagna
Pumpkin Cream Puffs
Pumpkin Crumb Cake
Maple-Glazed Pumpkin Oatmeal Cookies
Pumpkin Bars with Cream Cheese Frosting
Six-Layer Pumpkin-Ginger Bars
Buy Pumpkin It Up! on Amazon.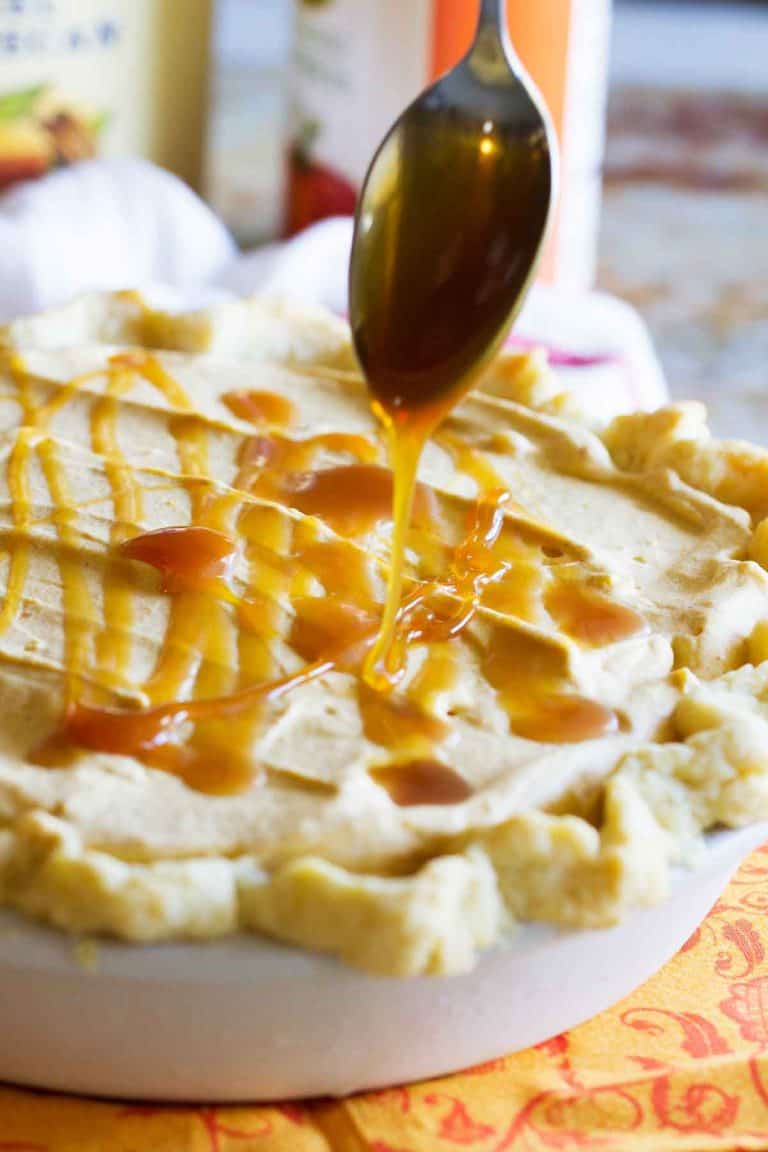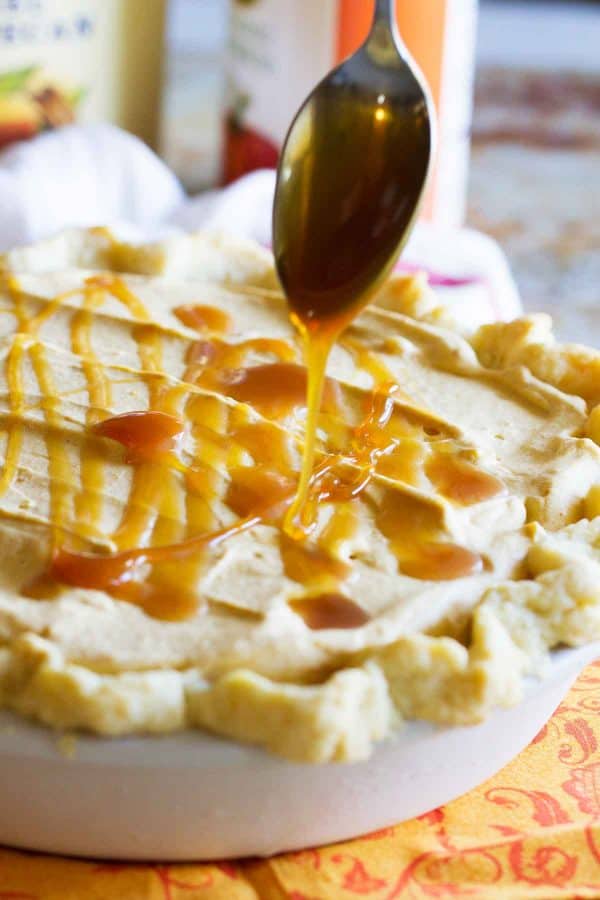 So, I'm saying right now that another recipe from this book may be making an appearance before "pumpkin season" is over, because I wanted to make more than one recipe. But after much deliberation, I decided to make this Pumpkin and Butter Pecan Ice Cream Pie Recipe. Because, 1 – I needed a pie for this month, and 2 – can you ever go wrong with an ice cream pie??
It was totally the right decision to make this ice cream pie. I don't care that it's fall and getting cold outside – ice cream is a good idea year round. And not only is this ice cream pie recipe super easy to make, but it's a great way to change up that traditional pumpkin pie. I used my favorite pie crust, but I also thought that a graham cracker crust would be really good here. And splurge on the good ice cream for this, because you don't want a cheap ice cream to ruin your pie.
Long live pumpkin, and this Pumpkin and Butter Pecan Ice Cream Pie Recipe!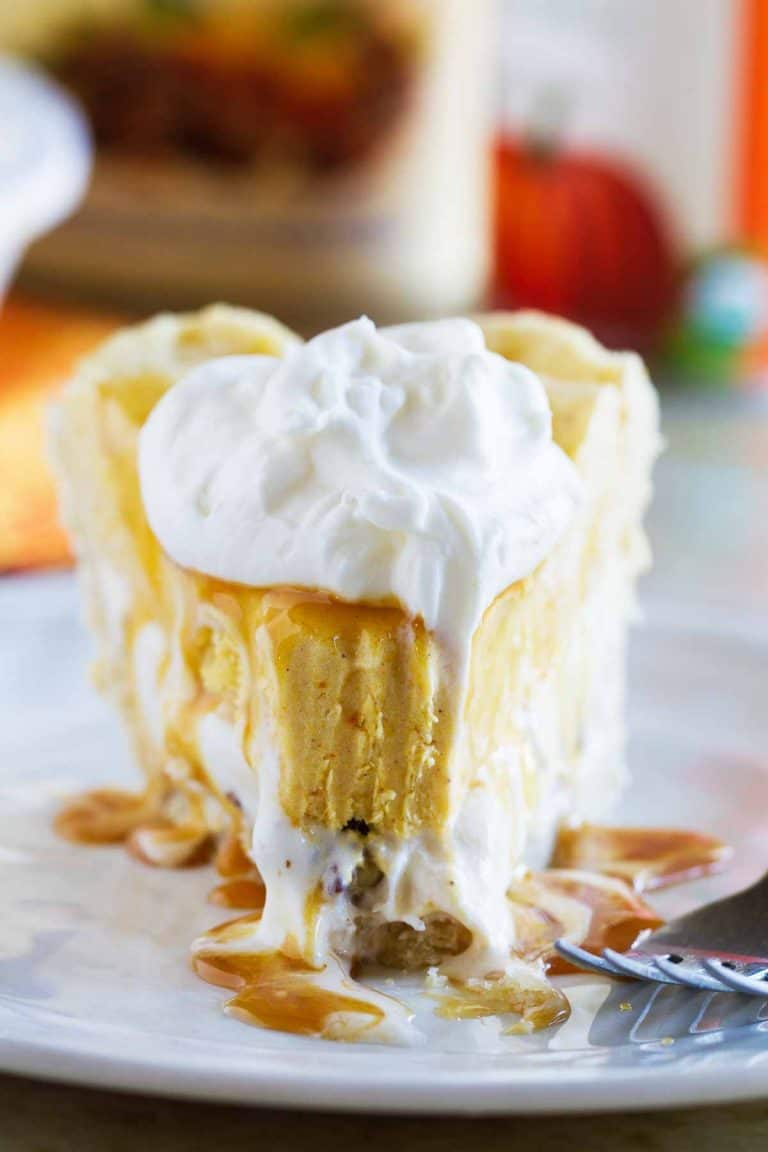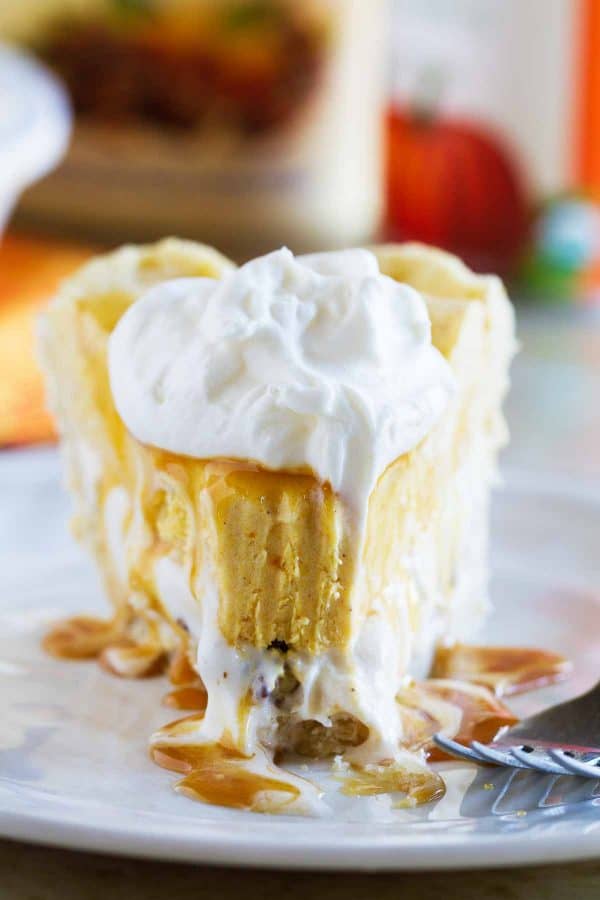 Like what you see here? Make sure you are following Taste and Tell for more recipes and ideas!
Facebook | Pinterest | Instagram | Twitter | Google+ | Weekly Newsletter | Feedly | Bloglovin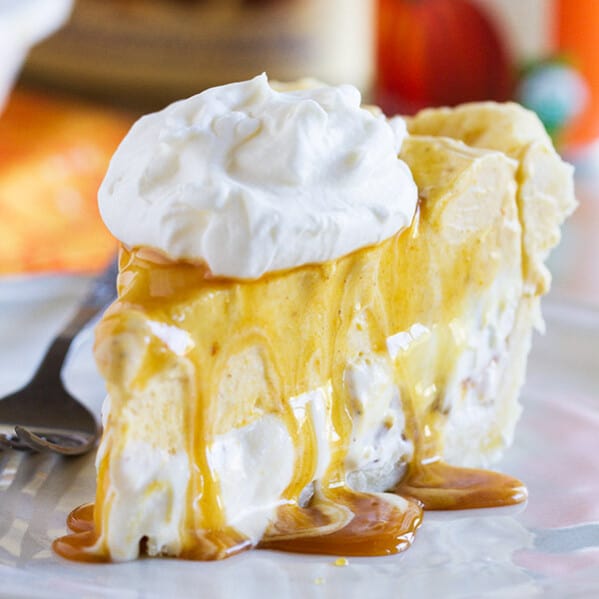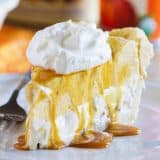 Pumpkin and Butter Pecan Ice Cream Pie Recipe
---
Author:
Prep Time: 15 mins
Total Time: 15 mins
Yield: 8 servings 1x
Description
Change up your holiday pie with this non-traditional pumpkin pie recipe. This Pumpkin and Butter Pecan Ice Cream Pie is fun and easy!
---
Scale
Ingredients
1 (9-inch) pie crust, fully cooked
1 quart butter pecan ice cream, softened
1 cup pumpkin puree
1/2 cup sugar
1/4 teaspoon cinnamon
1/4 teaspoon nutmeg
1/4 teaspoon ginger
2 cups heavy whipping cream, divided
1/2 cup caramel topping
---
Instructions
Spread the ice cream evenly in the pie crust. Cover and freeze for 2 hours, or until it is completely firm.
In a large bowl, combine the pumpkin puree, sugar, cinnamon, nutmeg and ginger. In another bowl, whip 1 cup of the cream until it forms stiff peaks. Fold the whipped cream into the pumpkin mixture. Remove the pie from the freezer and spread the pumpkin mixture evenly over the ice cream layer. Cover and return to the freezer and freeze for an additional 2 hours.
minutes before serving, remove the pie from the freezer. Drizzle the caramel sauce evenly over the top. In a bowl, whip the remaining cup of cream until stiff peaks form. Cut the pie into slices, and top each slice with a dollop of the whipped cream.
Recipe Notes:
**Total time does not include freezing time**
recipe source: Pumpkin It Up! by Eliza Cross
SHOP THIS POST!
More Pumpkin Recipes: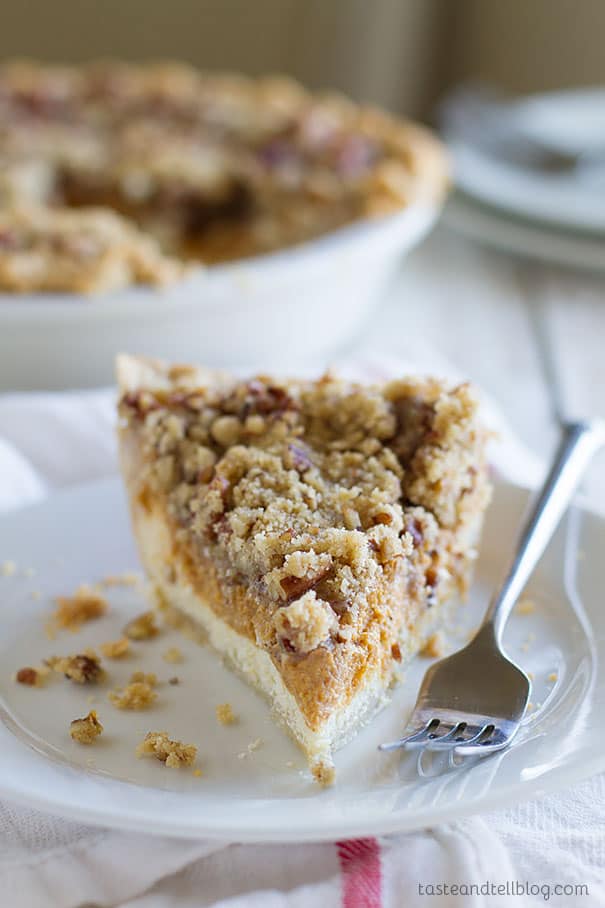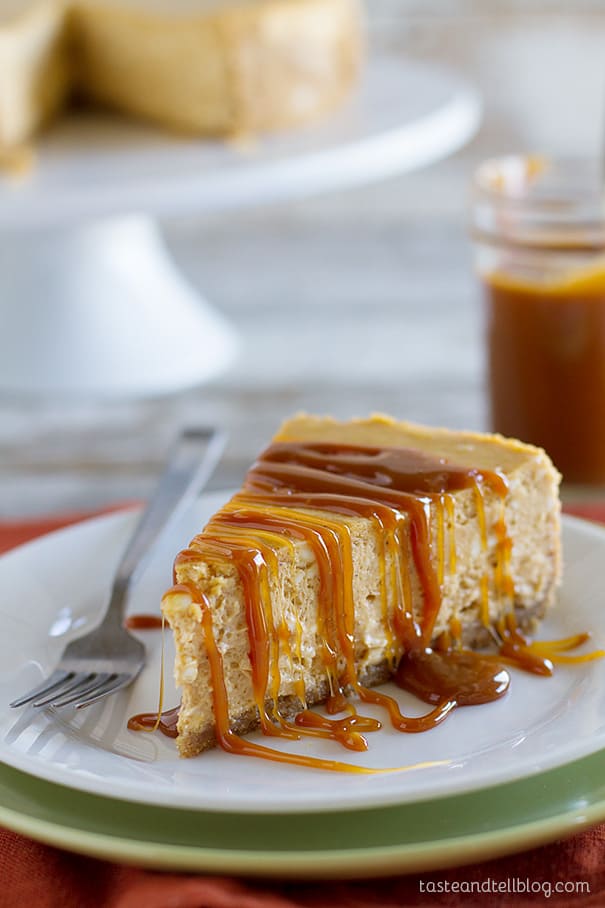 Pumpkin Cheesecake with Caramel Sauce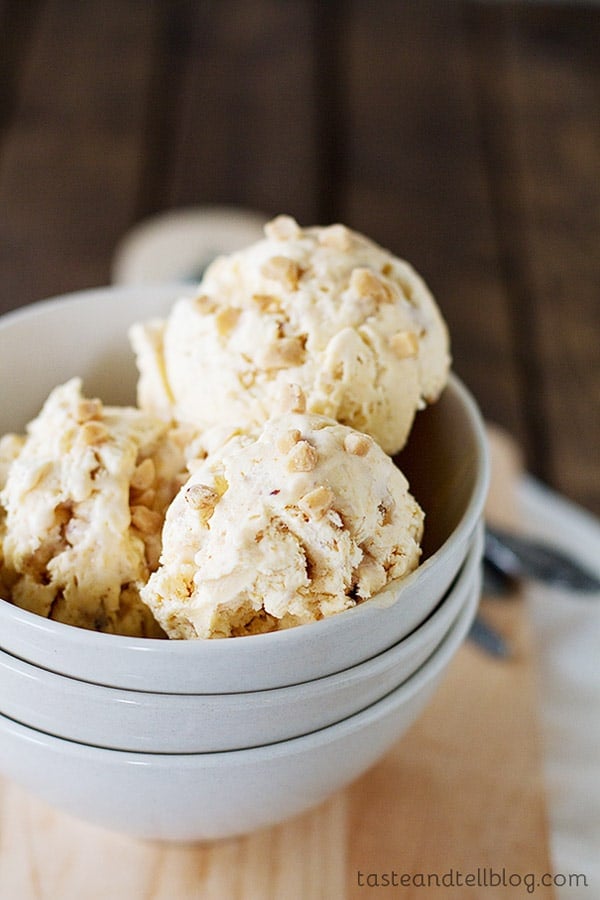 Around the Web:
Soft Glazed Pumpkin Sugar Cookies from Lauren's Latest
Pumpkin Marble Cake from Something Swanky
Pumpkin Hot Fudge Pudding Cake from Crazy for Crust
Don't miss a thing! Follow me on Pinterest to see what I'm pinning!
Visit Taste and Tell's profile on Pinterest.