A salad in a tortilla! These Honey-Sesame Chicken Salad Wraps are a great idea for an easy weeknight dinner, and are a great way to get the kids to eat their salad!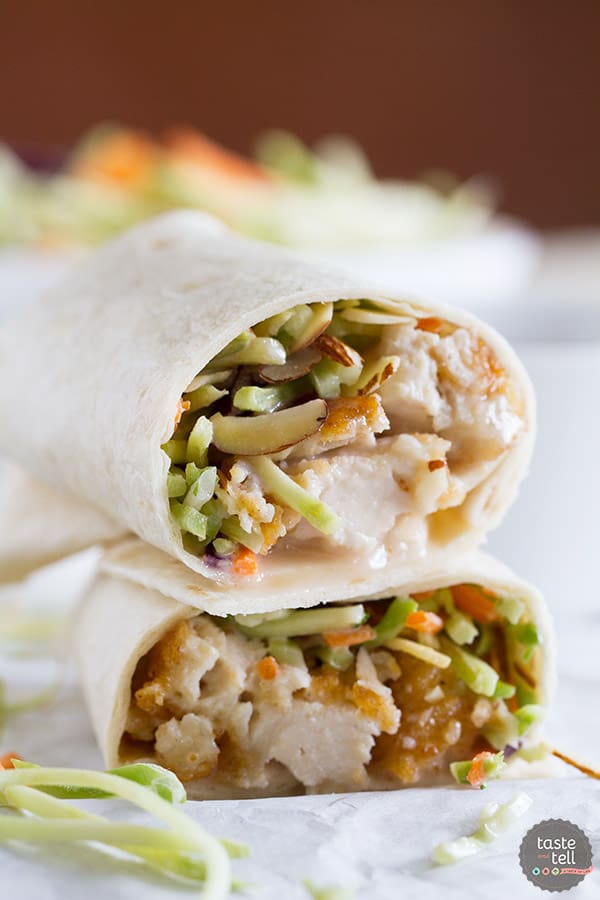 This is my open letter to all of those parents out there that I never used to believe. I was never one to think that parenting would be easy, or that all kids should be 100% well behaved. I'd like to think that I've always been a realist. But the one thing that I didn't understand were those parents who always claimed to be so busy with kids' schedules that dinnertime was very far down on the list of priorities, and that many nights, dinner meant the drive through.
Well, I'm sorry. I was wrong. I completely understand that even without multiple after school extra curricular activities, the life of a parent is just busy. I only have 2 kids in soccer, and 3 kids in school, and I'm definitely feeling the weight of it. Most days, I feel like the first time I really sit down is at night after the kids all go to bed.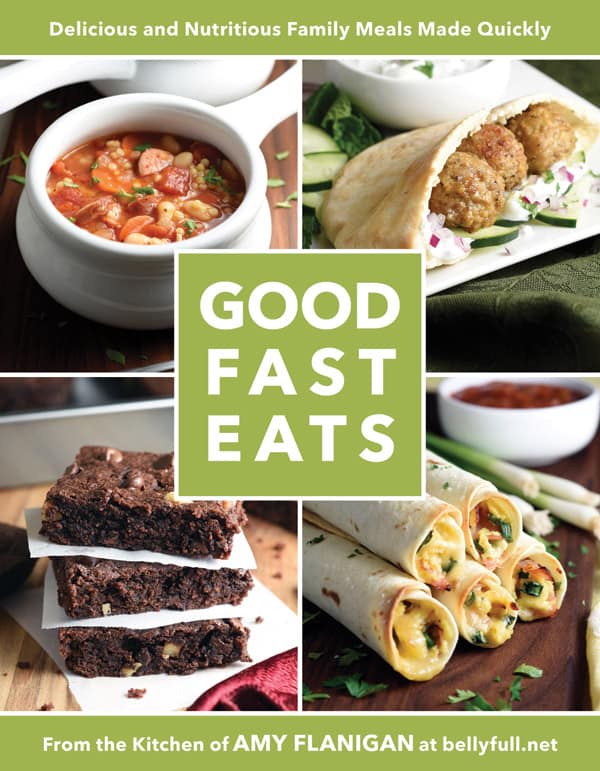 And yes, I will completely admit that I have been falling into the drive through trap. But I have a new secret weapon to make sure I'm in the kitchen cooking for my family each night. The new cookbook Good Fast Eats by Amy Flanigan from the blog Belly Full.
This book is a great one to have on hand for those weeks days when things just never seem to settle down. Filled with recipes that are quick to make, you'll quickly learn that cooking can be easy, fast, and so much better for you (and your pocketbook!) than eating out. The recipes all sound amazing and family friendly. I love books like this that will save my weekly menu and cut down on the time I have to spend cooking every single night.
Here are the details:
Number of Photos: lots A photo of every recipe. Yay!
Difficulty Level of Recipes: Easy It's the whole premise of the book, so yes, all of the recipes are very easy and perfect for a weeknight.
Availability of Ingredients: Easy The ingredients should be easy to find at any grocery store.
Other recipes I want to make:
Easy Cashew Chicken
Sweet and Spicy Chicken Black Bean Enchiladas
Kielbasa and Cabbage Skillet
Vegetable Beef Stir-Fry
Italian Meatball Skillet
Grilled Fish Tacos with Chili-Lime Slaw
Egg Salad Pita Pockets
Tex-Mex Migas Waffles
Sweet and Sour Noodle Bowl
Cookies and Cream Cheesecake Parfaits
Buy Good Fast Eats on Amazon.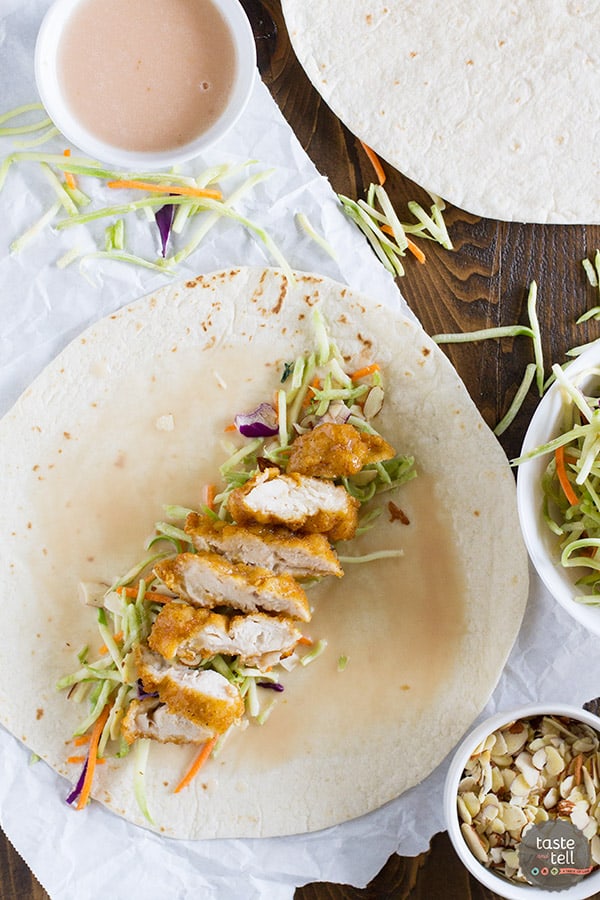 We are wrap fans. I've featured quite a few of them here on Taste and Tell. So it's no surprise that I knew I wanted to make these Honey-Sesame Chicken Salad Wraps when I first saw them. These wraps take a shortcut – you use frozen, breaded chicken tenders for the filling. You can definitely make your own (and even freeze them to use in times like this!) but my family was happy to eat the store bought chicken. They make these wraps a super easy meal that can be finished very quickly.
And can we talk about the dressing that goes on these? I actually ended up doubling the recipe so that I could have some extra on hand to use on my regular salads during the week. That dressing alone makes this recipe worth trying.
These Honey-Sesame Chicken Salad Wraps were a 100% win. We ate and enjoyed, and were able to move on with our crazy evening. That's my kind of meal!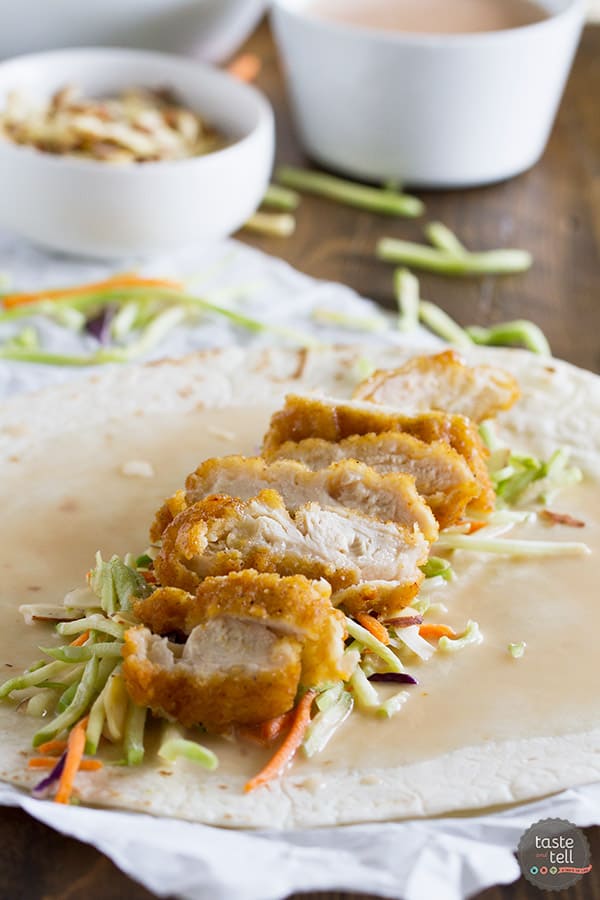 Like what you see here? Make sure you are following Taste and Tell for more recipes and ideas!
Facebook | Pinterest | Instagram | Twitter | Google+ | Weekly Newsletter | Feedly | Bloglovin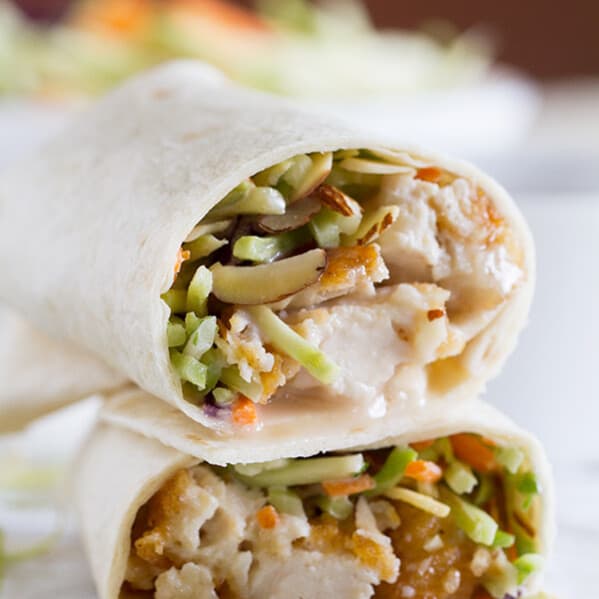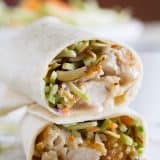 Honey-Sesame Chicken Salad Wraps
---
Author:
Prep Time: 15 mins
Cook Time: 20 mins
Total Time: 35 mins
Yield: 4 servings 1x
Description
A salad in a tortilla! These Honey-Sesame Chicken Salad Wraps are a great idea for an easy weeknight dinner, and are a great way to get the kids to eat their salad!
---
Scale
Ingredients
For the dressing:
1/3 cup honey
1/2 cup mayonnaise
2 teaspoons Dijon mustard
3 tablespoons rice wine vinegar
1 teaspoon sesame oil
For the wraps:
4 large pieces Tyson's Crispy Chicken Strips
4 (10-inch) burrito sized flour tortillas
2 cups broccoli slaw
1/4 cup sliced almonds
---
Instructions
In a small bowl, whisk together the honey, mayonnaise, mustard, vinegar, and sesame oil. Refrigerate until ready to make the wraps.
Bake the chicken strips according to the package directions. Remove and allow to cool slightly. Slice up, crosswise, into thin pieces.
Spread 1 1/2 tablespoons of the dressing on a tortilla, leaving a 1-inch border. Sprinkle 1/2 cup of the broccoli slaw down the middle, followed by 1 tablespoon of the almonds, and the chicken pieces on top. Drizzle another 1 1/2 tablespoons of dressing over the top of the chicken. Roll up like a burrito. Repeat with the remaining ingredients.
Eat whole or cut in half.
Don't miss a thing! Follow me on Pinterest to see what I'm pinning!
Visit Taste and Tell's profile on Pinterest.