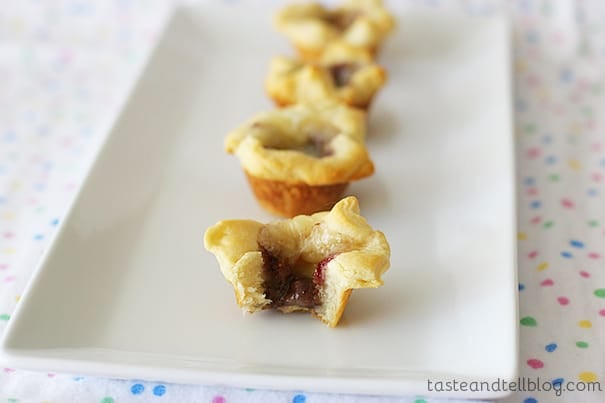 When I saw that this month's Cheese of the Month was brie, I knew exactly what I wanted to do with it!! I was tempted to make one of my very favorite pasta dishes – which I just might do with the rest of my cheese – but I really wanted to make these little appetizers. Several weeks ago, at a family dinner, my sister made these, and I had been wanting to make them ever since. And they are so super easy – I seriously think I spent less than 20 minutes total making these.
The funny thing is, I called my sister for the recipe a few weeks back. But when I went to make these the other day, I couldn't find where the recipe was written down. I would have called my sister again, but she is on vacation and I really didn't want to interrupt her vacation with this – especially since they are so easy and I was pretty sure I had remembered correctly. So I may have done this wrong, but they were so delicious that this is how I will make them from now on!
Crescent Brie and Raspberry Bites
1 tube refrigerated crescent rolls
brie cheese
raspberry jam
Preheat the oven to 350F. Grease a mini muffin pan.
Unroll the crescent dough. Separate into 4 rectangles by pinching 2 triangles together. Slightly flatten out rectangles. Cut each rectangle into fourths, making 16 smaller rectangles.
Arrange dough in the mini muffin pan, forming small cups. Cut brie into small pieces, about 1/2 – 1 teaspoon each. Put one piece of brie in each crescent cup. Top each with 1/2 – 1 teaspoon of raspberry jam.
Bake in preheated oven for about 10 minutes, until crescents are golden brown and cheese is bubbly. Remove from oven. Serve warm.