This Carl's Jr. copycat Santa Fe Grilled Chicken Sandwich has a teriyaki sauce marinated chicken breast that is served on a whole wheat bun, topped with cheese, a whole green chile, lettuce and an easy Santa Fe sauce.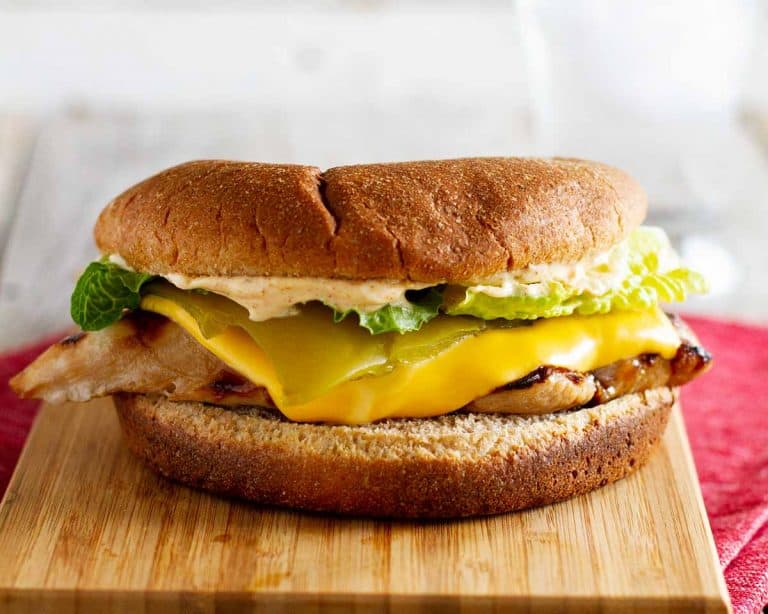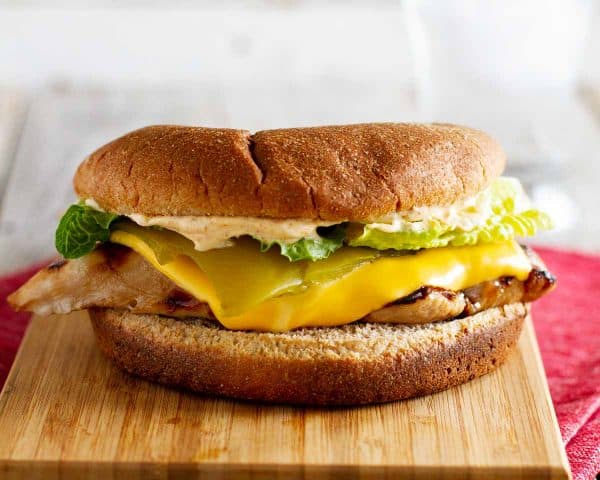 I wish I could say that we never ate fast food. It's not that I'm against fast food, it's just that I'm all for inspiring people to get into the kitchen and to show them that it doesn't take a long time and it's not difficult to cook at home. One of my purposes of this blog is to show you all that making dinner is so much better than going through the drive through.
But alas, I'm only human.
We don't eat out a lot, but occasionally, I will admit that I take the easy way out. 9 times out of 10, I end up regretting it because it's expensive, it makes you feel not so great, and really, most fast food just isn't worth it.

But when it comes to fast food, I just stick with what is easiest. And what has a drive through. Because walking into a fast food restaurant with 3 kids and trying to order food just is not an easy thing to do.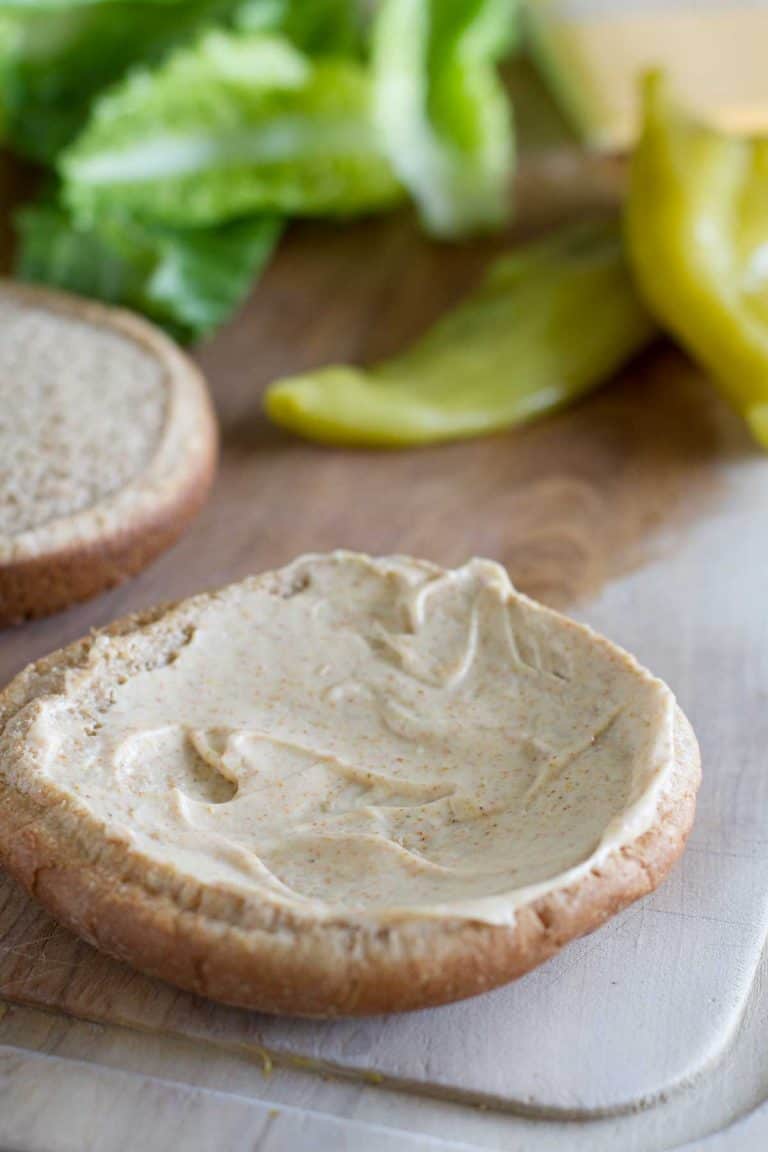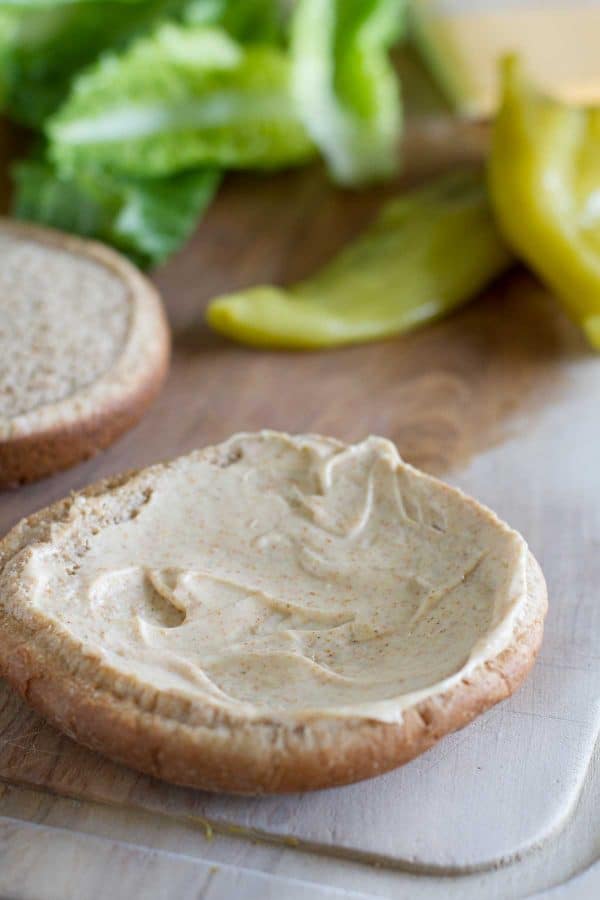 A few months back, a Carl's Jr opened up just down the street from me. I will admit that I actually do like their Six Dollar Burgers, but I very rarely will get one because it is a lot of burger. So one night, when it was a fast food kind of night, we hit up the Carl's Jr. for dinner. I wanted something that wouldn't make me feel terrible all night, so after a quick look at the nutritional information, I decided to go with their Santa Fe Chicken Sandwich.
And I totally fell in love with a fast food sandwich. I've actually ordered that sandwich a few times now, just because I loved it so much. It's been hit or miss – sometimes the chicken is overcooked, sometimes the bun is hard. So I decided it was time to take matters into my own hands and make it myself. At home.
And just like it usually is, the homemade version is so much better!! It does take some time to marinate, but really, once the chicken is marinated, it doesn't take that much longer than it would take to go through the drive through.
I marinated the chicken in my favorite homemade teriyaki sauce recipe. I love that teriyaki sauce, and it's another recipe that comes together super quickly. The chicken is grilled, and then has a slice of American cheese melted on top. I know – don't go hating on the American cheese. That's what the restaurant version has, and honestly, I actually like American cheese. 🙂 Then my favorite part – a whole green chile. You all know I'm a green chile girl, and I love that there is a whole chile thrown on top! I just used canned chiles, but if you have the time, feel free to roast and peel your own.
The chile is topped with lettuce, and then a delicious Santa Fe sauce. There really are only a few ingredients that come together to form one killer sandwich!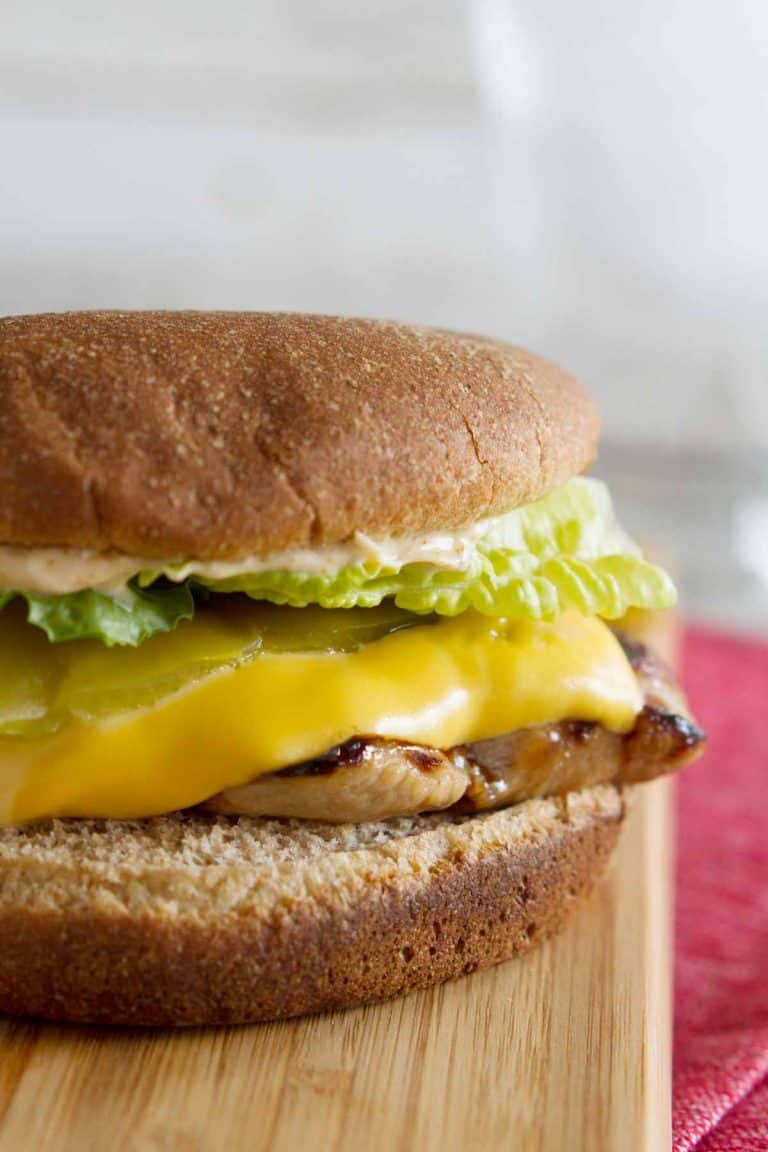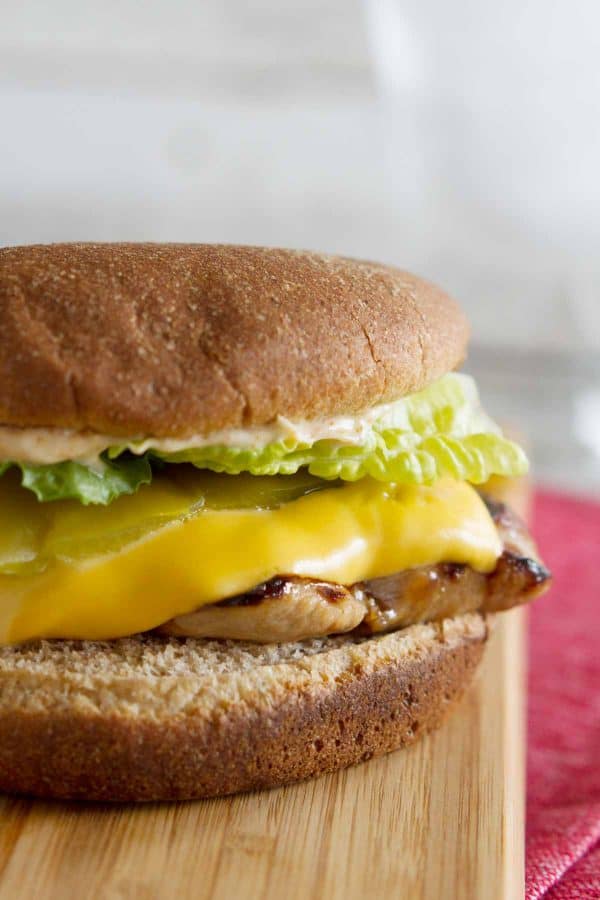 More Favorite Copycat Recipes:
California Pizza Kitchen BBQ Chicken Pizza
Olive Garden Chicken and Gnocchi Soup
Boston Market Cornbread
Red Lobster Cheddar Biscuits
Doubletree Cookies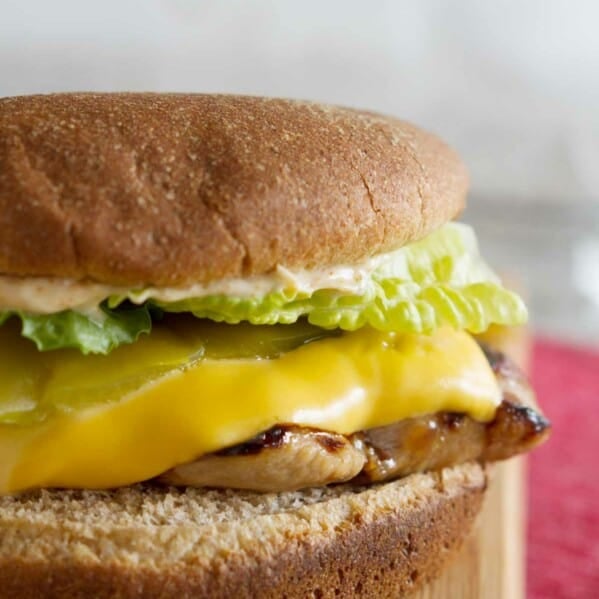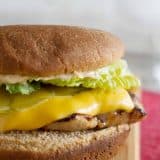 Santa Fe Grilled Chicken Sandwich Recipe
---
Author:
Prep Time: 20 minutes
Cook Time: 10 minutes
Total Time: 4 hours 30 minutes
Yield: 4 servings 1x
Category: Main Dish
Method: Grill
Description
This Carl's Jr. copycat has a teriyaki sauce marinated chicken breast that is served on a whole wheat bun, topped with cheese, a whole green chile, lettuce and an easy Santa Fe sauce.
---
Scale
Ingredients
Chicken
Sauce
1/3 cup mayonnaise
1/4 teaspoon paprika
1/4 teaspoon curry powder
1/8 teaspoon cayenne pepper
1/8 teaspoon salt
Sandwiches
4 slices American cheese
4 whole wheat buns
4 canned whole green chiles
lettuce
---
Instructions
Butterfly the chicken breasts open, and cut each breast into 2 thinner pieces. (Alternately, use 4 smaller chicken breasts and pound to an even thinness.) Combine the chicken with the teriyaki sauce in a large ziptop bag. Marinate for at least 4 hours, up to overnight.
In a bowl, combine the mayonnaise, paprika, curry powder, cayenne and salt. Set aside.
Preheat a grill or a grill pan over medium. Spray with nonstick cooking spray then add the marinated chicken breasts, discarding any remaining marinade. Grill until no longer pink and juices run clear, about 10 minutes, turning once. When the chicken is almost finished cooking, place one slice of cheese on top of the chicken to melt.
Spread one fourth of the sauce on each of the undersides of the top buns. Place the chicken on the bottom bun, then add a green chile on top, followed by some lettuce. Top with the top bun and serve.