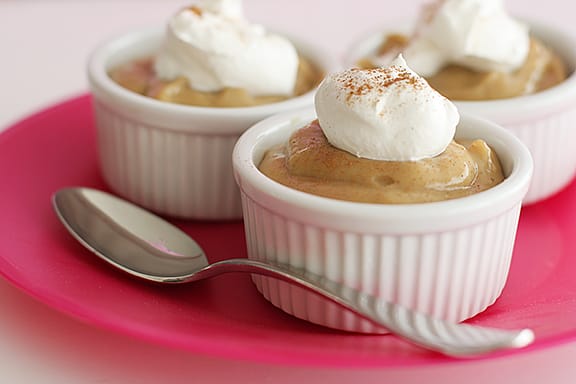 So, I really wasn't going to post this recipe today, but I just couldn't help myself.  In fact, I wasn't even going to post any desserts this week, just because I have a big surprise in store for next week.  (With way more desserts than I usually post on here!!)  But I couldn't let this recipe sit in my drafts folder for another day.  You see, before this recipe, I had never made pudding from scratch before.  It's such a shame!  I actually don't have pudding very often, and when I do, it's usually the little single serving packages that you can buy at the store.  Every once in awhile, I'll mix up a box of pudding, but it doesn't happen very often.  But while looking through an old Cooking Light issue, I immediately stopped on this recipe and couldn't wait to make it.
I don't know what took me so long.  Let's just say this was the best dessert that I have had in some time.  If you've made your own pudding before, you'll probably know just what a difference it makes when you make it from scratch.  And really, it wasn't difficult.  Or time consuming.  But the end result was absolutely delicious.  I sprinkled mine with a little bit of cinnamon – mostly just to make them look prettier for the pictures, but the cinnamon really added a nice touch.
Do yourself a favor – if you haven't made pudding from scratch before – try this out!!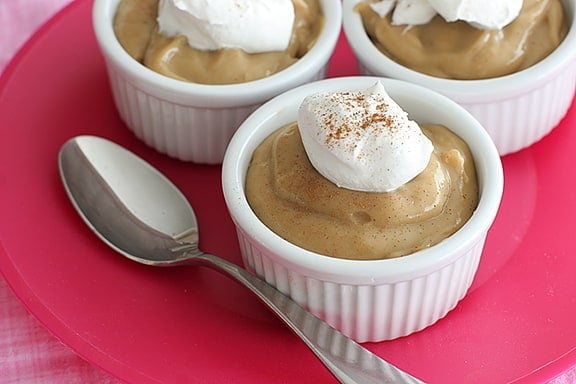 Butterscotch Pudding
From Cooking Light Jan/Feb 2008
Serves 6
1 cup packed dark brown sugar
¼ cup cornstarch
½ teaspoon salt
3 cup s1% low-fat milk, divided
1 large egg, lightly beaten
1 large egg yolk, lightly beaten
1 tablespoon butter
1 teaspoon vanilla
6 tablespoons frozen reduced-calorie whipped topping, thawed
Combine first three ingredients in a saucepan. Gradually add 2 cups milk; stir with a whisk until blended. Cook mixture to 180 degrees or until tiny bubbles form around edge (do not boil.)
Combine remaining 1 cup milk, egg, and egg yolk in a bowl; stir with a whisk.
Gradually add 1 cup of hot milk mixture to egg mixture, stirring constantly with a whisk. Add egg mixture to saucepan. Bring to a boil; cook 1 minute or until thick, stirring constantly. Remove from heat; stir in butter and vanilla. Place pan in a large ice filled bowl for 20 minutes or until mixture cools to room temperature; stir occasionally. Cover surface of pudding with plastic wrap. Chill. Serve with whipped topping.