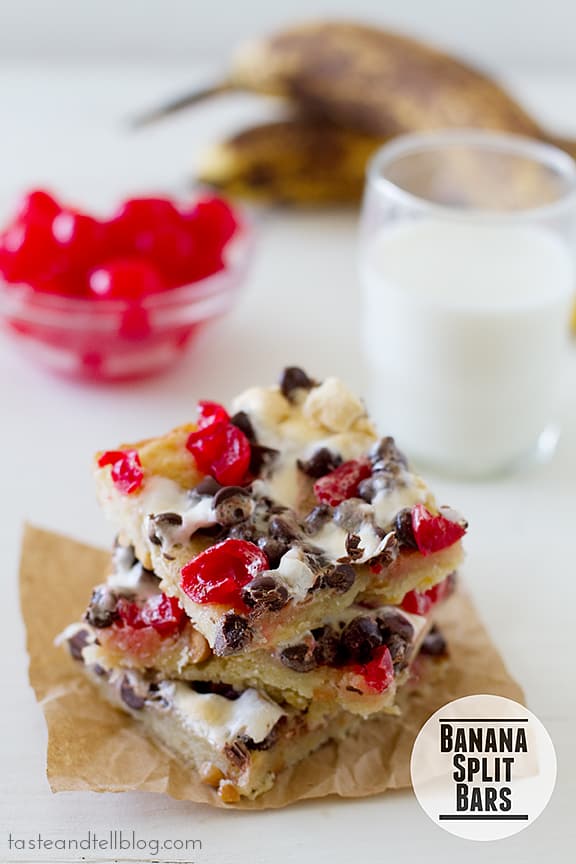 My mom has loved cooking ever since I can remember.  For the most part, we were like most families in the 70s/80s – aka pre-internet – where my mom would have a rotation of meals that she would go through.  She did have a nice collection of cookbooks, though, and would choose something new every now and again.  Through the years, she has gotten rid of many of those cookbooks that I liked to flip through, but one thing has remained.
Her recipe box.
Seriously – I'm guessing this thing is close to my age.  It's worn and falling apart, kept together at the seams with tape, but it is full of love.  And recipes, of course, but if I had to choose something to save from my parent's house, that recipe box would be high on the list.
It's full of hand written recipes and cut outs from magazines and packages.  But these are my mom's tried and true recipes, and I know that if it makes it into "the box", I can bet on it that it's a good one.
I was looking through the box the other day, in search of another recipe, when I came across the recipe for these bars.  Not only did I have a bunch of quickly browning bananas, but I had 2 nearly full jars of maraschino cherries in my fridge.  (How in the world did I end up with 2 jars of cherries???)  I would say that it was destiny that I make these bars.
Now, I know that I've been going crazy on the ripe banana recipes lately, but this is another you need to add to your list (or Pinterest board!) for when you have overripe bananas.  Sure, they only use up one of those overripe bananas, but they are goo-ood.  Totally worth saving aside one of the bananas to purposefully let it go overripe!!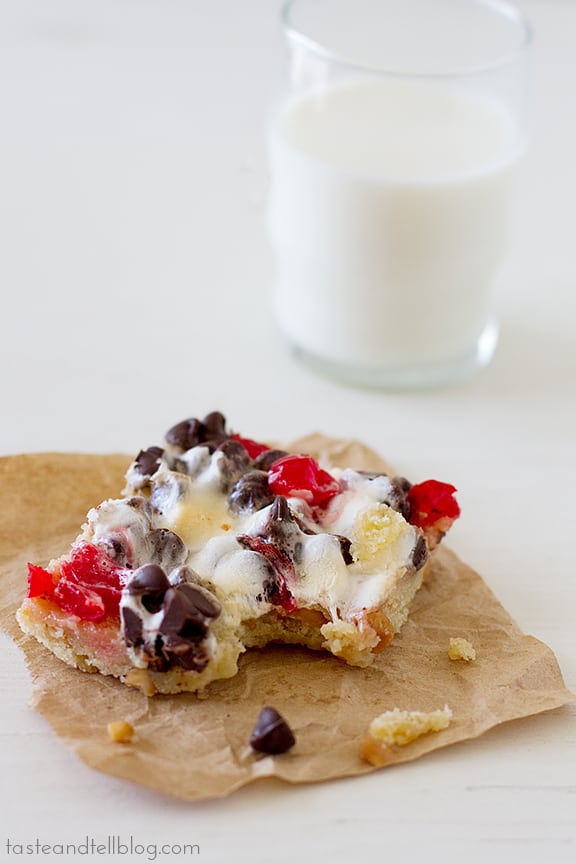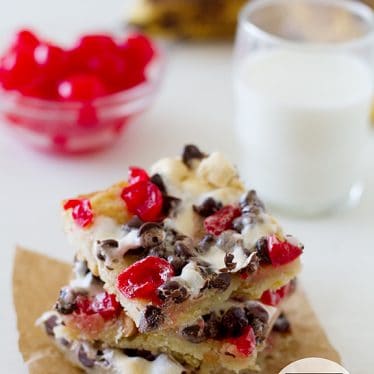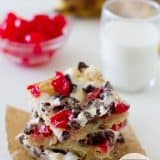 Banana Split Bars
---
Prep Time: 20 minutes
Cook Time: 35 minutes
Total Time: 1 hour 30 minutes
Yield: 24 bars 1x
Description
The flavors of a banana split in bar form!
---
Scale
Ingredients
1/3 cup butter, softened
1 cup sugar
1 egg
1 banana, mashed
1/2 teaspoon vanilla
1 1/4 cup flour
1 teaspoon baking powder
1/4 teaspoon salt
1/3 cup chopped peanuts
2 cups mini marshmallows
1 cup semi-sweet chocolate chips
1/3 cup maraschino cherries, drained and quartered
---
Instructions
Preheat the oven to 350F. Grease a 9×13 inch baking pan.
In a bowl, beat together the butter and sugar until light and fluffy. Add in the egg, banana and vanilla and mix well. Mix together the flour, baking powder and salt, then mix into the batter. Fold in the peanuts.
Pour the mixture into the prepared pan. Bake for 20 minutes.
Remove from the oven and top with the marshmallows, chocolate chips and cherries. Return to the oven and bake until a toothpick inserted in the center comes out clean, an additional 10-15 minutes. Cool completely then cut into bars.