This Onion Chowder is a chowder filled with onion flavor, plus bacon! Served with Cheesy Onion Popovers.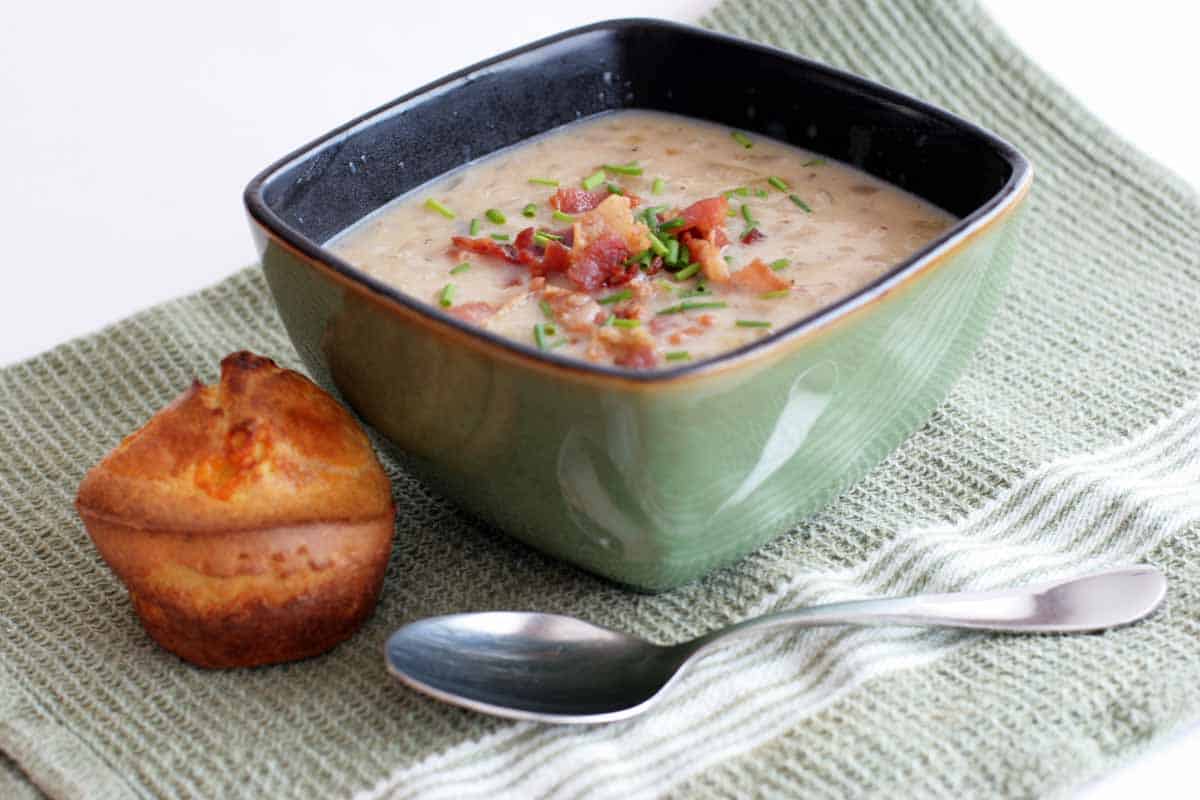 As much as I hate winter, and especially this inversion we are experiencing here, I do love how it gets you in the mood for a good bowl of soup. I can really eat soup year round, but somehow, it just isn't the same when the temperature is 90 degrees outside versus a chilly 20 degrees. A good bowl of soup will warm you from the inside out and leave you feeling satisfied like many other foods could never do. In fact, when many people are having a bad day, they reach for the chocolate, but I really think that a warm bowl of soup has the same effect on me. I could spend most winter nights cuddled on the couch in a big blanket with a bowl of soup, and I'd be a happy girl.
So needless to say, I'm always drawn to soup recipes. In fact, just this morning I saw this recipe, and now I can't stop thinking about it. (Maybe that will be dinner tonight!!) And with the chill of winter in full force right now, I can't think of a better time to break out the soup recipes.
This soup was delicious. Really, we all know that anything with bacon is delicious, but I really liked this recipe. The popovers, on the other hand – I didn't really love them. But I didn't really care, because I really loved this soup. And it really takes so few ingredients – and ingredients that I usually have on hand!!
I guess even though I'm not loving the winter, at least I can satisfy myself with soup!!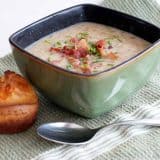 Onion Chowder with Cheesy Onion Popovers
---
Author:
Prep Time: 15 minutes
Cook Time: 40 minutes
Total Time: 55 minutes
Yield: 6 servings 1x
Category: Soup
Method: Stove Top
Cuisine: American
Description
A chowder filled with onion flavor, plus bacon! Served with Cheesy Onion Popovers.
---
Scale
Ingredients
1 pound sliced bacon, chopped
4 white onions, chopped
salt
1 1/4 cups flour
1 32-ounce container chicken broth
2 cups milk
2 large eggs
2 tablespoons butter, melted
2 ounces cheddar cheese, cut into 12 1/2-inch cubes
1/4 cup finely chopped chives
---
Instructions
Preheat oven to 425 degrees.
Grease a standard 12-cup muffin pan.
In large Dutch oven, cook the bacon over medium heat until crisp, about 12 minutes. Using a slotted spoon, transfer to paper towels to drain. Add the onions to the pot, season with salt and cook for 8 minutes. Set aside 1/4 cup of the cooked onions. Sprinkle the remaining onions with 1/4 cup flour and cook, stirring, for 1 minute. Stir in the chicken broth and bring to a boil, lower the heat and simmer for 8 minutes.
Meanwhile, in blender, mix the reserved onions, 1 cup milk, the remaining 1 cup flour, the eggs, butter and 1/4 t salt until smooth. Fill each muffin cup halfway with batter and place a cube of cheese in center of each. Bake for 25 minutes, then lower the heat to 350 degrees; bake for 15 minutes more.
Stir in the remaining 1 cup milk into the soup and heat through.
Garnish with bacon and chives.
Serve with the popovers.
Recipe Notes: