Caramelized Onion Pie – a pie crust is filled with slowly caramelized onions and lots of cheese in this savory pie for onion lovers.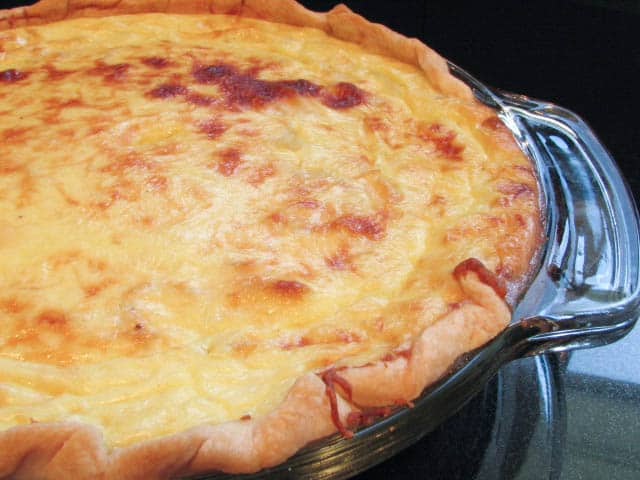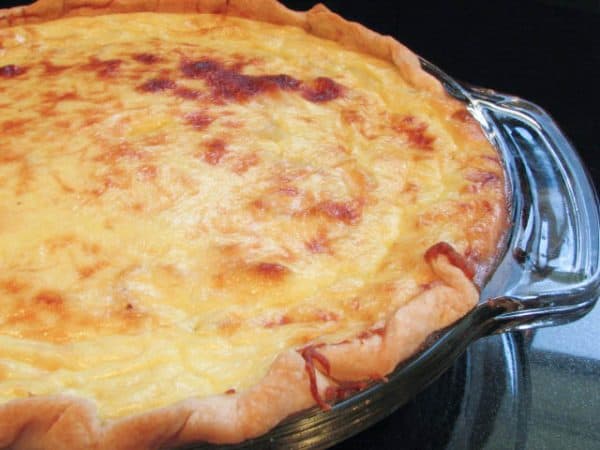 I love it when I choose a recipe to make, and everything comes together perfectly, making a delicious meal. But at the same time (and you might find me crazy for this), but I sometimes don't mind it when I make something that doesn't quite work out, but I learn a lesson from it. This was one of the latter. Let me explain…
When choosing the recipes to highlight from my cookbook of the month, I usually try to hit multiple chapters, so I have a wide variety of recipes from the book. So far, I had hit the side dishes, salads, and sauces & relishes. So I decided to hit up the entree chapter for my last recipe. I went through it a few times, unable to make a decision on which one I wanted to try. Then, while reading through blogs earlier this week, I came across an onion pie that sounded so good. I apologize, because I cannot remember where I found it now, but I couldn't get it out of my head. So when I realized there was a recipe for a Caramelized Onion Tart in my cookbook, the decision was made.
When shopping for the ingredients, I saw some huge, gorgeous Vidalia onions at the store, and decided to go with them. I figured they were a sweet onion, and caramelizing onions makes them sweet, so they would be a great choice. Well, I got home to start the dish. The cookbook says that it would take 15 minutes to caramelize the onions. I have caramelized onions many times, and it has always taken much longer than 15 minutes. I would say 45 minutes is more like it. So I thought I'd do a lesson on caramelizing onions, and take pictures of the process. So my onions went on the heat. I took a picture at the beginning, and then 15 minutes later. At the 30 minute mark, they didn't look much different, and I knew something was wrong when at 45 minutes, they still didn't have any color on them.
So onto the internet I went. After some research, I learned that sweet onions, such as the Vidalia that I had chosen, are the worst onions for caramelizing. Go figure. So my onions never really caramelized, and the end result was a very sweet onion. I had already made it this far, so I decided to continue on.
The original recipe is for a tart, but I don't have a 9-inch tart pan (mine is 11 inches) so my pie crust didn't fit into the tart pan. I went with a pie dish instead, which i think worked out better because I think there would have been too much filling for a tart pan. The pie baked up beautifully, and actually smelled really good while it was baking.
After letting it cool off, I tried a slice. And although it wasn't as good as it would have been if I had used a regular yellow onion, it still was pretty good. It did throw me off a bit because of the excess sweetness, but I can imagine how good it would have been with the right onion. And even though it was too sweet, it didn't stop the two of us from polishing off the whole pie in about 24 hours. And I came out of the experience with a lesson learned!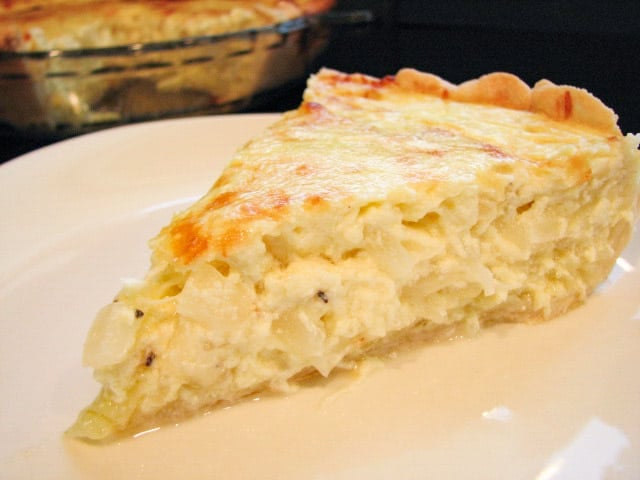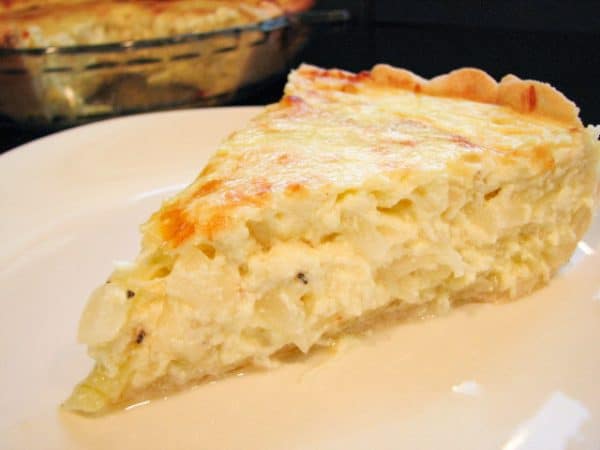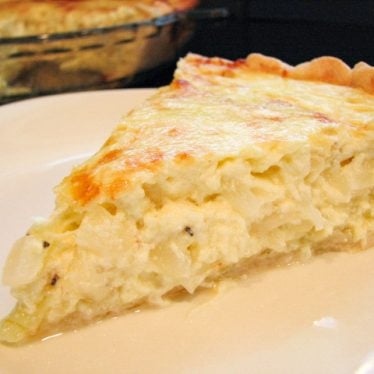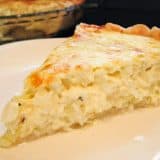 Caramelized Onion Pie
---
Author:
Prep Time: 15 minutes
Cook Time: 1 hour 30 minutes
Total Time: 1 hour 45 minutes
Yield: 8 servings 1x
Category: Main Dish
Method: Baked
Description
Caramelized Onion Pie – a pie crust is filled with slowly caramelized onions and lots of cheese in this savory pie for onion lovers.
---
Scale
Ingredients
2 tablespoons extra virgin olive oil
2 1/2 cups thinly sliced yellow onions
3/4 cup heavy cream
3/4 cup milk
3 large eggs
salt and pepper as needed
1 1/4 cups grated provolone cheese, divided
one 9-inch pie crust, prebaked in a pie pan
---
Instructions
Preheat oven to 350F.
Heat the olive oil in a sauté pan over medium heat until it shimmers. Add the onions and sauté, stirring frequently, until caramelized (from 30-45 minutes). Remove the onions from the heat.
Whisk together the cream, milk, eggs, salt and pepper in a medium bowl. Add the onions and 1 cup of the cheese and stir to combine. Pour the mixture evenly into the pie crust. Sprinkle the remaining cheese on top of the pie.
Bake in the preheated oven until a knife inserted in the center comes out clean, about 40 to 45 minutes. If the crust starts to get too brown, cover it with foil. Remove the pie from the oven to cool on a wire rack.
Let the pie cool for at least 10 minutes before cutting.