Photo Updated December 2012

Wow – the blog world has been busy this past weekend!! I stayed away from the computer for 2 days this weekend, and came back to over 200 posts in my reader!! Must have something to do with NoBloPoMo…
Speaking of NoBloPoMo, I am on day 12, and I feel like I am on post overload!! Almost half-way through, but I can tell I'm gonna want to take a break when December hits! I admire all those blogs that post daily.
I have mentioned several times that I have been trying to be more diligent in trying recipes from my cookbooks. This recipe comes from one of those underused cookbooks. It is a Better Homes and Gardens cookbook called America's Best-Loved Community Recipes. This is a cookbook that I've had for quite some time, and although I'm sure I've made something out of it before, I can't remember!! It has a photo for each recipe, which I always like. For some reason, a recipe is always more appealing to me when I can see what it looks like before I make it!! I was craving soup one night, so I got out this cookbook and went through the soup section. There were many that looked delicious, but this Minestrone won out. And it was delicious!! A perfect meal for a chilly night.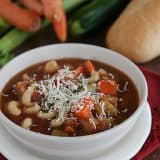 Minestrone
---
Prep Time: 20 minutes
Cook Time: 1 hour 40 minutes
Total Time: 2 hours
Yield: 4-5 servings 1x
Description
A classic Minestrone with beef, tomatoes, pasta and plenty of vegetables!
---
Scale
Ingredients
1 tablespoon butter
1/2 – 3/4 lb. stew beef
4 cups beef broth
1 15-ounce can tomato sauce
1 14 1/2-ounce can tomatoes, cut up
1/2 medium onion, chopped
1/2 cup celery, chopped
2 tablespoons dried parsley flakes
1/2 teaspoon salt
1 teaspoon thyme, chopped
1/4 teaspoon pepper
1 cup shredded cabbage
1/2 cup thinly sliced zucchini
1/2 cup thinly sliced carrots
1 15-ounce can garbanzo beans, drained
1/2 cup small macaroni, uncooked
3 to 4 tablespoons grated Parmesan cheese
---
Instructions
In a large pot or Dutch oven over medium heat, melt the butter. Add the stew beef and cook until browned. Stir in the broth, tomato sauce, tomatoes, onion, celery, parsley, salt thyme and pepper. Bring the mixture to a boil, then reduce the heat to low. Cover adn simmer for 1 to 1 1/4 hours, or until the beef is tender, stirring occasionally.
Add the cabbage, zucchini, carrots, garbanzo beans and macaroni. Return the mixture to a boil, then reduce the heat to low. Cover and simmer for 20 to 25 minutes or until the vegetables are tender and the macaroni is done, stirring occasionally.
Ladle the soup into bowls and top each portion with a generous sprinkling of Parmesan Cheese.
—————————-
adapted from America's Best Loved Community Recipes