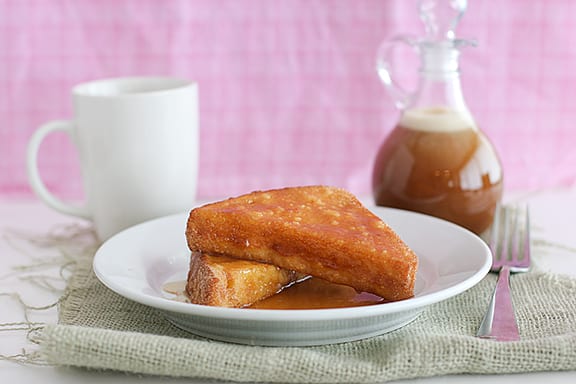 I love it when I have a reason to make a special breakfast. I don't know why, but most of the time, a special breakfast feels more "special" to me than a special dinner. Maybe it's something about starting the day off on the right foot. We are coming up on several occasions to splurge and make something great for breakfast – Easter, Mother's Day, Father's Day. But I have to be honest – when I ate this French toast, I decided that I don't even need a "special" day to make this – because it is so darn good!!
And what's better than even the French toast? The Buttermilk Caramel Syrup. I'm serious – I just wanted to eat the stuff with a spoon! This is definitely good on this French toast, but would be equally good on pancakes or regular old French toast. Both recipes were definite winners!

Puffed French Toast Recipe Rating – 9 out of 10
Buttermilk Caramel Syrup – 9.5 out of 10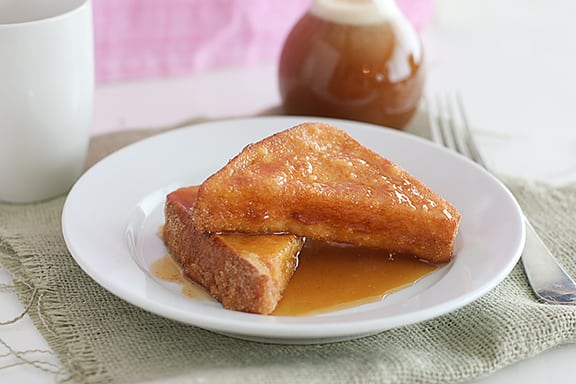 Puffed French Toast
from Our Best Bites Cookbook
makes 12 triangles
total time: about 30 minutes
2 eggs
2 1/2 tablespoons sugar
1/2 teaspoon salt
1/2 teaspoon vanilla
2 cups milk
1 cup flour
2 1/2 teaspoons baking powder
12 slices Texas-style toast, cut in half diagonally
Cinnamon Sugar
3/4 cup sugar
1 tablespoon plus 1 teaspoon cinnamon
In a large skillet or frying pan, heat about 1/4″ of canola oil over medium heat.
While the oil is heating, whisk together eggs, sugar, salt, vanilla, milk, flour, and baking powder in a shallow dish or pie plate.
Working quickly, take each half slice of bread and dip both sides into the mixture. Don't allow the bread to become too soaked in the batter. Gently shake the bread to remove excess batter and place in hot oil. Cook until puffed, golden brown, and a nice crispy crust has formed on each side (probably 3-5 minutes per side; you really need to babysit them and make sure they're cooking correctly) and then remove from oil and drain on a paper towel. While cooking remaining French toast, keep cooked pieces warm in an oven set to the lowest temperature it will go.
When ready to serve, roll each piece in cinnamon sugar. If you're feeling really wild, drizzle the pieces of toast with a little maple syrup or Buttermilk Caramel Syrup.
Buttermilk Caramel Syrup
from Our Best Bites Cookbook
makes about 2 cups
3/4 cup buttermilk
1 1/2 cups sugar
1/2 cup real butter
2 tablespoons corn syrup
1 teaspoon baking soda
1 teaspoon vanilla
Combine buttermilk, sugar, butter, corn syrup and baking soda in a 4-quart pan.
Bring mixture to a boil and then reduce heat to low – just make sure it's still bubbling. Cook, stirring very frequently, for 7-9 minutes or until the syrup reaches a rich golden brown. Remove from heat and stir in vanilla.