You will never want to eat normal French toast again after trying this Ice Cream Soaked French Toast!! Melted ice cream is the secret ingredient that makes this French toast recipe out of this world.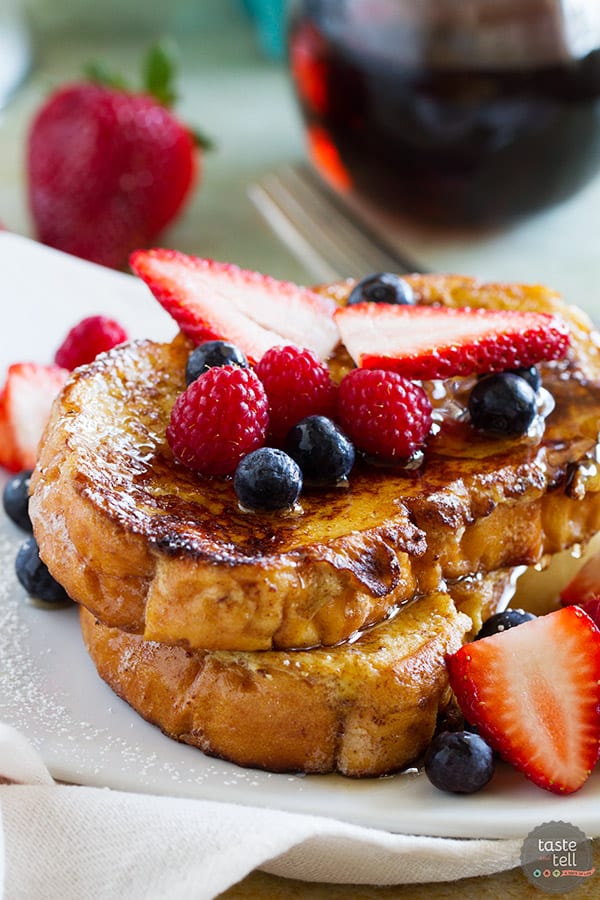 Yum


I am always looking for the next best cookbook. You all know I have a little addiction. 😉 But even though I'm always on the lookout, I rarely get excited enough about an upcoming cookbook that I preorder it online. But this one is an exception.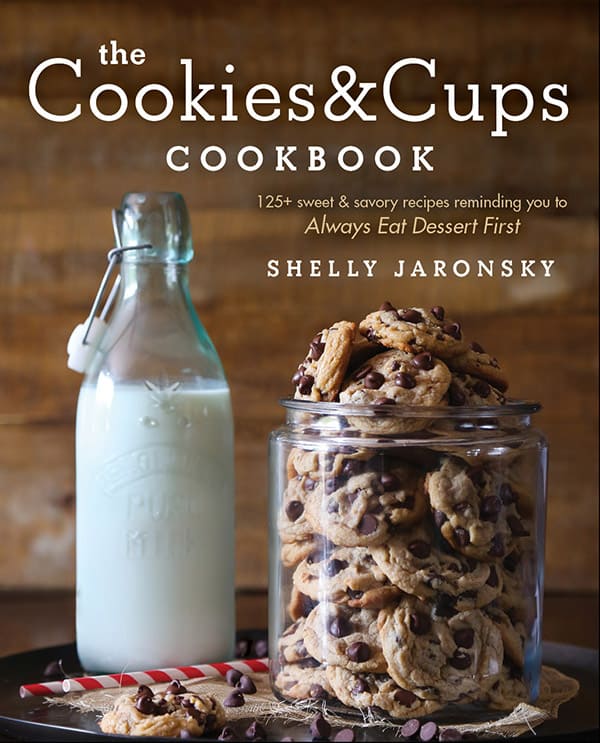 As soon as I heard that Shelly from Cookies and Cups was writing a cookbook, I knew I needed a copy. And yes – I even preordered a copy of The Cookies and Cups Cookbook.
Well, lucky for both me and you, I was sent an advance copy to oogle over bake from. Lucky for you, because I'll be giving away the copy that I preordered! (I haven't quite decided how, though – what do you think? Instagram? Snapchat? Newsletter?)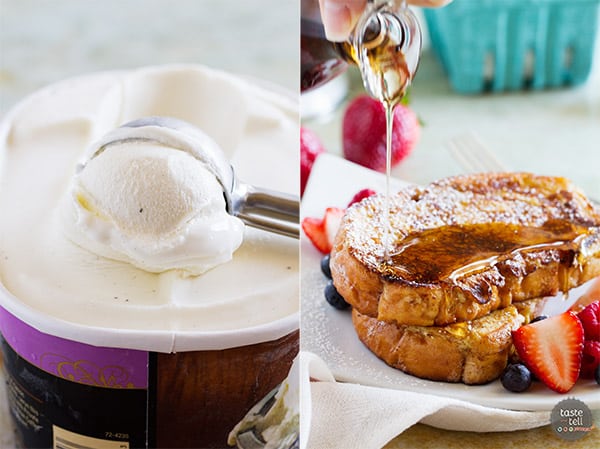 This book, you guys. If you love sweets, you need this book in your hands. But happy day – it's not just a dessert cookbook! Since Shelly believes you should always eat dessert first, the first 3/4 of the book is sweet recipes, followed by savory dishes for the last 1/4. And everything looks amazing.
Here are the details:
Number of Photos: Lots! Every recipe has a big, beautiful photo to accompany it.
Difficulty Level of Recipes: Easy to Medium. The only reason I stick medium in there is because most of the recipes are baking recipes. So following instructions is key. But really, the majority of the recipes are not complex or fussy – just delicious recipes you'll want to make for your family and loved ones.
Availability of Ingredients: Easy Overall, you should be able to find everything pretty easily. You should be able to find any of the ingredients at any well stocked grocery store.
Other Recipes I Want to Try:
The Essential Blueberry Streusel Muffins
Glazed Lemmies
Peanut Butter Cup Filled Brownie Cookie Sandwiches
Strawberries and Cream Bars
Creamy Coconut-Lime Squares
S'mores Cake
Cake Batter Frosting
Epic Chocolate Pudding Pie
Birthday Cake Trifle
Garlic Bread Pasta
Monte Cristo Pizza
Frito Pie Sloppy Joes
Grilled Pesto Shrimp
Buy The Cookies & Cups Cookbook on Amazon.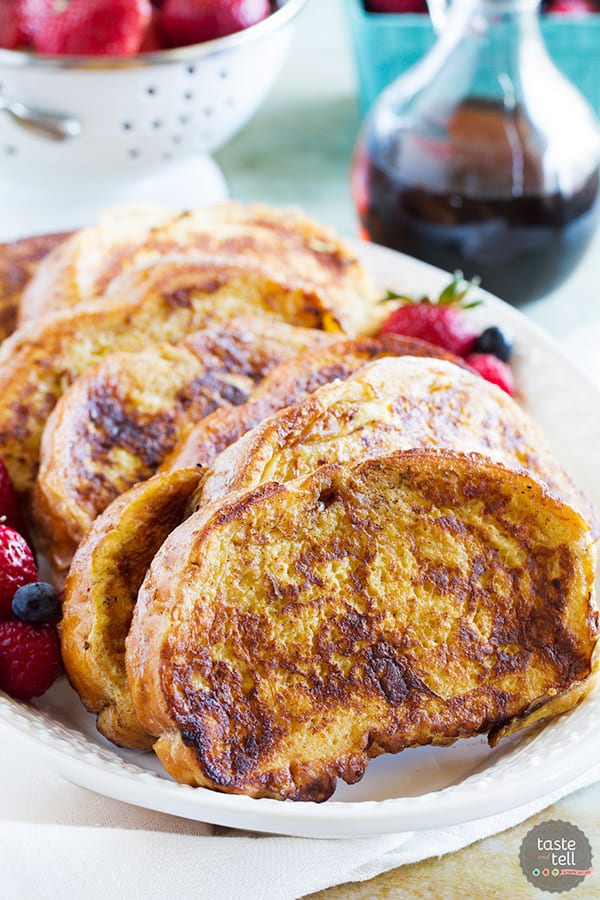 Ok, now let's talk about this recipe right here. You are not looking at just some normal, run of the mill French toast. No, you are looking at Ice Cream Soaked French Toast. Yep, instead of soaking the bread in milk and eggs, you soak it in melted ice cream and eggs. It was seriously so good that I may just have to keep my freezer stocked with vanilla ice cream so I can always make French toast this way.
This Ice Cream Soaked French Toast is super easy, so it's totally doable on a weekday morning. Or it makes the perfect, special weekend breakfast. Moms – give this recipe to dad and the kids to make you for Mother's day.
This French toast is sweet enough to eat just on its own, but I added maple syrup and berries. Because you can never go wrong by adding maple syrup and berries. But I will not deny eating a slice just plain as well.
This is what a I call a little bit of heaven for breakfast!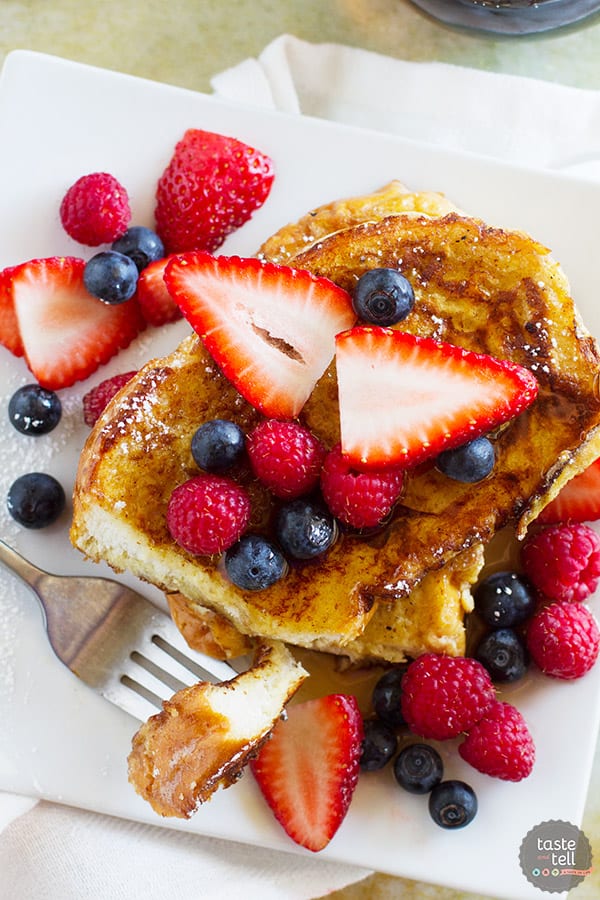 Like what you see here? Make sure you are following Taste and Tell for more recipes and ideas!
Facebook | Pinterest | Instagram | Twitter | Google+ | Weekly Newsletter | Feedly | Bloglovin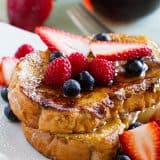 Ice Cream Soaked French Toast
---
Author:
Prep Time: 5 mins
Cook Time: 15 mins
Total Time: 20 mins
Yield: 6 servings 1x
Description
You will never want to eat normal French toast again after trying this Ice Cream Soaked French Toast!! Melted ice cream is the secret ingredient that makes this French toast recipe out of this world.
---
Scale
Ingredients
1 cup vanilla ice cream, melted
4 eggs, beaten
1/4 teaspoon ground cinnamon
12 sliced Texas toast (or any other thick cut bread – I used an Italian loaf)
6 tablespoons butter
---
Instructions
In a shallow bowl or dish, combine the melted ice cream, beaten eggs and cinnamon.
Heat a large skillet over medium heat. Melt 1 tablespoon of the butter in the hot skillet.
Working with a couple slices at a time, dip the bread into the ice cream mixture and let it sit for 15 seconds on each side to soak in some of the mixture. Place the bread in the hot skillet and cook until golden brown on both sides, 2 to 3 minutes per side.
Repeat with the remaining bread, adding more butter as needed.
Serve hot.
Recipe Notes:
Useful Products for this Recipe:
More Breakfast Recipes to Go Crazy Over: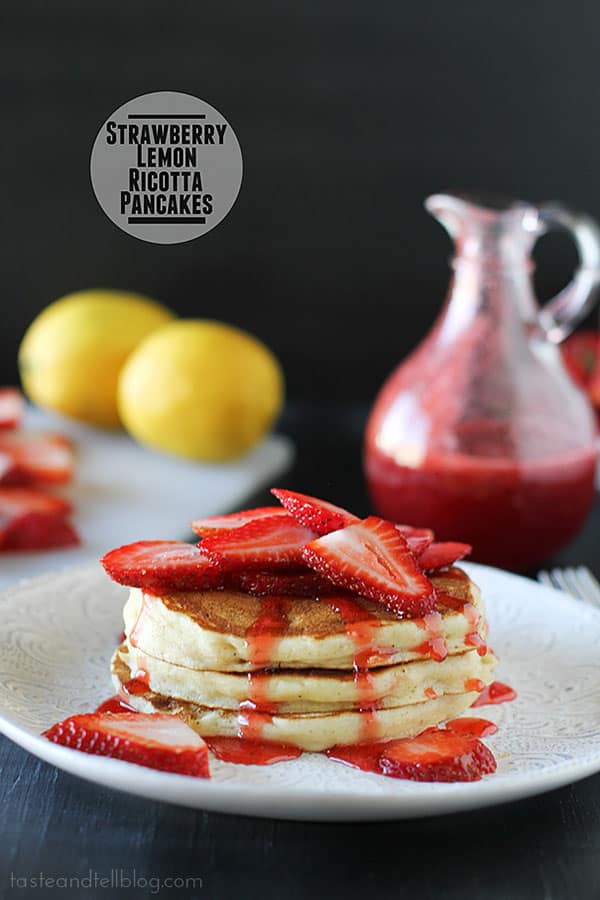 Strawberry Lemon Ricotta Pancakes
Orange Maple French Toast Casseroles
Around the Web:
Banana Cream Waffles with Homemade Vanilla Syrup from House of Yumm
Mini Pancake Muffins from Crunchy Creamy Sweet
Cream Cheese Stuffed Chocolate Chip Banana Bread Coffee Cake from Carlsbad Cravings
Don't miss a thing! Follow me on Pinterest to see what I'm pinning!
Visit Taste and Tell's profile on Pinterest.