Down home and comforting, these ground beef "steaks" are covered with a flavorful mushroom sauce.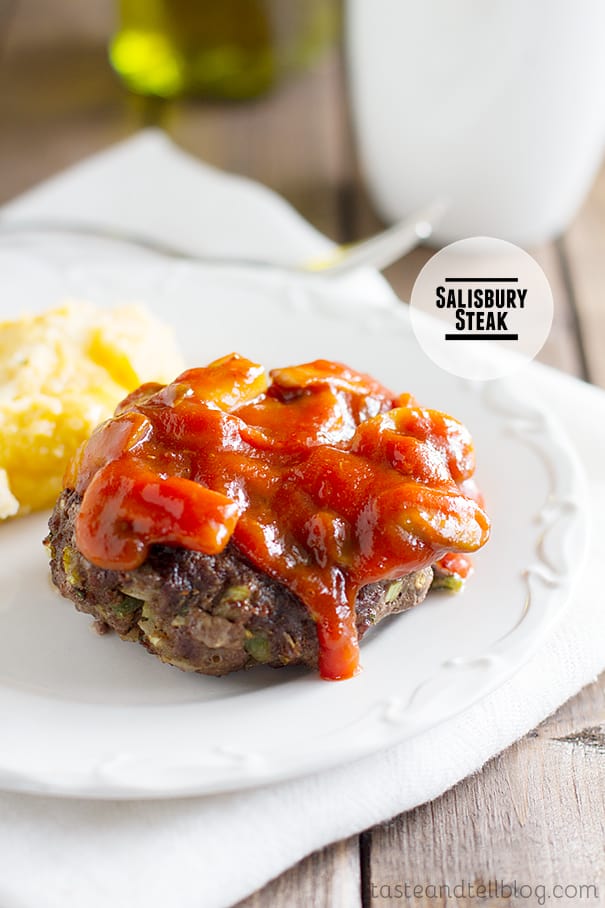 Photo and Recipe Updated February 2014
**NOTE – This recipe was remade and updated February 2014. It's actually a delicious recipe if you use the correct ingredients!!**
I come from a family of good cooks. When we get together, it's usually all about the food, and that is what I grew up around. My mom cooked daily – in fact, I don't ever remember going out for fast food when I was young. So needless to say, I'm fairly confident in the kitchen. Now, don't let confidence be confused with any sort of expertise – I definitely don't claim to be a chef of any kind, and I just think of myself as a true, down-home cook.
I have even posted about disasters in my kitchen before. I think it's important for a couple of reasons. First, it shows that I am human, and not everything that comes out of my kitchen is good. I think that some people that don't cook would be intimidated reading through all of the food blogs out there where people make it look so effortless. Well, we all have bad days in the kitchen. No one can turn out one perfect meal after another. The other reason I like to post my disasters is that I cook a lot from cookbooks or online recipes, and if I make a mistake or find a recipe that is no good, I can share that with others so that they don't make the same mistake or try the same recipe.
This one is one of my disasters. It's not the recipe that is bad, but a total mistake that I made, that I'm almost embarrassed about. I bought this cookbook – America's Best-Loved Community Recipes – back when I first moved away from home. I think I've only actually made one recipe from it, and it has been in the last year. So I picked it off the shelf one night, and discovered that I had bookmarks all over in the book. This isn't out of the ordinary – many of my cookbooks have the recipes I want to try marked – but these bookmarks had probably been there for 8+ years. So I decided to just open up to one of them, and that is what would go onto the menu. I ended up on this recipe for Salisbury Steak. I even had a grocery list on the paper that was marking it's spot. I guess one day, many years ago, I had planned to make this but never got around to it. Among the things on the list was "chili sauce?" just like that – with the question mark and all. I figured I didn't know what chili sauce was back then, not thinking much about it.
Well, the night came around to make the meal, and I started preparing it. I made the steaks, had them in cooking, and everything was going along well. Then I went to make the sauce. I pulled out the ingredients, but stopped for a second when I read "1/3 cup chili sauce." I had pulled out what I thought was the proper ingredient – a bottle of Sriracha that I had in the fridge – but had to wonder if adding 1/3 cup of this was going to make it too hot. I continued on with the recipe.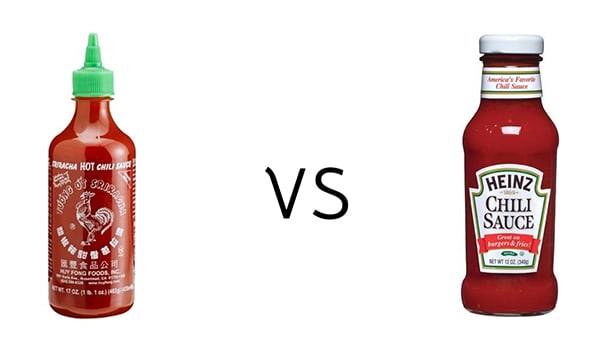 And yeah, it made the sauce completely inedible. I had one bite of that salisbury steak with the sauce on top, and I don't think I felt my mouth for an hour afterwards. I do like things hot, but this was completely over the top. And keeping it completely real, at that point, I still didn't know what I did wrong. It called for chili sauce, and I used chili sauce! We scraped off as much of the sauce as we could get off and at the steaks with ketchup – in true American style.
The next day, as I was blog surfing, I realized the error of my ways. I just happened to come upon a post with a recipe that used chili sauce. In the ingredients, she says " 1 jar Heinz chili sauce (or any chili sauce that has nothing to do with real chiles)". I had no idea this ingredient even existed until I read that recipe for turkey meatloaf!
So needless to say, this was a true lesson learned for me. And also a mistake I will never make again!
So if you are looking for a true, comforting, American meal, you should try out this recipe – but make sure you use the correct chili sauce!!
Salisbury Steak
---
Prep Time: 20 minutes
Cook Time: 14 minutes
Total Time: 35 minutes
Yield: 4-6 servings 1x
Description
Down home and comforting, these ground beef "steaks" are covered with a flavorful mushroom sauce.
---
Scale
Ingredients
Patties
2 pounds lean ground beef
1 medium onion, finely minced
1/2 green bell pepper, finely minced
1 stalk celery, finely minced
2 tablespoons snipped parsley, minced
1 clove garlic, finely minced
1/2 teaspoon dry mustard
1/2 teaspoon dried marjoram, crushed
1/2 teaspoon dried thyme, crushed
1/2 teaspoon paprika
1/2 teaspoon salt
1/2 teaspoon pepper
Sauce:
6 tablespoons butter
8 ounces sliced fresh mushrooms (about 2 cups)
2 teaspoons flour
2/3 cup chili sauce (such as Heinz chili sauce)
1/2 cup beef broth
2 teaspoons lemon juice
2 teaspoons Worcestershire sauce
dash of bottled hot pepper sauce
---
Instructions
To make the patties:
Preheat broiler.
Place the beef in a large bowl. Add in the onion, bell pepper, celery, parsley, garlic, dry mustard, marjoram, thyme, paprika, salt and pepper. Lightly mix all of the ingredients together, being careful to not overwork the meat.
Shape the mixture into 8 patties about 3/4 inch thick. Place the patties under the broiler and cook for 12 to 14 minutes, or until done, turning halfway through.
To make the sauce:
While the steaks cook, make the sauce. In a large saucepan, melt the butter. Add the mushrooms. Cook for 4-5 minutes over medium-high heat until the mushrooms are tender. Sprinkle with the flour; stir. Add the chili sauce, beef broth, lemon juice, Worcestershire sauce and hot pepper sauce. Cook and stir until the mixture is bubbly. Cook for 1 minute more. Serve the sauce over the patties.