A perfect Thanksgiving side dish – this cranberry and orange dish is a great change up to the ordinary cranberry sauce!
We have come to the end of Thanksgiving week, and of course, you have to have cranberries on the table. We normally have our traditional Cranberry Salad, but after making this side dish, I'm honestly contemplating breaking tradition. I'm not even a huge cranberry fan, but I absolutely loved this. Seriously loved it. It was sweet and sour and tart all in one. And I love that you can totally make this ahead of time, because I know one of the hardest parts of the Thanksgiving meal is getting everything done on time!
I seriously could have probably done 2 weeks of Thanksgiving recipes because this meal is probably the one I look forward to the most every year. I'm already having the hardest time decided just what I want to contribute to our table this year. But I hope that these 5 recipes will help you all with your menus!!


Brown Butter Mashed Potatoes
Honey Wheat Rolls
Classic Lemon Meringue Pie
Honey Herb Glazed Turkey
Orange Compote with Candied Cranberries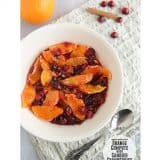 Orange Compote with Candied Cranberries
---
Prep Time: 15 minutes
Cook Time: 25 minutes
Total Time: 1 hour
Yield: 10 servings 1x
Description
A perfect Thanksgiving side dish – this cranberry and orange dish is a great change up to the ordinary cranberry sauce!
---
Scale
Ingredients
7 Navel oranges
1/4 cup water
1 (12 oz) bag fresh cranberries
1 cup sugar
1 cinnamon stick
---
Instructions
Remove 2 strips of orange zest from one of the oranges using a vegetable peeler.
In a pan, combine 1/4 cup water, the cranberries, 1/2 cup of the sugar and the strips of orange zest. Bring to a boil. Lower the heat and let simmer until it is reduced to a syrup consistency, 10-15 minutes. Remove from the heat and let cool; remove the orange zest.
Squeeze the juice from 2 of the oranges. Measure out 1/2 cup of juice and set aside. (If you have extra juice, reserve for another use.) In a saucepan, combine the 1/2 cup of juice with the remaining 1/2 cup sugar and the cinnamon stick. Bring to a simmer and cook until you reach a syrup consistency, about 10 minutes. Remove and discard the cinnamon stick.
Cut the peel and the pith from the remaining 5 oranges. Cut between the orange membranes to remove the segments. Place the orange segments in a bowl. Add the orange syrup. Stir in the candied cranberries and refrigerate until chilled.
—————————
Want some more sweet side dish ideas for your Thanksgiving table?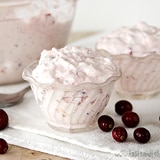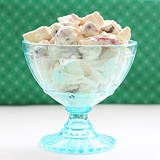 Around the web:
Maple Cinnamon Cranberry Sauce from Family Fresh Cooking
Frog Eye Salad from Butter Than Toast
Strawberry Pretzel Salad from My Baking Addiction