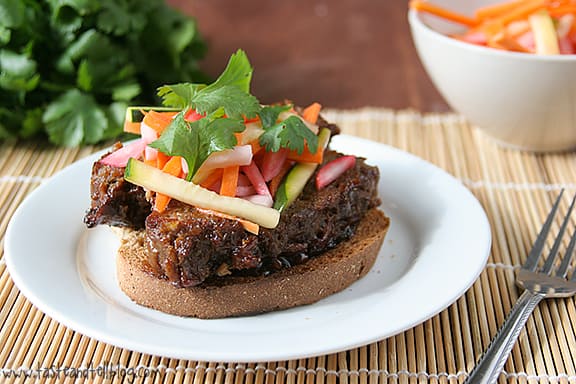 Pregnancy is a funny thing.  I don't normally get food aversions.  (Thank goodness!)  I do get cravings, but they usually aren't so strong that I have to make my husband run to the store or to the drive through at 11pm because of my craving.  But my mood for different foods can change in the blink of an eye.  I might really be craving a scrambled egg, but by the time it finishes cooking 4 minutes later, I might not want it anymore.  Which I guess is one big reason that I don't chase after my cravings – because I know it will probably change pretty quickly!!
I had actually put these meatloaf sandwiches on the menu awhile before I got around to making them.  First of all because I'm not very good at planning too far in advance.  I'm a girl who thinks that meatloaf is the best for sandwiches the next day.  In fact, I think I like the next day meatloaf sandwiches better than I actually like meatloaf!  So I knew that I wanted to make the meatloaf the day before we had these sandwiches for dinner.  Once I actually got my act together and made the meatloaf, I knew that we would have to eat the sandwiches the next day.  The meatloaf recipe is a little labor intensive – but then again, meatloaf usually does take a bit of time.  But as it cooked up, it smelled amazing.  I seriously wanted to dig in once it came out of the oven!
But I resisted, and I held off until the next night.  I made up the salad, toasted the bread, prepared the sandwiches.  And then – in comes pregnancy to ruin it all.  All of a sudden, I just didn't want one.  I did end up eating about half of mine – because I had to know if they were even good or not! – but I just wasn't feeling it anymore.  And I was totally bummed about that.
These sandwiches are so packed with flavor – if you prefer something a little bland or tame, these aren't for you.  And I think that if I wasn't pregant, I would have totally loved this and devoured every single bite.  And I actually think that the meatloaf would be pretty awesome on it's own – perfect for a Sunday dinner.  This does make a ton (12 servings!!) so you could probably even get away with having the meatloaf one night for dinner and the sandwiches with the leftovers.  But no matter how you have it, be prepared for some serious flavor!!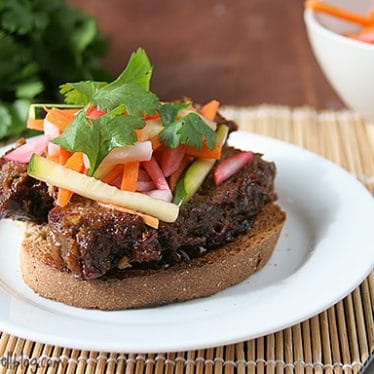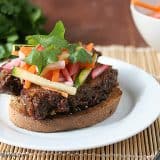 Hoisin-Glazed Meatloaf Sandwiches
---
Prep Time: 1 hour
Cook Time: 1 hour 30 minutes
Total Time: 3 hours
Yield: 12 servings 1x
Description
A twist on the normal meatloaf sandwich, this open-faced sandwich brings in Asian flavors with lots of hoisin sauce, ginger and five-spice powder.
---
Scale
Ingredients
Hoisin Glaze
3/4 cup hoisin
1/2 cup unseasoned rice vinegar
1 1″ piece of ginger, peeled and minced
1 clove garlic, minced
Meatloaf
2 cups 1/2″ cubes of day old white bread, crusts removed (from about 2 slices)
1/2 cup chicken broth
4 slices bacon, minced
1 1/3 cups thinly sliced scallions (dark green parts reserved)
3 celery stalks, minced (about 1 cup)
1 4″ piece of ginger, peeled and minced
7 garlic cloves, minced
1 pound ground beef
1 pound ground pork
2 eggs, lightly beaten
1teaspoon Chinese five-spice powder
2 teaspoons kosher salt
1 teaspoon freshly ground black pepper
Salad
1 cup each matchstick-size pieces peeled carrots, cucumbers and radishes
3/4 cup unseasoned rice vinegar
pinch of kosher salt
pinch of sugar
4 teaspoons vegetable oil, divided
12 thick slices white sandwich bread, toasted
1 cup chopped fresh cilantro
---
Instructions
To make the hoisin glaze:
In a medium saucepan, bring all of the ingredients to a boil. Reduce the heat and cook, stirring often, until the sauce is reduced and thickened, about 8-10 minutes.
To make the meatloaf:
Preheat the oven to 375F. Grease a 8 1/2×4 1/2x 3″ loaf pan with nonstick cooking spray. Set aside.
Place the bread cubes in a large bowl and pour the chicken broth over the top. Stir together to coat and let sit until the liquid is absorbed and the bread is falling apart.
Cook the bacon in a large skillet until the fat is rendered and the bacon is starting to crisp. Add the scallions (white and light green parts only), celery, ginger and garlic and cook until the vegetables start to soften, 3 or 4 minutes. Remove from the heat and let cool in the pan for 5 minutes.
Combine the vegetable mixture with the soften bread cubes and add 2 tablespoons of the hoisin glaze. Add in the remaining scallions, the beef, the pork, egg, Chinese five-spice powder, salt and pepper. Using your hands, gently work all of the ingredients together. Pack the mixture into the prepared loaf pan and press down to remove any air pockets; mound in the center. Cover with foil and bake in the preheated oven for 30 minutes. Remove the foil and spread 2 tablespoons of the hoisin glaze over the top of the meatloaf. Return to the oven and bake until a thermometer inserted in the center reads 165F, about 1 hour longer.
Let the meatloaf stand for 20 minutes. Use spatulas to transfer the meatloaf to a cutitng board. Cut into 12 slices. (Note – the meatloaf can be made a day ahead of time.)
To make the salad:
Toss the vegetables with with rice vinegar, salt and sugar and 2 teaspoons of oil. Cover and chill, tossing occasionally, for 1 hour or up to 1 day.
To make the sandwiches
Heat 2 teaspoons of oil in a medium nonstick skillet over medium heat. Working in batches, and adding more oil if needed, fry the meatloaf on both sides until they are heated through and browned in spots.
Place the toast on plates. Brush each slice of toast with hoisin glaze and top with a slice of meatloaf. Drain the salad and mound on top of the meatloaf. Garnish with the cilantro.
—————–
recipe from Bon Appetit March 2012

——————
More meatloaf sandwich love:
Turkey Meatloaf Sandwiches from Peanut Butter and Julie
Meatloaf Sliders with Piquant Sauce from Eggton
Meatloaf Sandwiches from Real Mom Kitchen
Meat Loaf Patty Melt Panini from Panini Happy
Tom Coliccho's Meatloaf Sandwich from Crepes of Wrath