This Creamy One Pot Spaghetti is an easy weeknight dinner that the whole family will go crazy for. Less than 40 minutes until dinner is on the table!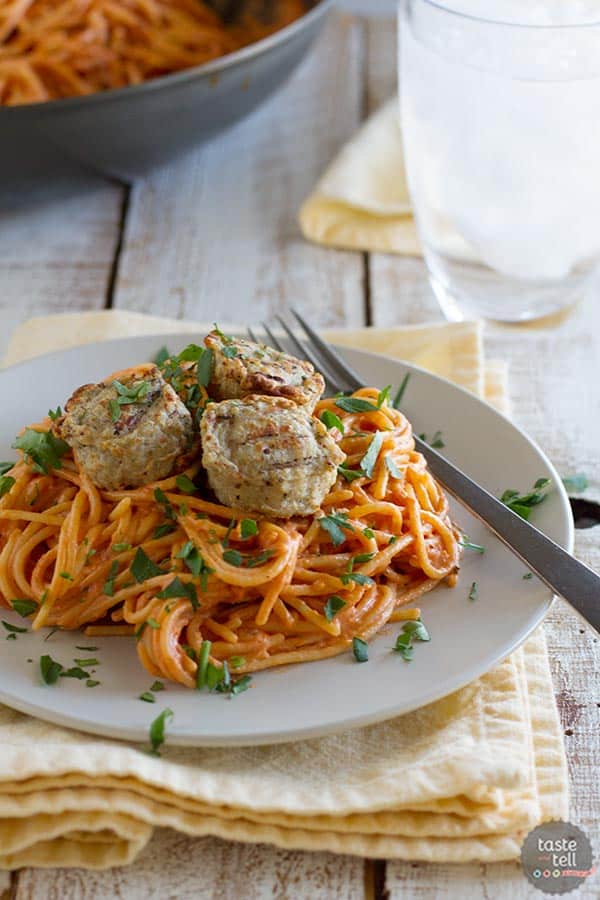 We have made it through half of January. I can't even believe how time flies now that I'm an adult. I swear just yesterday we were yelling happy new year, and then I'm probably going to blink and it's going to be Halloween again. Can I get a slo-mo button, please??
But halfway through January. This is usually the time that the New Year's resolutions start to fade. How are you doing on yours??
I am a person who could sit down and list a hundred things that I want to improve/change/transform. Not that I'm not happy with where I am, (because really, for the most part, I am happy living in the now), but I'm always looking for ways to make myself and the things around me better. But I didn't make a laundry list of New Year's resolutions this year.
Instead I made one.

To put on makeup every day.
I know – this might seem vain and inconsequential, but hear me out. I work from home. And I have 3 children. Which means I don't leave the house about 5 days a week. I will totally admit that I had gotten lazy, and would still be in my pjs with my hair in a topknot when my husband got home from work. My husband, luckily, could care less, and wouldn't really notice either way. But I started to notice that I wasn't as productive on those days that I wouldn't bother to get dressed or really take care of myself. And honestly, I wasn't feeling all that great about myself.
Growing up, I don't remember a day that my mom went without makeup. She was up and dressed and ready every morning, and didn't get into her pjs until right before she went to bed. And she is was always productive. I say that wearing makeup every day may seem vain or trivial on the surface, but I think there is way more to it.
So I made myself a goal to wear makeup every day. And to actually change out of my pjs. And I'm happy to say that I have been successful so far, even if it meant showering and putting on makeup at 3pm. But I have done it!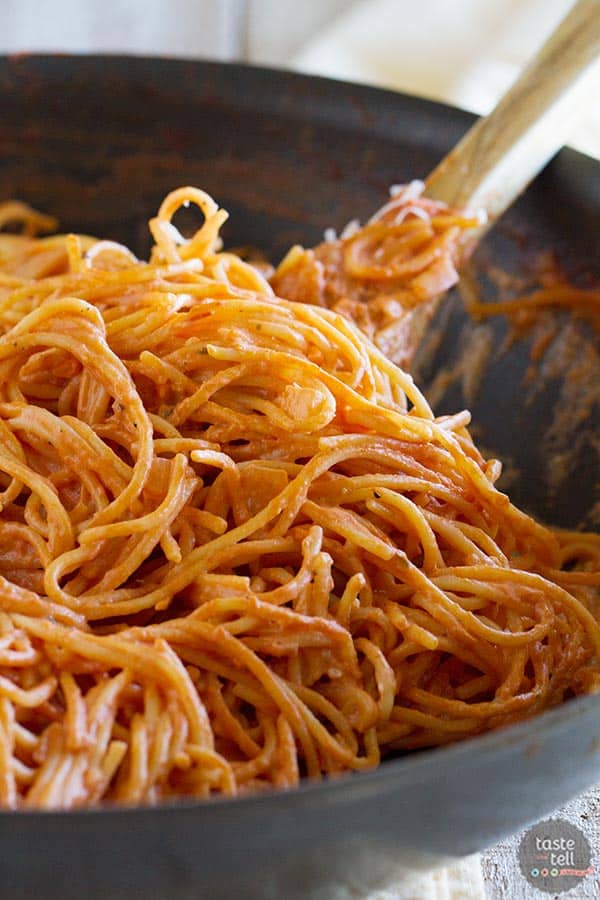 It's all about the little victories, and this, my friends, is my little victory.
Remember when we talked about little victories a little bit ago? Making little changes, because eventually, those little changes will add up to something big. I love this idea because it's often overwhelming to jump head first into a big idea. But little steps? We all can do that!!
I've teamed up this month with Kroger along with a group of my blogging friends to share some ways to have our own little victories. We all know I'm not so great when it comes to "diet" food, but swapping out ingredients for healthier choices – especially when they taste amazing? That's a little victory that I'm all about!!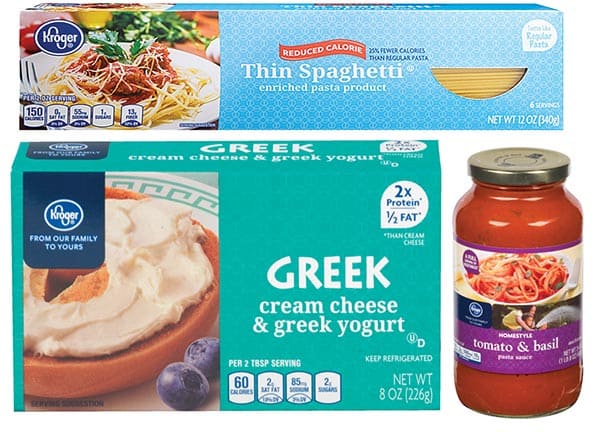 The Recipe:
I'm also all about the one pot meal lately (less dishes – yay for me!!). How about a one pot meal where I swapped in some better for you ingredients? You guys – this Creamy One Pot Spaghetti is so good that I'd put money on the fact that the people you serve it to won't even know that you made a swap. This is creamy and comforting, and did I mention that the pasta comes together with just one pot?
For this one pot spaghetti, I swapped in the reduced calorie thin spaghetti from Kroger. Yeah – I didn't know this existed before, either. But I will tell you, not one person in my family thought that it tasted any different than the regular spaghetti we usually have. Win!
I also subbed in Greek yogurt cream cheese instead of using regular cream cheese. I have been wanting to try this for awhile, and this recipe gave me the perfect excuse. The Greek yogurt/cream cheese has 2 times the protein and half the fat of regular cream cheese. It was the perfect addition to this one pot spaghetti, and made the sauce so creamy and delicious.
And since we are a meat eating family, I had to throw some meatballs on top. I always have a bag of meatballs stashed in the freezer, and these turkey meatballs from Kroger are quite tasty!!
I used a skillet to make this (which I guess makes it a one skillet meal??) but it was a little bit difficult to stir the spaghetti before it softened up. So I'd suggest actually using a large pot, or you could always break the spaghetti in half if you are using a skillet.
I want to know all about your little victories!! Make sure you enter the giveaway at the bottom of the post and let me know in the comments what kind of little victories make your life better.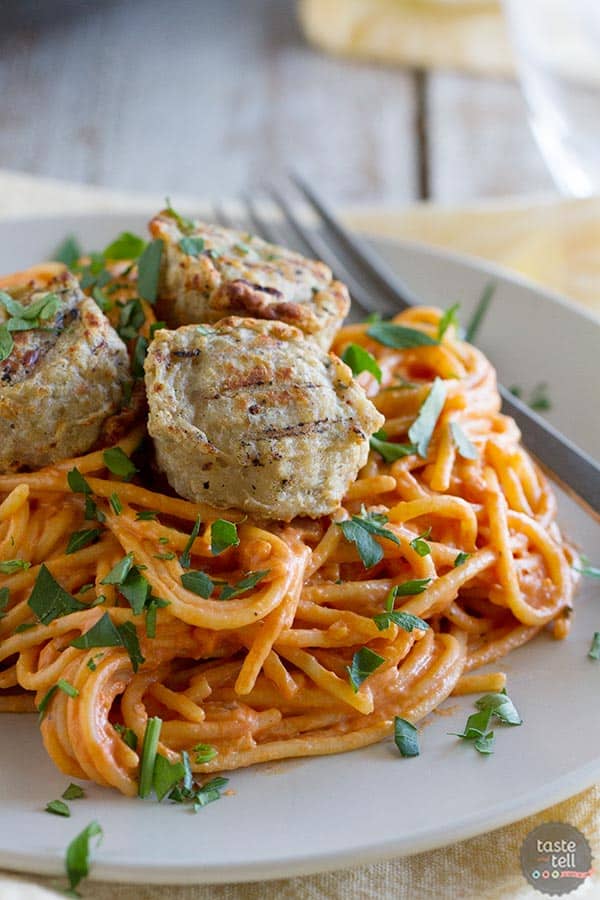 Like what you see here? Make sure you are following Taste and Tell for more great recipes and ideas!!

Facebook ** Pinterest ** Twitter ** Instagram ** Google+
or you can subscribe to my newsletter or Feedly or Bloglovin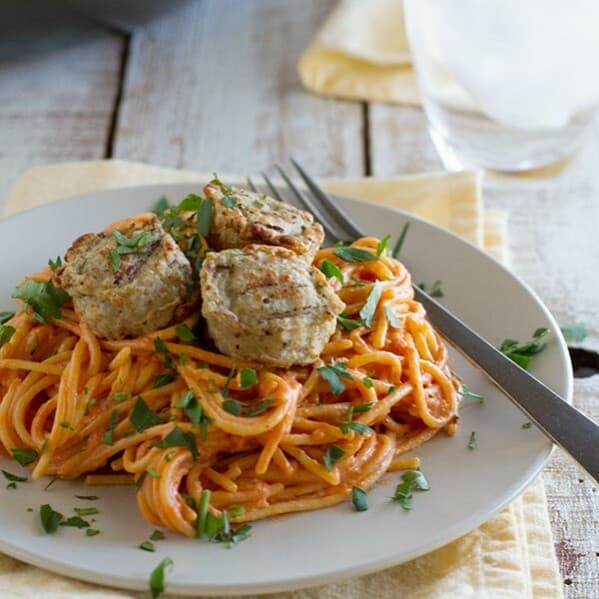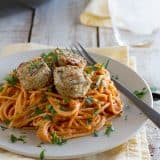 Creamy One Pot Spaghetti with Meatballs
---
Prep Time: 10 mins
Cook Time: 26 mins
Total Time: 36 mins
Yield: 4-6 servings 1x
Description
This Creamy One Pot Spaghetti is an easy weeknight dinner that the whole family will go crazy for. Less than 40 minutes until dinner is on the table!
---
Scale
Ingredients
1 tablespoon olive oil
1/2 cup chopped onion
2 cloves garlic, minced
2 1/2 cups chicken broth
1 cup prepared spaghetti sauce
1 can (8 oz) tomato sauce
12 oz Kroger Reduced Calorie Thin Spaghetti
4 oz Kroger Greek Cream Cheese & Greek Yogurt, cut into small pieces
1/2 cup grated Parmesan cheese
18 Kroger frozen turkey meatballs
---
Instructions
Heat the oven to 350ºF.
In a large skillet or pot, heat the olive oil over medium heat. Add the onion and cook until softened, about 5 minutes. Add the garlic and cook until fragrant, 30-60 seconds. Stir in the chicken broth, spaghetti sauce and tomato sauce. Add the spaghetti and stir to try to cover it in the sauce.
Cover the skillet and cook until the pasta is al dente, 15-20 minutes. Stir 3-4 times during the cook time.
While the pasta cooks, place the meatballs on a baking sheet and bake until warmed through, 15-20 minutes.
Once the pasta is al dente, add the Greek cream cheese and the Parmesan. Stir until the cheese melts and has been fully incorporated.
Divide the pasta between 4-6 plates, and top each with 3-4 meatballs before serving.
Recipe Notes:
If you want the pasta more tender, add in 1/4 – 1/2 cup more chicken broth.


I am working with Kroger on this Little Victories campaign, and this post has been sponsored. I'm so glad to be able to work with companies and organizations that I truly believe in. Thank you for supporting them, too.