Whether for breakfast or as a side dish, these potato waffles are crisp on the outside and packed with flavor.
My favorite part of the weekend is Saturday morning.  My husband doesn't cook very much, but Saturday mornings are his morning, where he takes over in the kitchen and cooks us up a delicious feast.  It usually is quite a splurge, filled with eggs and toast and sausage and hashbrowns.  But boy, is it delicious.  Don't hate, but the hashbrowns are usually the frozen kind.  And I'm not going to lie – I kind of like them.  Especially when he cooks them up so they are nice and crispy on the outside, and piping hot on the inside.  Serve it up with a bit of ketchup – yum, yum.
As much as I like those hashbrowns, I think I'm going to be taking over hashbrown duty from now on.  Because these Crispy Hash Brown Waffles are so easy.  And they were so good.  This is yet another recipe that I would have never thought to make in a waffle maker, but once again – it totally works.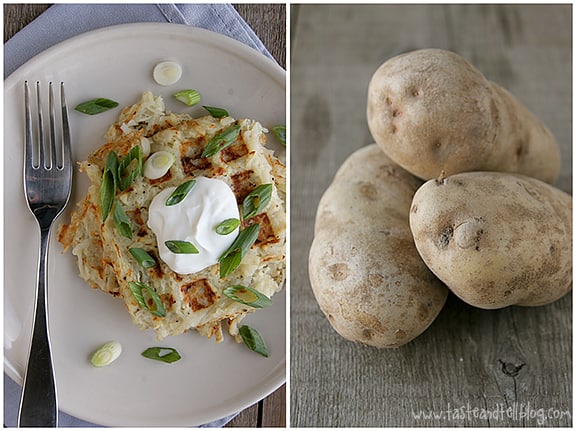 What I love best about them is that the indented parts get nice and crispy, while the taller parts stay a bit softer.  It all works together to form the perfect hash brown.  And don't skip out on the horseradish – it gives these some awesome flavor.  It wasn't super strong, but I think it gave them the oomph that they needed.
I think these would be perfect as a side for breakfast, along with some eggs.  But we ate them for lunch, topped with a little bit of extra sour cream and garnished with some green onions.  Rachael Ray also said they make a great side dish for chicken or pork, as well.  She served hers up topped with applesauce, but I loved the bit of extra sour cream.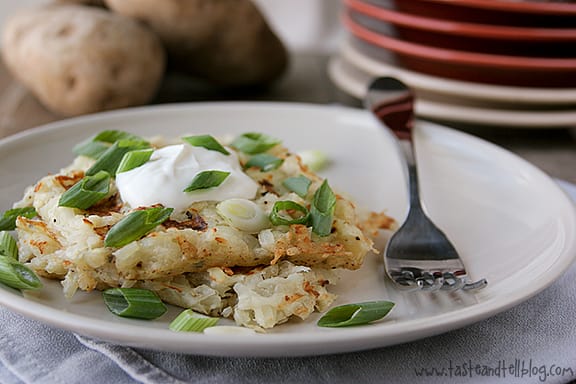 I don't know if I'll be able to pick a favorite waffle – these have all been so fabulous!!  The last recipe is coming Monday – it's one you don't want to miss!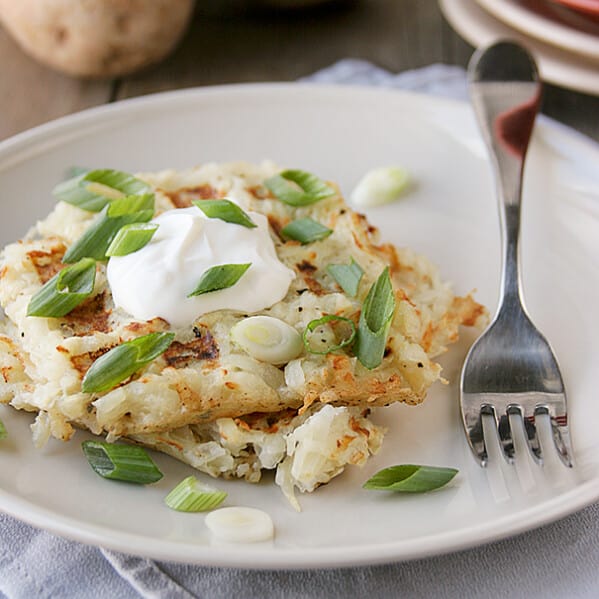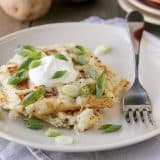 Crispy Hash Brown Waffles
---
Prep Time: 15 minutes
Cook Time: 12 minutes
Total Time: 30 minutes
Yield: 4 servings 1x
Description
Whether for breakfast or as a side dish, these potato waffles are crisp on the outside and packed with flavor.
---
Scale
Ingredients
3 potatoes, peeled and shredded
salt
1/4 cup grated red onion
1 egg
1/4 cup sour cream
1 tablespoon horseradish
pepper
2 tablespoons melted butter
---
Instructions
Preheat the waffle iron to the highest setting.
Pile the shredded potatoes on paper towels and generously salt. Place a few paper towels on top and allow the potatoes to drain.
Meanwhile, combine the onion, egg, sour cream and horseradish. Season with pepper. Add in the potatoes and stir to combine.
Brush the waffle maker with the melted butter. Spread the potato mixture evenly on the waffle maker. (You may have to do this more than once, depending on the size of your waffle maker.) Close the lid and cook until golden brown, about 12 minutes.
One Year Ago:  Banana Brown Sugar Pie Pockets
Two Years Ago:  Not Your Mother's Weenight Cooking – A Review
Three Years Ago:  Sweet Potato Hash with Bacon and Honey Soy Chicken
Four Years Ago:  Green Posole