Transport yourself to the tropics with this Kona Coconut Loaf! Sweet coconut and nutty macadamia nuts make this loaf cake the perfect dessert for when you are wanting something tropical.
I love cake. There, I said it. This is just one reason I could never give up sweets or sugar or butter – because I love cake. Big cakes, cupcakes, loaf cakes, bundt cakes. I need my cake.
I also love baking cakes. I'm not the best at making beautiful layer cakes, but that doesn't mean that I don't love to try – or to bake every other kind of cake out there.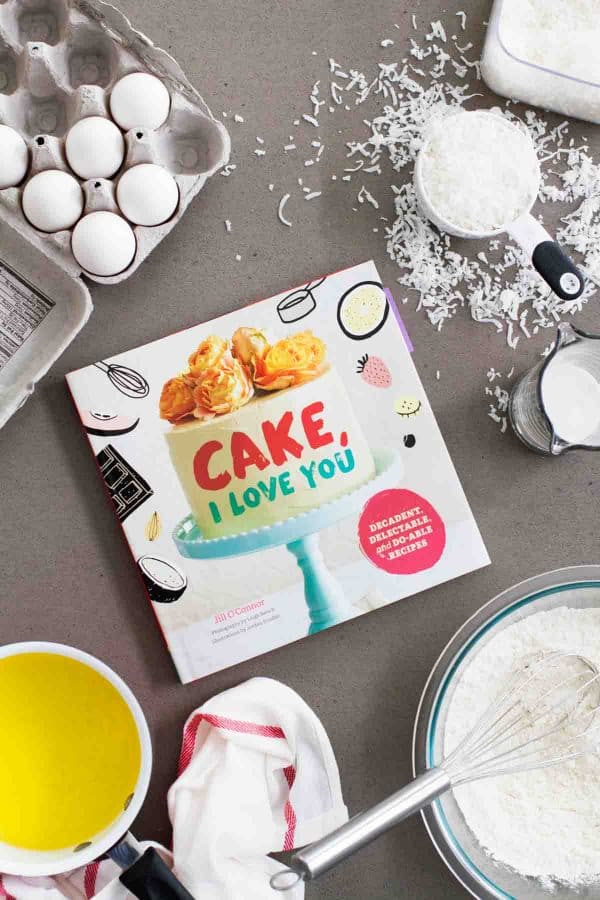 Enter Cake, I Love You by Jill O'Connor. I couldn't turn down a chance to review a cookbook all about cake!!
The Pros: This book is filled with all kinds of cakes. And all kinds of flavor profiles. Everything from classic flavors like brown butter and banana or coconut pecan, or some not so common flavor combinations like pear, lemon and rosemary or plum and cardamom. I love all of the different flavor profiles. There is also a lot of information in the beginning of the book – tips and tricks and lots of information to help you make the perfect cake.
The Cons: This one mostly just applies to me, but I don't drink, and there are quite a few alcohol inspired or based recipes in this book. So I wouldn't be able to bake my way through the whole book. There are also some ingredients that might not be easy to find. Things like dried hibiscus flowers or kumquats. The majority of the ingredients should be easy to find, but there are a few that might throw you off. The only other problem I had was that I ran into altitude issues. I don't always have to change recipes because of altitude, but after trying a few of these recipes, I know I'd have to do some testing and adjusting for altitude.
Other recipes that I want to try:
Banana-Butterscotch Loaf
Triple Coconut Poke Cake
Old-Fashioned Chocolate Mayonnaise Cake with Melted Chocolate Bar Frosting
The Scotchmallow
Salted Butter Pecan Cake
Luscious Lemon Loaf
Lemon Bomb
Sweet Potato – Praline Spice Cake with Marshmallow Meringue
Plum-Cardamom Cake
Buy Cake, I Love You on Amazon.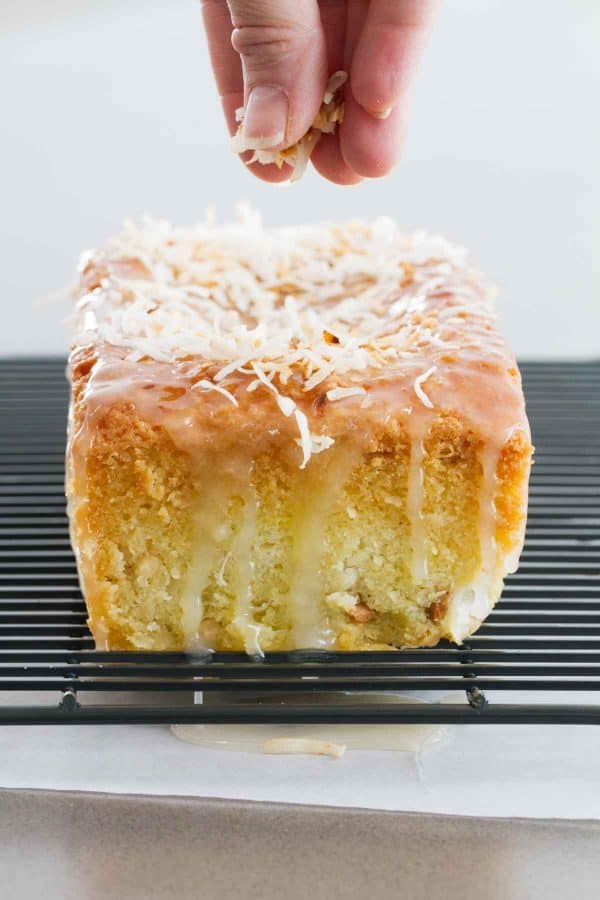 I feel like I'm always claiming one flavor or another is my favorite (I obviously just like food – haha!) but really, coconut is right up there at the top. Just below lemon. So you can bet that I headed straight for the chapter all about coconut. (A whole chapter dedicated to coconut? Count me in!!) I narrowed it down and decided to start with this Kona Coconut Loaf, mostly because I really don't make loaf cakes often enough. And the fact that this cake gets soaked with a coconut syrup after it is baked was something I *knew* I'd love.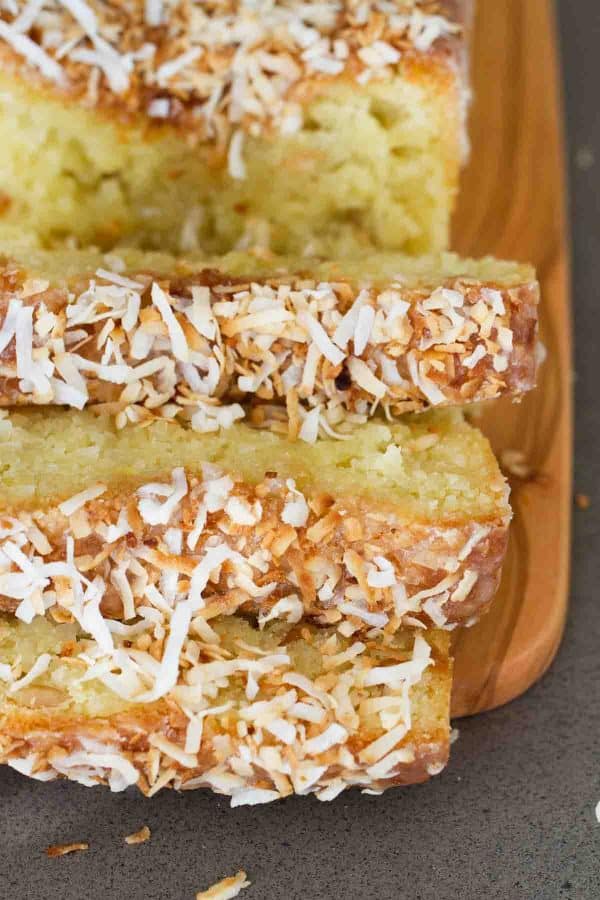 This Kona Coconut Loaf is super simple to make – a lot less daunting than a full layer cake. It's the perfect size for my family of 5, and since 2 of my family members aren't frosting fans, this kind of cake is even better. The coconut flavor really comes through, and the macadamia nuts add the perfect tropical crunch. But my favorite part is probably the coconut syrup that you spread over the top of the cake once it is baked. It keeps the cake super moist and gives it even more coconut flavor. This cake was just as good (if not better!) 2 and 3 days later. This Kona Coconut Loaf was definitely a hit!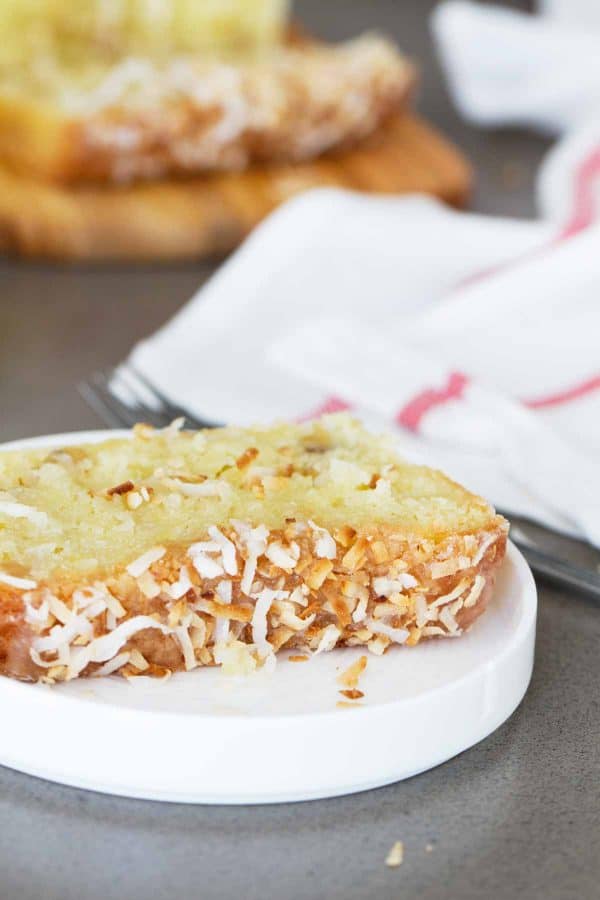 Want more cake recipes?
Orange Glazed Bundt Cake
Coconut Snowball Cupcakes
Crumb Cake Recipe
Chocolate Pound Cake
Cinnamon Roll Sheet Cake
Like what you see here? Make sure you are following Taste and Tell for more great recipes and ideas!!

Facebook ** Pinterest ** Twitter ** Instagram ** Google+
or you can subscribe to my newsletter
How to make the Kona Coconut Loaf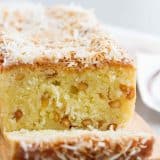 Kona Coconut Loaf
---
Author:
Prep Time: 15 mins
Cook Time: 1 hour 10 mins
Total Time: 1 hour 25 minutes
Yield: 10 servings 1x
Category: Dessert
Description
Transport yourself to the tropics with this Kona Coconut Loaf! Sweet pineapple and nutty macadamia nuts make this loaf cake the perfect dessert for when you are wanting something tropical.
---
Scale
Ingredients
The cake:
1 1/2 cups all-purpose flour
1 teaspoon baking powder
1/2 teaspoon fine sea salt
1/2 cup virgin coconut oil
1/2 cup unsalted butter
4 eggs
1 1/3 cups sugar
1 teaspoon vanilla extract
1/2 teaspoon coconut extract
1/4 cup coconut milk*
1 cup sweetened shredded coconut
1/2 cup chopped macadamia nuts
The topping:
1/2 cup sweetened shredded coconut
1/2 cup coconut milk*
1/2 cup sugar
1/4 teaspoon coconut extract
---
Instructions
Place the rack in the center of the oven. Preheat the oven to 350ºF.
Spray a 9×5-inch loaf pan with nonstick cooking spray. Line the pan with an 8 1/2×15-inch strip of parchment paper so that the ends overhang the long sides.
In a bowl, whisk together the flour, baking powder and salt.
In a small saucepan over medium-low heat, combine the coconut oil and the butter and cook just until melted. Remove from the heat.
Place the eggs and the sugar in the bowl of a stand mixer. Beat until thick and smooth, but not fluffy, about 1 minute. With the mixer on low, beat in the coconut oil mixture just until combined.
Add about 1/3 of the flour mixture to the wet mixture and mix just until combined. Add the remaining dry ingredients in 2 more additions, beating just until combined after each addition. Remove the bowl from the mixer, and using a rubber spatula, fold in the coconut milk, the shredded coconut and the macadamia nuts just until combined – do not overmix.
Bake the loaf for 10 minutes, then reduce the temperature to 325ºF. Bake until a tester inserted in the middle comes out clean, 40 to 50 minutes.
Transfer the pan to a wire rack to cool for 10 minutes. Then grab the parchment paper that is overhanging on the sides to lift the loaf out of the pan. Set the loaf on the cooling rack.
Place the last 1/2 cup of coconut in a small skillet over medium heat. Toast the coconut, stirring continuously with a wooden spoon, until it is golden brown. Pour onto a plate and allow to cool.
In a medium saucepan over medium heat, combine the coconut milk, sugar and coconut extract. Bring to a boil, stirring until the sugar dissolves and the mixture thickens to the consistency of pancake syrup, 4 to 5 minutes.
Use a wooden skewer to poke holes all over the top of the cake. Brush the top and the sides of the loaf with the coconut syrup. Immediately top with the remaining coconut.  Let cool completely before slicing.
Recipe Notes:
Recipe from Cake, I Love You by Jill O'Connor
*You will want to use full fat coconut milk from a can for this recipe, not the coconut beverage you can find in a carton.
Nutrition information provided as an estimate only. Various brands and products can change the counts.
Nutrition
Calories: 583
Sugar: 43 g
Sodium: 196 mg
Fat: 36 g
Saturated Fat: 20 g
Unsaturated Fat: 8 g
Trans Fat: 0 g
Carbohydrates: 59 g
Fiber: 2 g
Protein: 5 g
Cholesterol: 99 mg
SHOP THIS POST: