My all-time favorite spaghetti sauce recipe. Simple ingredients come together to form a sauce full of vegetables and meat.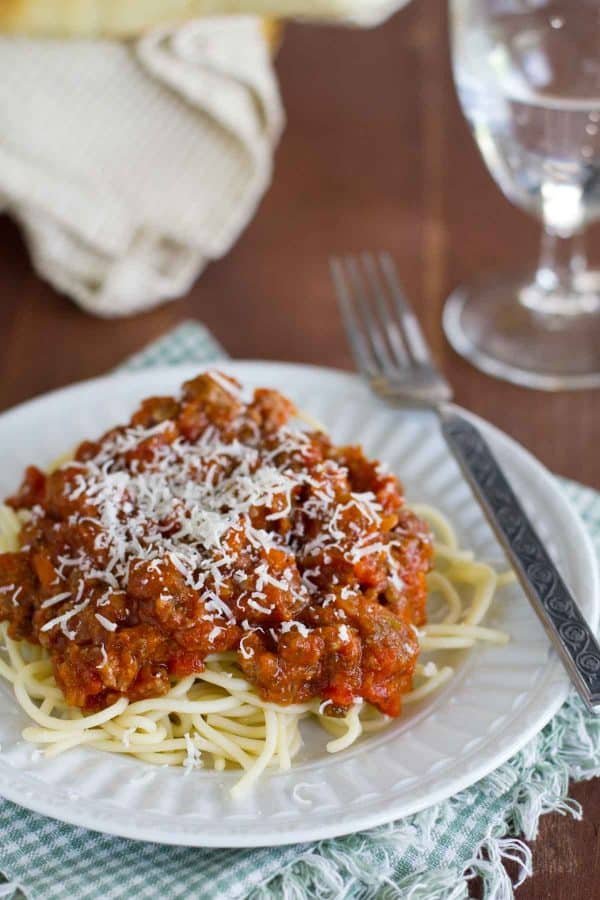 I have said before that there are so many food blogging events that I would like to participate in, but the time always seems to get away from me and before I know it, it's too late. For this one, I'm making it – it may be the last day, but at least I'm here!!
I ran across this Tried, Tested and True event, and knew that I wanted to participate. I get so caught up in trying new recipes that I often forget those recipes that have been made over and over again, for a reason. They are just so good, that they beg to be made over and over again. Ever since I made my roast awhile back, I have been wanting to dig into my recipe box and make some more of the tried and true recipes, and this event was the perfect opportunity.
I only discovered this event a little over a week ago, so I wasn't very prepared for it. But then, this weekend, my in-laws were in Moab on a 4-wheeling trip, and they were in an accident. After being rushed to the emergency room, they were ok – just a little banged up and bruised. They both have stitches, and my FIL broke a few ribs. My MIL actually lost 3 1/2 pints of blood, but besides the stitches and a big black eye, she is ok. We wanted to help, so we told them that we would make them dinner on Sunday night so they could take it easy and not have to worry about preparing dinner.
When I heard about the accident on Saturday and we decided to do dinner, my mind immediately went to this event. What better time to make something that you know is good and comforting? I couldn't decide between lasagna or spaghetti, but ended up going with spaghetti. I'm not exactly sure where this recipe comes from. I'm pretty sure I got it from my oldest sister, but whether she made it up or got it from someone else – I'm not sure. But I do know that it is my favorite spaghetti sauce recipe!! I actually had a question while I was making it yesterday, and after I couldn't get a hold of my sister, I called another sister, and she said that she had just made the same recipe the week before! So I guess this recipe has become a family favorite!
I know this isn't authentic Italian or probably anything close, but really all that matters is that it is delicious. The only thing I change from my sister's recipe is adding fresh mushrooms instead of canned – I'm not a big fan of canned mushrooms. They are a bit rubbery to me. The recipe does call for canned spaghetti sauce, but feel free to substitute the same amount of homemade marinara. I always use the store bought, but you can't tell there are any store bought ingredients in it. It tastes 100% homemade to me!!
You can simmer this as little as 20 minutes, but I like to let it simmer for a few hours to let the flavors meld. This recipe makes a TON, but it freezes very well.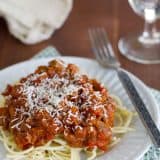 The Best Spaghetti Sauce
---
Author:
Prep Time: 20 minutes
Cook Time: 30 minutes
Total Time: 50 minutes
Yield: 10-12 servings 1x
Category: Main Dish
Method: Stove Top
Cuisine: Italian
Description
My all-time favorite spaghetti sauce recipe. Simple ingredients come together to form a sauce full of vegetables and meat.
---
Scale
Ingredients
1 pound ground beef
1 pound sausage
1 chopped onion
2 cloves chopped garlic
1 grated carrot
1/2 cup chopped parsley
1 28-oz. can diced tomatoes
8 oz tomato sauce
Tomato sauce can of water
1 24-26 oz. jar spaghetti sauce
1 tablespoon sugar
2 beef bullion cubes
2 cups sliced mushrooms
1 teaspoon rosemary
1 teaspoon dried basil
---
Instructions
Brown ground beef and sausage with onion. Add garlic. Add carrot and parsley – cook for a few minutes. Put the remaining ingredients in pot and simmer at least 20 minutes.