Sausage, beans and lots of veggies are combined in this healthy Slow Cooker Tuscan Sausage and Bean Soup.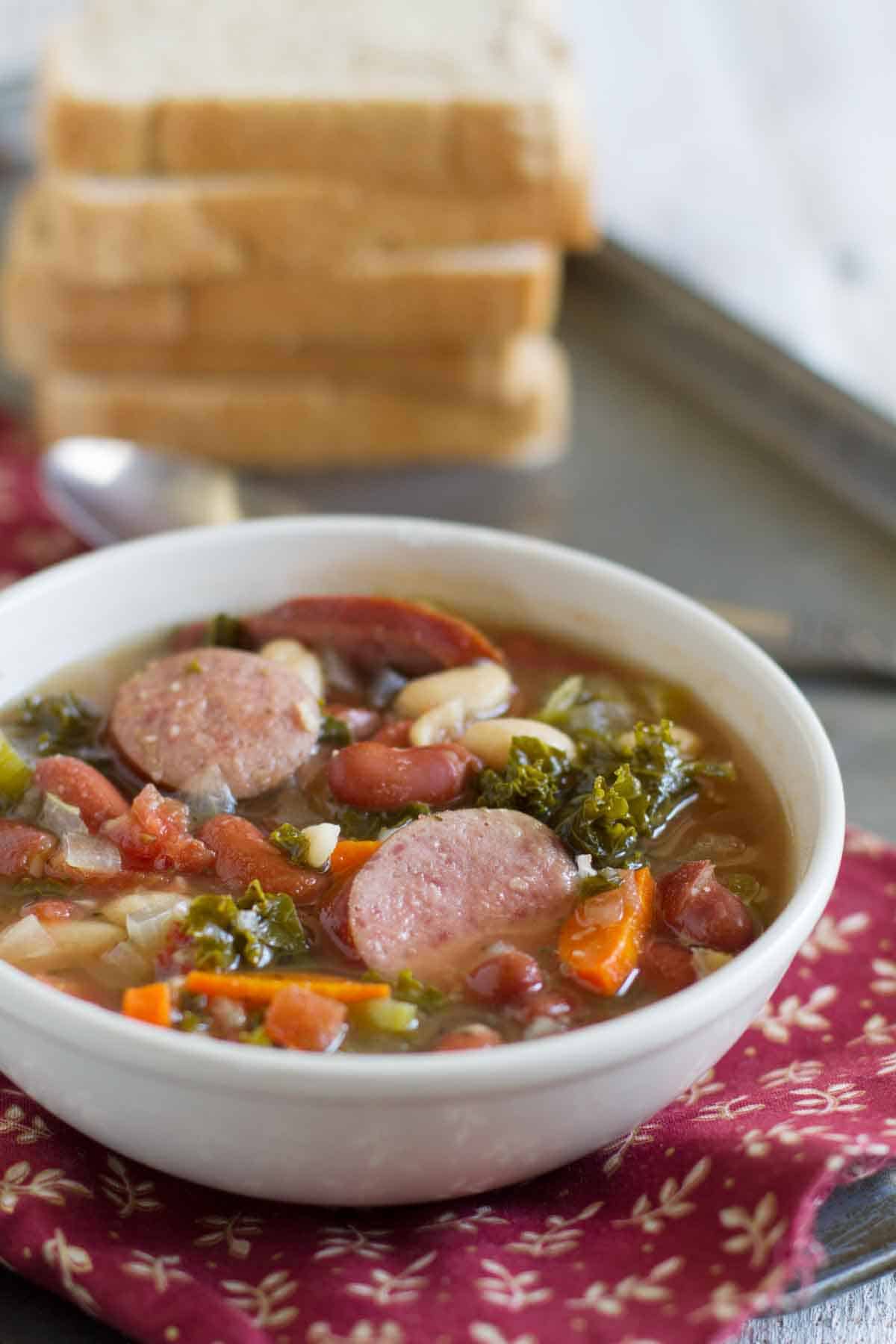 First of all, I want to mention that I've finally changed over to a dot com!! If you will notice above, my new web address is www.tasteandtellblog.com. If you have my previous web address bookmarked, it should still bring you to the right place, but you might want to change it just in case!
And yes – the Cookbook of the Month is back! The last 2 months I've slacked a bit – but I had a good excuse because of the baby and all. But now I'm back. The cookbook I've chosen for this month is the Weight Watchers New Complete Cookbook. This is a book I already had in my collection, and I had it out a few weeks ago looking for something to make for dinner. This recipe caught my eye, but so did so many others, so I decided to give it a try for the month. One other feature I'm going to start – just on the Cookbook of the Month recipes for now – is a rating. I will give the recipes a score, from one to five, based on what my husband and I (and anyone else that tries the recipe) think so that I can do an average at the end of the month. That way, instead of saying a cookbook is good or not, it will have an actual score. I think I'll have fun with this!
Now, onto the recipe!
I know that slow cookers are hit and miss with some people, and I think I've figured out why. I think that there is a misconception that you can just throw things in the slow cooker, and no matter how long you cook your dish for, it should be good. I've found that is not the case. In fact, I think that most slow cooker recipes have you cook food for way too long, making mushy, unappetizing food. Like this recipe. Luckily I was home so I could keep an eye on it, but the recipe says to cook it on low for 8-10 hours. I thought it was plenty done at half that time. So my one word of advice when using the slow cooker is to start checking on what you are cooking about half way through. Many things really don't take that long!
I have to admit that I was afraid that my husband wouldn't be thrilled about this one, but I was completely wrong. He actually raved about it. This was so easy and fast, I can definitely see it on the menu in the future. It is full of flavor, filling, and even good for you!
Recipe Rating – 4.5 out of 5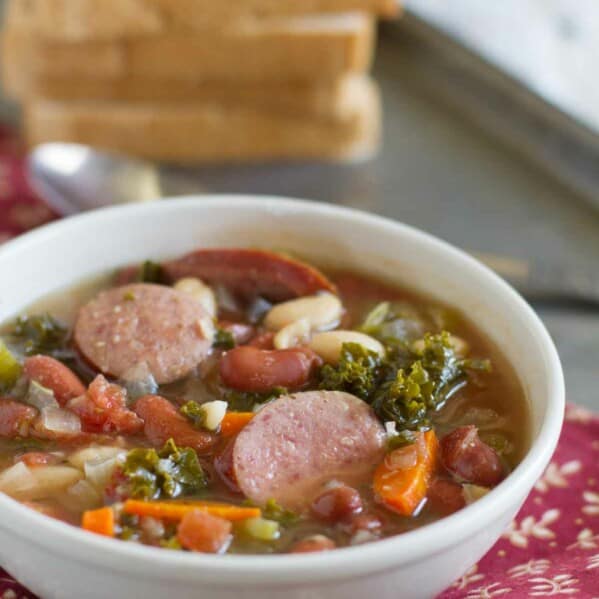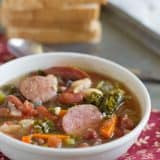 Slow Cooker Tuscan Sausage and Bean Soup
---
Author:
Prep Time: 15 minutes
Cook Time: 5 hours
Total Time: 5 hours 15 minutes
Yield: 6 servings 1x
Category: Soup
Method: Slow Cooker
Cuisine: Italian
Description
Sausage, beans and lots of veggies are combined in this healthy Slow Cooker Tuscan Sausage and Bean Soup.
---
Scale
Ingredients
12 ounces turkey sausage or kielbasa, cut into 1/4-inch thick rounds
2 cloves garlic, minced
1 onion, chopped
1 medium carrot, peeled and chopped
1 celery stalk, chopped
1/2 medium bunch kale, chopped (about 4 cups)
3 cups fat-free low-sodium chicken broth
1 (15.5-ounce) can red kidney beans, rinsed and drained
1 (15.5-ounce) can great Northern beans, rinsed and drained
1 (14.5-ounce) can Italian seasoned diced tomatoes
1/2 cup water
1 teaspoon dried basil
---
Instructions
In a slow cooker, place the sausage, garlic, onion, carrot, celery, kale, broth, kidney beans, great Northern beans, tomatoes, water, and basil.
Stir to combine. Cover and cook on low until the vegetables are tender, 4-5 hours.