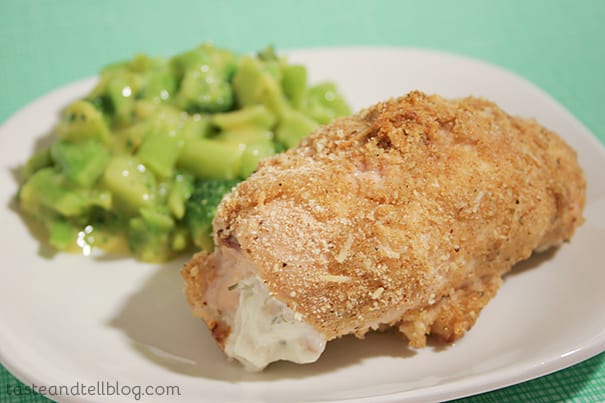 I'm sure I've mentioned this before, but before I discovered food blogging, I was an allrecipes addict. I loved reading through reviews of recipes, and making my own reviews after I tried a recipe. I even started taking pictures back then and submitting them to the site and I was always excited when one of my pictures was chosen as the "main" picture.
I discovered this recipe back in those days, and since then, it has become a family favorite. It's one of those recipes that you want to share with others because not only is it easy and tasty, but it is very kid friendly as well. In fact, the first time I made it, I made it for my sister's family and her kids, and they all loved it!
The cheese filling can also be changed up – it calls for garlic cheese spread, and I usually use a garlic cream cheese because that is what we like the best. But feel free to substitute and play around with it! A definite crowd pleaser!
Garlic Cheese Chicken Rollups
from allrecipes.com
Serves 4
4 skinless, boneless chicken breasts
1 cup dried, seasoned bread crumbs
1/2 cup grated Parmesan cheese
1/4 cup butter, melted
1 (7 ounce) package garlic cheese spread
Preheat oven to 350 degrees F (175 degrees C).
Pound chicken breasts until thinned out. In a shallow dish or bowl mix together bread crumbs and cheese. Dip one side of each breast into melted butter, then into crumb/cheese mixture. Place a dollop of cheese spread at one end of each chicken breast, on the side of the breast not dipped in the mixture. Roll up each breast and secure with toothpicks.
Place rollups in a lightly greased 9×13 inch baking dish and drizzle any remaining butter over all. Bake in the preheated oven for 35 to 40 minutes, or until cooked through and juices run clear.