Last week, I asked on my Facebook page for some Chicken with 40 Cloves of Garlic recipes. We were having my inlaws over for dinner last Sunday, and I had a chicken in the freezer. I knew this would be a great way to prepare the chicken, but I wanted a great recipe since I was having company over. And then I didn't even end up using any of your suggestions!! Don't get me wrong – you all steered me towards some great sounding recipes. But do you want to know why I chose this one? Simply because of it's simplicity. I didn't even have to go to the grocery store! And luckily, my gamble paid off. Not only was this recipe incredibly simple, it came together quickly as well. This is always a good thing – especially on Sundays. And it was incredibly delicious!!
But one word of warning here – my husband ate the leftovers the next day for lunch. Included in the leftovers were about half of the garlic cloves, and he ate them all except 3 or 4. You know how they say that if you eat too much garlic it can seep from your pores? Well, it's true – I can smell garlic on his skin 2 days later!! It's slowly diminishing, but if you don't want to smell like garlic for days after, be careful how much of the garlic you eat!!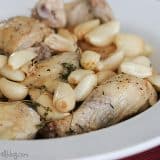 40 Cloves and a Chicken
---
Prep Time: 10 minutes
Cook Time: 1 hour 30 minutes
Total Time: 1 hour 40 minutes
Yield: 6 servings 1x
Description
An easy recipe for garlic infused baked chicken.
---
Scale
Ingredients
1 whole chicken, cut into 8 pieces
1/2 cup plus 2 tablespoons olive oil
10 sprigs fresh thyme
40 peeled cloves garlic
salt and pepper
---
Instructions
Preheat oven to 350F.
Season the chicken with salt and pepper. Put a large skillet or fry pan over high heat and add 2 tablespoons of olive oil. Brown the chicken on both sides. Remove from heat. Add 1/2 cup oil, thyme, and garlic cloves. Cover and bake for 1 1/2 hours*.
Remove chicken from the oven, let rest for 5 to 10 minutes before serving.
*I checked my chicken at 1 hour and it was already done. I would start checking the temperature of your chicken around that time!
———————–
from Alton Brown via The Food Network