Peanut sauce doesn't have to be reserved for satay – this Peanut Chicken Stir Fry has a coconut milk and peanut sauce, lean chicken breasts, and lots of veggies.



I was sitting at the table a couple of weeks back, working on the week's menu plan. I was looking through a magazine, and came across this Peanut Chicken Stir Fry. Of course I was drawn to it, these are flavors that are right up my alley. But this is a recipe that I would normally drool over and then skip, because I know my husband isn't a fan of savory dishes with peanuts and/or peanut butter.

But he was at the sink, so I casually asked him, "so, are you still against a dinner with a peanut sauce?" Then I took the magazine over to him and showed him the photo. I wasn't expecting him to be on board, but he said "that actually looks pretty good!" So I crossed my fingers and added it to the menu.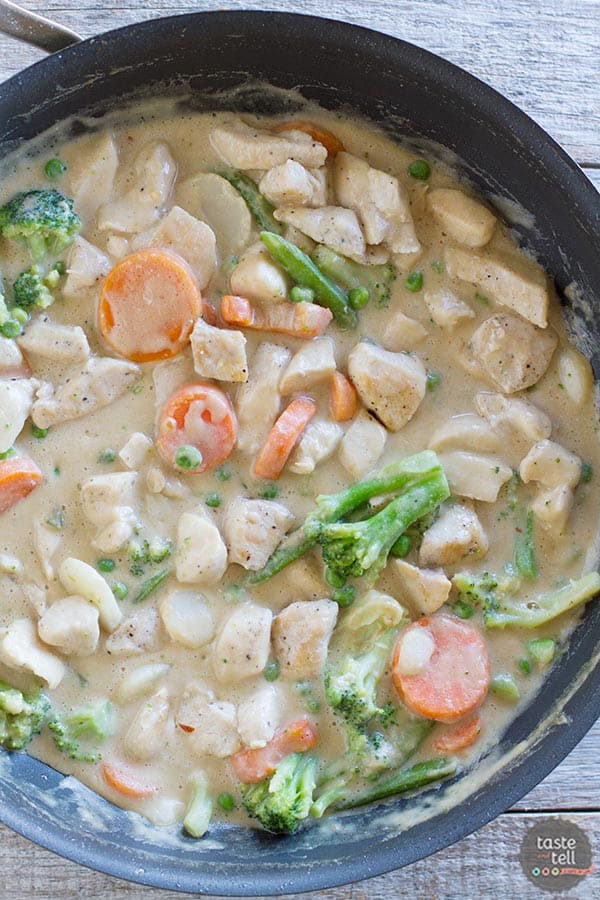 Now, I know how you are expecting for this story to end. I make the recipe. Husband loves it. I have finally converted him! Right??
Unfortunately, that's not exactly how it went. Yes, I made the recipe. Yes, the husband ate it. But have I converted him to the dark side of peanut sauces? Not quite. He still doesn't think that peanut butter belongs in his dinner. But he ate it. Every bite on his plate. And really, isn't that progress?? 😉
Luckily, I can appreciate a good peanut sauce. And I really liked this recipe. I cut back on the red pepper flakes since I was feeding this Peanut Chicken Stir Fry to my family, but next time, I'd add more. I ended up sprinkling more over my leftovers, and I really loved the extra layer the heat brought. And speaking of leftovers, this dish has great leftover potential. I think I actually liked the leftovers better than I did the first time around!!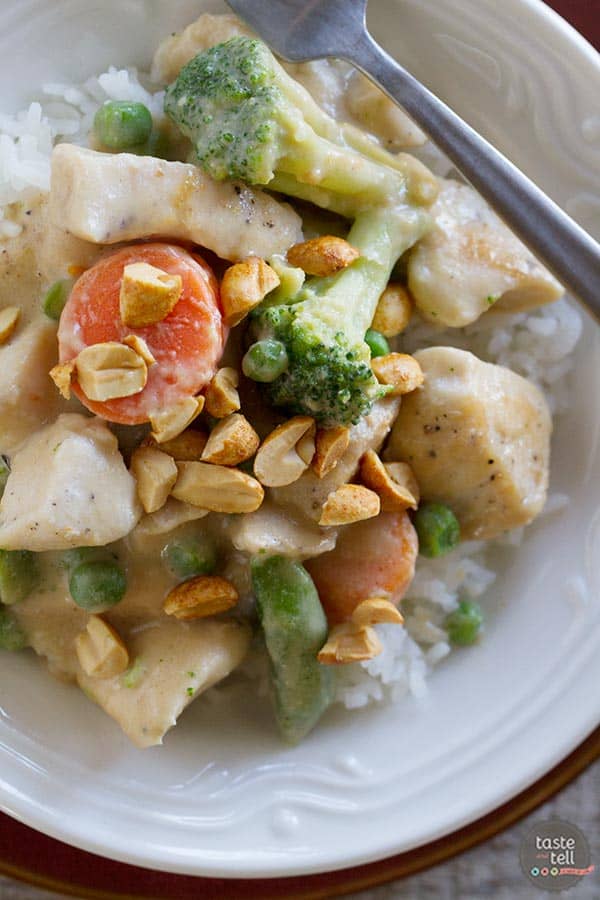 Like what you see here? Make sure you are following Taste and Tell for more great recipes and ideas!!

Facebook ** Pinterest ** Twitter ** Instagram ** Google+
or you can subscribe to my newsletter or Feedly or Bloglovin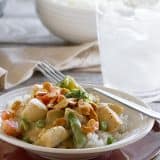 Peanut Chicken Stir Fry
---
Prep Time: 10 mins
Cook Time: 15 mins
Total Time: 25 mins
Yield: 4 servings 1x
Description
Peanut sauce doesn't have to be reserved for satay – this Peanut Chicken Stir Fry has a coconut milk and peanut sauce, lean chicken breasts, and lots of veggies.
---
Scale
Ingredients
1 (14-oz) can unsweetened light coconut milk
1/3 cup smooth peanut butter
1/2 teaspoon salt
1/2 teaspoon pepper
1/2 teaspoon ground ginger
pinch of red pepper flakes (or more for more heat)
1 1/2 lbs boneless, skinless chicken breasts, cut into 1-inch pieces
1 tablespoon vegetable oil
1 (12-oz) bag mixed unseasoned stir-fry vegetables (mine had broccoli, carrots, sugar snap peas and water chestnuts)
1/2 cup frozen peas
chopped peanuts, for serving
hot cooked rice, for serving
---
Instructions
Combine the coconut milk, peanut butter, salt, pepper, ginger and red pepper flakes in a medium bowl and whisk to combine. Set aside.
Season the chicken with additional salt and pepper. Heat a large skillet over medium-high heat and add the oil. Add the chicken and cook until it is browned and cooked through, about 5 minutes. Remove the chicken from the skillet.
Add the frozen vegetables and peas to the skillet and cook until heated through, 3-5 minutes.
Pour the coconut milk mixture into the skillet with the vegetables. Pour the chicken back into the skillet. Cook until heated through.
Serve the chicken over hot rice and top with chopped peanuts.
More Weeknight Stir Fry Recipes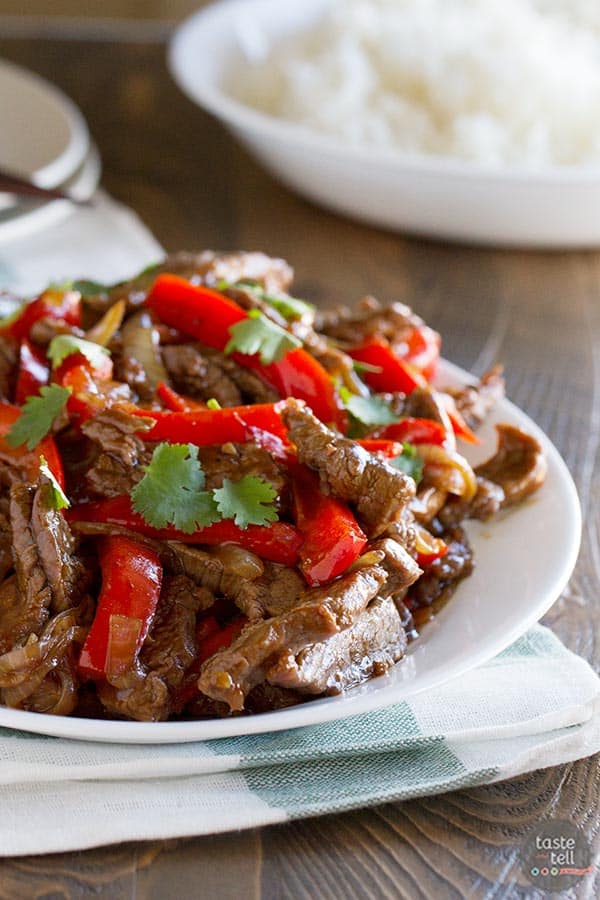 Steak Stir Fry Recipe with Peppers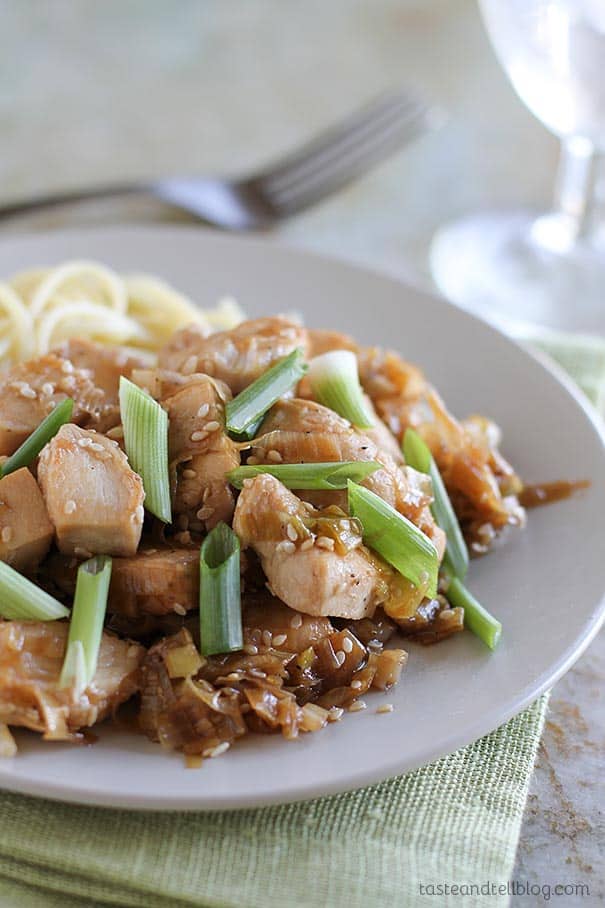 Stir Fry Chicken with Sesame and Leek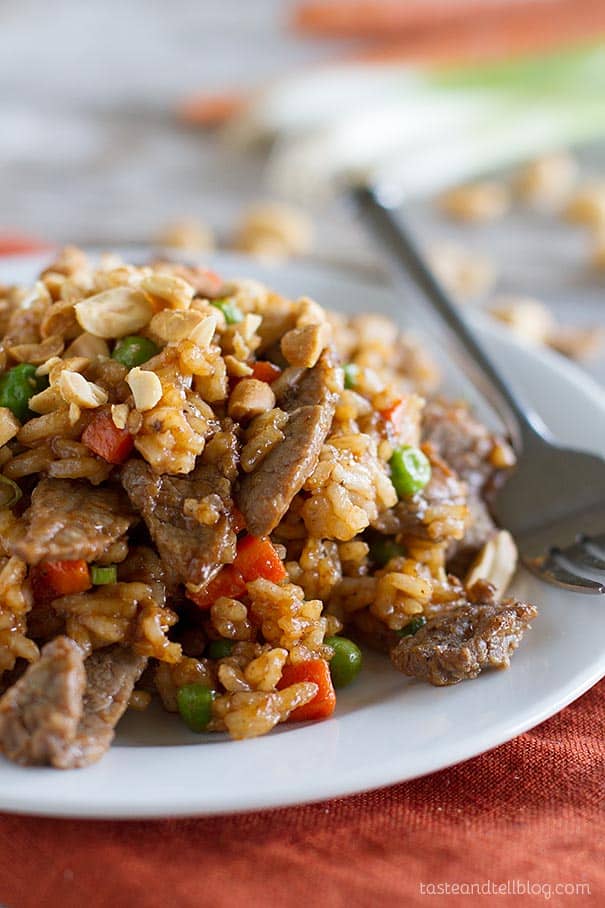 Asian Rice and Beef Stir Fry Recipe
Around the Web:
Chicken and Mango Basil Stir Fry from Mel's Kitchen Cafe
Sweet and Sour Ham Ball Stir Fry from Foodie with Family
Ginger Chicken Stir Fry with Asparagus from Cooking Classy