Chicken and mushroom stuffed pasta are covered in a creamy white sauce in this Chicken and Mushroom Manicotti.
My 10-month old is an eater. From the minute he was born, he never had a hard time feeding. Then he started solids, and he would eat every single kind of baby food that I gave him. And then he tried the "real" food – food from mommy's plate – and I think that's when he really fell in love with food. He will eat everything and anything.
I don't know if it's because I only gave him homemade baby food, or if he just really likes food in general. But really. That kid will eat anything. Cut up some raw cucumbers – he'll eat it. Give him some chicken? Devoured. And forget about trying to eat something without sharing with him. He will definitely let you know that he wants a bite!
I have to thank my lucky stars, because my other two kids are not like that at all. Abbi is definitely starting to branch out and actually try everything on her plate, but she won't usually eat it all. But Easton won't touch much of anything at all. I have to laugh when I think that my 10-month old is the one who appreciates my cooking the most!!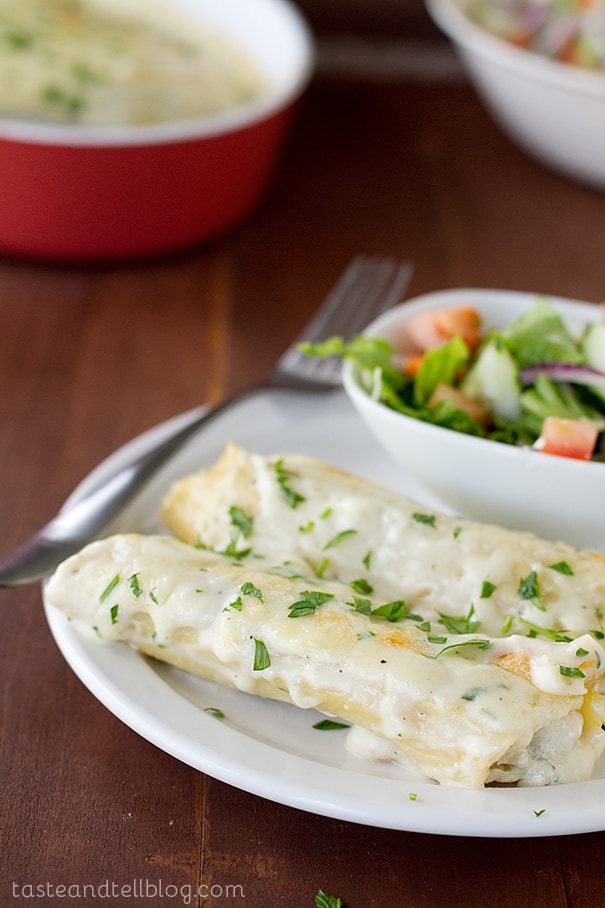 Two of his favorite things are chicken and pasta. So needless to say, he really liked this dish. As did I!! And Abbi may have picked around the chicken, but she did eat the mushrooms, which is pretty impressive for a 4 year old.
One of the things I like the best about the weather getting colder is being able to enjoy comfort foods like this again. This meal is perfect for a Sunday supper, or prep it early in the day or the day before, and then just bake it up before dinner.
If wanted, you can transfer the filling mixture to a zip-top bag, then cut off the corner and pipe the filling into the noodles. But I think just using a spoon is the easiest way. It's definitely messy, but gets the job done!
If this is what cold winter comfort looks like, bring it on!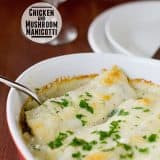 Chicken and Mushroom Manicotti
---
Prep Time: 20 minutes
Cook Time: 55 minutes
Total Time: 1 hour 15 minutes
Yield: 4 servings 1x
Description
Chicken and mushroom stuffed pasta are covered in a creamy white sauce in this Chicken and Mushroom Manicotti.
---
Scale
Ingredients
7–8 manicotti shells*
1 tablespoon olive oil
8 oz sliced mushrooms
3/4 cup diced onion
4 oz cream cheese, softened
4 oz (1/2 cup) sour cream
2 cups cooked shredded or cubed chicken
2 tablespoons minced fresh parsley
Salt and pepper
3 tablespoons butter
3 tablespoons flour
1 1/2 cups milk
1 1/2 cups shredded Monterey Jack Cheese
4 tablespoons grated Parmesan cheese
---
Instructions
Preheat oven to 350°F.
Bring a large pot of salted water to a boil. Add the manicotti shells and cook until al dente according to the package directions. Drain and set aside.
In the meantime, heat the olive oil in a large sauté pan over medium-high heat. Add the mushrooms. Cook until they start to soften, then add the onion and cook until both are cooked down and softened.
Combine the cream cheese and sour cream in a large bowl. Add in the chicken, mushroom and onion mixture and parsley. Season to taste with salt and pepper. Gently stuff the cooked pasta with the filling.
In a pan, melt the butter over medium heat. Whisk in the flour and allow to cook for 1 minute. Slowly whisk in the milk and continue to cook until slightly thickened, 2 to 3 minutes. Whisk in 3/4 cup of the Monterey Jack and 2 tablespoons of the Parmesan. Stir until the cheeses are melted.
Spread a small amount of the sauce in the bottom of a 2 quart baking dish. Top with the stuffed shells and pour the remaining sauce over the top. Cover the dish with foil and bake for 30 minutes. Uncover and top with the remaining cheeses, then bake until the cheese is melted and bubbly, 10-15 minutes longer. Top with additional minced parsley, if desired.
Recipe Notes:
*There is enough filling for 8 manicotti shells, but half of a manicotti package is 7 shells, which makes it easy to save the other half for another meal.
More chicken and pasta favs: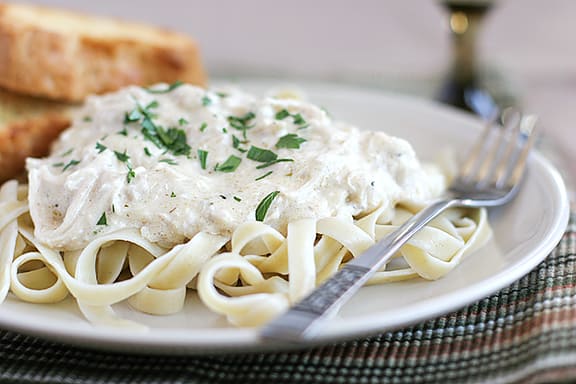 Slow Cooker Chicken Fettuccine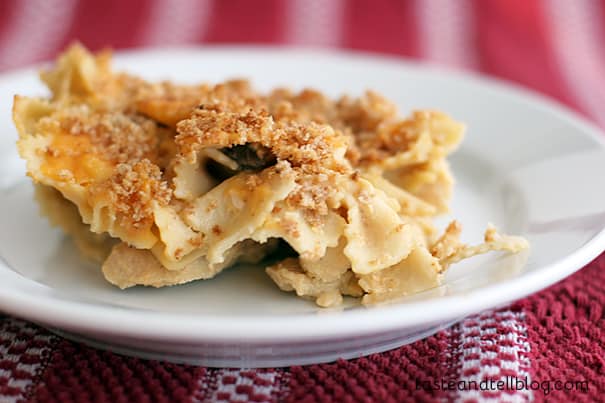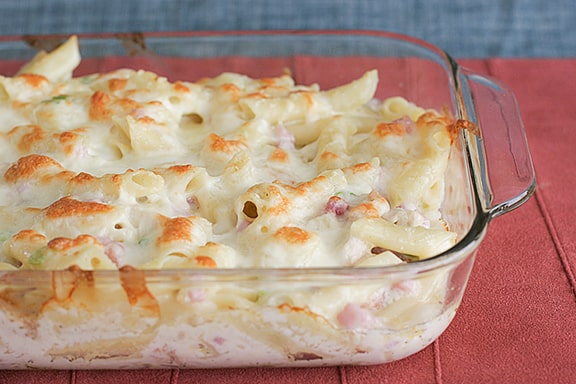 Around the Web:
Speedy Chicken Stir Fry from Culinary Covers
Green Chili, Chicken and Bacon Mac and Cheese from Picky Palate
Creamy Mexican Chicken Pasta from Gimme Some Oven