Craving something sweet but don't want to make a whole cake? This Blackberry Yogurt Mug Cake is your 7 minute answer to dessert!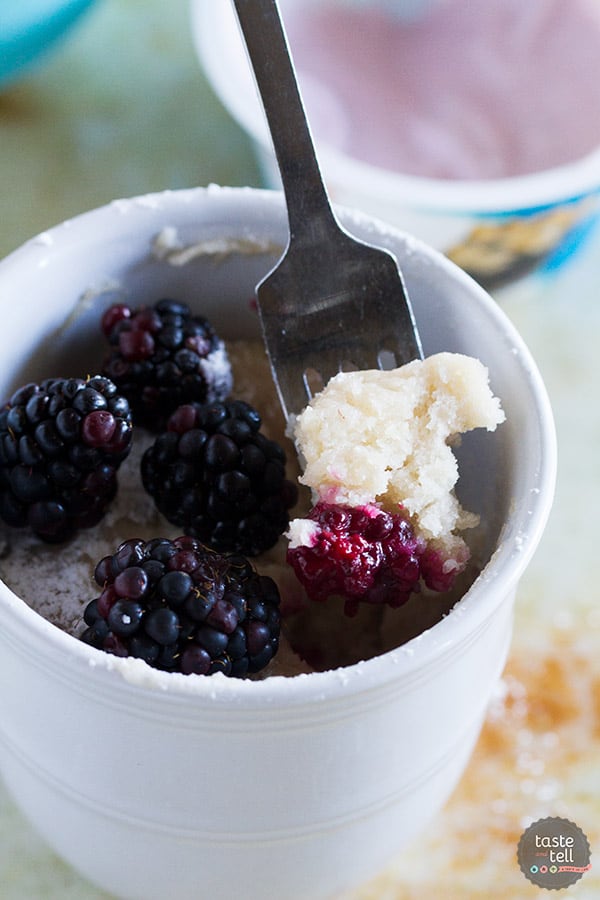 I am partnering with Yoplait this year and bringing you delicious recipes, tips and tricks. I have received compensation and all opinions are my own.
I've got a sweet tooth. I always have. When we met, my husband did not. On one of our first dates, we went and got ice cream, and he barely ate any of his. The boy had an appetite and could definitely eat, but wasn't tempted by the sweet side so much.
Well, being the sweet lover that I am, and loving to bake, I slowly started to turn him to the other side.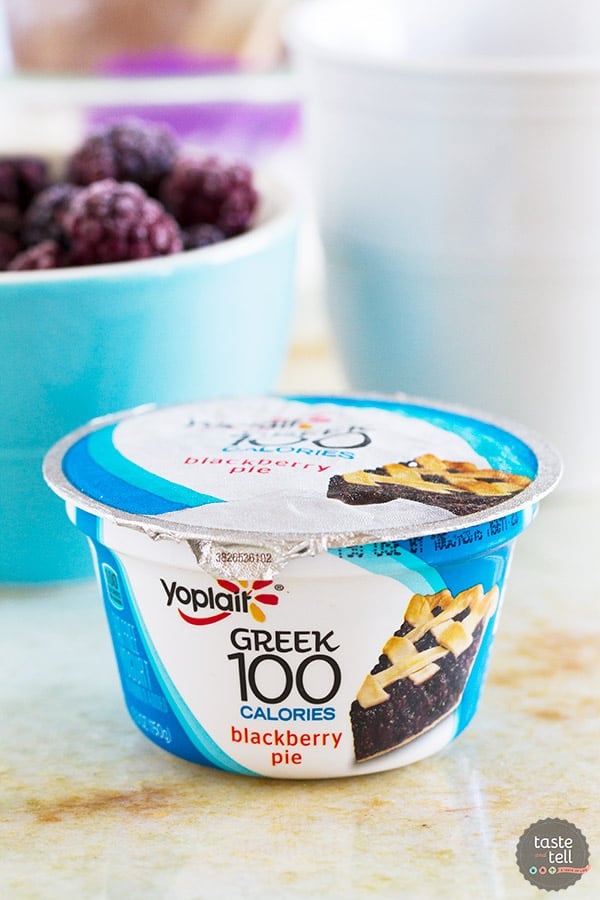 These days, he will definitely enjoy his dessert. Which is a good thing, considering I'm always wanting to bake up something or another. I love to bake for my family, and I love making a fun dessert for all of us to enjoy on a Sunday night. But while my husband enjoys dessert, he doesn't always want it like I do. 🙂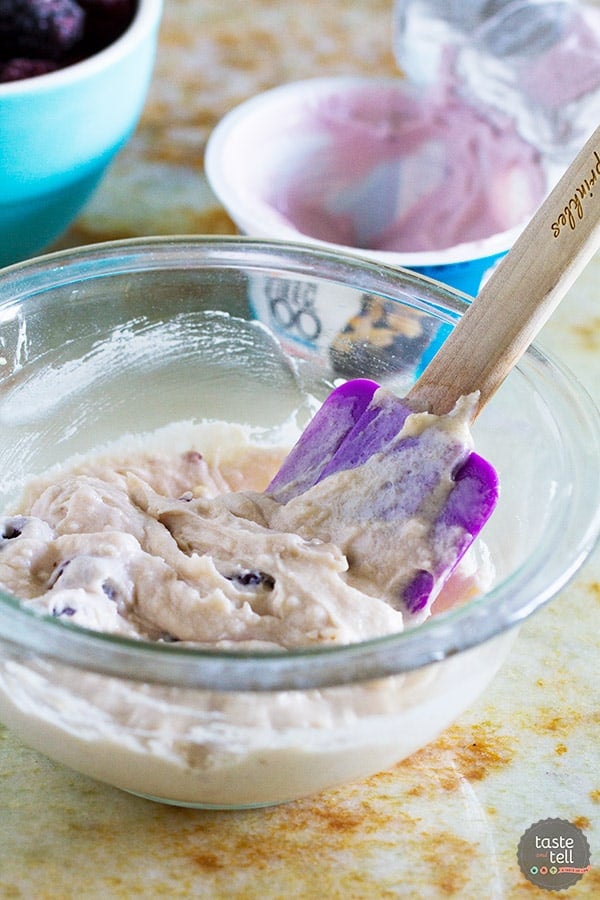 For me, sometimes the craving for cake hits. And I'm the only one with the craving. While I love to bake, sometimes the thought of a whole cake is overwhelming. Especially when I'm the only one who wants it. Not only do I not want a whole cake there to tempt me, but the time involved to make a whole cake is often not worth it just for one piece.
Enter the mug cake.
I've been a fan of mug cakes for a long time. But they are hard to get right. So many of them are gooey and just not good. I mean, if you want a piece of cake, you want something that actually tastes like cake, right? I learned a long time ago that the biggest thing is to skip the egg. First of all, a single serving cake should never contain a full egg. Some recipes want you to use a portion of the egg, but who has time to divide up an egg? You really don't even need it.
For this cake, I decided to try something new, and to include Yoplait's Greek 100 yogurt. I love using Greek yogurt in baking, and with all of the flavors available of Yoplait Greek 100, I knew it would be a fun way to incorporate some flavor. And it was! I loved this blackberry version that I'm sharing today, but it is also so good with other Yoplait Greek 100 flavors. Peach was another favorite!
This yogurt mug cake is perfect for me, as I always seem to have a fridge full of Yoplait. My kids love it as an afternoon snack, and I love that it is a great way to snack happy. I love that Yoplait yogurt is so versatile, as well. Eat it straight from the container, or turn it into a delicious mug cake! Your cake cravings are only 7 minutes away from being fulfilled at all times with a cup of Yoplait in the fridge!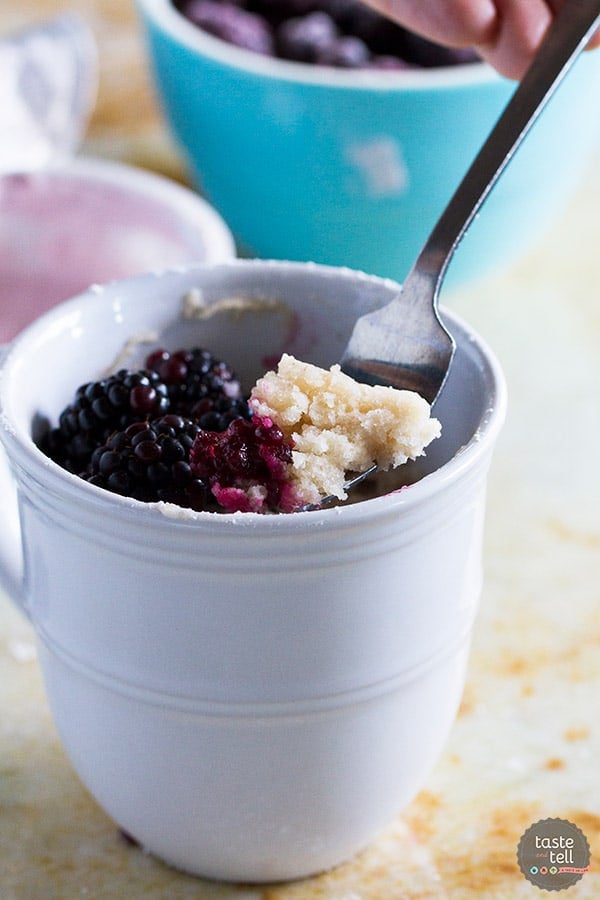 Did you know that there are over 100 flavors of Yoplait?
Yoplait is inviting you all to try all 100+ flavors for a chance to win $100,000! Simply enter the code on top of specially marked lids at Yoplait.com/100Ways and you could win one of more than 3,000 prizes*. You can find a full list of all of the Yoplait flavors at yoplait.com/products.
Imagine all of the different mug cakes you could make!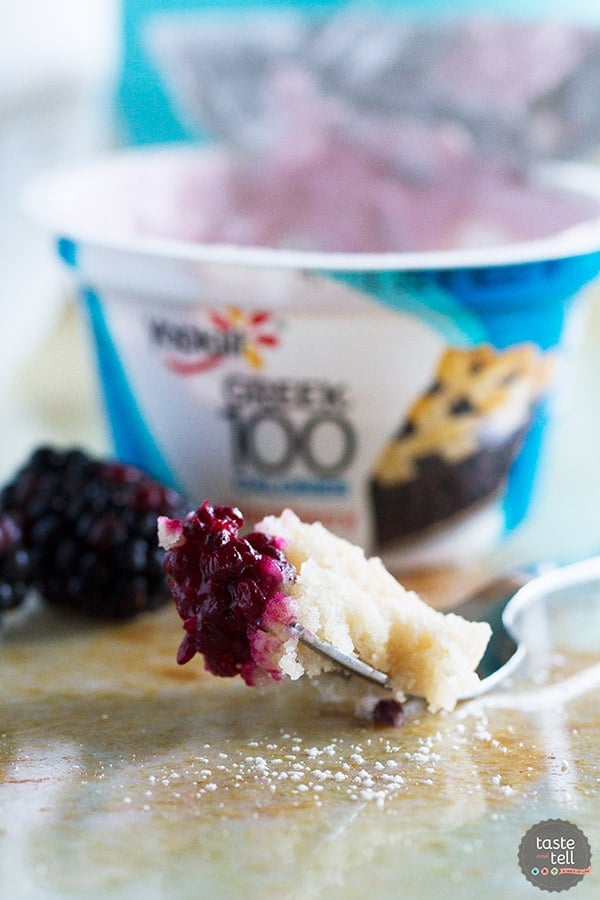 SEE HOW TO MAKE IT HERE:
Like what you see here? Make sure you are following Taste and Tell for more recipes and ideas!
Facebook | Pinterest | Instagram | Twitter | Google+ | Weekly Newsletter | Feedly | Bloglovin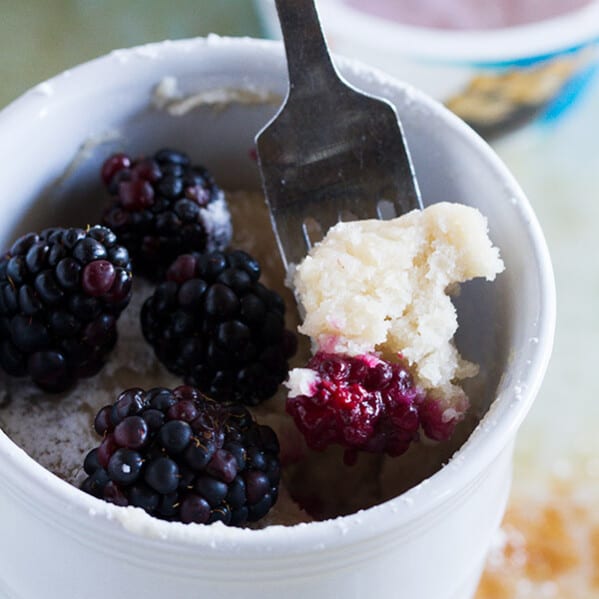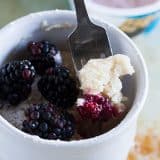 Blackberry Yogurt Mug Cake
---
Author:
Prep Time: 5 mins
Cook Time: 2 mins
Total Time: 7 mins
Yield: 1 serving 1x
Description
Craving something sweet but don't want to make a whole cake? This Blackberry Yogurt Mug Cake is your 7 minute answer to dessert!
---
Scale
Ingredients
2 tablespoons butter
1/2 cup all-purpose flour
2 tablespoons sugar
1/4 teaspoon baking powder
dash of salt
1/4 cup Yoplait Blackberry Greek 100 yogurt
3 tablespoons milk
1/4 teaspoon vanilla extract
1/4 cup frozen blackberries
powdered sugar and fresh blackberries, optional
---
Instructions
Place the butter in a 16 oz mug and microwave until melted.
I a small bowl, stir together the flour, sugar, baking powder and salt. Pour in the melted butter then add the Yoplait Blackberry Greek 100 yogurt, milk, and vanilla extract and stir just until combined. Stir in the frozen blackberries.
Pour the batter into the mug. Cook in the microwave on high for 2 minutes.
Let the cake sit for a couple of minutes, then dust with powdered sugar and add fresh blackberries, if desired.
Recipe Notes:
The flavors can be changed out – strawberry, mixed berry, peach – they are all delicious!
Don't miss a thing! Follow me on Pinterest to see what I'm pinning!
Visit Taste and Tell's profile on Pinterest.



I am in a working relationship with Yoplait, and this post has been sponsored. I'm so glad to be able to work with companies and organizations that I truly believe in. Thank you for supporting them, too.
*NO PURCHASE NECESSARY. Ends 5/15/17. To play and for Official Rules, visit Yoplait.com/100ways.