A popular way to end a Chinese meal, this Fresh Mango Pudding is full of fresh mango flavor.
Love mangoes? Try this Mango Sorbet, Mango Muffins with Banana, or Mango Bread.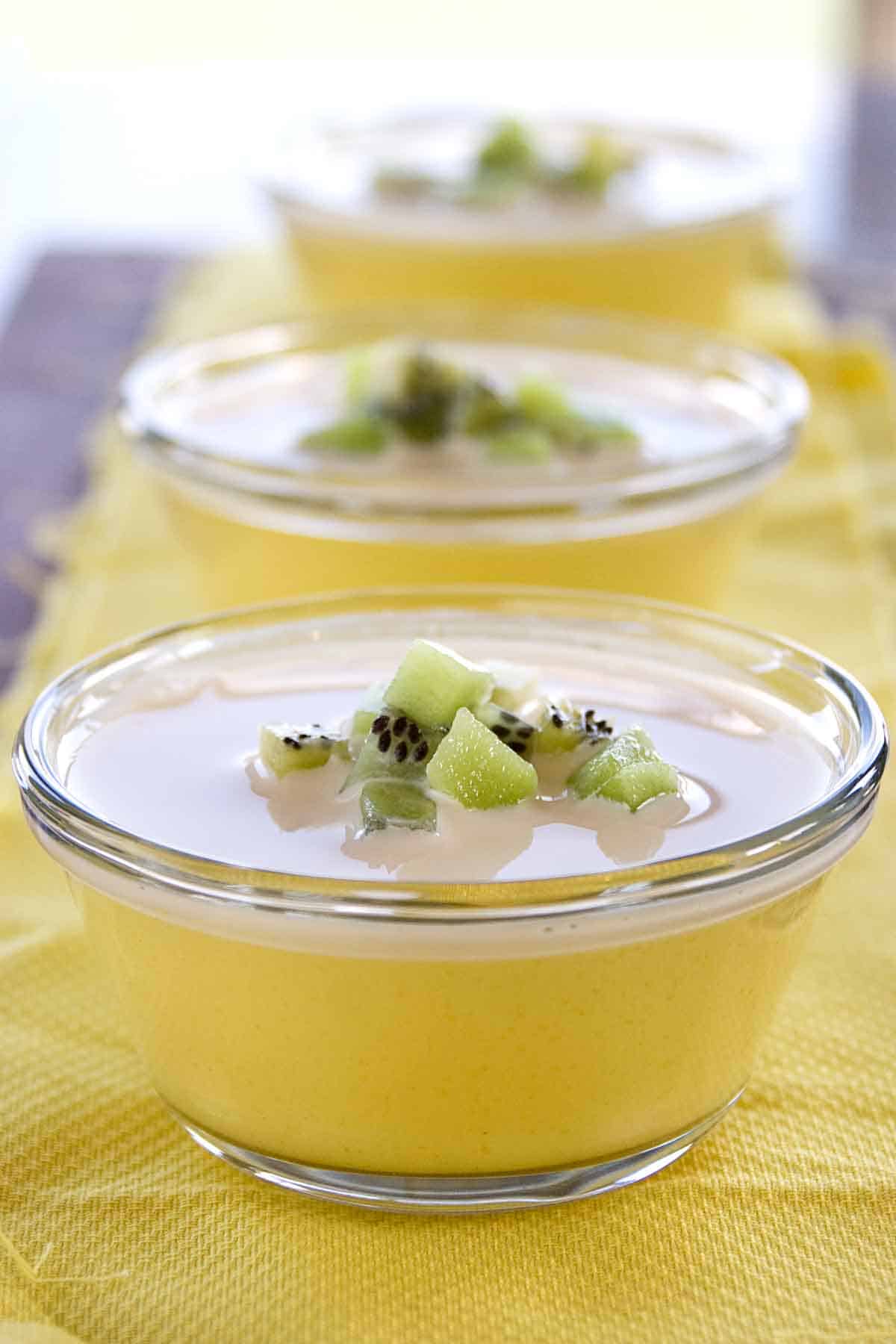 I always like to make a dessert recipe from each month's Cookbook of the Month. I do love my dessert, after all! This month's book, Easy Chinese Recipes, has a small dessert section. But every single one of the desserts looks delicious. I chose this recipe for a couple of reasons. First, because it sounded good. And different, since it uses gelatin to bring it all together instead of egg yolks, like a typical "American" pudding would use. And second, I will admit that I was being lazy and wanted to make something with ingredients that I knew would be easy to find. Ironically, when I went to the grocery store, there was not a mango to be found. So I ended up having to go to 2 stores anyway. And then, the mangoes were as hard as rocks. I shouldn't have been surprised, since mangoes are not at their best this time of year. So I bought some anyway.
When I had them home, I decided that I would try the paper bag trick. If you've never done this, you just put the fruit in a paper bag and fold the top over, and then somehow – something having to do with gases being released – your fruit will ripen more quickly than if it were just on the counter. Well, 3 days later, my mangoes were still pretty hard, and I was running out of time!!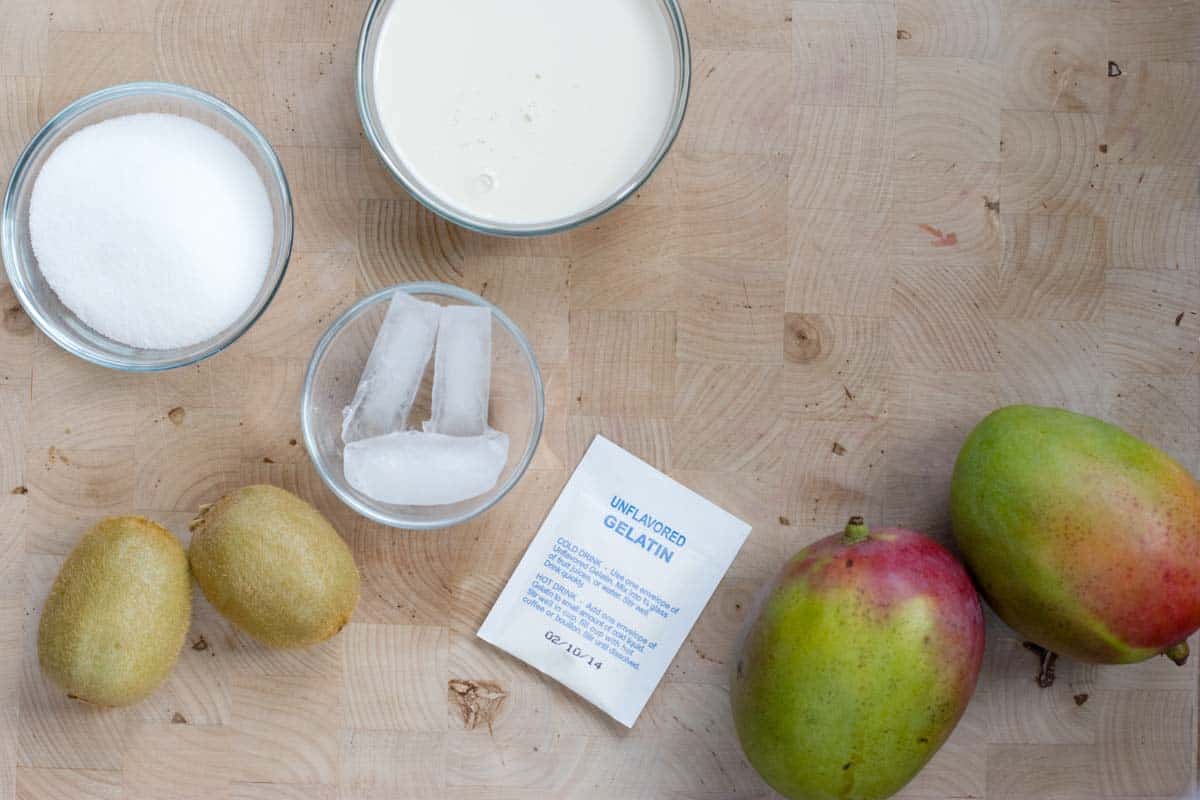 Now, in my opinion, fresh, ripe mangoes are one of the most delicious fruits. But get one that isn't ripe? It doesn't really taste like anything. And unfortunately, my mangoes were still in this stage. I added more sugar than the recipe called for to get that added sweetness, and that definitely helped, but I don't think I got the full effect of how good this pudding could be. But even with my lack of a really good mango, it was still quite good! I loved the creaminess that the evaporated milk brought, especially the bit that you serve on top. And I kept thinking that I think it would be delicious if you were to substitute coconut milk for the evaporated milk.
I'm actually really glad I tried this recipe because it really was so different from the pudding recipes I'm accustomed to. The gelatin gives it a whole new texture compared to the pudding that I am used to eating. But it was almost lighter and more refreshing.
All in all, it was delicious, but I would just make sure I used really fresh mango next time!
Recipe Rating: 8 out of 10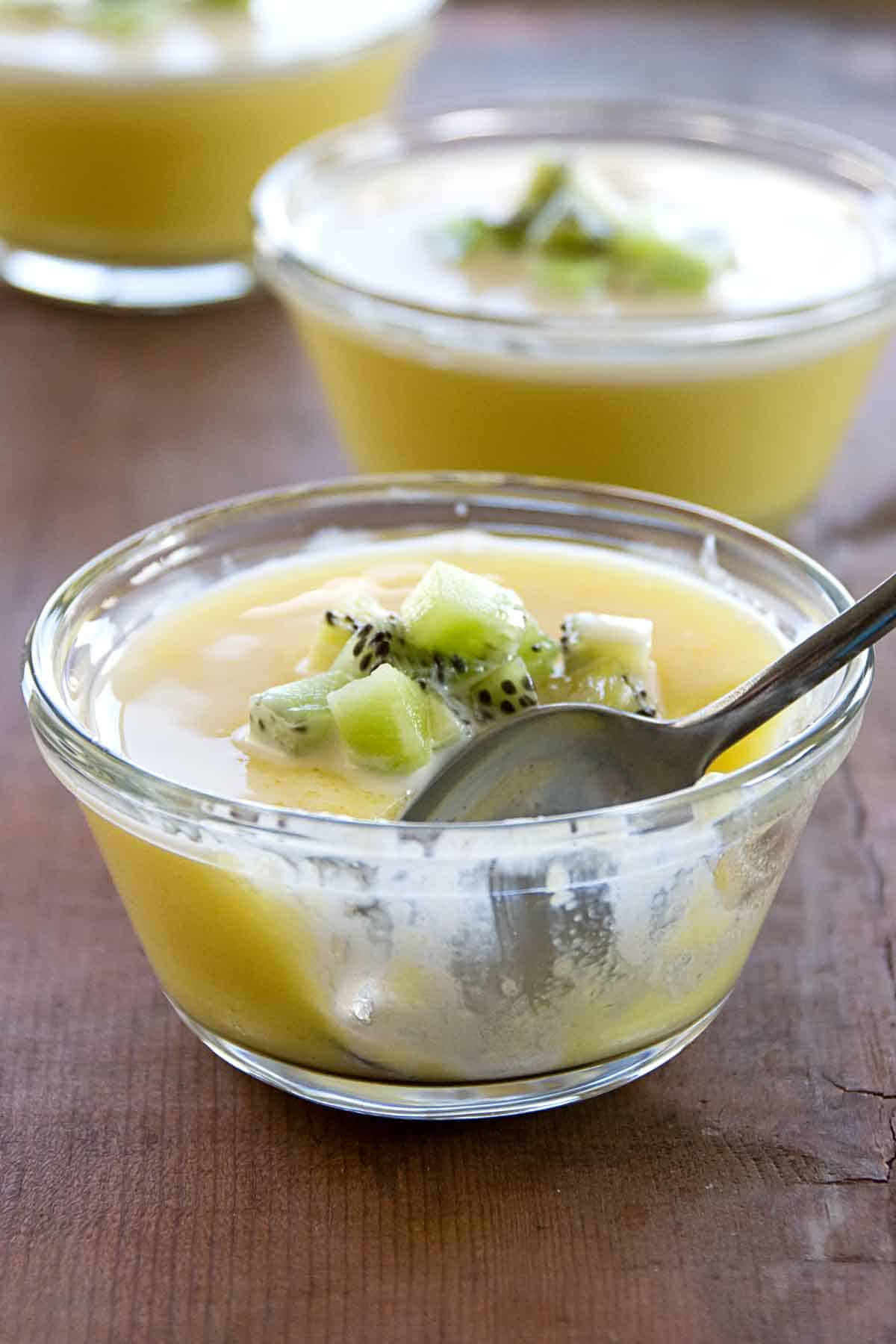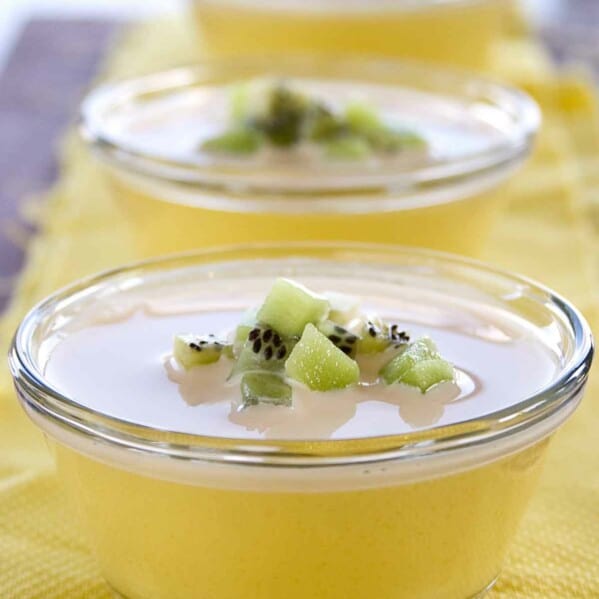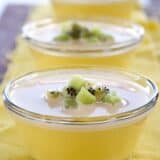 Fresh Mango Pudding
---
Author:
Prep Time: 15 minutes
Chill Time: 3 hours
Total Time: 3 hours 30 minutes
Yield: 6 servings 1x
Category: Dessert
Cuisine: Asian
Description
A popular way to end a Chinese meal, this Fresh Mango Pudding is full of fresh mango flavor.
---
Scale
Ingredients
1 pound peeled and deseeded ripe fresh mango, cut into small pieces
1/2 cup + 6 tablespoons evaporated milk
1 cup hot water
1/2 cup sugar
1 1/2 tablespoons unflavored gelatin
3 ice cubes
diced kiwi, for garnish (or other fruit)
---
Instructions
Place the mango in a blender and process until smooth. You should have about 1 3/4 cups mango puree. Pour into a bowl. Add the 1/2 cup of evaporated milk and stir to combine.
In a small bowl, combine the hot water, sugar and gelatin. Stir continuously until the gelatin has dissolved completely.
Add the ice cubes to the mango puree. Pour the gelatin mixture in and keep stirring until the ice cubes have melted. Filter through a fine-mesh strainer.
Pour the mixture into six 6-ounce custard cups. Chill in the refrigerator until set, at least 3 hours.
Just before serving, top each pudding with 1 tablespoon of evaporated milk. Garnish with fresh kiwi. Serve immediately.
Recipe Notes:
From Easy Chinese Recipes: Family Favorites From Dim Sum to Kung Pao