A simple recipe for Chicken Stir Fry Wraps with chicken, bell peppers, and onions and a simple soy sauce dressing.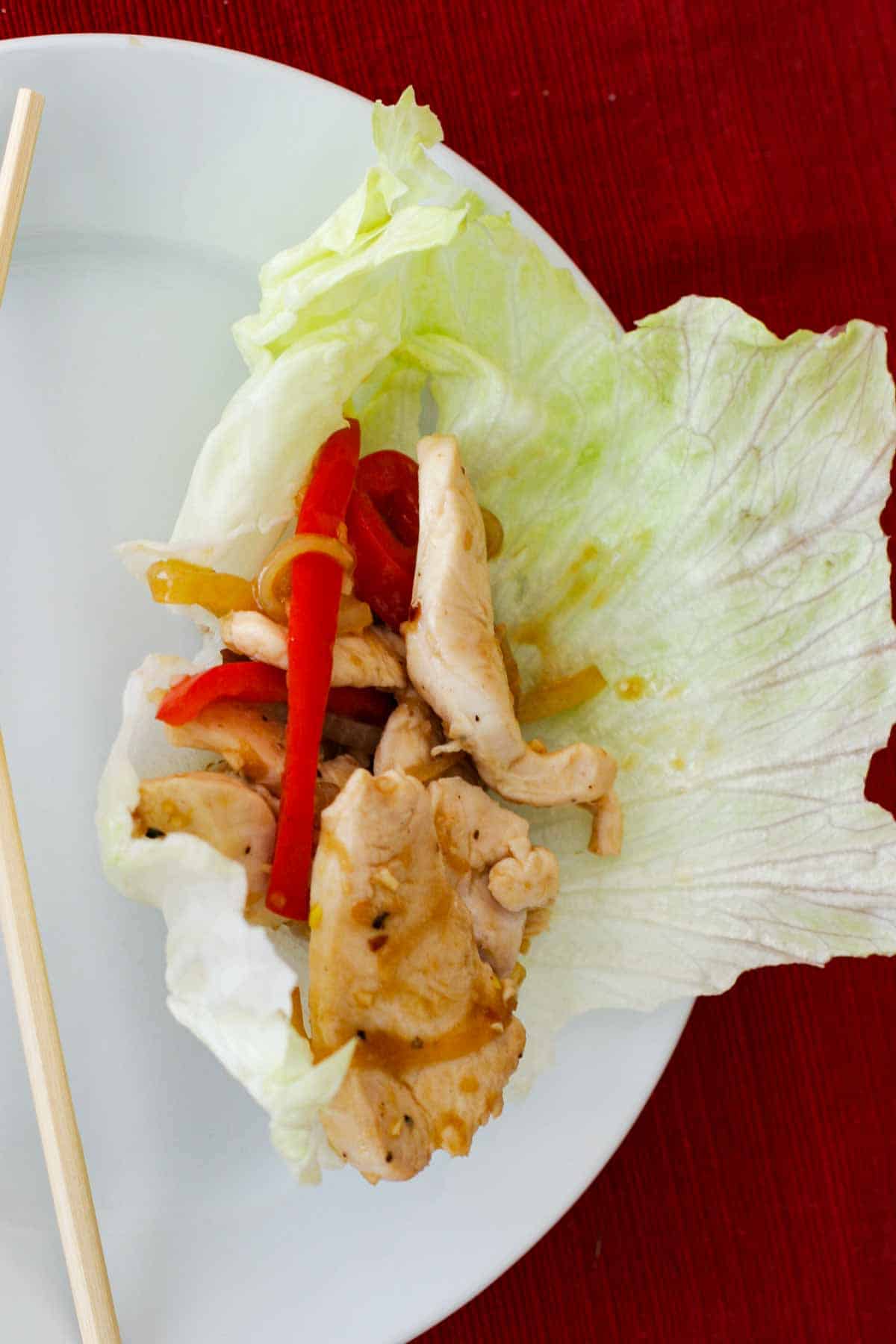 I think most food bloggers wouldn't want to admit to liking chain restaurants. But I guess I'm not most food bloggers – especially since that is mainly what we have near us!! But I'm a fan of PF Changs. Especially their lettuce wraps. I would go there just for the lettuce wraps.
So needless to say, anytime I see a recipe that is wrapped in lettuce, I want to try it. And I couldn't pass up this recipe from the Cookbook of the Month – Everyday Food – Great Food Fast.
Now I won't say that these were as good as my beloved PF Changs wraps, but they were mighty tasty. And I really couldn't believe how fast they went together. The baby had just gone down for a nap, and I rushed into the kitchen to make dinner while I had my hands free, even though my husband and I weren't quite hungry yet. I was expecting the recipe to take longer than it did, but I was finished with dinner before I knew it, and we still weren't ready to eat! I can already tell I'm going to love this cookbook!
Recipe Rating: 4.5 out of 5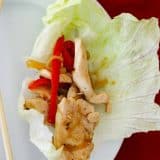 Chicken Stir Fry Wraps
---
Author:
Prep Time: 10 mins
Cook Time: 20 mins
Total Time: 30 minutes
Yield: 4 servings 1x
Category: Main Dish
Method: Stove Top
Cuisine: Asian
Description
A simple recipe for Chicken Stir Fry Wraps with chicken, bell peppers, and onions and a simple soy sauce dressing.
---
Scale
Ingredients
1 1/2 pounds boneless, skinless chicken breasts, halved horizontally and thinly sliced
Coarse salt and ground pepper
2 tablespoons olive oil
1 large onion, halved and thinly sliced
1 large red bell pepper, ribs and seeds removed, thinly sliced
3 cloves garlic, minced
1 1/2 teaspoons grated peeled fresh ginger
1/4 to 1/2 teaspoon red-pepper flakes
3 tablespoons soy sauce
3 tablespoons rice vinegar
1 1/2 teaspoons cornstarch, mixed with 1 tablespoon water
12 to 16 Boston lettuce leaves (about 2 heads) (I used iceberg because I had it)
---
Instructions
Season chicken with salt and pepper. In a large nonstick skillet, heat 1 tablespoon oil over high heat. Add half the chicken; cook, stirring constantly, until opaque throughout, 2 to 4 minutes. Transfer to a plate. Repeat with remaining chicken.
Add remaining tablespoon oil to pan, along with the onion and bell pepper. Cook, stirring constantly, until onion is tender and golden, about 4 minutes (reduce heat if browning too quickly).
Reduce heat to medium; add garlic, ginger, and red-pepper flakes; cook, stirring, until fragrant, 30 to 60 seconds.
Stir in soy sauce, vinegar, and cornstarch mixture; remove from heat. Add chicken and any accumulated juices; toss to coat. Serve in lettuce cups.
Recipe Notes: