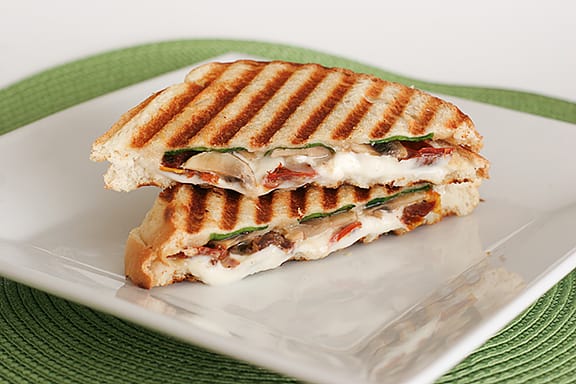 I seem to be on a bit of a sandwich kick here – today I have a sandwich, and tomorrow I have a sandwich.  I guess that's what happens when you don't have the time or energy to make an all-out dinner!!
And you probably saw the title of this recipe and are wondering why you see a sandwich instead of a pizza.  I was quite confused as well when I read through this recipe!!  Well, the introduction to the recipe says that "Bikini" is what Catalans call grilled cheese.  This recipe comes from a chef – Ferran Adria of El Bulli – and he claims that the flavors of this sandwich remind him of a pizza.  And bikinis are a very popular snack in Barcelona.  So, it's still a bit of a crazy title, but at least it makes a little more sense now!
This was a super easy sandwich to throw together.  Mine was a little bland, but as I explain below, I think it's from the mozzarella that I chose.  I think that a sprinkling of salt and pepper would have probably made a huge difference for me.  But I love these flavors together and I would definitely play around with this sandwich again!
Click below to continue reading
Recipe Notes:
Buffalo mozzarella was no where to be found, so I used regular fresh mozzarella.  Well, I used a fresh mozzarella that I didn't really care for – it didn't have a ton of flavor to it.  I think this is a recipe that would benefit from a really good-quality cheese.
I cut up my sun-dried tomatoes because I didn't want them to be too overpowering, but since the mozzarella was so bland, I probably could have gotten away with using the whole tomatoes.
I used my panini press instead of a pan and a weight, because it just made sense to me!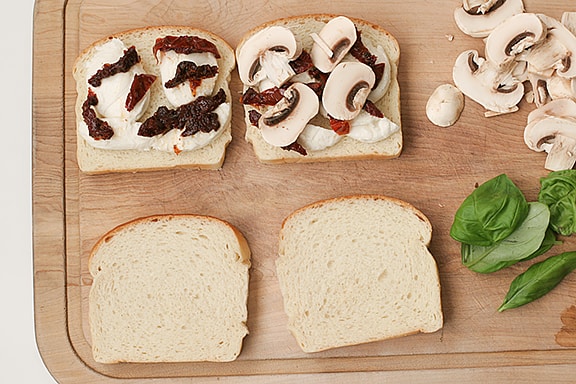 Bikini "Pizza" 
from The New Spanish Table
serves 4
total time:  about 15 minutes
8 slices best quality sourdough or white bakery bread
8 ounces buffalo mozzarella, sliced
1/2 cup drained oil-packed sun-dried tomatoes, 4 teaspoons of their oil reserved
4 small white mushrooms, thinly sliced
4 large basil leaves
2 tablespoons extra-virgin olive oil
Arrange 4 slices of the bread on a work surface and place 1 or 2 mozzarella slices on top of each.  Arrange the tomatoes on top, followed by the mushrooms.  Drizzle 1 teaspoon of the tomato oil over the mushrooms on each sandwich and top with a basil leaf.  Top each sandwich with a slice of bread.
Heat a griddle over medium heat.
Brush the sandwiches with the olive oil.  Place them on the griddle and top with a heavy pan or grill press.  Cook, turning once, until the bread is golden and crisp and the cheese is melted, 8 to 9 minutes.  Cut into halves or quarters and serve at once.
Check out these other great grilled cheese sandwiches:
Toasted Cheese Sandwich at Taste and Tell
Grilled Goat Cheese with Roasted Red Pepper Pesto at Closet Cooking
Panko Crusted Grilled Cheese & Tomato Sandwich at Fuss Free Cooking
Ultimate Grilled Cheese Sandwich at Ezra Pound Cake
Swiss Melt with Artichoke Hearts at GrilledShane
&nbsp