These Shortcut Cuban Sandwiches with Green Chile au Jus are a great way to get a dinner that is packed with flavor onto the table with very little effort!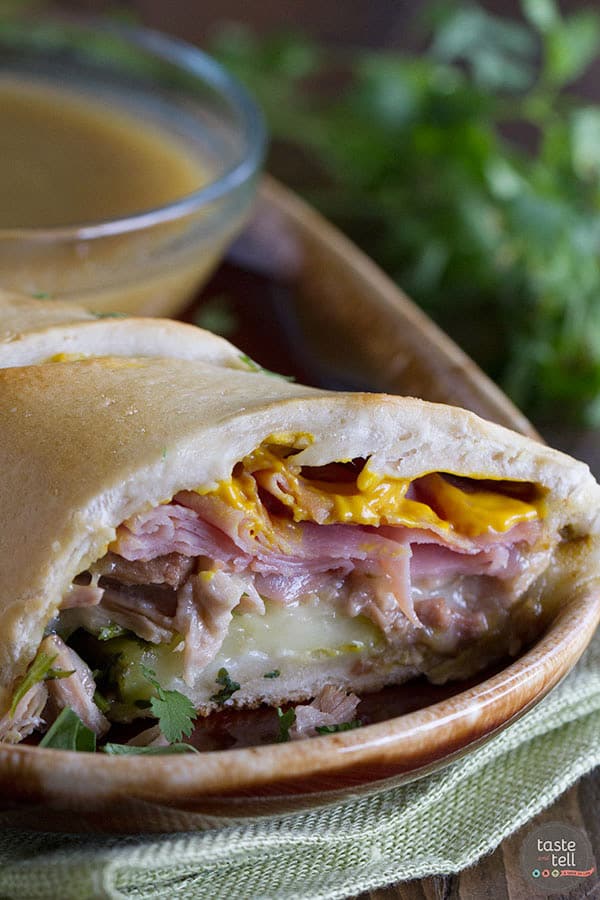 Originally posted July 5, 2007 – I feel like at this time of year, I really rely on easy recipes to get dinner on the table. I love these Shortcut Cuban Sandwiches with Green Chile au Jus are the perfect, easy weeknight dinner. I'm a huge Cuban sandwich fan, and I love how much flavor are in these sandwiches!!
The original post from 2007 follows: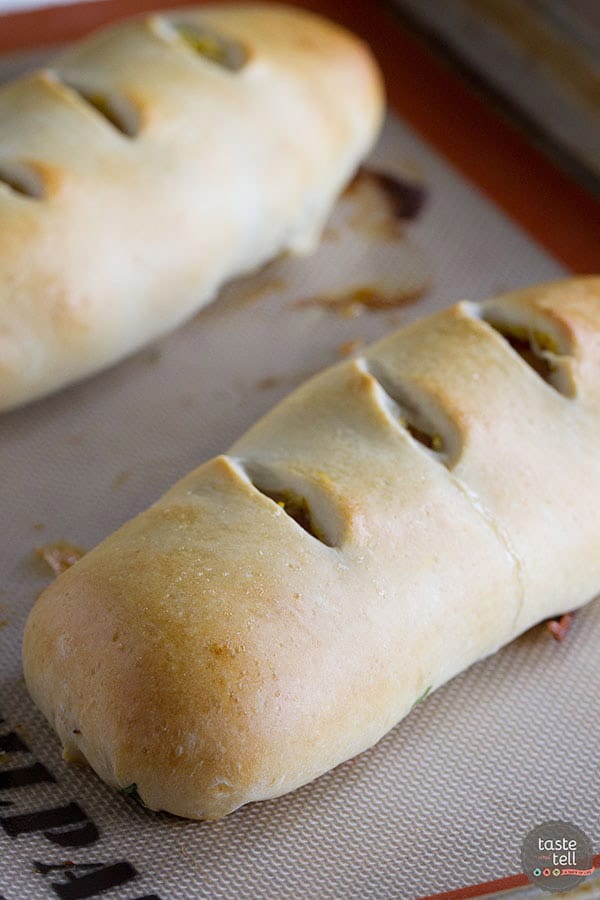 This is totally a cheater recipe. Nothing is made from scratch, just throw together pre-made items. The pork is a pre-roasted pork roast and it uses a refrigerated Pillsbury Italian Country Loaf. One day, I would like to make it completely from scratch because I think it would taste better, but sometimes you have a day where you need a short-cut-cheater recipe.
I will admit that I am a Pillsbury Bake Off lover. I think that in recent years, there are too many requirements to use too many pre-packaged items, but there are still some good recipes to be found. One of my favorite cookbooks is a Best of the Bake-Off cookbook. Some of the older recipes are classics. So now I receive a periodic email from Pillsbury that is filled with recipes. This is how I first found this recipe. I have made it a few times, and it is very easy and tasty. Again, don't hate me because of the pre-made items, but feel free to make yours from scratch if you so desire!!
Believe me – these are full of flavor!!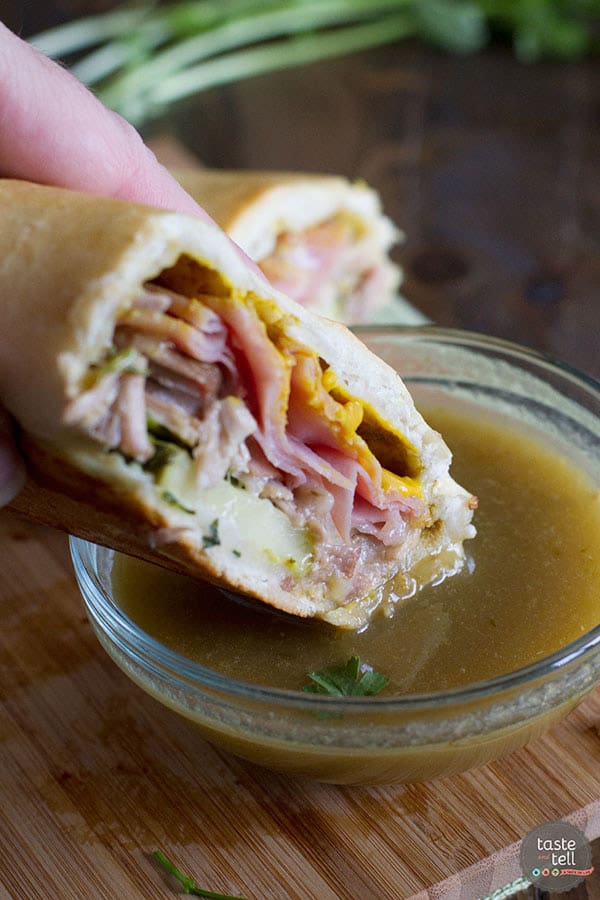 Like what you see here? Make sure you are following Taste and Tell for more recipes and ideas!
Facebook | Pinterest | Instagram | Twitter | Google+ | Weekly Newsletter | Feedly | Bloglovin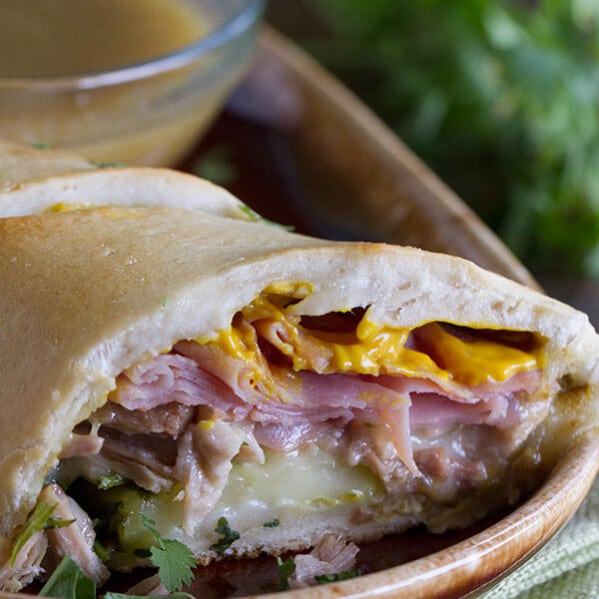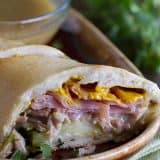 Shortcut Cuban Sandwiches with Green Chile au Jus
---
Author:
Prep Time: 10 mins
Cook Time: 30 mins
Total Time: 40 mins
Yield: 4 servings 1x
Description
These Shortcut Cuban Sandwiches with Green Chile au Jus are a great way to get a dinner that is packed with flavor onto the table with very little effort!
---
Scale
Ingredients
1 package (15 oz) fully cooked pork roast au jus
1 can (11 oz) refrigerated French bread
1 tablespoon prepared yellow mustard
1/2 teaspoon ground cumin
2 teaspoons minced garlic
1/4 lb. thinly sliced honey ham
4 slices pepper jack cheese
2 tablespoons minced cilantro
sandwich style dill pickles
1 cup beef broth
1 can (4.5 oz) diced green chiles
1 egg white
---
Instructions
Preheat the oven to 350ºF. Spray a baking sheet with nonstick spray or line with parchment or a silpat.
Heat the pork roast according to package directions. Drain the juice from the pork into a blender. Shred or chop the pork and set aside.
Remove the dough from the package and use a rolling pin to roll the dough into a large rectangle, about 14×9-inches. Cut the dough in half crosswise making two 9×7-inch rectangles. Spread 1/2 tablespoon of mustard over each piece of dough, leaving a 1/4" border. Sprinkle the cumin evenly over the mustard, followed by the garlic. Place half of the ham down the center of each of the rectangles and top with the cheese. Divide the pork evenly and place over the cheese. Sprinkle the top with the cilantro, and then a layer of pickles.
Bring the long sides of the dough up over the filling and pinch to seal. Pinch the ends to seal. Place the sandwiches seam side down on the baking sheet. Cut 3 slits across the tops of each of the sandwiches.
Combine the egg white with a splash of water and whisk to combine. Brush a layer of the egg on each sandwich. (You won't need all of the mixture – just use enough that each sandwich has a thin layer.)
Bake for 25-30 minutes, or until golden brown. Let cool for 5 minutes.
Meanwhile, add the beef broth and the green chiles to the blender with the pork au jus. Blend until smooth. Transfer to a microwave save measuring cup and heat for 2-3 minutes, or until hot.
Cut each of the sandwiches into 2 and divide the au jus into 4 ramekins or cups. Serve the sandwiches with the au jus for dipping.
SHOP THIS POST!
More Cuban Inspired Recipes: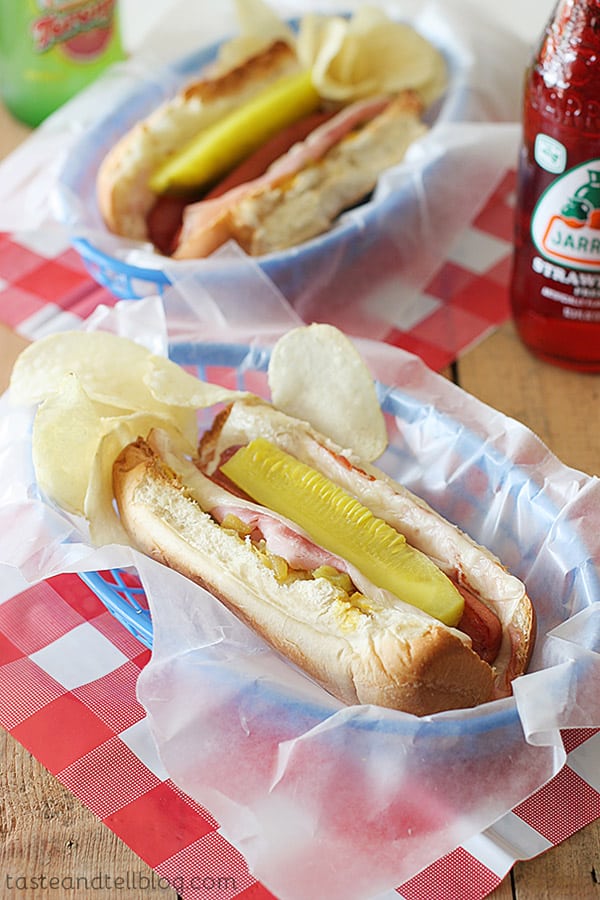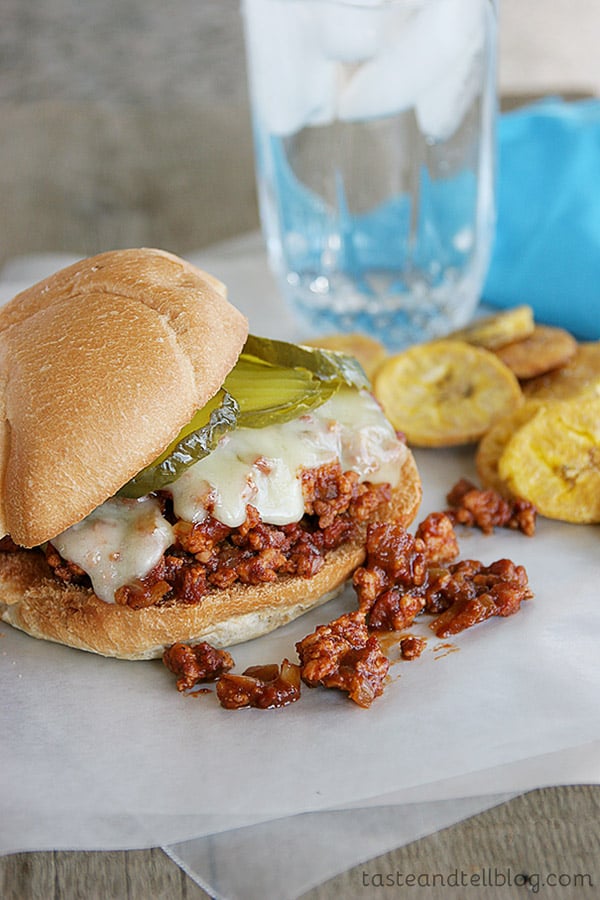 Around the Web:
Cuban Rice and Beans from Chew Out Loud
Crock Pot Mojo Pork with Cuban-Style Black Beans from Iowa Girl Eats
Cuban Empanadas from Tasty Ever After
Don't miss a thing! Follow me on Pinterest to see what I'm pinning!
Visit Taste and Tell's profile on Pinterest.