A change from your typical red enchilada soup, this Chicken Green Chile Enchilada Soup is filled with your favorite chicken enchilada flavors.
This post is sponsored by Kroger.
In typical Utah fashion, the weather around here is going from warm and summery, straight into cold and dark. There have even been rumors that there might even be snow in the upper elevations this week.
What ever happened to fall??
Well, hopefully we'll at least have a few weeks of beautiful fall weather. But in preparation for the cold temps, I'm making soup.
Over the last month or so, I have brought you a few great recipe ideas that could be turned into lunch the next day, making lunchtime not only easier, but better for you than a trip to the drive thru. First, there were the BBQ Ranch Chicken Salad Sandwiches, then the Rosemary Ranch Chicken. Today, I'm going a little bit of a different direction.
Soup. One of my favorite things. I know with the other two recipes, I also posted about a way to change it up for lunch the next day. But one reason I love soup so much is the fact that you don't really need to change it up the next day. Soup makes awesome leftovers.
On the go? Invest in a thermos that will keep the soup warm, and it's the easiest lunch ever. Even kids can bring a thermos full of delicious soup with them in their lunchboxes!
And this soup – well, if you are a fan of Mexican food, this one is for you. I see enchilada soups all of the time, but they are usually a red enchilada soup. I thought it would be fun to do a soup based off of my favorite kind of enchiladas – the ones that are filled with cheese, chicken and green chiles. I can't think of a better combination!

I'm also convinced that I must really prefer thick soups over broth-y soups. This soup is thickened by using masa harina. If you've never used masa harina, it is very easy to find in the Mexican foods section of your grocery store. It is a traditional Mexican flour that is used to make tortillas, and it works wonders in this soup. Not only does it thicken the soup, but it gives you that tortilla flavor throughout the soup.
Soup is also a great way to get the family involved in dinnertime. Since it's not complicated to make, it was fun to have my daughter stir or measure – making dinnertime that much more fun!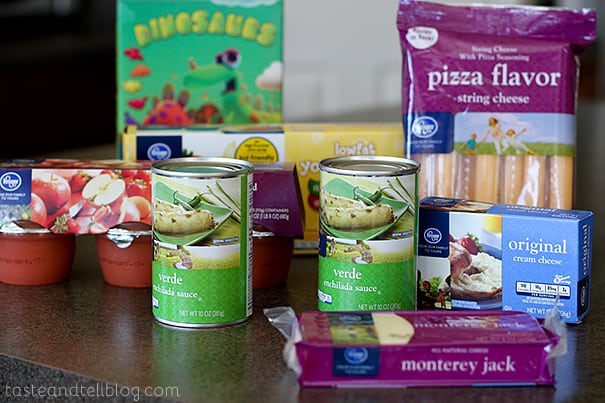 Do you know what else makes lunchtime easy? Kroger does!! I don't think I'm a grocery snob, but I do know that many times, you get what you pay for. But Kroger has proven me wrong this time. I have completely fallen in love with their labels and foods. With everything from Private Selection to Simple Truth Organic, to the Kroger label foods, everything I have tried has been top notch. They especially make lunchtime easy with their yogurt tubes, apple sauce, granola bars and fruit snacks. I am truly a Kroger fan!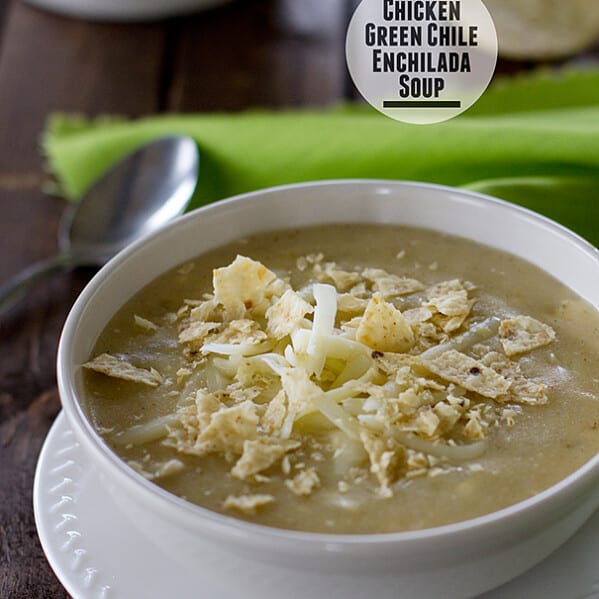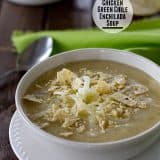 Chicken Green Chile Enchilada Soup
---
Prep Time: 20 minutes
Cook Time: 1 hour
Total Time: 1 hour 20 minutes
Yield: 6 servings 1x
Description
A change from your typical red enchilada soup, this Chicken Green Chile Enchilada Soup is filled with your favorite chicken enchilada flavors.
---
Scale
Ingredients
1 tablespoon olive oil
1/2 cup chopped onion
1 clove garlic, minced
1 quart (4 cups) chicken broth
3 cups water*
1 cup masa harina
1 can (10 oz) Kroger Enchilada Sauce
2 cans (4 oz each) Kroger diced green chiles
1 teaspoon salt
1 teaspoon chile powder
1 teaspoon cumin
pepper
1 cup Kroger shredded Monterey Jack cheese
4 oz Kroger cream cheese
2 cups cooked, shredded chicken
additional Monterey Jack cheese and crushed tortilla chips for topping, if desired
---
Instructions
Heat the olive oil in a large pot or Dutch oven over medium heat. Add the onion and cook until softened, about 5 minutes. Add in the garlic and cook until fragrant, about one minute. Add in the chicken broth.
Combine 2 cups of the water with the masa harina, whisking until smooth. Pour into the pot along with the remaining cup of water, enchilada sauce, and green chiles. Season with the salt, chile powder, cumin and pepper to taste. Cook for 30-40 minutes, until thickened.
Stir in the Monterey Jack and cream cheese. Cook until the cheese has melted, whisking if needed, 5-10 minutes. Stir in the chicken and cook until heated through.
Serve topped with additional Monterey Jack cheese and crumbled tortilla chips, if desired.
Recipe Notes:
*this soup gets thicker upon standing. If you like a thinner soup, use more water or chicken broth to thin it out.
*if you like green chiles, but don't love them, only use one can of green chiles.
More Soup Favorites: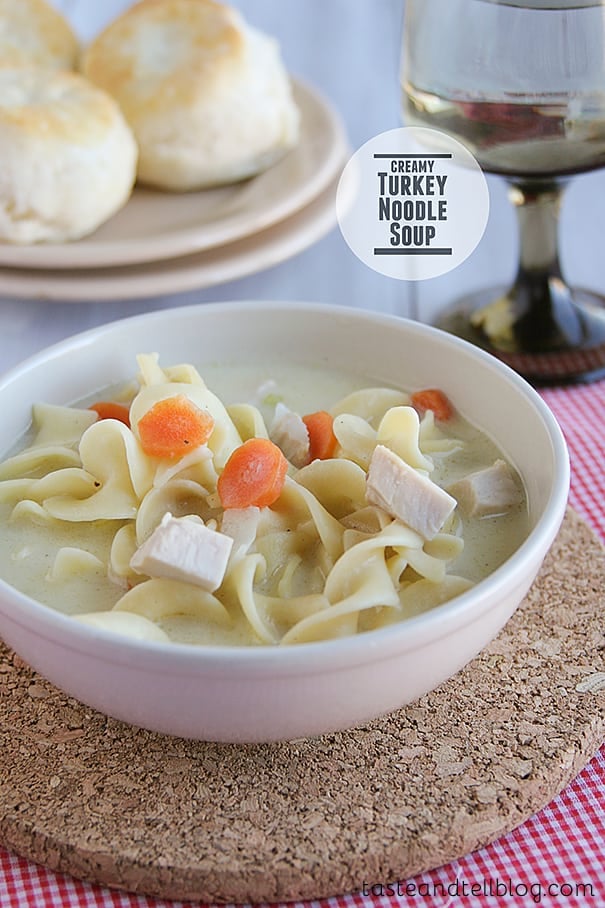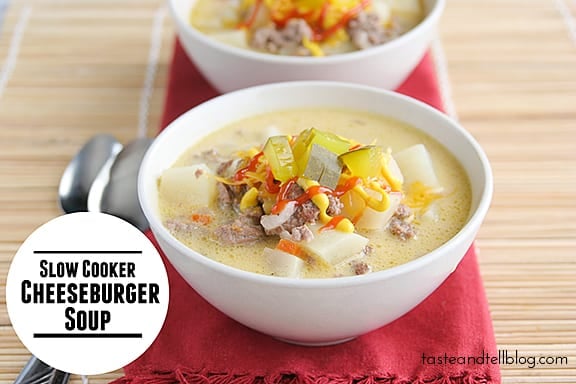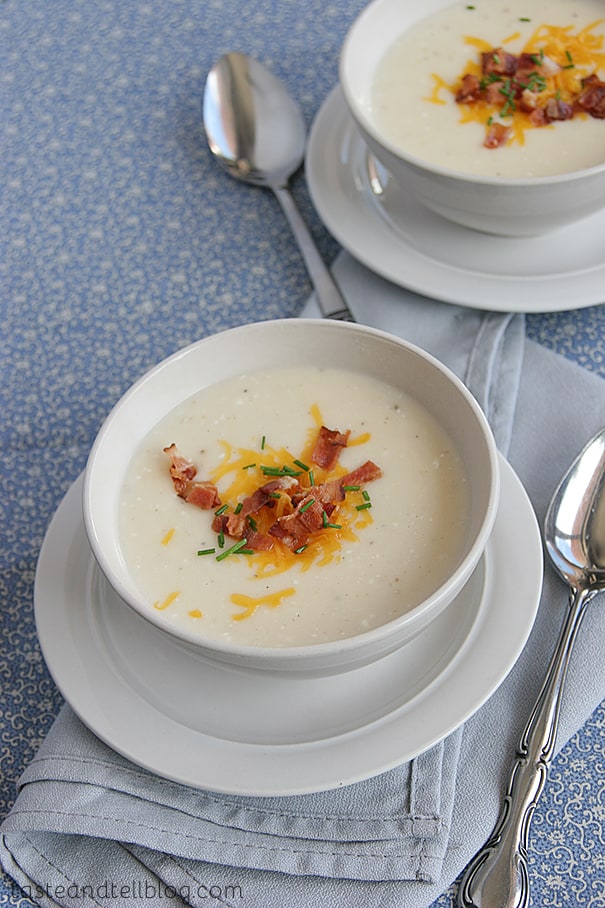 Around the Web:
Corn and Potato Chowder from Aggie's Kitchen
Rustic Tuscan Soup from bell'alimento
Creamy Tomato Soup from Mother Thyme
**Thank you to Kroger for sponsoring this post. All opinions are my own.**