Filled with beef, sausage and beans, this comforting Flatlander Chili recipe is even better the next day!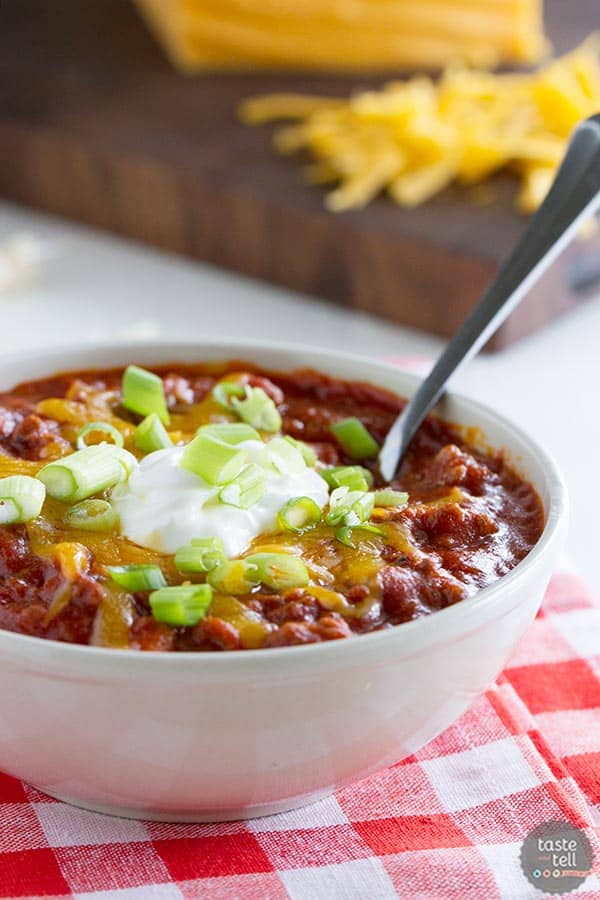 Photos Updated January 2015
I feel kind of silly posting about chili when we have been having some amazing spring-like weather. I actually went out yesterday without a jacket, wearing short sleeves. But when I made these chilis, the weather wasn't quite so pleasant!
My family all lives within about an hours drive, so we all get together for dinner once a month. We take turns planning the dinner and assigning dishes to everyone else, and if it is your month, the dinner is held at your house. Well, February was my month, but since my house is too small to accommodate 12 adults and 10 children (even though there were some missing that month) one of my sister's offered up her house, but I was still in charge of the menu. I already knew what I wanted to make – chili. I wanted something that could feed a crowd, plus it had been a year since I had made any and it was still very cold outside. I decided to go with my go-to chili and a chicken green chili that I tried for the first time. All the chili was made, and my husband and I got in the car to head down to my sister's house, about 25 minutes away.
It had been raining all day, but we didn't think twice about it, just grateful that it wasn't snowing. We got on the freeway, and as we headed south, the rain started turning to sleet. It was ok for a bit, but as the sleet started coming down harder and it started to accumulate on the freeway. There was so much water and sleet flying everywhere, and when my husband went to pass a semi-truck, we were so covered in water that I couldn't see anything for too long for me to be comfortable. As if this wasn't bad enough, there was so much water on the freeway that we would hydroplane every now and again. My knuckles were white from holding on so tight – I have never been so scared in the car as a passenger before. If I would have been driving, I would have turned around and gone home, not caring that I had everyone's dinner in the back seat. But my husband, being the trooper he is, continued to drive. The further south we got, the more the rain turned to snow, which was actually a welcome relief because at least we had 4-wheel drive and we weren't hydroplaning anymore.
We got to my sister's house, dropped off the flatlander chili and the green chicken chili, and turned around and went straight home. We were afraid the roads would be worse, with the rain turning to ice, but luckily, by the time we were back on the freeway, the roads had been sanded and the ride home wasn't nearly as scary.
We missed out on the food, conversation and fun that night, but luckily I had saved a bit of each chili at home as leftovers for us. And now I'm glad that most of the bad weather is behind us until next year!
Beans or no beans seems to be the main disagreement when it comes to chili. I like it with beans, but I'm sure this chili would be delicious without them if you don't like them in your chili. I found this Flatlander Chili recipe on allrecipes a few years ago, and have made it many times since. I have made quite a few changes to the original recipe, but I think what I've come up with is one delicious bowl of chili! In fact, after my brother in law had some of this last year, he asked for it for his birthday dinner last year. And since it makes enough to serve an army, this Flatlander Chili is great for family get-togethers!
(Also check out the Cha Cha's White Chicken Chili!)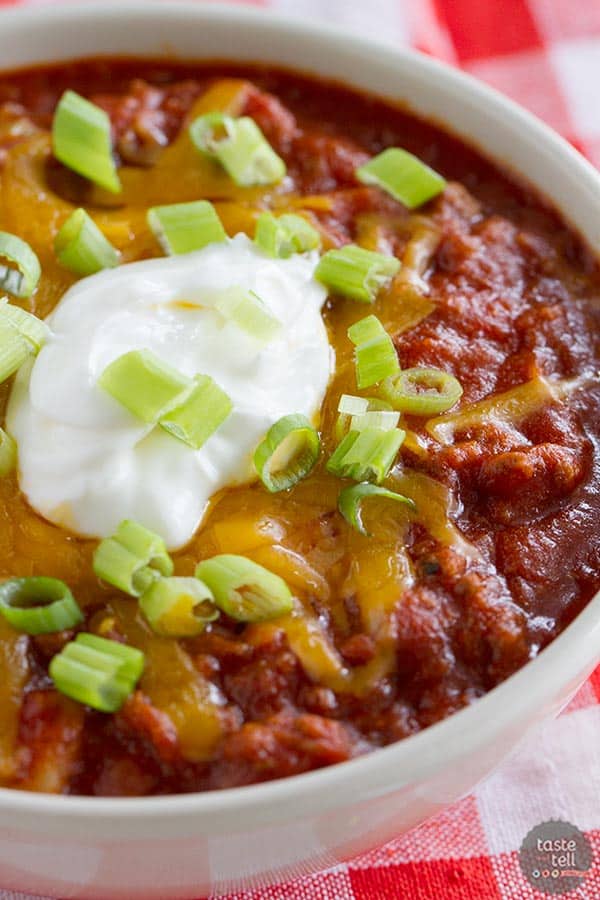 More Chili Recipes:
Crock Pot Chili
White Turkey Chili
Butternut Squash Chili with Beef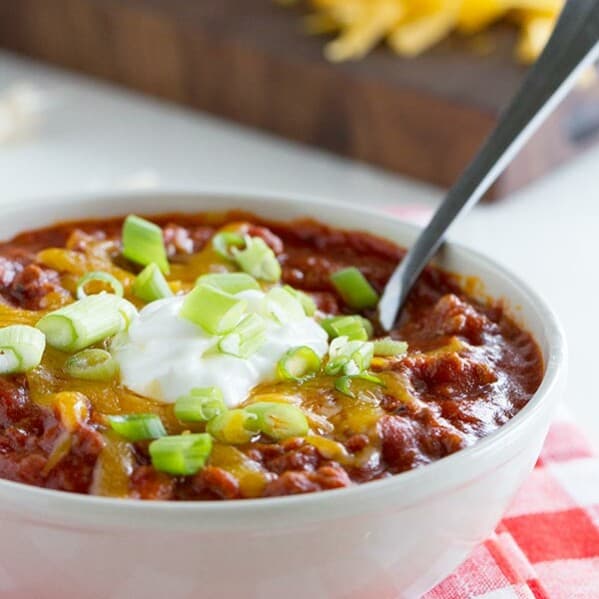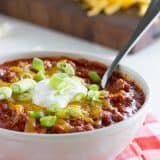 Flatlander Chili
---
Prep Time: 15 mins
Cook Time: 1 hour 45 mins
Total Time: 2 hours
Yield: 10 servings 1x
Description
Filled with beef, sausage and beans, this comforting chili recipe is even better the next day!
---
Scale
Ingredients
1 pound lean ground beef
1 pound sausage
4–12 ounce cans of tomato sauce
1 (29 ounce) can diced tomatoes
1 1/2 cups chopped onion
1/2 cup chopped celery
1/4 cup chopped green bell pepper
1 Tablespoon chili powder
1 Tablespoon hot sauce (such as Tobasco)
2 teaspoons ground cumin
1 1/2 teaspoons garlic powder
1 teaspoon salt
1/2 teaspoon ground black pepper
1/2 teaspoon dried oregano
1/2 teaspoon white sugar
1/8 teaspoon ground cayenne pepper
1 can chili beans, with liquid
1 can kidney beans, drained and rinsed
---
Instructions
Place ground beef and sausage in a large Dutch oven. Cook over medium-high heat until evenly brown, crumbling as it cooks. Stirin the onion, celery and bell pepper and continue to cook until it starts to soften. Add in the tomato sauce, diced tomatoes, chili powder, hot sauce, cumin, garlic powder, salt and pepper, oregano, sugar, and cayenne pepper. Stir to combine.
Add in both cans of beans and cook until the chili is heated through.
Recipe Notes:
*This recipe is best when it is made a day in advance, and then reheated to serve!
*You can substitute in a different color pepper or different beans, according to your likes.
*adapted from allrecipes