The kids will love this pizza casserole that is comforting and delicious!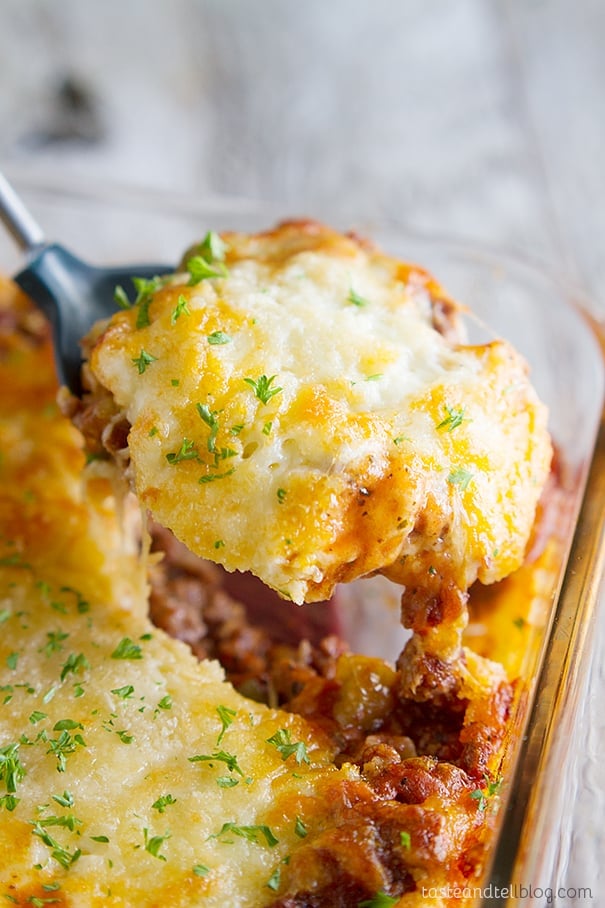 As a food blogger, you'd assume that I'm always on top of everything food – the latest trends, what people want, what is the rage on Pinterest. But the truth of the matter is that even though I'm immersed in all things food for hours every day, I still have no clue most of the time.
I came across a recipe for this pizza casserole, and thought to myself – hey, this sounds good. I bet the kids will love it! Little did I know that a Puffed Up Pizza Casserole has been done about a million times. It's one of those recipes that people talk about eating as a child years and years ago. And here I had never even heard of it.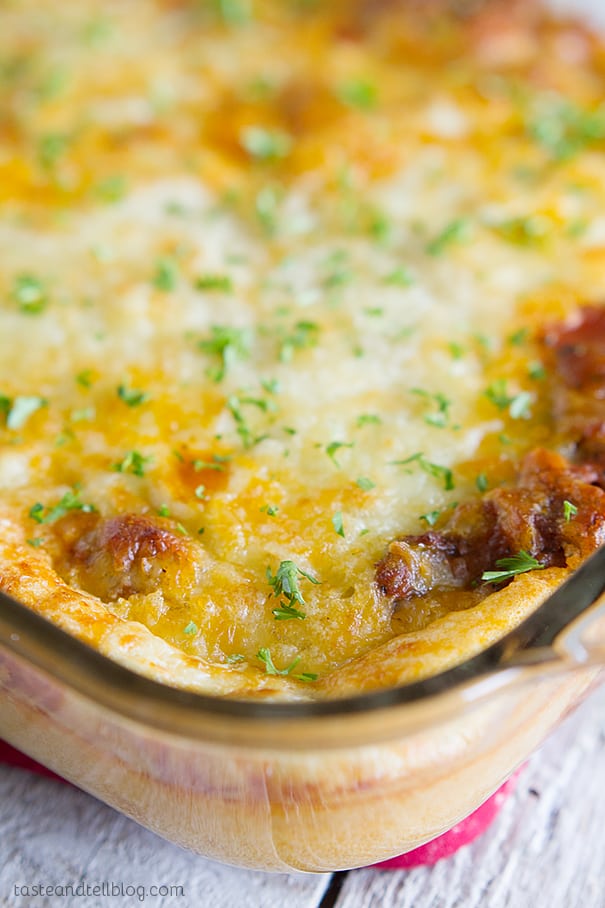 But I can tell why this is such a popular dish. While I'm not sure it screams "pizza", the flavors are all great and it's a hearty, comforting dish. Most of the recipes that I have come across use canned biscuit dough, but I love that this is made from scratch since I don't usually have canned biscuits on hand. And I made up my own combination of spices where most recipes call for a spaghetti sauce mix. It really was just as easy to make this from pantry staples than it would have been to use convenience items! Next time I might add in some diced pepperoni to really make it taste like pizza, but we all gobbled this right up!!
If you have pizza loving kids – I'm sure this would be a hit at your house, too!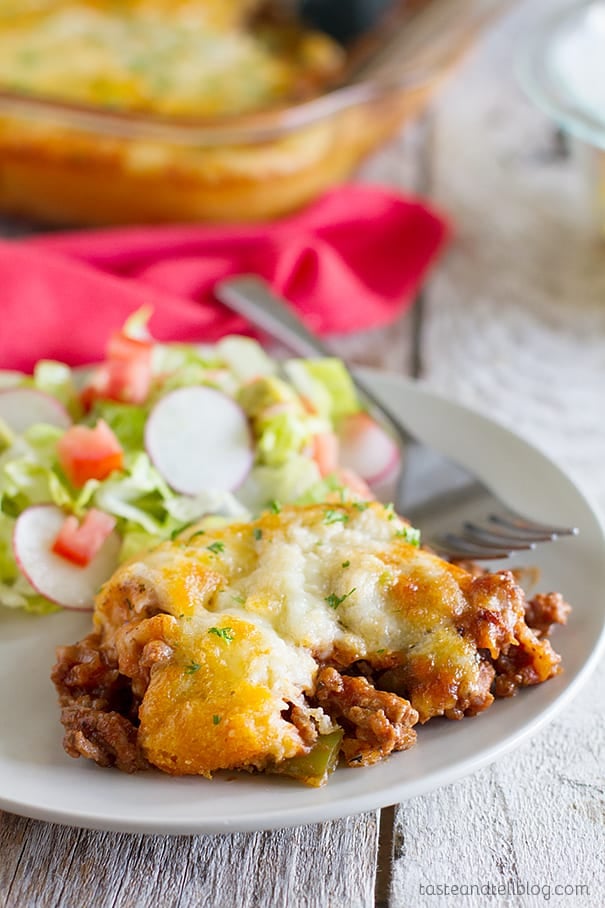 Like what you see here? Make sure you are following Taste and Tell for more great recipes and ideas!!

Facebook ** Pinterest ** Twitter ** Instagram ** Google+
or you can subscribe to my newsletter or Feedly or Bloglovin


Puffed Up Pizza Casserole
The kids will love this pizza casserole that is comforting and delicious!
Ingredients
1½ pounds ground beef
1 (15-oz) can tomato sauce
1 cup chopped onion
1 cup chopped green pepper
½ cup water
1 tablespoon minced dry onion
1 tablespoon cornstarch
2 teaspoons dried oregano
1 teaspoon dried basil
1 teaspoon sugar
½ teaspoon salt
½ teaspoon garlic powder
½ teaspoon celery salt
1 cup milk
¼ cup butter, melted
1 teaspoon vegetable oil
2 eggs, lightly beaten
1 cup flour
8 ounces shredded mozzarella cheese
½ cup Parmesan cheese
Instructions
In a large skillet over medium heat, cook the ground beef until browned, breaking up as you cook it. Drain, if necessary, and then stir in the tomato sauce. Add the onion, green pepper and water and stir to combine. Add the dry onion, cornstarch, oregano, basil, sugar, salt, garlic powder, and celery salt. Stir to combine, then cover the pan, reduce the heat to low and let simmer for 10 minutes.
Meanwhile, preheat the oven to 400F.
In a medium bowl, combine the milk, butter, oil and eggs and beat on medium speed for 1 minute. Add the flour, and then beat for 2 more minutes. (The batter will be thin.)
Pour the meat mixture into a 9x13-inch baking dish. Pour the liquid mixture evenly over the top of the meat. Sprinkle the mozzarella cheese on top, followed by the Parmesan.
Bake in the preheated oven until puffed and golden, about 30 minutes. Let stand for 10 minutes before serving.

More Pizza Inspired Foods: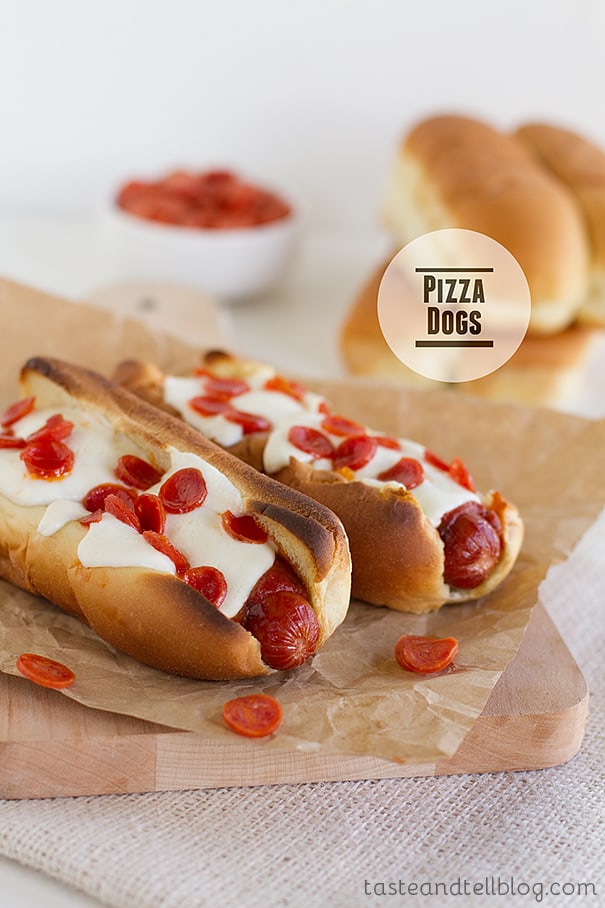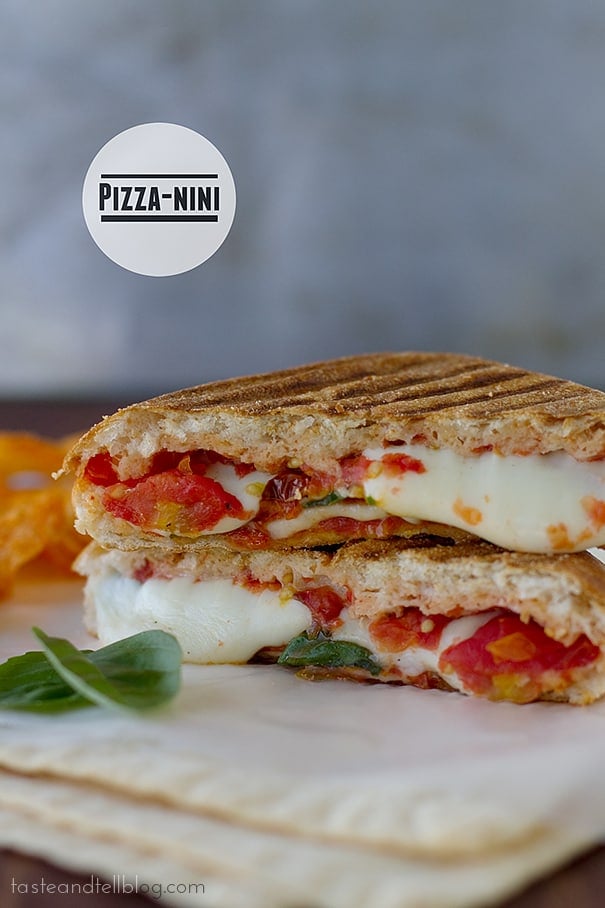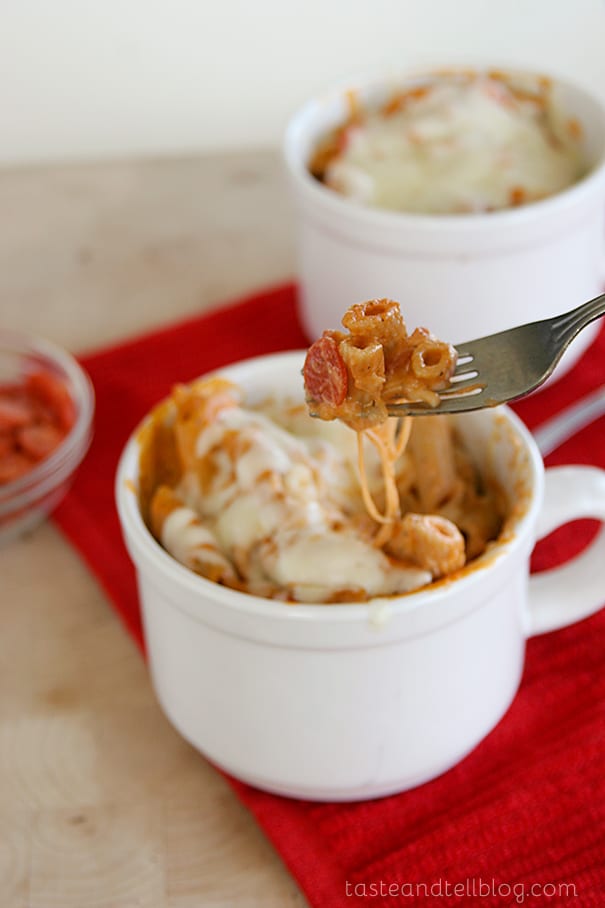 Pepperoni Pizza Mac and Cheese
Around the Web:
Pizza Stuffed Mushrooms from Lauren's Latest
Wonton Pizza Bites from Greenlitebites
Pizza Mac and Cheese Muffins from Rachel Cooks