Cilantro lovers will love this pasta and chicken dish coated with fresh cilantro pesto.
Happy Labor Day!!
I wasn't even sure if I would be able to post a recipe today. I have several done, and photos on my computer, but then when I sat down last night, I realized that I have no idea where my recipe notebooks are! Aaahhh, the joys of moving. Luckily, I was able to find the recipe for this one – and hopefully I'll get a little bit organized in the next couple days!!
I'll keep it short today since it is a holiday, and I'm sure that many of you have fun-filled days ahead of you. And I'm sure you have great plans for dinner tonight – (if you don't, here are 12 great burger ideas!!) – but if you are looking for something for later this week, I've got a recipe for you. And if you sub in whole wheat pasta, it's actually not that bad for you, either! (Great for detoxing from the cookouts tonight!)
I hope you all have a wonderful and safe holiday. And celebrate summer. I'm not ready to let go yet, give me a couple more weeks, but today is sure a great day to celebrate it!!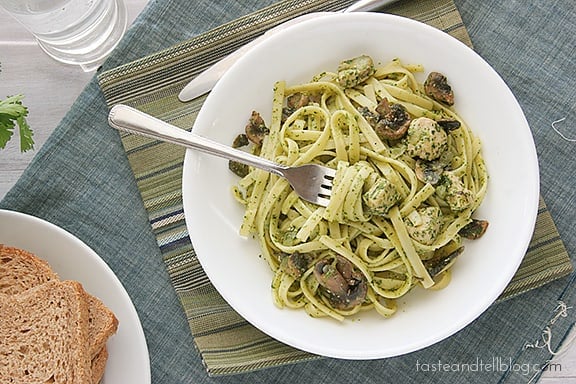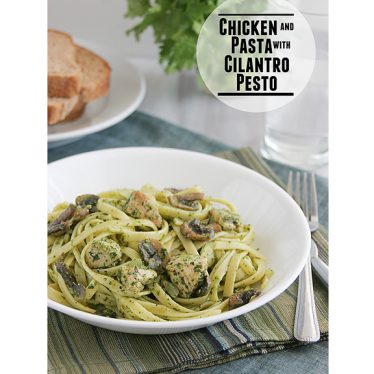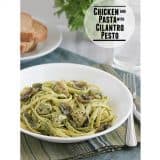 Chicken and Pasta with Cilantro Pesto
---
Prep Time: 15 minutes
Cook Time: 10 minutes
Total Time: 25 minutes
Yield: 4 servings 1x
Description
Cilantro lovers will love this pasta and chicken dish coated with fresh cilantro pesto.
---
Scale
Ingredients
Pesto
2 tablespoons extra virgin olive oil
1 tablespoon lemon juice
1/4 cup grated Parmesan cheese
2 cloves garlic
1 cup packed fresh cilantro
1/4 cup chicken broth
Pasta
12 oz boneless, skinless chicken breast
1 tablespoon olive oil
8 oz fresh mushrooms, sliced
1 medium onion, chopped
8 oz cooked pasta
---
Instructions
Make the pesto: Put all of the pesto ingredients into a food processor and process until smooth. If needed, add more chicken broth – but not too much. You want it to be a paste.
Cut chicken into bite-sized pieces. Heat the oil in a large skillet over medium heat. Add the chicken, mushrooms and onion and cook until the chicken is cooked through and no longer pink. Add the pasta to the chicken mixture, then stir in the pesto.

More recipes for cilantro lovers:
Mexican Green Cilantro Rice from Girl Cooks World
Cornflake Crusted Halibut with Chile-Cilantro Aioli from Taste and Tell
Cilantro Lime Hummus from What Would Cathy Eat?
Cilantro Lime Vinaigrette from Real Mom Kitchen
Baked French Fries with Chile Peppers and Cilantro from Cookin' Canuck