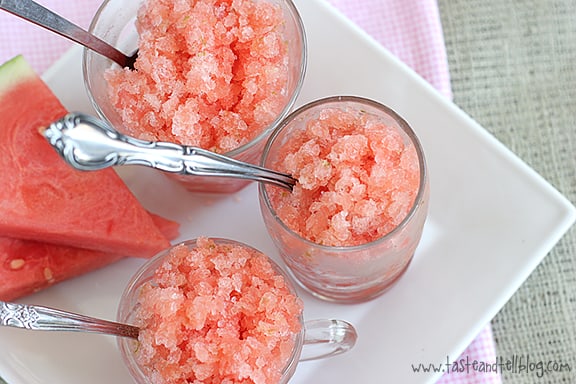 I used to be able to watch a lot of tv.  I had quite a few favorites that I could never miss, but my favorite would be to have the Food Network on in the background while I was busy cleaning the house or doing other things.  I wouldn't really be sitting and watching, but I'd catch bits and pieces of shows here and there. These days, the majority of the tv I get to watch is Dora, or Mickey Mouse, or Bubble Guppies.  No more Barefoot Contessa.  No more Paula.  No more Giada.
Sad as I am to give up on those moments of food tv everyday, I do still have a few favorites that I never miss, thanks to my DVR. Since free time is definitely at a minimum these days, I have to be picky and I can only record my very favorites.  Right now, those shows are 30-Minutes Meals (duh – I am obsessed with Rachael Ray, after all…), $10 Dinners, and my newest favorite – Kelsey's Essentials. If you don't have the new Cooking Channel, you are really missing out.  I've been following Kelsey for awhile now.  She was one of my favorites on The Next Food Network Star a few years back.  And I've even sat down with her in person before.  (My little brush with fame – she's the one who hired me to write for the Cafe Zupas blog.)  And her show?  LOVE IT.  Simple recipes that anyone can do – and absolutely everything looks delicious.  I have pretty much everything that she's had on her show bookmarked.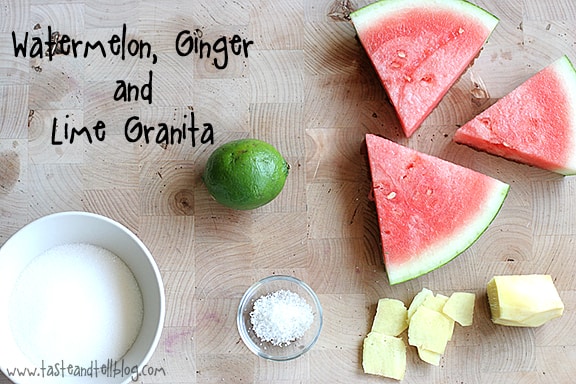 The minute I saw Kelsey make this granita, I knew I wanted to try it. I've had granitas before.  And I've seen plenty of watermelon granitas this summer.  But what set this one apart was the addition of ginger.  I'm a big fan of ginger, especially fresh ginger, so I knew that I would absolutely love this.
And I totally did.  This is so refreshing.  Even though everyone is starting to talk about fall, summer is still in full swing and I need a way to cool off while the temperatures are still in the 90s.  This is so much easier to make than ice cream, and anyone can do it because it doesn't require any special equipment.  You do have to scrape it every 30 minutes, but it only takes seconds each time – this is really one of the easiest desserts you'll ever make.  Refreshing, delicious, and full of the flavors of summertime!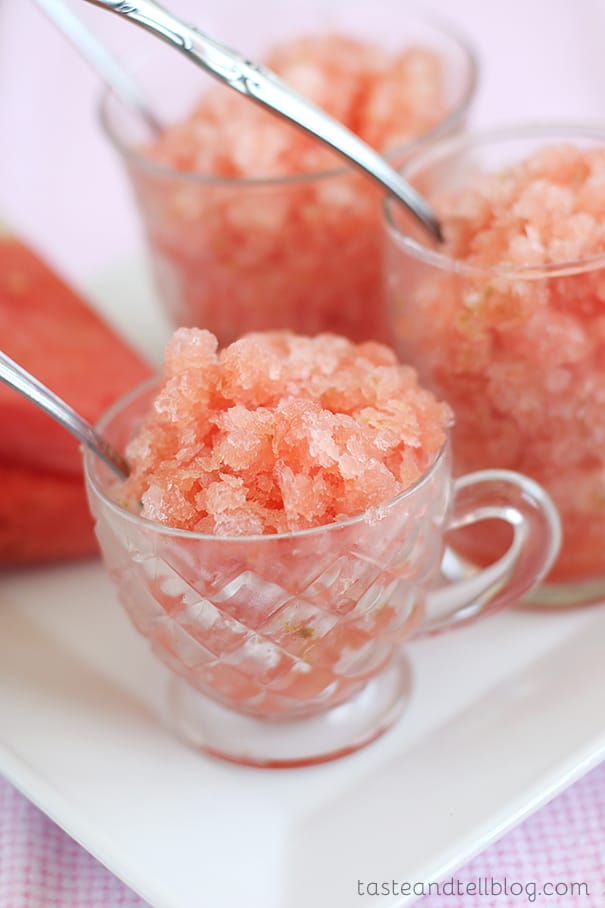 Watermelon, Ginger and Lime Granita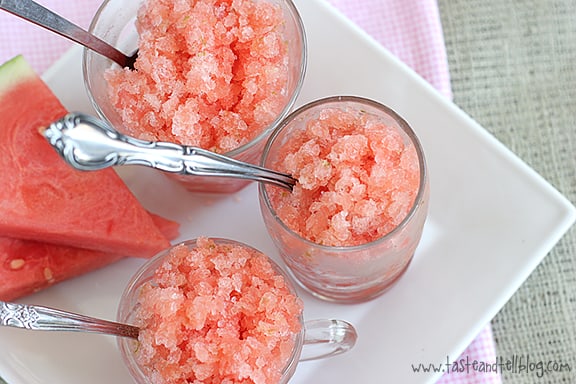 Cool off with this delicious watermelon granita with the unexpected flavor of ginger and lime. Perfect for a hot August night!
Ingredients
1/4 cup fresh lime juice
6 cups roughly chopped seedless watermelon
1/2 cup sugar
zest from 1 lime
1 (2-inch) piece of ginger divided, 1 inch cut into coins and 1 inch peeled and grated
fleur de sel, for garnish
Instructions
In a blender or food processor, blend together the lime juice and watermelon. Strain through a strainer, reserving liquid and discarding the solids.
Put 1/2 cup of the watermelon water in a saucepan and add the sugar, lime zest and ginger coins. Bring the liquid to a simmer and cook until the sugar has dissolved. Set aside to cool.
Add the grated ginger to the remaining watermelon water. When the syrup is cooled, remove the ginger and mix the syrup into the watermelon water. Pour into a 9×13-inch baking dish and set in the freezer.
Every 30 minutes, scrape the mixture with a fork to break up the ice crystals and to keep it light and fluffy. Scrape every 30 minutes for at least 2 hours.
Scrape the granita into glasses and garnish with the fleur de sel.
---------------------
from Kelsey's Essentials
http://www.tasteandtellblog.com/watermelon-ginger-and-lime-granita/
Recipe from www.tasteandtellblog.com