Jazz up your summer drink with ice cubes – made of watermelon with this Watermelon Ice.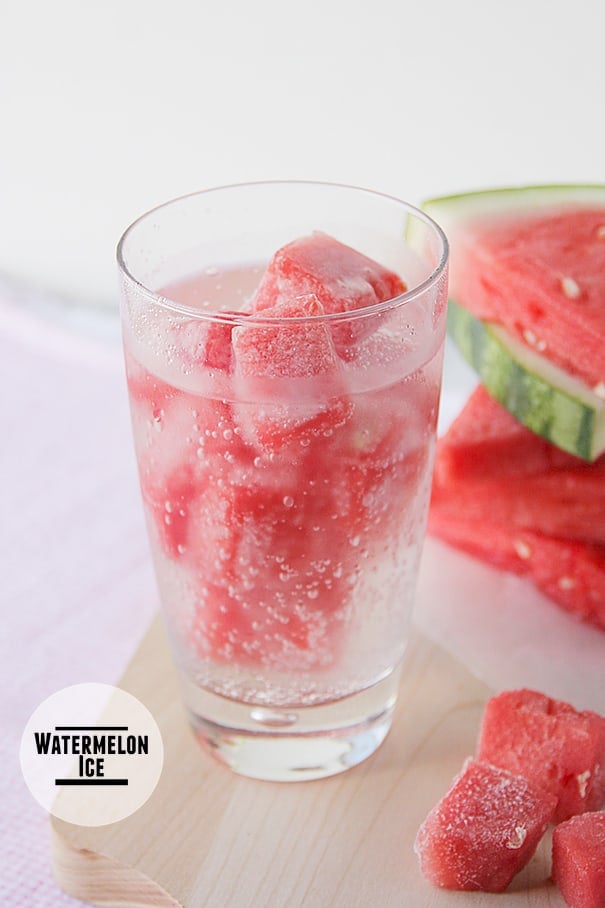 Today, I bring you what is perhaps the easiest recipe on my site.  And the recipe that is the most perfect for summer.  May I introduce you to:
Watermelon Ice
This is one of those things that I seriously said "duh" out loud to when I saw it.  I was catching up on my dvr'd episodes of the Rachael Ray Show, and saw her make these, and knew immediately that I needed to try this one out.  I am usually really good about drinking water, but something with this pregnancy – it has been a struggle for me.  I've tried sweetening it with drink sweeteners (like Crystal Light) but then it is too sweet.  I thought this would be the perfect way to perk up my water without adding lots of calories. And it was! It added just a hint of sweetness, and I got to eat the watermelon when I was done with my water!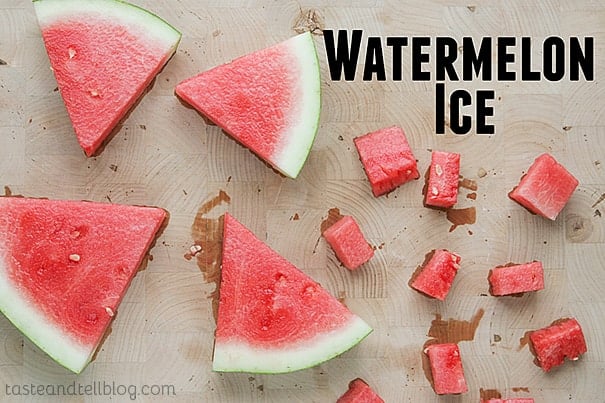 Now, I've seen lots of fruit infused ice – with cucumber, fruit, or even herbs.  But it seriously doesn't get any easier than this.  No ice cube trays to fill up, no pureeing anything.  Just chop and freeze!!
I tried these with both seltzer water and regular water, and I actually preferred the regular water.  (But that's probably because I normally prefer regular water.)  But I also think they would be great in a lemon-lime soda or even lemonade.  I can see this being the perfect "ice" for summer entertaining!!
And the bonus is that I discovered that frozen watermelon is really delicious.  I couldn't stop just stealing frozen chunks from the freezer!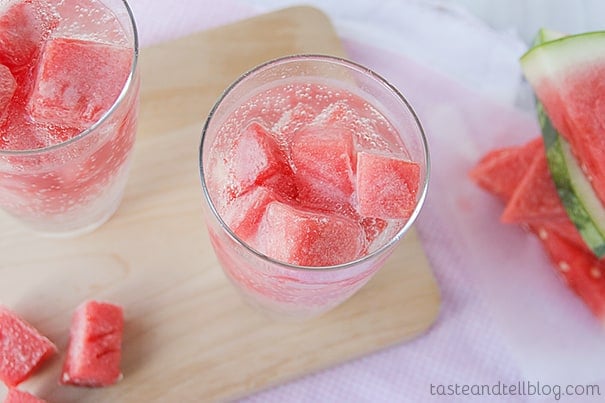 Like what you see here? Make sure you are following Taste and Tell for more great recipes and ideas!!

Facebook ** Pinterest ** Twitter ** Instagram ** Google+
or you can subscribe to my newsletter or Feedly or Bloglovin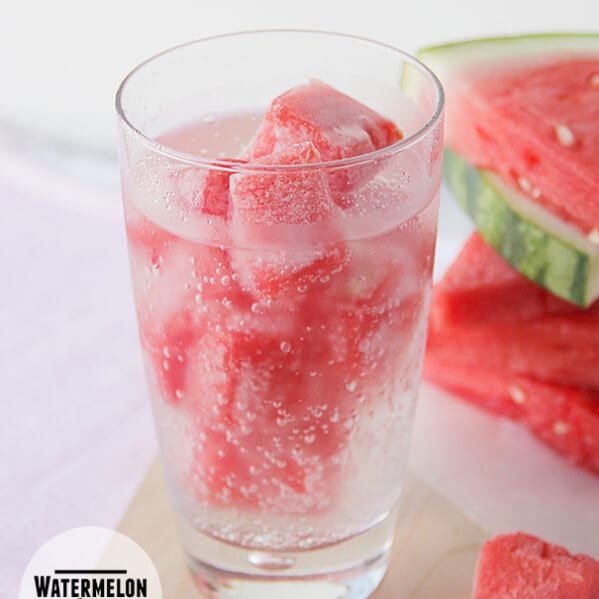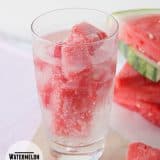 Watermelon Ice
---
Prep Time: 5 minutes
Total Time: 2 hours 5 minutes
Description
Jazz up your summer drink with ice cubes – made of watermelon!
---
Ingredients
Watermelon
Water, sparkling water, seltzer water, lemon-lime soda or lemonade
---
Instructions
Cut watermelon into small cubes. Lay in a single layer on a baking sheet and place in the freezer. Once frozen, store in a freezer safe ziptop bag.
Fill a glass with the watermelon ice and pour your favorite beverage over.
Other ways to finish off that watermelon:
Watermelon and Blueberry Granita from Taste and Tell
Watermelon Salsa from RecipeGirl
Watermelon Sorbetto from Today's Nest
Watermelon Lemonade Slushie from Half Baked
Watermelon Lime Sorbet Slices from Food For my Family