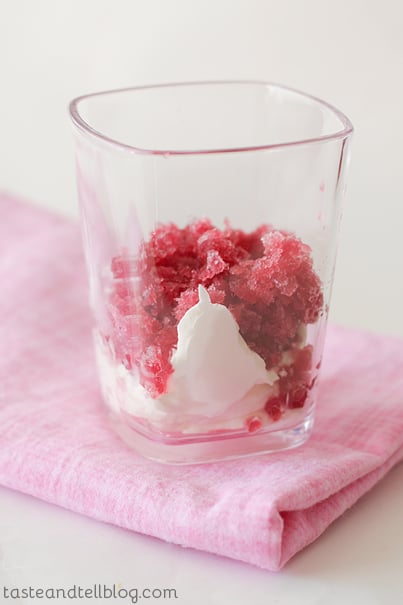 Our air conditioning hasn't been working. Not fun when the temperatures have been in the 90s. But we deal with it – most days. But I don't know what I was thinking last night when I decided to make dinner. A dinner that required both stove top cooking and baking in the oven at 450F. If our house was hot before, it was an inferno after!!
About half way through preparing dinner, all I could think about was this granita. How I wished I still had some in the freezer, so I could take a big bowl full and sit out on the back patio – where it was no doubt cooler than in the kitchen at this point! – and enjoy this icy cold treat.
I may be alone in this, but until I was looking through an old copy of a magazine a few weeks back, I had never seen a granita being served with whipped cream. I was intrigued, so I tried it, and I will never turn back. It was absolutely delicious. If I had to score this dessert, it would be pretty close to a full 5 stars – and that is hard to reach in my book!! And it is so easy, yet looks so elegant. If you are an entertainer, this one is sure to win over your guests!
Pomegrante Granita
adapted from myrecipes.com
2 cups pomegranate juice
1/3 cup orange juice
1 1/2 teaspoons lemon juice
1/4 cup sugar
1/2 cup whipping cream
1 teaspoon confectioners' sugar
In a 9×13 inch pan, stir pomegranate juice, orange juice, lemon juice and sugar. Cover airtight.
Freeze mixture until solid, 3 to 4 hours, going in every 30 minutes and scraping with a fork.
Beat whipping cream until soft peaks form. Beat in confectioners' sugar.
To serve, place a dollop of whipped cream on the bottom of a clear glass and top with some of the granita.