These Roasted Tomatoes with Pesto are made from garden fresh tomatoes that are roasted with pesto and parmesan cheese for a delicious summer recipe.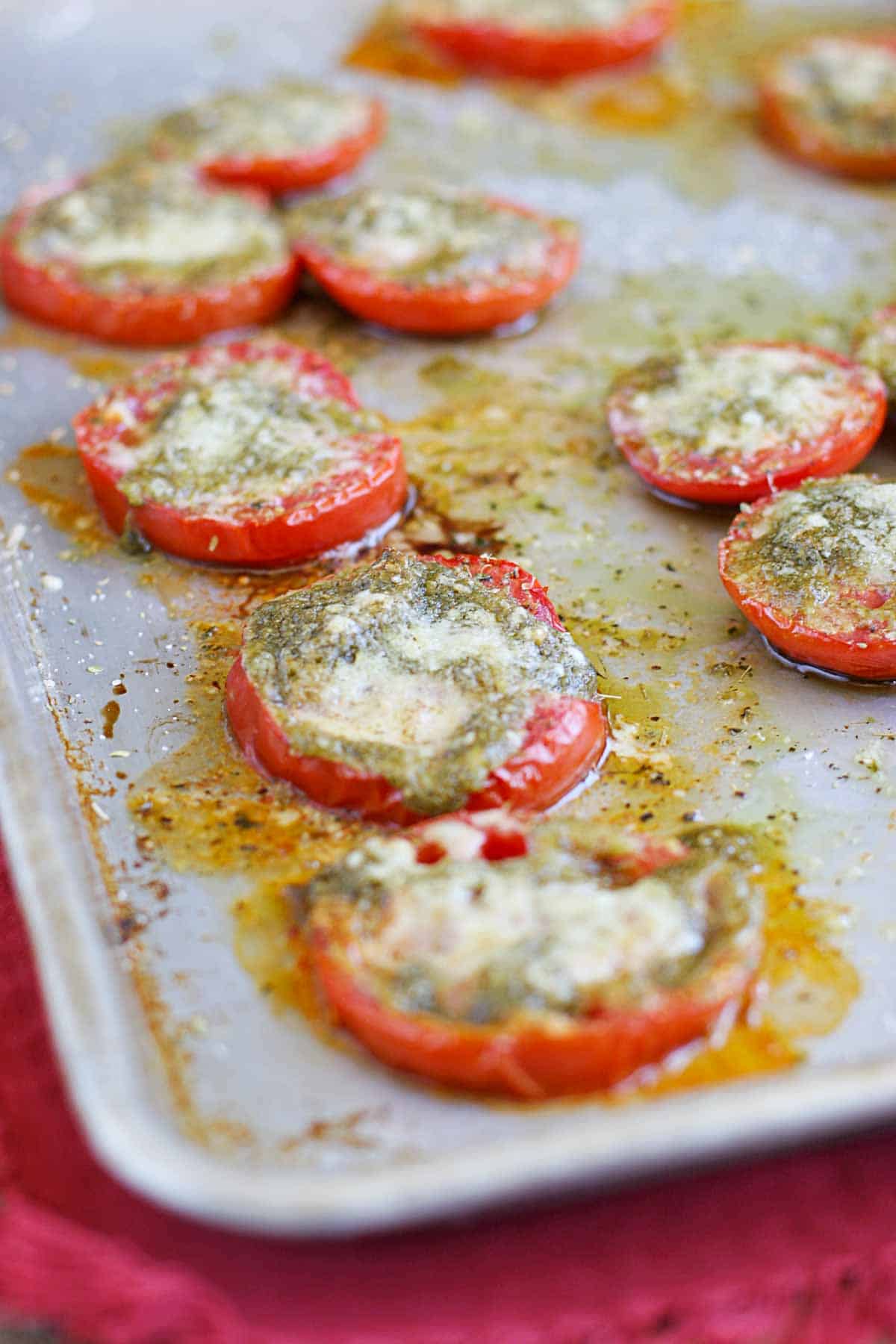 I got the best delivery a couple of days ago. A neighbor stopped by with a bag full of garden tomatoes, wondering if I wanted any. She said I could take as many as I wanted, and so I took the entire bag!! I love tomatoes. They were always my favorite from the garden each year when I was growing up, and I look forward to them each and every year today. Since we didn't plant a garden this year, I started getting really sad that I wouldn't be able to just go out back and pick a tomato whenever I wanted. I'm so grateful for neighbors that are willing to share their bounty!!
I had to laugh at myself a little bit as I was typing up this post, because just yesterday, I was saying that I don't get to watch any food tv anymore. And here I am, the next day, posting a recipe from a show on tv!!
I actually don't remember why I had the Food Network on at this particular time, but I remembered only catching a few minutes of Barefoot Contessa one afternoon. And I'm so glad that I caught those few minutes, because in that time, she made this dish.
Perfectly simple, perfectly seasonal, and perfect tasting. (And quickly devoured, I might add…) This recipe comes together very quickly – which is always what I am looking for when it comes to a side dish. And if you are drowning in basil, this would be a great time to whip up some pesto and put it to use. Or if you prefer, you can always buy store bought pesto for this. This is the perfect way to highlight those summer tomatoes!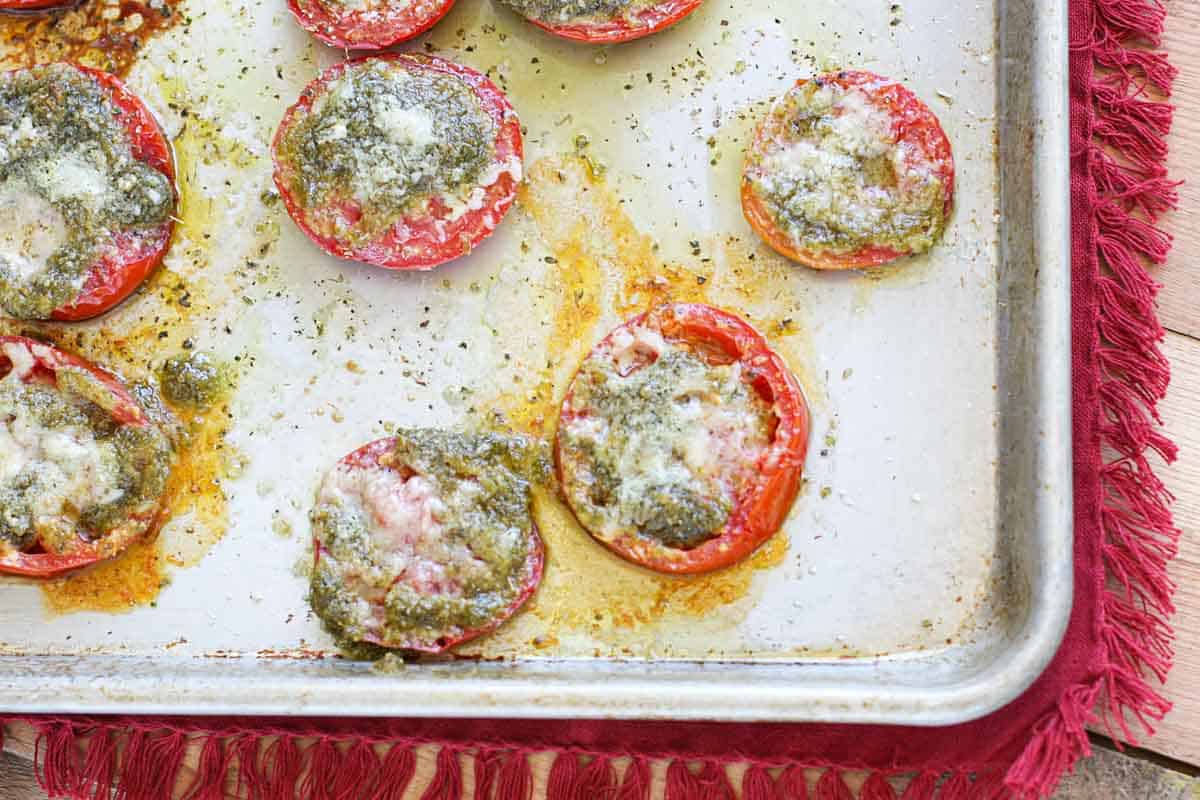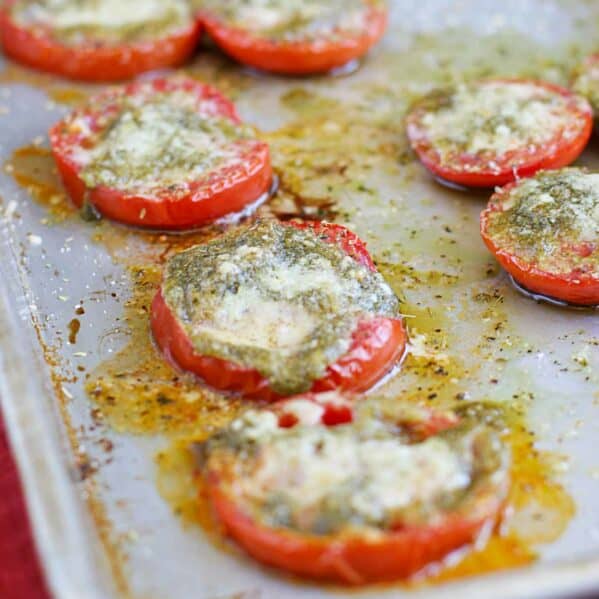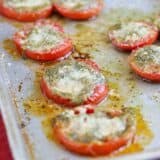 Roasted Tomatoes with Pesto
---
Author:
Prep Time: 10 minutes
Cook Time: 20 minutes
Total Time: 30 minutes
Yield: 6 servings 1x
Category: Side Dish
Method: Baked
Cuisine: Italian
Description
These roasted tomatoes are made from garden fresh tomatoes that are roasted with pesto and parmesan cheese for a delicious summer recipe.
---
Scale
Ingredients
2 to 2 1/2 pounds tomatoes
3 tablespoons olive oil
2 teaspoons dried oregano
salt and pepper
1/2 cup basil pesto
1/2 cup freshly grated Parmesan cheese
---
Instructions
Preheat the oven to 425F. Set aside a baking sheet.
Core the tomatoes and slice them across into slices 1/4 – 1/2-inch thick. Arrange in a single layer on the baking sheet. Drizzle with the olive oil and sprinkle on salt, pepper, and the oregano. Bake in the preheated oven for 10 minutes.
Remove from the oven and spread each tomato with a spoonful of the pesto and sprinkle with the Parmesan cheese. Return to the oven and cook until the Parmesan is melted and starts to brown, 7 to 10 more minutes.
Serve warm sprinkled with a touch more salt.
Keywords: roasted tomatoes