Bite sized cheese and corn appetizers. Super easy to make, and they will disappear quickly!
A few weeks ago, I was at my sister's house, watching her kids for a few days while she was out of town.  On my last night there, after all the kids were down, I collapsed onto the couch with a copy of one of her old food magazines that I had found in a closet.  Before I knew it, I had pulled out 3 more of them, and was going through each page, having inspiration pop into my head from some of the recipes on it's pages.  I got so excited, I didn't want to go to bed, but I wanted to get into the kitchen instead.  I ended up taking home 3 of her magazines.  A few days later, when she got back into town, I called her to tell her I had borrowed them.  She told me that she would have probably never missed them, and didn't even know why she kept hanging onto them, because she doesn't ever use them.
But I'm kind of different.  I'm not a hoarder by any means, until it comes to cookbooks or cooking magazines.  I just can't get rid of them.  And my most prized – and most used – collection?  My Every Day with Rachael Ray magazines.  And they don't just sit there on my shelf.  I honestly get at least one of the magazines out every week.  There are probably 4 of them on my desk right now.  And as much as I look forward to getting my newest copy in the mail, I get just as excited pulling out an old issue and going through the recipes – especially ones that I bookmarked years ago.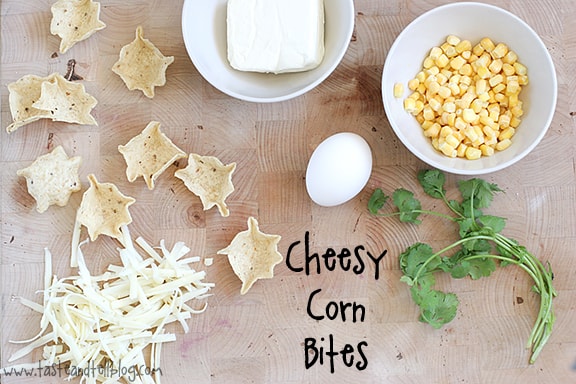 This is one of those recipes that I bookmarked a few years back.  I was so excited to be doing a week full of corn recipes so that I'd finally be pushed to make these. And let me say – I wish it wouldn't have taken me 3 years to make them.  This is one of those recipes that you will come back and thank me for.  Not because I made it up, but because I am sharing it with you, and the people you share these little bites with will love you forever.  That's if you can even make it out of the kitchen, much less out of the house, before eating them all yourself.  It was probably a good thing that I only made a half batch of these, because my husband and I polished them off in no time flat.  All by ourselves.  With football season right around the corner, these would be the perfect football snack.  Or a great party snack.  Or a great we-are-eating-these-for-dinner snack.  It doesn't matter why you make them, but you do want to make them!!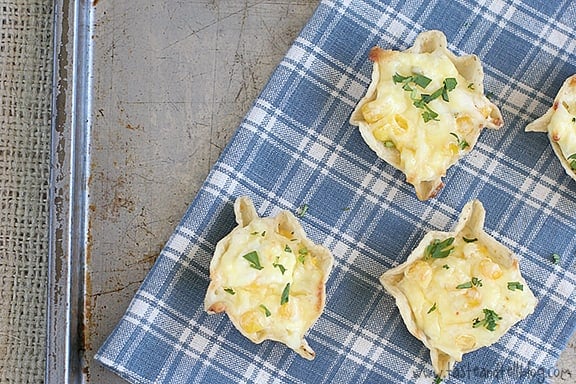 Cheesy Corn Bites
---
Prep Time: 15 minutes
Cook Time: 20 minutes
Total Time: 35 minutes
Yield: 48 servings 1x
Description
Bite sized cheese and corn appetizers. Super easy to make, and they will disappear quickly!
---
Scale
Ingredients
8 ounces cream cheese, at room temperature
1 cup shredded pepperjack cheese
1 large egg
1/2 cup frozen corn kernels
48 scoop-shaped tortilla chips
chopped cilantro, for sprinkling
---
Instructions
Preheat the oven to 350F. Set the chips out on a baking sheet.
In a bowl, combine the cream cheese, cheese, egg and corn; mix completely. Place 1 teaspoon of the mixture into each corn chip. Bake until the filling sets, about 20 minutes.
Sprinkle the corn bites with the cilantro and serve warm.
Recipe Notes: